DES MOINES — The Lynnville-Sully boys' track and field team came to Drake Stadium and competed at the Iowa High School State Track and Field Championships with the intention of winning at least one state title and competing for a team trophy.
None of that happened, but the Hawks still found plenty of success on the blue oval.
"We came home with no state titles, no team trophy. But the three days were anything but unsuccessful," L-S head boys track and field coach Darin Arkema said. "It's remarkable we continue to see state meet records and all-time Iowa records broken on such a regular basis. And the best thing was the Lynnville-Sully Hawks were part of it, rewriting school history in three events (nearly four), placing sixth as a team and showing all that they didn't just belong to be competing with the best but they themselves were part of the best. Class 1A was absolutely loaded this year."
While the Hawks came up short of winning at least one state title, they were second twice, third once and secured state medals in four events.
In the end, it all added up to a sixth-place team finish. The Hawks scored 29 points and trailed fifth-place ACGC (33) by four. Lisbon won the Class 1A team title with 60 points. The rest of the top five included Columbus Junction (52), Lawton-Bronson (43) and Mount Ayr (41).
"We knew we'd have some strong competition. We wanted to win that one, those other teams are good, too, though," senior Conner Maston said after the Hawks' runner-up finish in the 4x400-meter relay. "We came up short, and that's disappointing, but it's special to do it with this group of guys. To be able to practice with this group and hang out and lift weights together, we've created such a strong bond."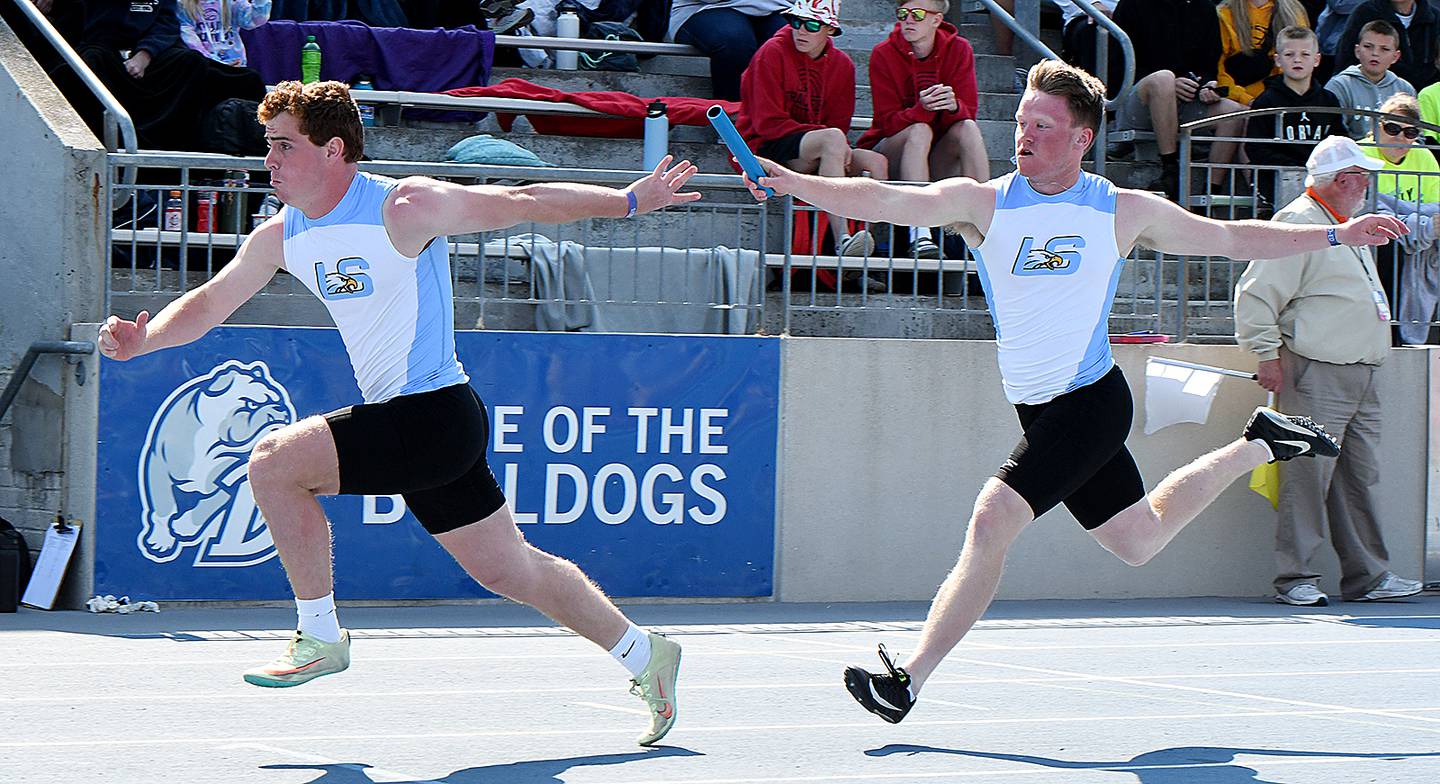 Maston and James Gruver finished their prep track and field careers with around six state medals each.
That senior duo headlined the Hawks on the blue oval. They started their weekend with a 4-7 finish in the 400 and capped it with a runner-up finish in the 4x400 relay.
Gruver also highlighted the three days with a silver-medal performance in the 400 hurdles.
Lynnville-Sully's only event on Thursday was the 400. Maston's career-best time of 49.45 seconds set a new school record but was good enough for only fourth. Gruver's time of 50.78 was seventh.
Maston's time eclipsed Tyson Vander Linden's 49.66 on the school record board. Vander Linden won the state title with that time, too.
"I don't know that I've seen a year like this, where so many performances broke state records and also would have won or placed in the bigger classes," Arkema said.
Mount Ayr's Ryce Reynolds claimed his second straight state title in the 400. His winning time was clocked in a new state meet record of 48.21 seconds.
The Hawks walked away from the event with a pair of state medals.
"I wanted to medal and winning would have been awesome, but the open 400 is stacked in 1A," Maston said. "I'm so proud of James and I know he's proud of me. To see all of our hard work pay off is awesome. I did what I needed to do to put myself in a winning position, it just didn't work out."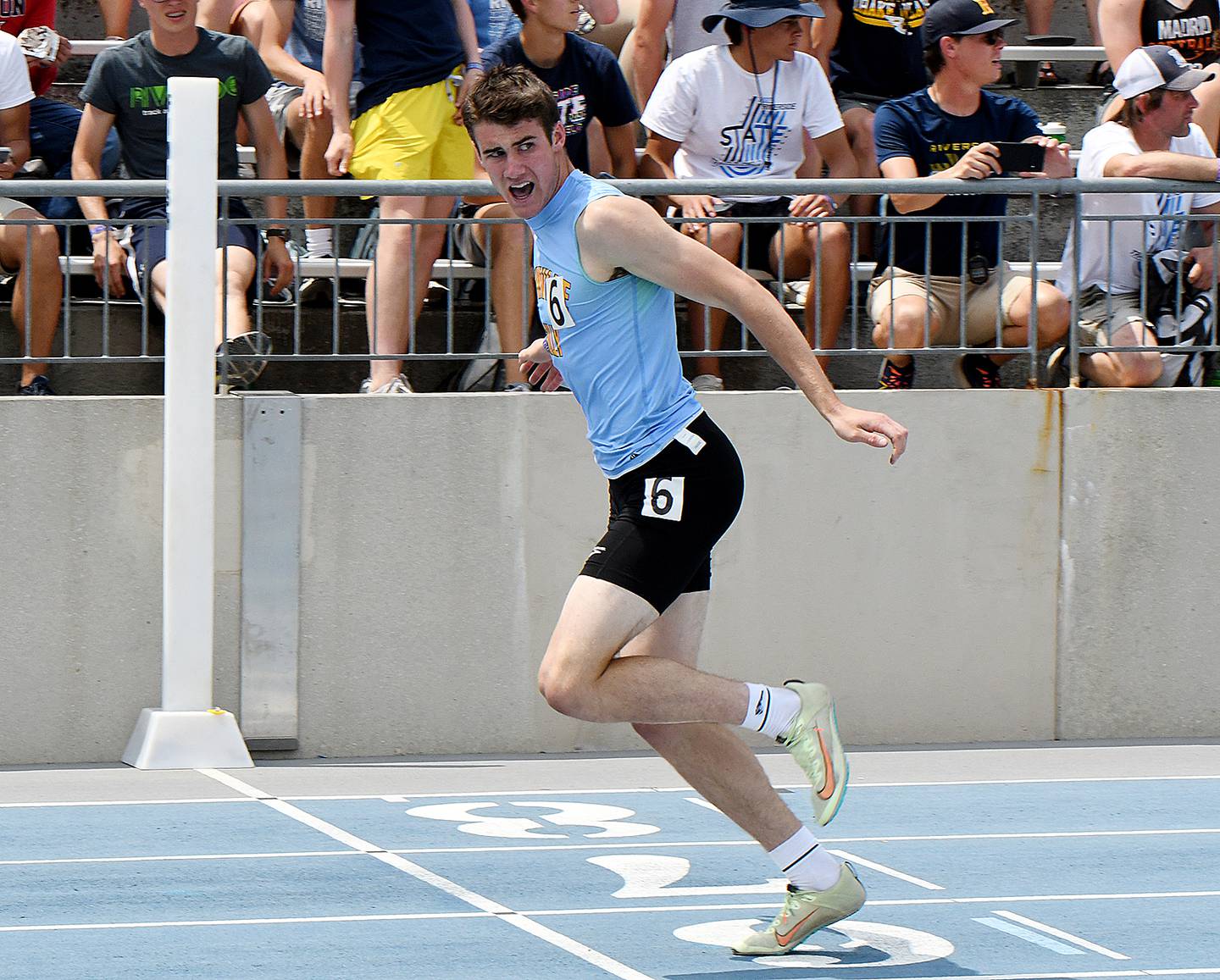 Friday's highlight was Gruver's runner-up finish in the 400 hurdles. He was fourth in the event last year, but the defending champion, Mount Ayr's Reynolds, also was back.
Starting from Lane 1, Gruver was able to see the competition in front of him. He got out faster than normal, ran down a bunch of competitors who started in front of him and nearly caught Reynolds at the finish line.
Gruver settled for second with a career-best time of 53.1 seconds. That was .03 seconds slower than Vander Linden's school record.
Reynolds is the first athlete to ever win back-to-back titles in both the 400 and 400 hurdles in state meet history and he's only a junior.
Reynolds won the 1A race in a state meet record time of 52.7 seconds. Gruver would have won the 2A and 3A state title.
"I'm really proud of that race. My goal was to run with him and try to beat him, and I was really close," Gruver said. "I thought I had it. I have nothing left in the tank. He's a great runner, too. All the credit goes to him.
"It feels amazing. I can't even tell you how good it is. I can't thank my family and my coaches enough for everything they've done for me."
After the race, Gruver found his uncle Mike Gruver on the field. And the L-S senior got emotional.
"It was a good moment. He's been working with me on Sundays during the season and helping me with hurdles," James Gruver said about his uncle Mike. "It was a very emotional moment knowing it's a family tradition and how much it traces back to the history of our family."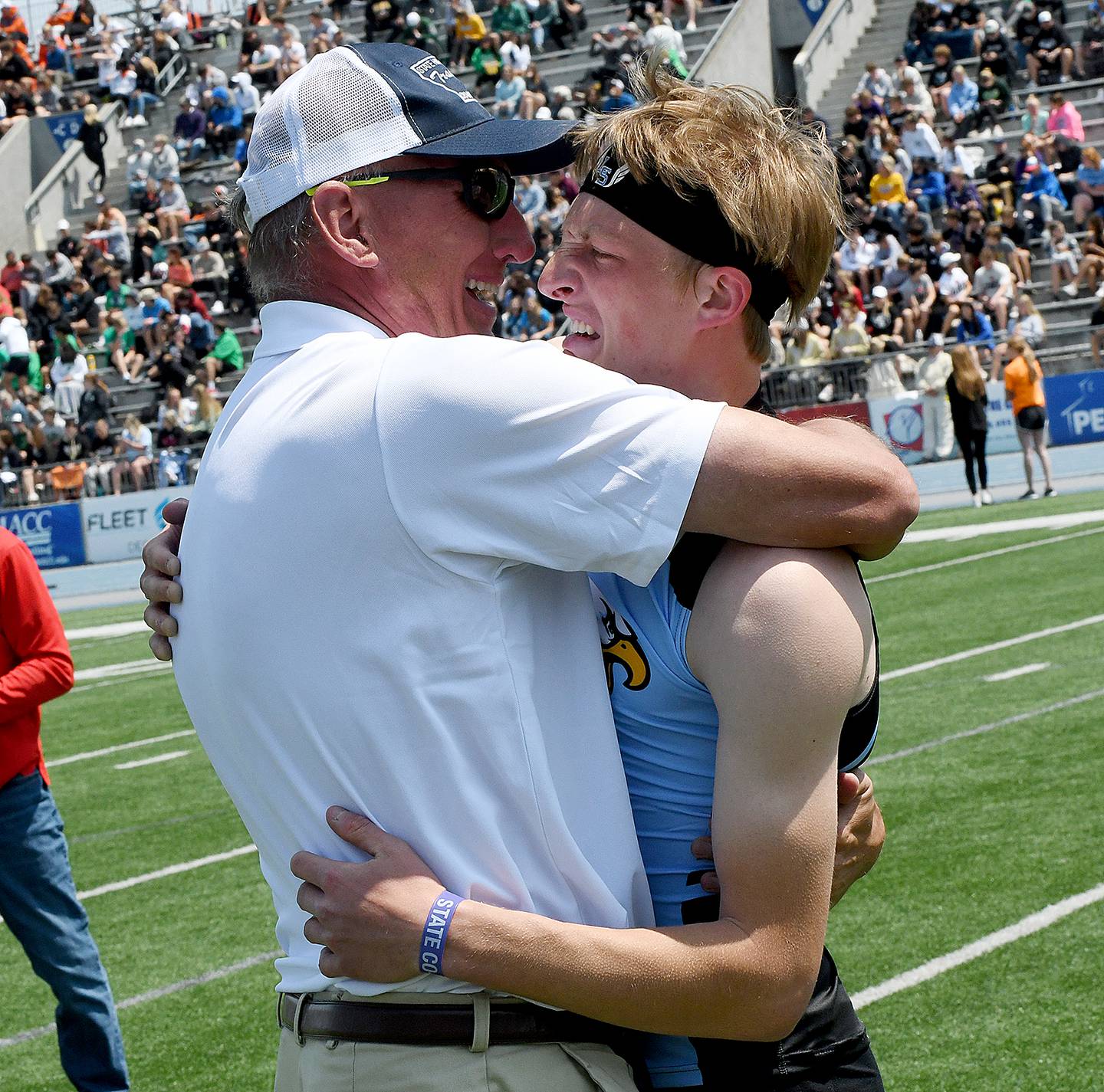 The rest of Friday was a roller coaster for the Hawks. The day started with a dropped baton in the 4x200 relay and ended with L-S grabbing the top qualifying time in the 4x400 relay. The Hawks also finished 10th in the 4x100 relay.
L-S entered the state meet as the defending champion in the 4x200 relay. Unfortunately, the Hawks could not finish that race this past weekend as the team of Bryce Richards, Corder Noun Harder, Caleb Rea and Maston produced a dropped baton on the first exchange.
The Hawks lost valuable team points as they entered the weekend with one of the top eight best times in the event. Lawton-Bronson won the 4x200 relay title with a state meet record time of 1:28.1.
"To be blunt, this was the lowest point of the weekend, and not even the weekend, but our entire season," Arkema said. "And for these guys, probably their entire track and field careers. As the defending state champions, they had high hopes for a great race, but it didn't happen.
"It stung. It hurt. There was disappointment and frustration. But the awesome part was there was no finger-pointing or blaming going on when I got out to the guys in the warm-up area. As Conner put it out there with his teammates, 'This isn't going to be the defining moment of our meet. We have more races and opportunities and we have to get past this and be ready for the next ones.'"
Neither Richards nor Noun Harder blamed the other one for the mishap. It just happens in track sometimes. Noun Harder might have gotten out too fast. Richards might not have been coming in as fast as normal.
The duo had a chance to rebound though as they both were in the 4x100 and sprint medley together, too.
"I ended up dropping it into his hand because he turned the other way," Richards said about the exchange. "You have to have a short memory. I have learned that with a lot of sports. We ran a PR in the 4x100. We didn't qualify (for the finals), but we moved up to 10th from 17th. I'm pretty happy with that. We've made a lot of strides this year."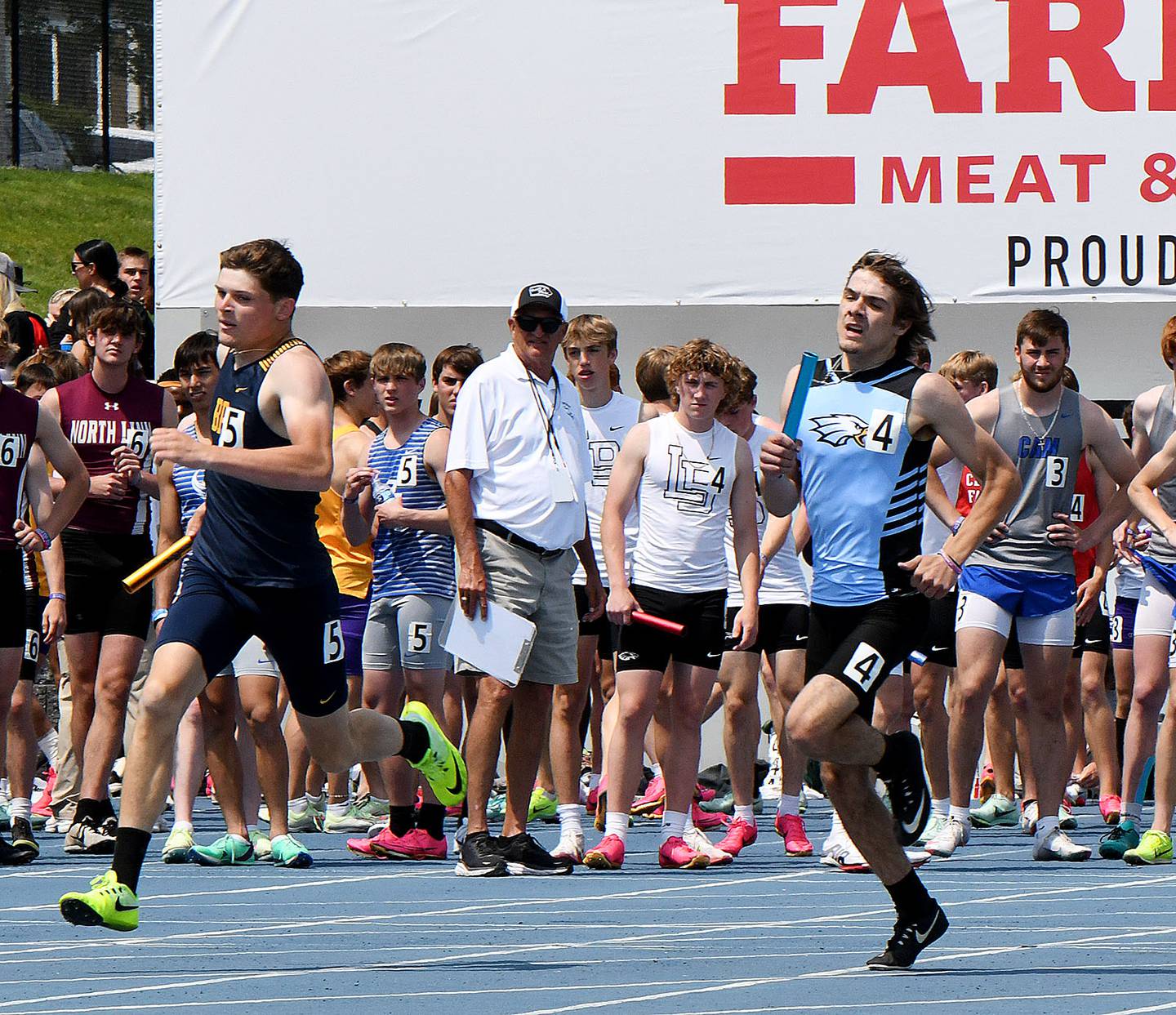 The 4x100 relay team of Kyle Squires, Richards, Rea and Noun Harder was 10th. And the Hawks did set a season-best time of 44.82 seconds. It took 44.46 to make the finals.
Lisbon (42.1) and Columbus Junction (42.42) finished 1-2 and both teams ran state meet record times in Saturday's final.
The Hawks concluded Friday's session with a school-record time in the 4x400 relay prelims. The team of Rea, Noun Harder, Gruver and Maston had the top qualifying time of 3:25.63. Gruver and Maston both turned in 49-second splits.
The previous school record time was 3:26.9.
"It's my first time running here so it's better than not placing at all," Rea said. "It was nerve-wracking at first, but the experience was awesome."
The Hawks were on the track for the first event and last event on Saturday.
They opened with the sprint medley relay and the team of Richards, Noun Harder, Gruver and Maston placed third with a school-record and state meet record time of 1:33.28.
Lawton-Bronson (1:31.12) and Mount Ayr (1:31.4) also ran state meet record times in the top two positions.
"All three of the top teams ran under what the state record was in that event going into the day," Arkema said. "It was another school record broken for us and just amazing that it got the guys a third-place medal and points. Couldn't have asked for more from them."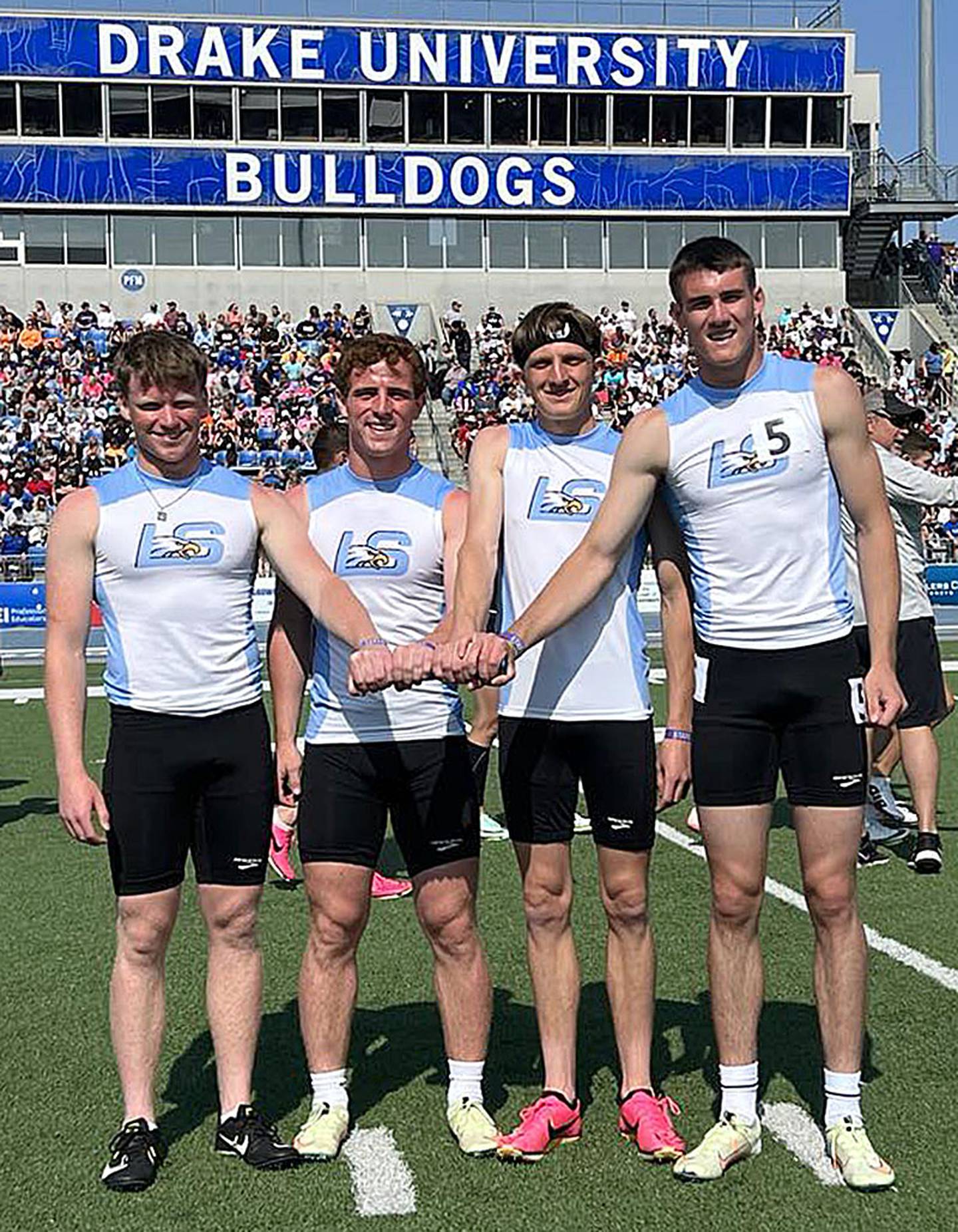 The race also featured another handoff between Richards and Noun Harder as they both ran the 100 legs of the race.
"He and I both talked about it," Noun Harder said in reference to the dropped baton in the 4x200 relay. "We just needed to trust it because having it in the back of our minds could make us mess up again or cost us time on the race.
"We came into this race wanting a 1:33. We knew it was possible, and we ran it today. We knew those two teams would be awesome, too. I think most years that time gets you a state title."
It was the first state medal for Richards, who spent most of his track and field career as a state meet alternate.
"I think I have been an alternate on maybe 10 events the past two years so it feels good to be a part of this one and get that medal," Richards said. "The handoff was a lot better, too."
The Hawks went ahead and broke their own school record in the 4x400 relay final that was set in the prelims on Friday. Unfortunately, there was again another team that was just a little better.
Rea, Noun Harder, Gruver and Maston posted a school-record and season-best time of 3:24.32 and placed second. South Hamilton, who was second in the prelims, won the state title with a time of 3:22.29.
"We wanted to win. We came here to win something and we came up a little short and that's frustrating," Maston said. "We can't hang our heads about it. We gave it our all, and I couldn't be more proud of our guys."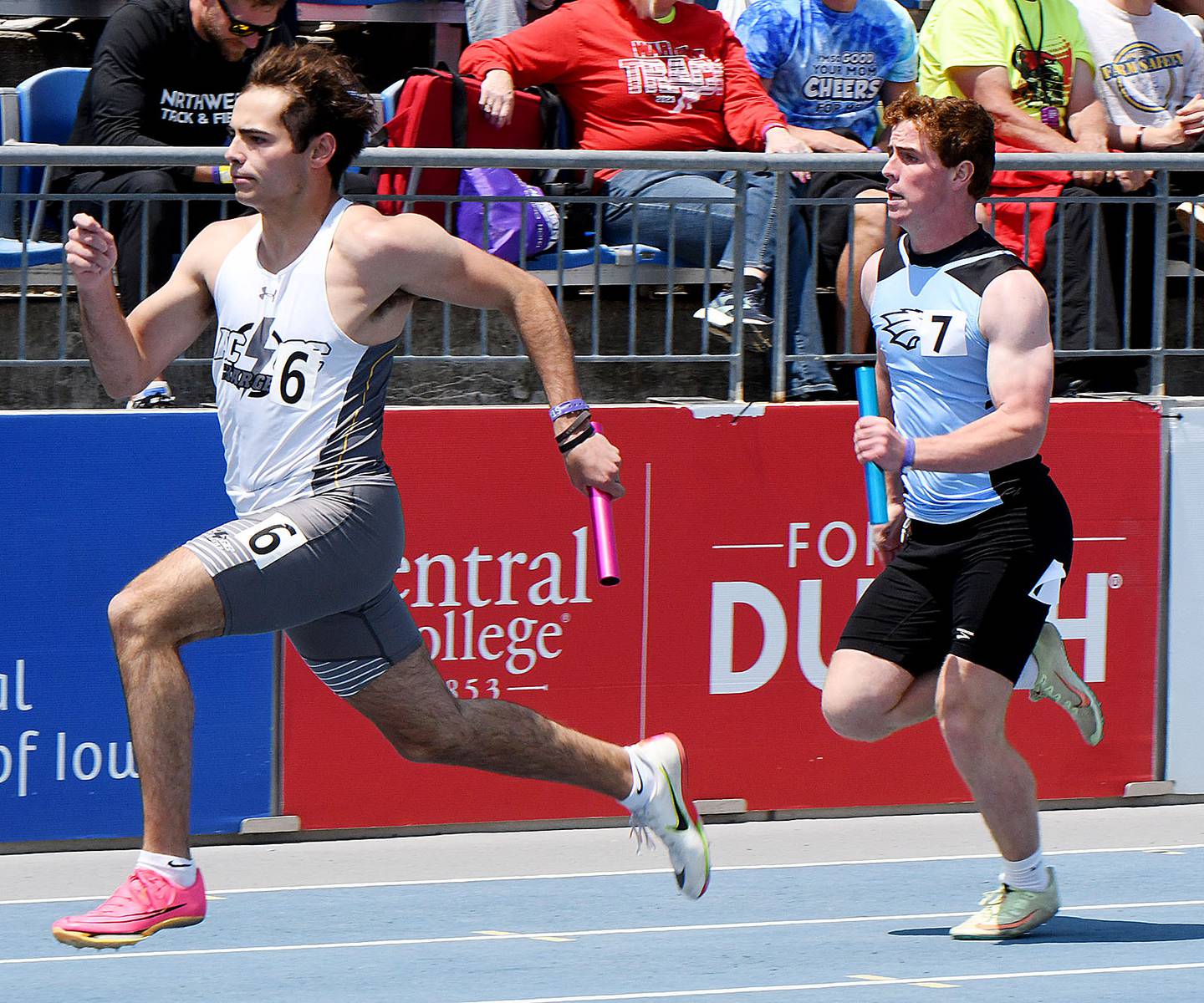 Like with the sprint medley relay, the time L-S put down in the 4x400 is usually fast enough to win a state title. All four runners ran 52-second splits or faster. Gruver's split was in the 49s and Maston came across in around 48 seconds.
"Our guys bettered their school record from the day before by nearly 1.5 seconds, and if you had told me that was how they would race at the start of the day I would have said they would be state champions," Arkema said. "Credit to South Hamilton for the races their four guys ran. A five-second improvement from Friday prelims to Saturday finals.
"It was heartbreaking to not get the championship, but as I told them, we did not come and run slower and lose first place. We came and ran faster, but they were just better. We didn't lose it."
Maston is ready for baseball season but also is sad to see his track and field career come to an end.
"I am glad I was able to run my final race with that split," Maston said. "Our team was something special. We had so much fun together, and it's sad to see it come to an end."