PELLA — Newton's baseball team couldn't have started its Class 3A Substate 7 semifinal game against rival Pella much better.
The first two batters reached base and scored and seven Cardinals walked to the plate in all to give Newton an early advantage, but Pella starting pitcher Keegan Hansen was simply too good after that.
Hansen retired 17 straight Newton hitters after the slow start, and the Dutch took advantage of three Cardinal errors and several free passes during a 9-2 home win on Monday.
"I felt really good early. It was a great start and this team needs a great start," Newton baseball coach Brad Kahler said. "The bats just weren't there tonight."
The Cardinals collected three hits in the first inning and led off the seventh with back-to-back singles but that was it for an offense that clubbed five home runs in their previous game.
The win sends the Dutch (22-14) to the substate championship game where they will face 3A No. 3 Grinnell at 7 p.m. on Wednesday in Grinnell.
Newton (16-15) led 2-0 after one inning and had a 2-1 advantage after three. The Dutch scored three in the fourth and five in the fifth to rally for the victory.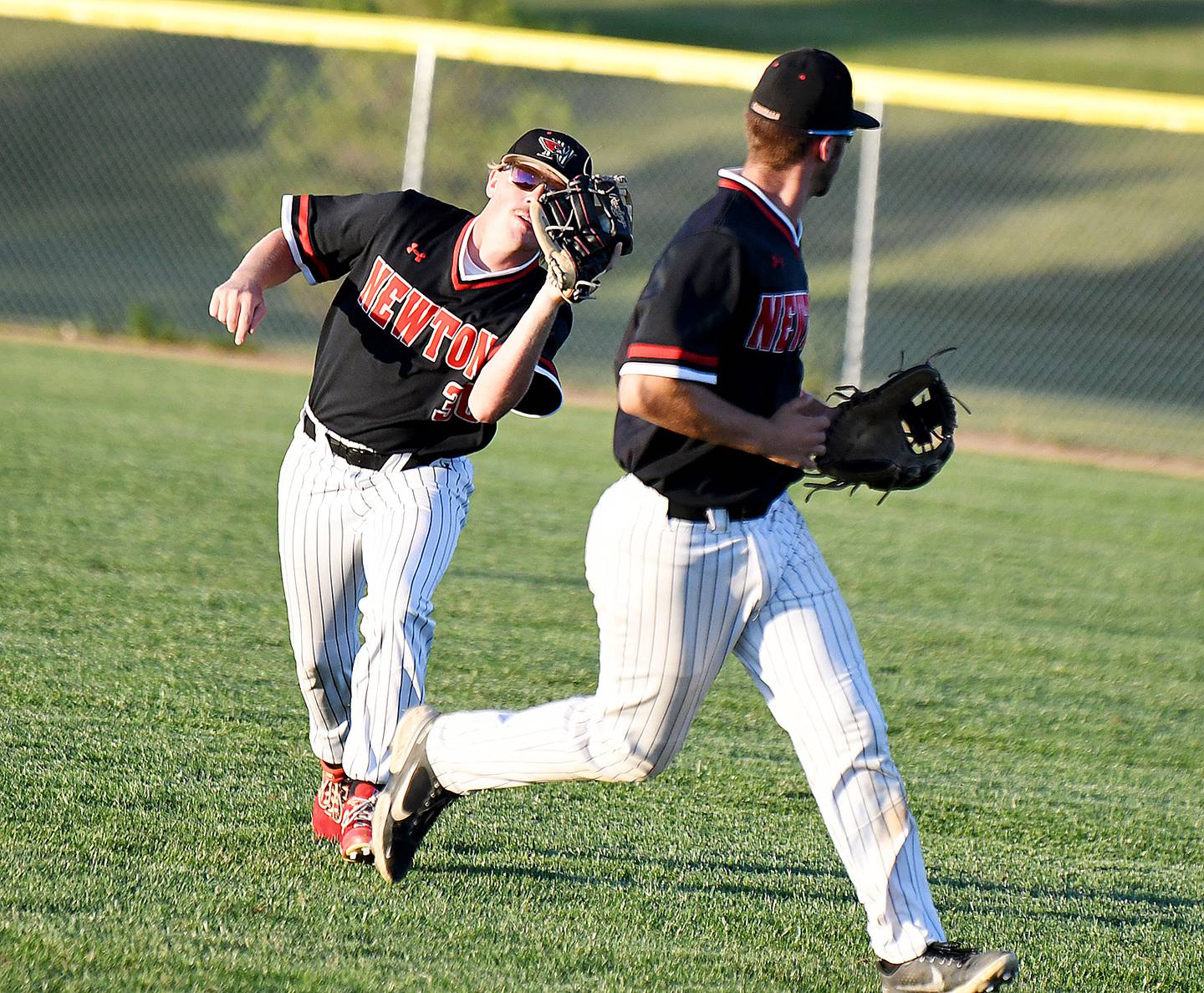 Brody Bauer opened the game with a double on the first pitch he saw and then Drew Thompson singled with a 1-2 count to put runners on the corners with no outs.
Bauer scored and Thompson moved up a base after a Hansen balk. Kacey Sommars then walked with one out and Eli Stewart made it 2-0 with an RBI single.
With runners on second and third, Hansen got out of the jam with an inning-ending strikeout.
"It would have been huge to get a few more runs in the first," Kahler said. "What I thought hurt us tonight was not swinging at good pitches early and we kind of reverted back to our old ways when we had two strikes. We were trying to hit bombs and we really just needed to shorten up our swings."
After the first, Hansen shut down the Cardinals. He registered 1-2-3 frames in the second, third, fourth, fifth and sixth.
Stewart and Kael Swarts led off the seventh with back-to-back singles, but Hansen ended the game with three straight outs, one of which came by strikeout.
The final out of the game came at home plate. Evan Grimm tapped the pitch just fair in front of the plate and Stewart was tagged out trying to score from third.
Stewart registered two of the team's five hits and had the lone RBI. Bauer, Thompson and Swarts had the other hits and Sommars drew a walk.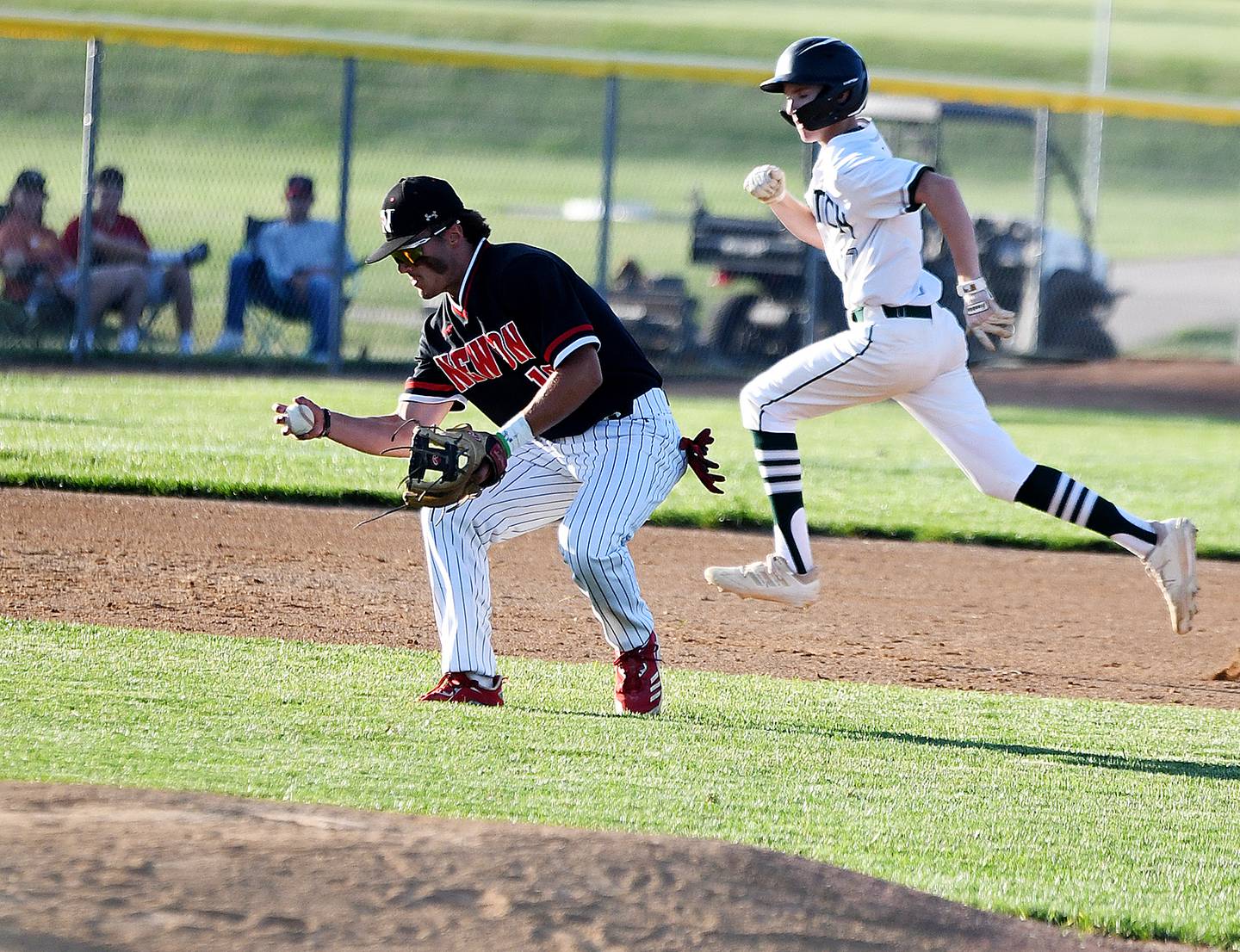 Hansen's complete-game pitching win included nine strikeouts. Hansen (5-2) allowed two earned runs on five hits and walked one. He also had two hits and one RBI at the plate.
On the other side of the field, Riley Mouchka got the start on the mound for Newton.
Mouchka pitched around trouble in the first three innings and had plenty of success with a lot of ground ball outs.
In the end, Newton's pitchers simply gave up too many free bases and the defense's three errors were costly, too.
Mouchka (4-3) was the losing pitcher after allowing six runs — five earned — and six hits with two strikeouts, two walks and three hit batters in 4 1/3 innings.
Tade Vanderlaan tossed the final 1 2/3 innings and surrendered three earned runs and one hit with two strikeouts and four walks.
Many of the hits by the Dutch were not struck particularly well. They did find plenty of holes in the defense though. All seven hits were singles.
"We gave them too many free bases with walks, hit by pitches and errors and then they had timely hits," Kahler said. "We just weren't that sharp overall."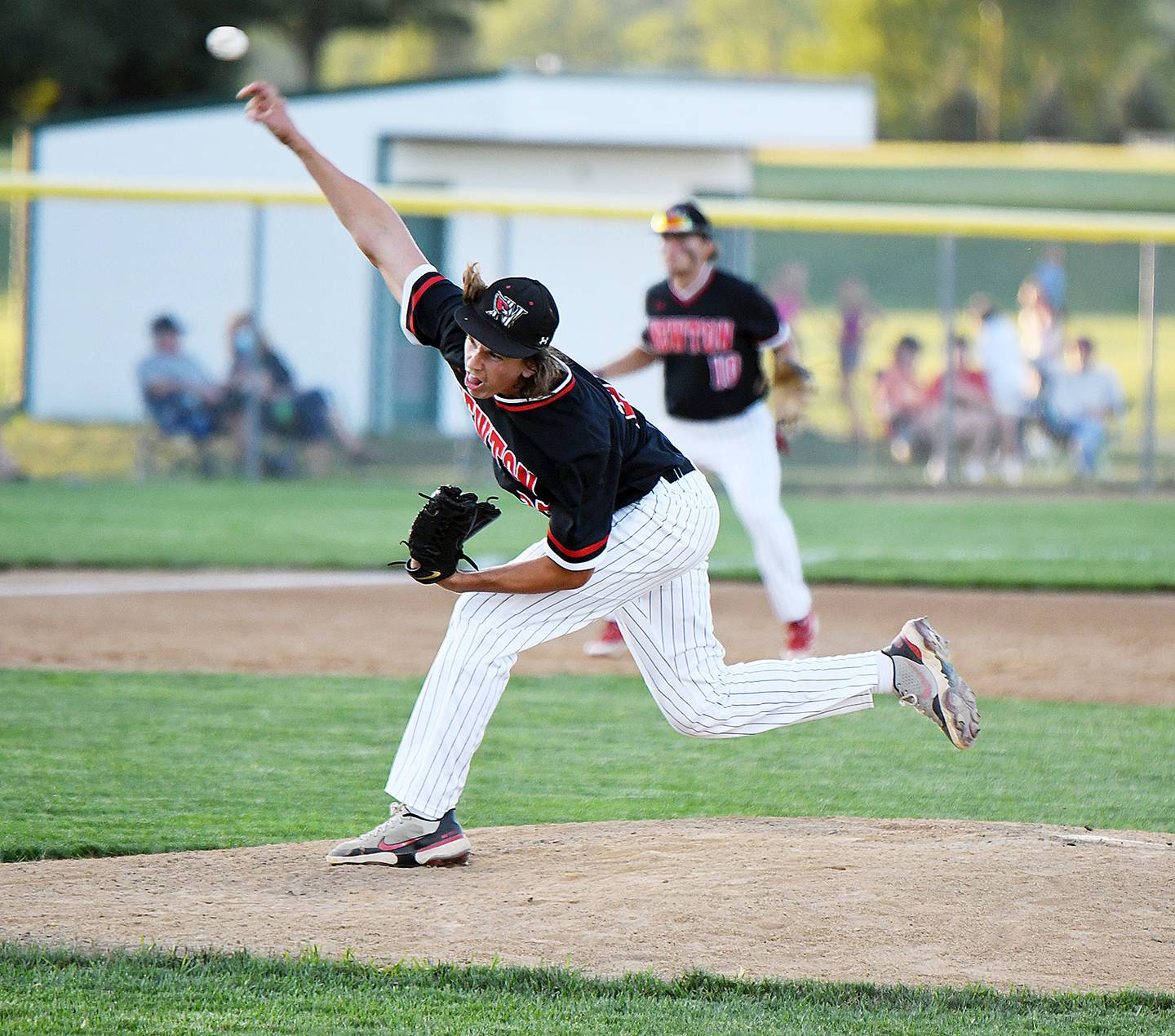 Mouchka stranded two runners on base in the first, left them loaded in the second and stranded two more in the fifth.
Pella sent eight batters to the dish in the three-run fourth and nine Dutch strolled to the plate in the fifth. The Dutch scored three runs in the fourth with just one hit and plated five runs in the fifth on three hits.
Anderson Schirm finished with two hits, two runs and one RBI to lead the hosts, and Jack Howard added one hit, two runs and one RBI.
Pella, which has won six of its last seven games, stranded nine runners on base.
The loss ends a two-year coaching run at Newton for Kahler. He led the baseball program to its first playoff win since 2011 and its first winning season since 2015.
Kahler leaves Newton to begin an administration role at Glidden-Ralston.
"It's an emotional night. This is the longest I have been anywhere. I came in the fall of 2014," Kahler said. "We put in a lot of time and a lot of work. It's bittersweet. This is the last time of being a Newton Cardinal.
"Overall, I felt like I did a lot for this community. My wife and I made a lot of friends and we are both sad to see our time here come to an end."
Notes: Newton's three senior starters were Swarts, Grimm and Braydon Chance. Swarts singled in his final prep at-bat and Chance ranked second on the team with a .333 batting average. … Pella won the season series against Newton, 3-1, and won the last three matchups by a combined score of 27-10. "We felt like we were good enough to win this game. That's what makes the loss tougher," Kahler said. "In my opinion, when we walked on the field tonight it was flip a coin."