CLARINDA — PCM and Clarinda had a four-yard difference during their Class 2A playoff opener on Friday night.
The difference for the Mustangs came in turnover margin and Tyler Kuecker made both of his extra points as PCM downed the Cardinals 14-13 on the road.
PCM made the near three-hour road trip, rushed for 213 yards and advanced to the next round after snagging two interceptions from Clarinda quarterback Wyatt Schmitt.
The game was tied at 7-all after one quarter and stayed that way until the third. PCM won the third 7-6 and neither team scored in the fourth.
Aidan Anderson put the Mustangs (5-4) in front 7-0 with a 67-yard touchdown run. The senior tailback ran for 186 yards on 20 carries, averaging 9.3 yards per attempt.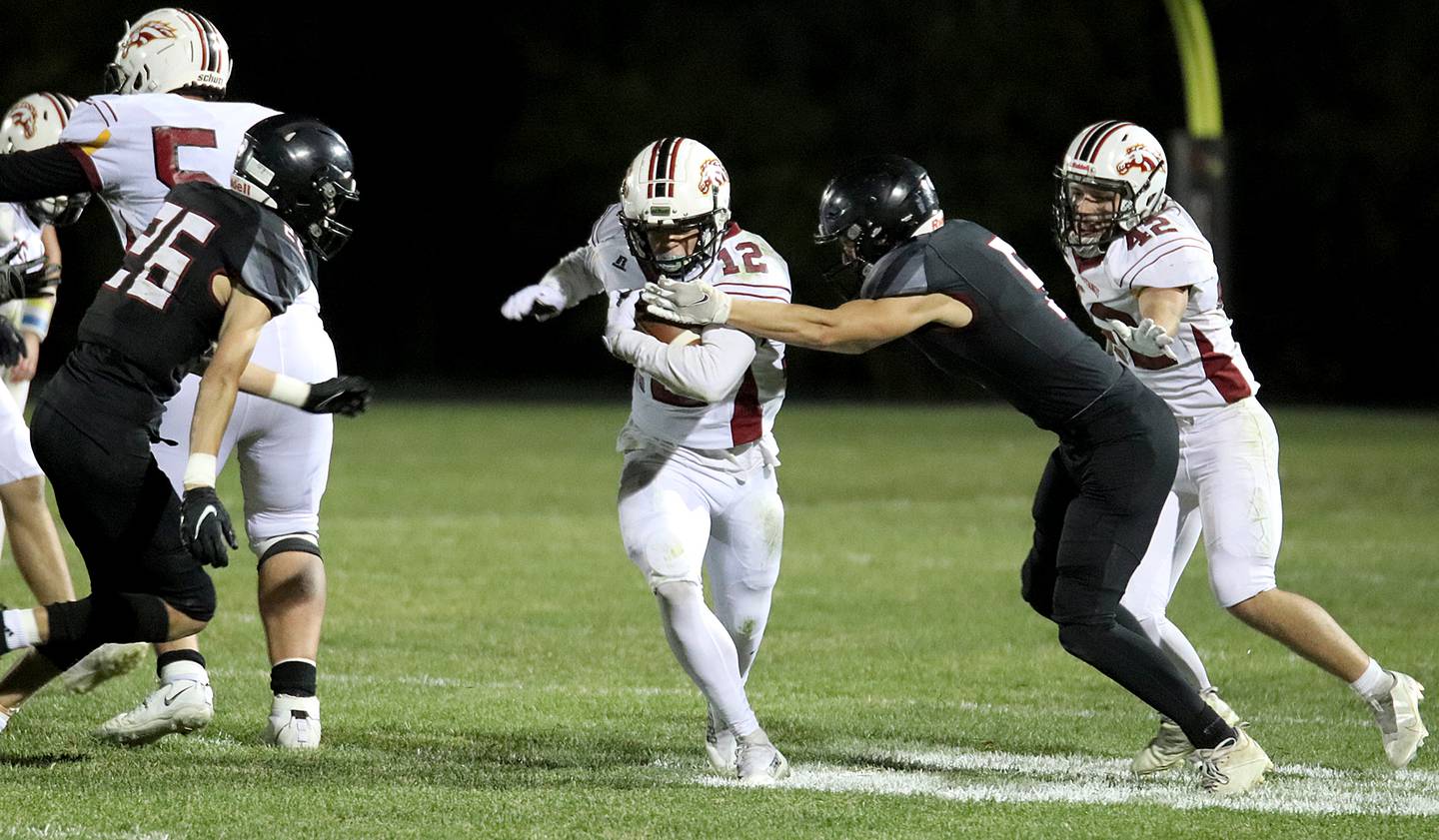 Carson VandeLune completed just five passes but those completions went for 186 yards.
Jake Eslinger hauled in two passes for 86 yards, including a 66-yard TD in the third. Matt Rosonke's lone catch went for 44 yards and Griffin Olson hauled in one catch for 26 yards.
Kaden Hale rushed for 18 yards and had the other catch. The Mustangs out-gained Clarinda 371-367. The Cardinals (4-5) threw for 235 yards but the two picks were costly.
VandeLune and Rosonke had the interceptions for the Mustang defense. VandeLune also had 4 1/2 tackles.
Donovan Nickelson led the defense with nine tackles and four tackles for loss and Durant Van Dyke added eight tackles and three tackles for loss.
Gavin Fenton tallied 6 1/2 tackles, William Vanderpool registered six tackles and Hale chipped in five tackles. Cade Lindsay recorded 4 1/2 tackles.
Both teams missed a field goal in the game. Kuecker was 2-for-2 in his PAT attempts and averaged 37 yards on two punts. Clarinda missed one of its extra points.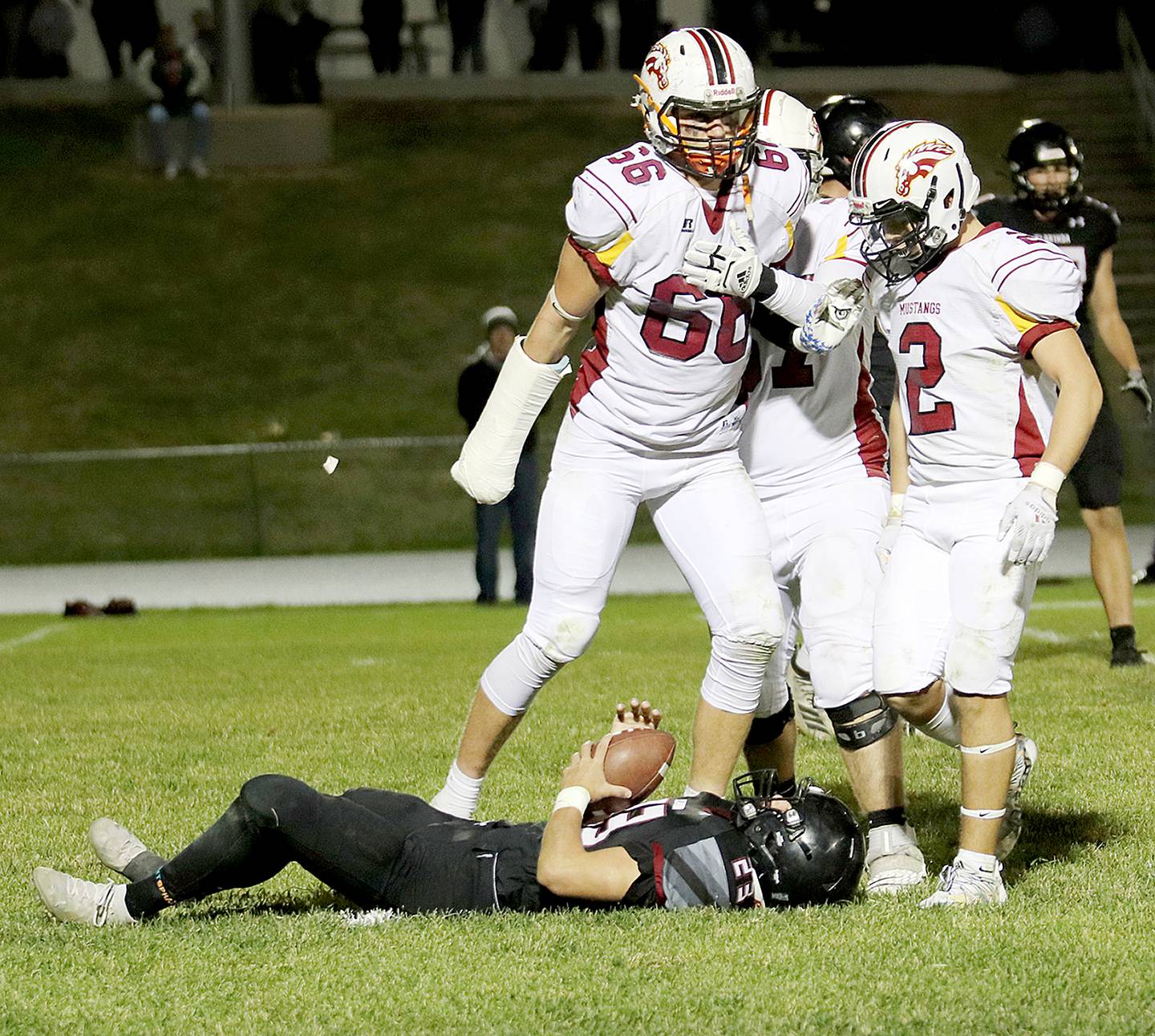 Schmitt threw for 181 yards, but Tadyn Brown led the Clarinda offense with 106 rushing yards and one TD. Brown also completed one pass for 54 yards, while Isaac Jones hauled in six catches for 121 yards and led the defense with seven tackles.
PCM has now won three straight games by a margin of 92-40. The loss for Clarinda snapped a three-game win streak.
Next up for the Mustangs is a familiar postseason opponent. PCM plays Williamsburg at 7 p.m. on Friday in Williamsburg.
The Raiders (6-3) have won six straight games after starting 0-3. The two teams have split their last two playoff games against each other.
The PCM-Williamsburg winner will get the winner between Mid-Prairie (6-3) and West Marshall (8-1). Those four teams make up Pod 3 in 2A.