Inside the packed party room of a Newton Pizza Ranch, 38-year-old Republican presidential candidate Vivek Ramaswamy attracted an audience of mostly older Iowans who saw his standout performance in the debate just days prior and walked away from the event captivated and invigorated by his radical policies.
Which is not an exaggerated or editorialized description on my part. Ramaswamy admits his proposals to layoff 75 percent of the federal government's employees, shut down the U.S. Department of Education, send the military to the U.S.-Mexico border and raise the voting age to 25 are radical ideas.
To the locals who gathered inside the restaurant on Aug. 25, these were avant-garde ideas; things they had not thought about before. But the charismatic and young business leader from Cincinnati, Ohio captured their attentions and sold them on his vision of a revolutionized United States of America.
Keith West, of Des Moines, called Ramaswamy the "biggest breath of fresh air" he had ever seen in his life, comparing him to former President Ronald Reagan. Which is not the first time the candidate has been compared to past U.S. presidents. Some have compared him to Donald Trump, and even Barack Obama.
In a brief interview with media, Newton News asked Ramaswamy how he felt about these comparisons and if he would rather standout as an individual. In the context of American history, he said, candidates are building on a foundation that came before them; there are commonalities with nearly every great president.
Which is to say he does not take offense to the comparisons or latch onto them too much. Approaching the role of president, he said, requires a level of humility.
"I'm not driven by ego," Ramaswamy said. "I don't have an egotistical view of this. I think I will make my unique mark on this country during my eight years in the White House. But it will be against the backdrop of history that's much bigger than me long before and which will be much bigger than long after I'm gone."
West also commended Ramaswamy for his truth decalogue, or what is basically a list of campaign principles featured prominently in campaign materials.
Of note, Ramaswamy's Ten Commandments, of sorts, declare God is real, there are only two genders, Capitalism lifts people from poverty and that fossil fuels are essential to human flourishing, among six other truths. From reading this list and seeing his performance on the debate stage, West came to a conclusion.
"You're either the bravest human being in America or crazier than a (expletive) house cat," West said. "You're brave to put this out. You believe in what you do."
In a follow-up interview with Newton News, West admired Ramaswamy for not "sugar dipping anything" he says, and he liked that the candidate focused on what he considered to be "real problems" and "not somebody's pronouns." When West was called on by Ramaswamy for a question, he remarked about the debt.
Proposing that U.S. citizens should be able to buy back the U.S. debt load from foreign countries through what he called tax-free "patriot bonds," West gauged what Ramaswamy felt about the idea. Ramaswamy said it was an interesting idea that was getting his "financial cogs turning," praising its inventiveness.
"Here's what I love about that: it's the innovative spirit behind it. All we get in Washington, D.C. now is the boring old debate between tax increases and cuts to social security and Medicare. I just believe there is a third way. The third way I'm generally focused on is economic growth, GDP growth. This is in that direction."
West later added, "You make me want to go out and do something."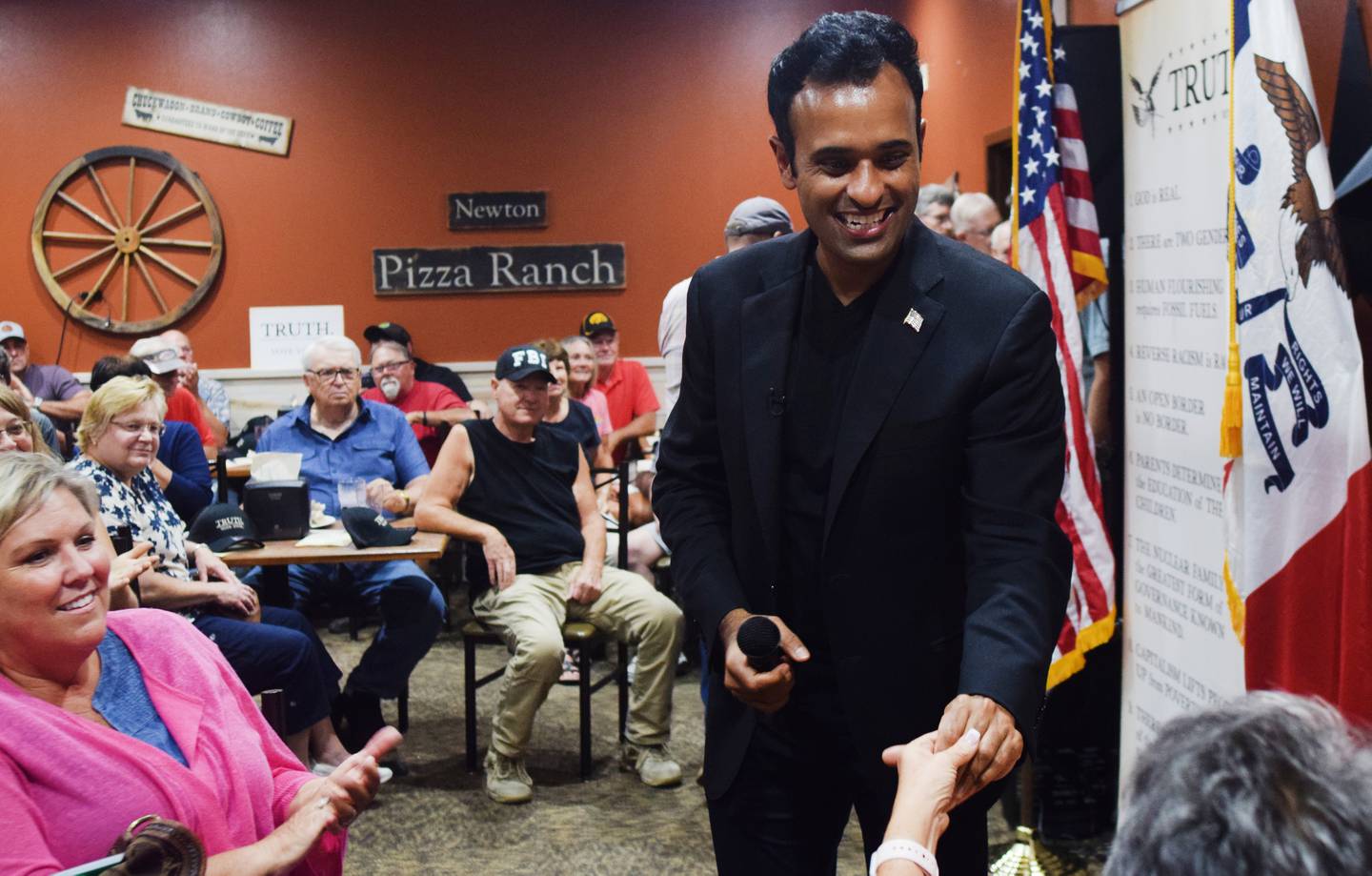 John Deegan, of Newton, also called Ramaswamy a breath of fresh air and said he has great ideas about the economy and growth. The message from the Millennial Republican resonated with the largely older crowd in Newton, which Deegan agreed was surprising considering he is such a young candidate.
"I think he talks to us like we're human beings. He's not a bunch of these old slogans like 'truth will prevail' or other old time stuff. I like to hear new stuff. It's just so fresh and I like the fresh ideas he has … And I think he's just fun and a nice guy," Deegan said, noting he was impressed by his debate performance.
Ramaswamy turned many heads with his confidence, his radical agenda and the way he held himself against the other candidates who were quick to target him. Even more so when favorites-not-named-Trump — like Florida Gov. Ron DeSantis and U.S. Sen. Tim Scott — struggled to standout in a positive way.
Debates can be revealing. But in order to get a real feel for a candidate, Deegan likes to see them in person. He, too, saw DeSantis at a Pizza Ranch in Pella.
If you ask Deegan, Ramaswamy is the "sharper" of the two.
"He's on top of things," Deegan said. "Or maybe he's fooling me. But I think he's good, I think he's good. I like him."