If it hadn't been for the shattered glass or baseball-sized dents in cars, Newton residents would have no evidence of the huge hailstorm that had cut through town on Sunday afternoon. By the time the storm subsided, the sun had peaked through the clouds and melted all that was left of the hail.
Many residents were quick to pluck out a few of the biggest chunks still intact on their yards and decks. Brian Marshall and his 13-year-old son Kaden, who live near the 2100 block of South Third Avenue, found some hailstones that were so big they could probably be played on the nearby tennis courts at Aurora Park.
Jim Lee, meteorologist at National Weather Service Des Moines, told Newton Daily News a thunderstorm struck Newton on Sunday evening after initially forming between Mitchellville and Colfax around 3:30 p.m. The storm moved eastward toward Newton, along and just north of Interstate 80.
"Meanwhile, a cluster of severe storms over eastern Story County surged southeastward into Jasper County, producing not only large hail but also strong winds, knocking over power poles and lines near Collins," Lee said. "That storm and the one approaching from Colfax merged just northwest of Newton."
It finally struck the city at around 4 p.m. and lasted roughly a half-hour. The storm moved just south of due east, Lee added, and subsequently impacted a long stretch of I-80, east of the Newton exits. The weather and damage seen in Newton was also experienced by a number of surrounding counties heading east.
Many locations within this broad swath received strong winds and large hail frequently found to be two inches in diameter or greater; a few spots saw hail ranging up to three inches in diameter or greater. National Weather Service received multiple reports of baseball-sized hail from Newton.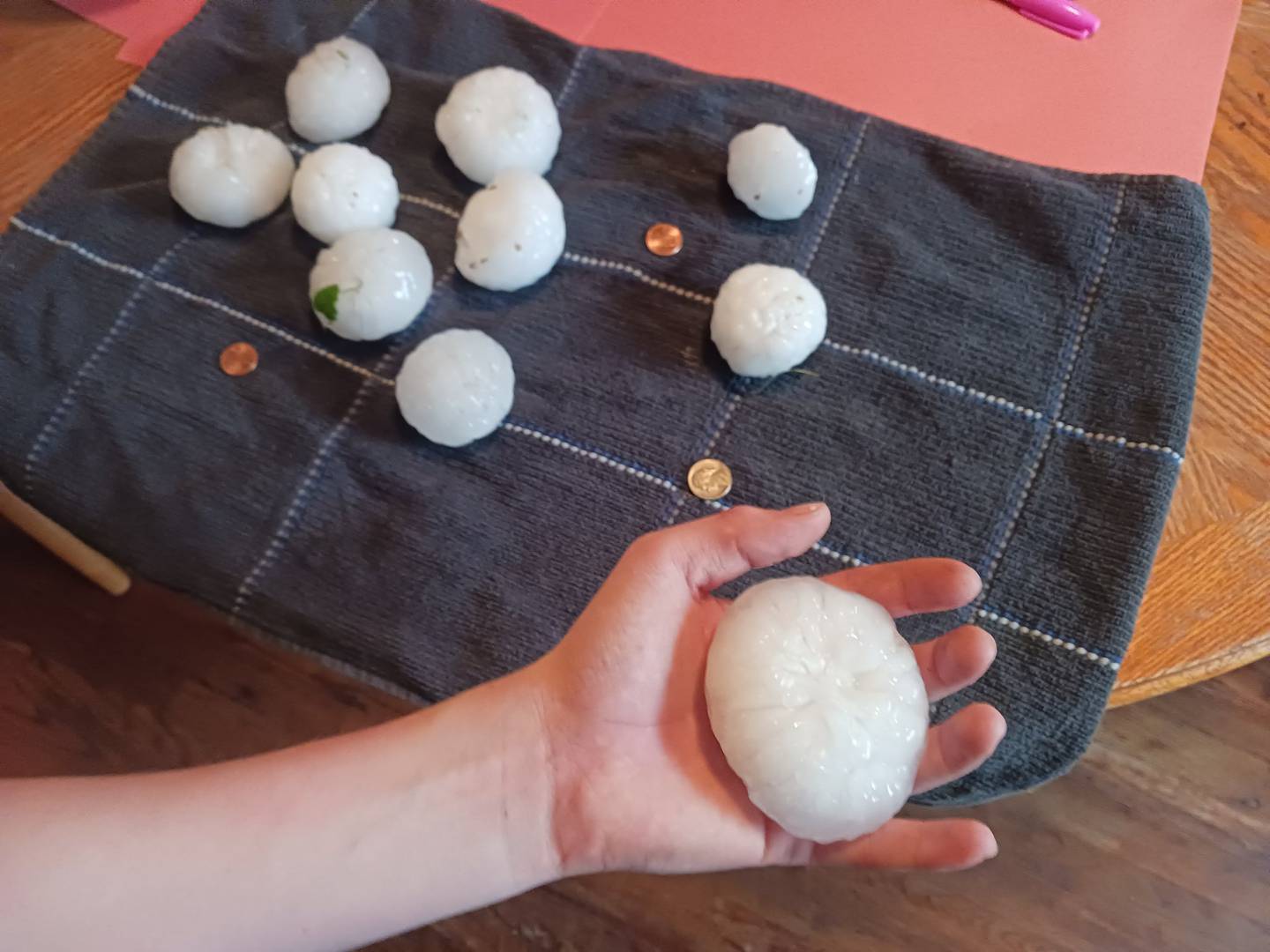 In Sully and Kellogg, the hail was reported to be the size of tennis balls, and a picture of one such hailstone in Baxter showed to be approximately three-and-a-quarter inches in diameter. Lee said hail this large can do severe damage to vehicles, roofs, siding, vegetation and humans and animals.
"When very large hail falls concurrent with strong winds, as we saw on Sunday, it will often destroy the sides and windows of buildings, and can even kill mature trees," Lee said. "Unfortunately there is not much we can do to prevent such property damage, other than getting vehicles under cover."
Social media posts showed Newton residents were hit hard by the storm, with many posting pictures of shattered windshields and windows.
Nick Williams, general manager of Gregg Young Newton, said the damage to the car dealership he works for was minimal compared to Lauterbach Buick-GMC in Newton and Wes Finch Auto Plaza in Grinnell. Still, Williams said the car dealership had vehicles with many dents in them caused by the hail.
In the event a car dealership experiences a hailstorm and has vehicles on its lot damaged, Williams said the cars have insurance policies to cover the damages. Typically, when a car is damaged by hail, Williams said it is mostly light dents. Broken windows are not as common, but they can happen.
Jason Lauterbach, general manager of Lauterbach Buick-GMC, told Newton Daily News in a phone call the morning after the storm that cars on the lot had been damaged and that customers were calling to schedule repairs to their own vehicles. He did not know at the time how many vehicles were damaged.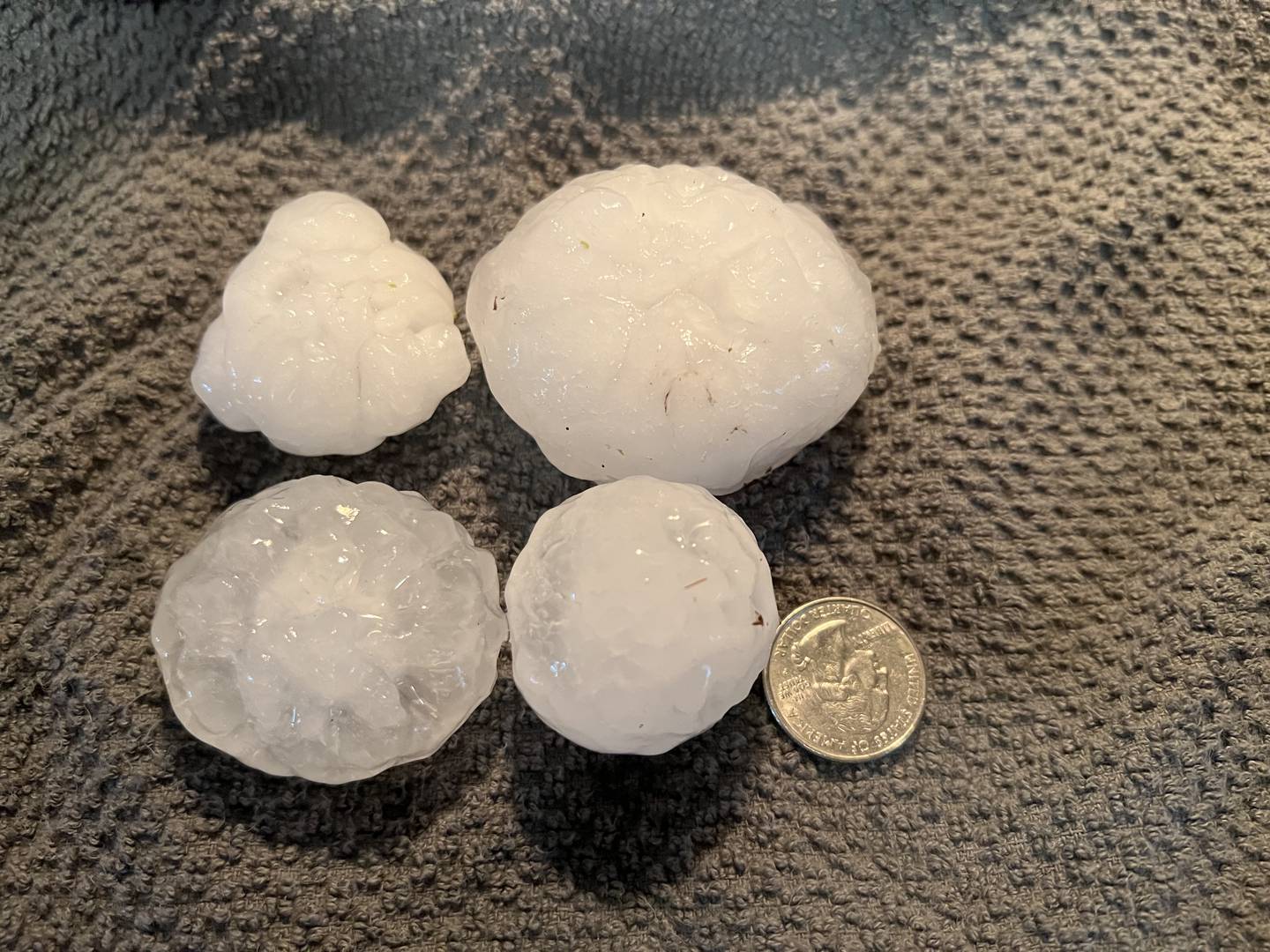 Insurance companies across the affected areas are getting swamped with phone calls from customers wanting to make an insurance claim.
Clemon-Maki Insurance posted on Facebook shortly after the hailstorm ended encouraging folks to check all of their property and take photos of any damage before securing the damages, like covering windows or the roof. The next day, the business made another post saying it was receiving a high volume of calls.
About 48 hours after the storm hit Newton, Iowa Gov. Kim Reynolds issued a disaster proclamation for Jasper, Benton, Iowa, Muscatine and Poweshiek Counties in response to the severe weather. The proclamation activates the Iowa Individual Assistance Grant Program and Disaster Case Management Program.
Iowa Individual Assistance Grant Program provides grants of up to $5,000 for households with incomes up to 200 percent of the federal poverty level. Grants are available for home or car repairs, replacement of clothing or food and temporary housing expenses.
Original receipts are required for people seeking reimbursement for actual expenses related to storm recovery.
Grant applications are available on the Iowa Department of Health and Human Services website at hhs.iowa.gov/disaster-assistance-programs.
The Disaster Case Management Program addresses serious needs related to disaster-related hardship, injury or adverse conditions. Disaster case managers work with clients to create a disaster recovery plan and provide guidance, advice and referrals to obtain a service or resources.
There are no income eligibility requirements for this program and it closes 180 days from the date of the governor's proclamation — which would be Nov. 5.
For more information on the program, contact Stephanie Redig, the local programs manager for IMPACT Community Action Partnership, at 515-218-1612.