MONROE — The starting lineup for the PCM girls' basketball team against Chariton on Friday featured two juniors, two sophomores and a freshman.
Only one senior played significant minutes for the Mustangs. Experience for the most part will not be on PCM's side this winter, but that didn't deter the hosts from hanging with a senior-dominated Chargers squad during the team's non-conference contest.
In the end, though, Chariton's experience and Tatyana Allen-Winston's play inside was too much to overcome during a 44-38 loss.
"If every team plays us that hard, we will be so good in February," PCM head girls basketball coach Sami Allison-Rodriguez said. "We'll get a little better every time we see it."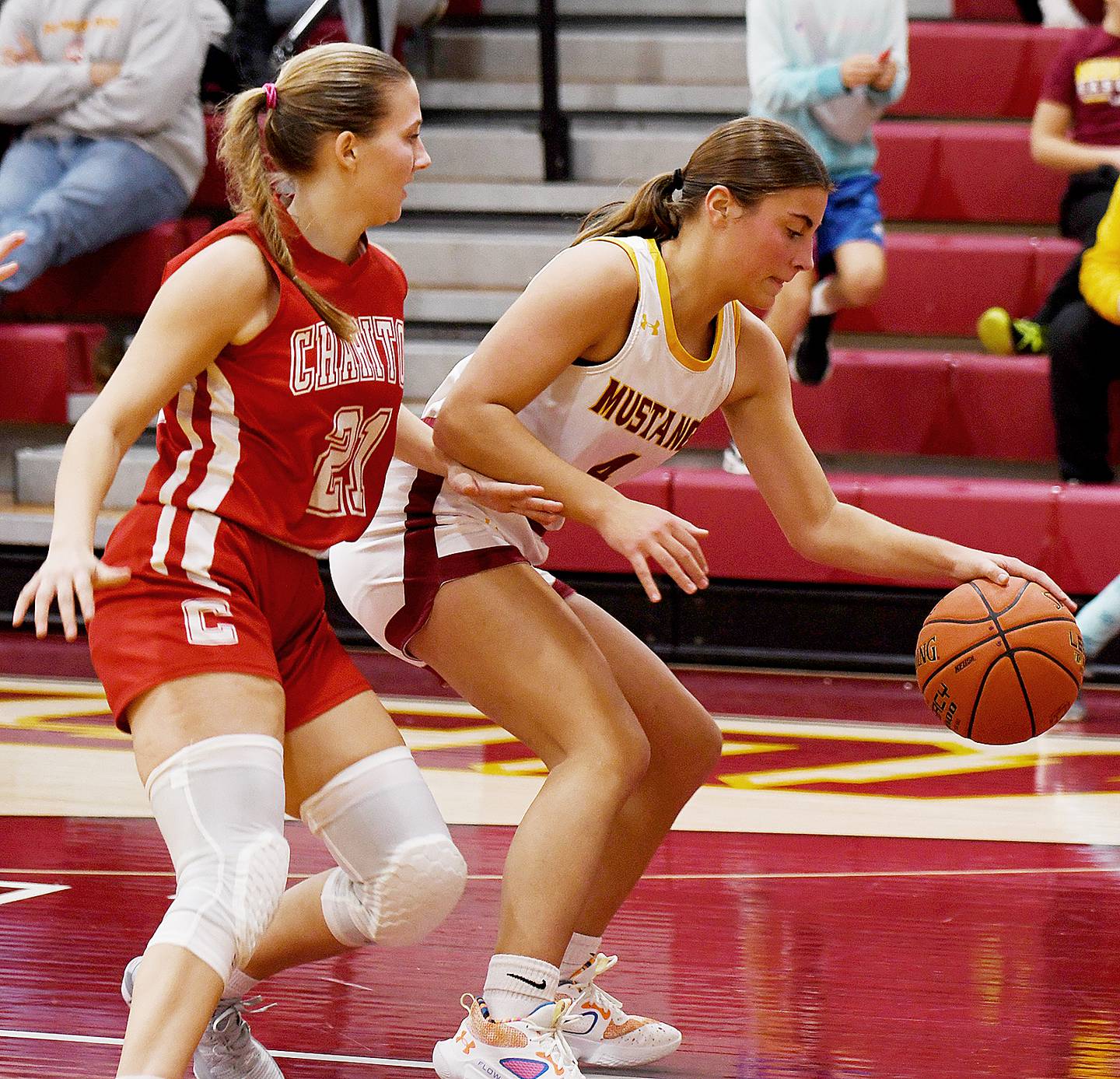 The game was tied at 8-all after one quarter and 17-all at halftime. The Mustangs took a one-point lead into the final frame, but Chariton used a 7-0 run to pull away.
Addison Steenhoek buried a 3-pointer with 30.5 seconds to go and then made three free throws with 16.2 left to trim the margin to 41-38. But that's as close as the Mustangs got.
"Chariton is physical. We knew this was going to be a battle," Allison-Rodriguez said. "We play them in the fall league in Pleasantville. They are senior-heavy and well coached and they play hard."
Lila Milani's 3-pointer was the first points of the season for the Mustangs and a bucket inside by Rebecca De Vries made it 6-2 early.
A pair of baskets by Allen-Winston helped the Chargers (1-0) draw even after one frame.
Foul trouble hit the Mustangs early and often. De Vries, who started in the post, went to the bench with 4 minutes to play in the first after picking up her second foul.
She got whistled for her third on the first possession of the second and then picked up her fourth on the first possession of the third before fouling out with 6:23 to play in the game.
Tori Lindsay, who was PCM's leading scorer last year, also fouled out with about 4 minutes to play in the contest. She got her fourth foul midway through the third.
"We try to control what we can control," Allison-Rodriguez said. "It didn't go our way tonight with the fouls and the minutes of some key players. We have to learn from it. We have to read how the refs are making calls and try to adjust.
"It's no secret. We're not that deep. We're working hard to try to change that."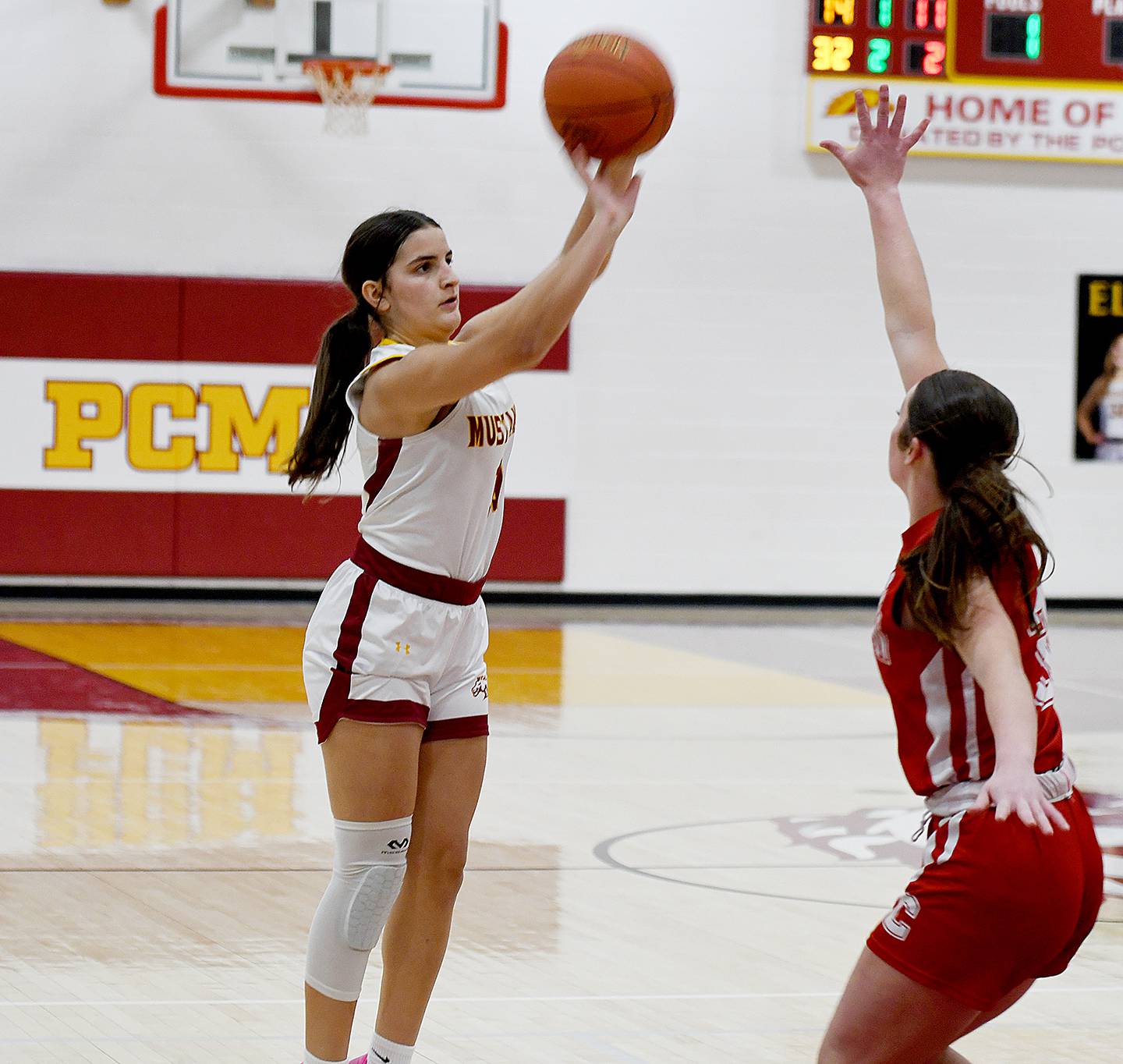 Lindsay drained a 3-pointer to open the second, but back-to-back buckets and a 3-point play by Allen-Winston pushed the Chargers in front 15-11.
Steenhoek scored six of her seven first-half points in the final 2:28 to draw the Mustangs even at halftime.
Chariton did not make a 3 in the first half. Addie McGee banked in a trey to start the third and then Abby Doran connected from deep as the shot clock horn sounded. That put the visitors up 23-17.
A putback by Elle Davis started a 9-2 run for PCM. Lindsay and Claire Van Wyk each made a free throw, Steenhoek drained a 3 and Jorja Teeter buried a jumper that see-sawed the Mustangs (0-1) back to the lead at 26-25 after three.
Chariton's final 3 of the night came from Doran to open the fourth and Allen-Winston scored inside to extend the Chargers' lead to four.
Allen-Winston made two free throws after De Vries' fifth foul to add to the lead.
The Chargers were 17-of-21 from the free-throw line in the game. A pair of free throws from Doran and McGee made it 41-32.
Steenhoek's 3 trimmed the margin to 41-35 with 30.5 seconds to go. After PCM got a stop at the other end, Steenhoek was fouled attempting a 3 and canned all three freebies with 16.2 left.
Three more free throws by Chariton put the game away. PCM lost by six and missed 10 free throws.
"We are never going to give up. I don't care if we're down 20," Allison-Rodriguez said. "We have to get better with each game and that's how you get better. We have to get better offensively and defensively and the only way to do that is to play hard all the time.
"We are going to have to be gritty. That's how we will have to play."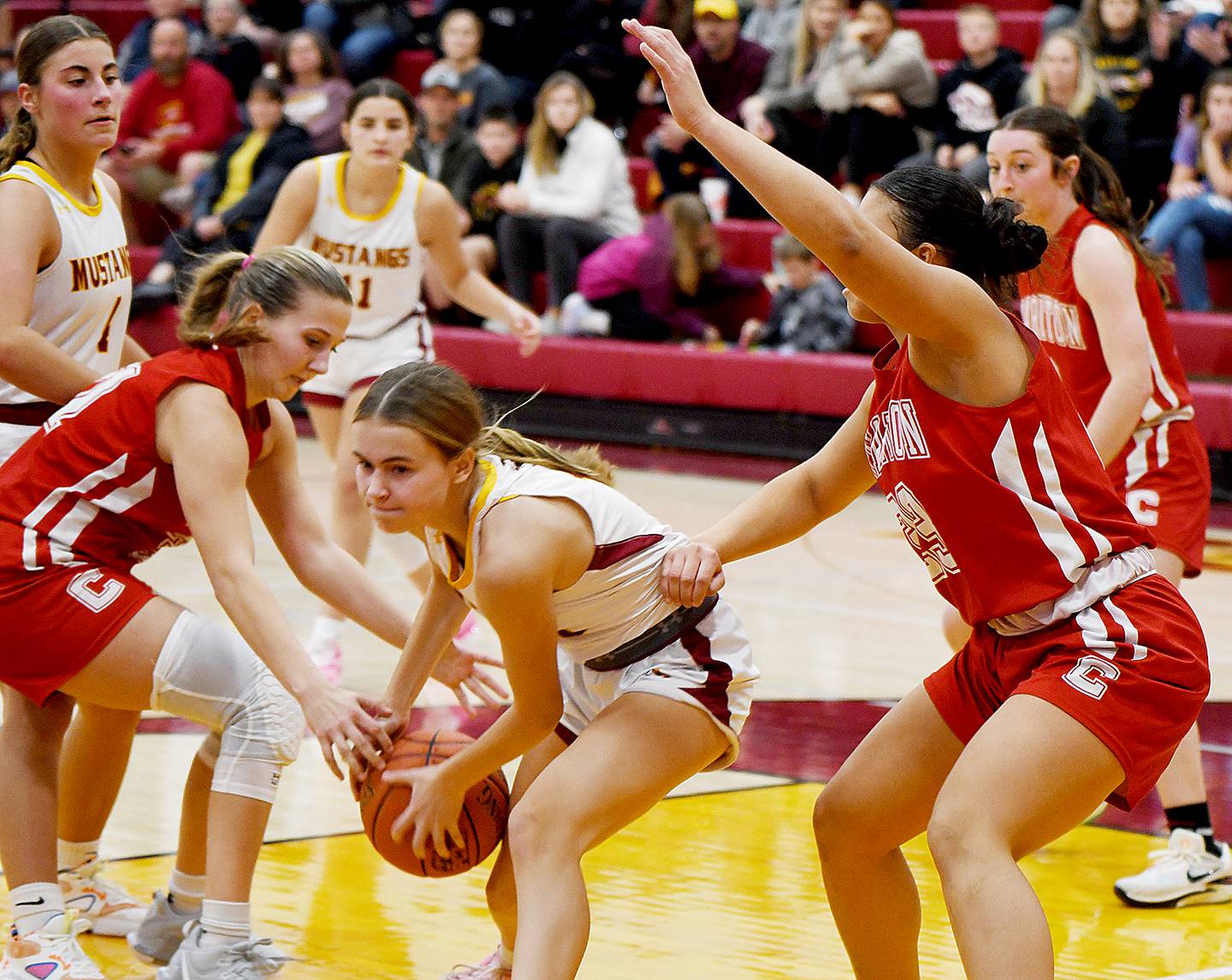 Steenhoek led the Mustangs with 16 points, six rebounds and two assists, while Lindsay added eight points and three boards.
Milani scored six points, grabbed four rebounds and swiped two steals in her varsity debut and Teeter put in three points, corralled a career-best 11 rebounds and had two steals.
Davis grabbed four rebounds and De Vries had three boards in about 6 minutes of court time.
PCM shot 23 percent from the floor, made 5-of-22 from 3 and connected on 11-of-21 from the foul line. The Mustangs committed 23 turnovers.
"The offense is coming along. We are trying not to use as many set plays as last year, but we may need a few more," Allison-Rodriguez said. "The ones we used tonight didn't look fantastic, but those might not work for this team. We just have so many new kids on the floor. I have to figure out who wants the ball in certain situations. I would like to get the ball to our posts on the block more, too. We have to figure that out."
Allen-Winston scored 11 of her game-high 17 points in the first half. She did not score after hitting two free throws early in the fourth. She added six rebounds.
Doran registered 10 points and seven boards, while Mckenzie Snook and McGee chipped in eight and seven points, respectively. Snook also posted 10 rebounds, five assists and seven steals.
The Chargers shot 22 percent from the floor, connected on 3-of-25 from 3 and turned the ball over 15 times.
Notes: The Chargers finished 14-9 in each of the past two seasons. Allen-Winston, Doran, Snook, McGee and Sydney Cain — four seniors and a junior — started the game for Chariton. They were the Chargers' five starters for all but one game last winter. "Kudos to Chariton. They brought a student section," Allison-Rodriguez said. "Our students were fantastic, too. This was a fun environment for an opening non-conference game."