MARSHALLTOWN — The Newton-Colfax-Mingo-Pella girls' swim team had a few goals for their relay teams at the state meet on Saturday.
The Aquagirls wanted to drop time in all three races and finish ahead of state-ranked Johnston in the 200-yard freestyle relay.
The end result produced three season-best times, a significant improvement in placing for two of the teams and the 200 freestyle relay foursome completed their race ahead of three perennial powerhouses during the Iowa High School State Swimming and Diving Championships at the Marshalltown YMCA/YWCA.
"One of our goals was to beat Johnston, but we found out we beat Johnston, Ankeny and Valley so we were really happy," NCMP sophomore Harper Barton said about the team's loud celebration after the 200 freestyle relay.
"Our goals were to move up and beat Johnston, and we did that."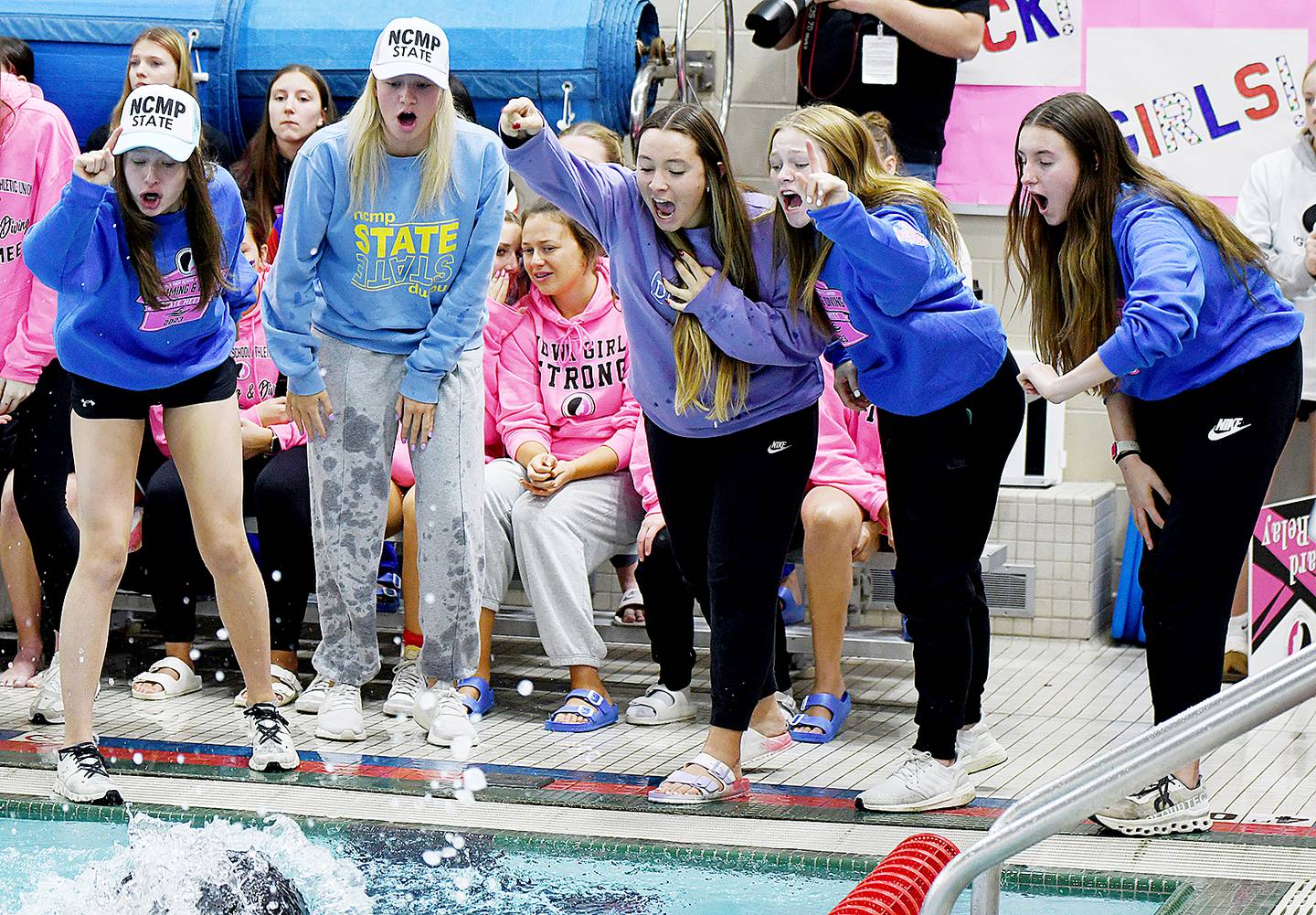 Barton was part of a trio of Aquagirls who swam in an individual race on Friday. None of them made it to Saturday's final 16 though.
NCMP's best finish on the weekend came in the 200 freestyle relay. The foursome of Barton, Alex Riney, Paige Benson and Peyton Ray finished 11th with a season-best time of 1 minute, 40.5 seconds.
The group came into the weekend with the 15th-best qualifying time, but the Aquagirls and the five teams in front of them were only separated by about a second.
The season-best time was .03 seconds off 10th, .26 seconds back of ninth and only .54 seconds away from eighth.
Johnston ended up 12th, Ankeny was 13th and West Des Moines Valley finished 14th.
Iowa City High posted a 1:39.96 in the first heat and wound up eighth. Waukee won the race in 1:36.97.
"Beating Johnston and Valley were two of our goals and we also beat Ankeny so that was fun," Riney said. "We had a big celebration after we found out we beat them all."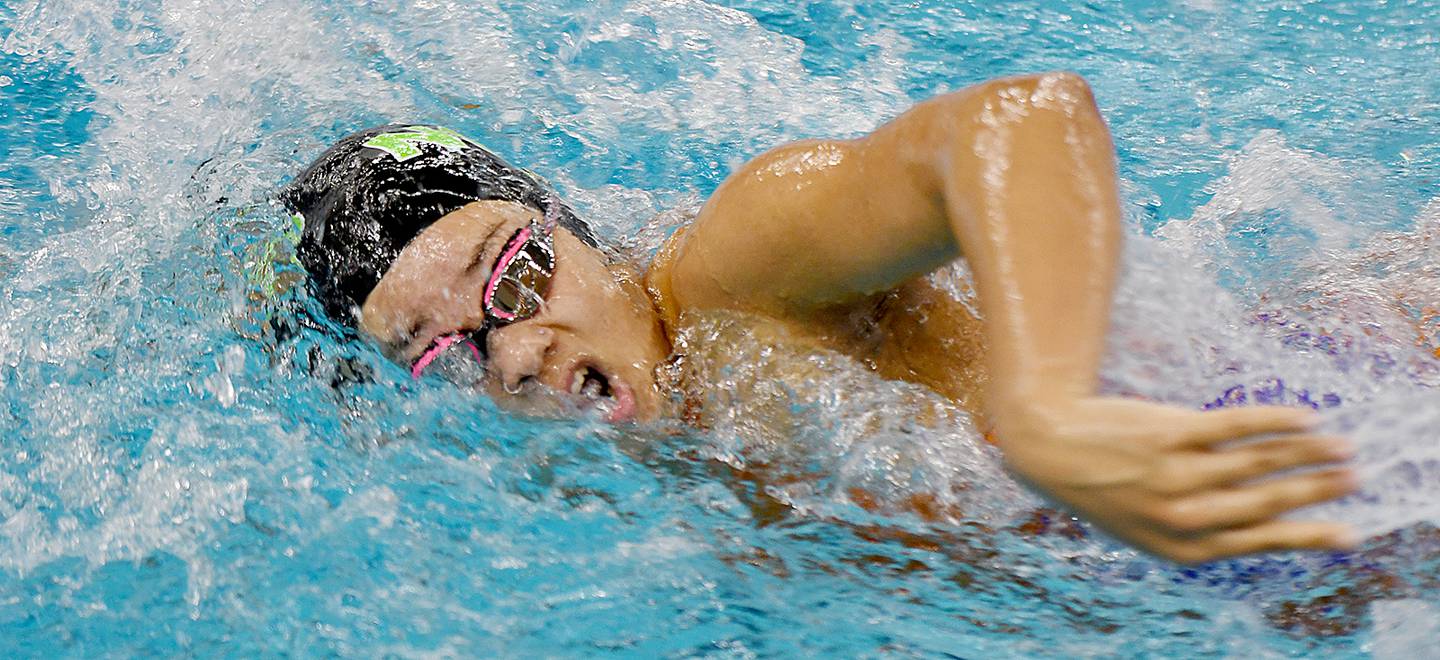 The next best finish came in the 400 freestyle relay. In the final race of the day, NCMP's foursome of Ray, Riney, Izzy Lane and Barton were 16th in a season-best time of 3:43.49. They came into the weekend seeded 15th.
Waukee won the race in 3:28.36 and 10 teams swam faster than 3:40.
The Warriors also won the 200 medley relay with a time of 1:44.78. NCMP's team of Tori White, Estella Allen, Lane and Riney were 20th in a season-best 1:54.28.
The Aquagirls were seeded 25th and eight teams swam under 1:50.
"We got improved times in all three of them, which was awesome," NCMP head girls' swim coach Nick Shelton said about the relays. "Moving up five spots in the medley and four spots in the 200 freestyle relay was cool, too. We were close to the top 10."
Barton was the first NCMP swimmer in the Linda Bloom Natatorium pool as she swam in the 100 freestyle prelims on Friday. Her time of 54.94 seconds was nearly a career-best and she finished 20th after entering the day with the 24th-best qualifying time.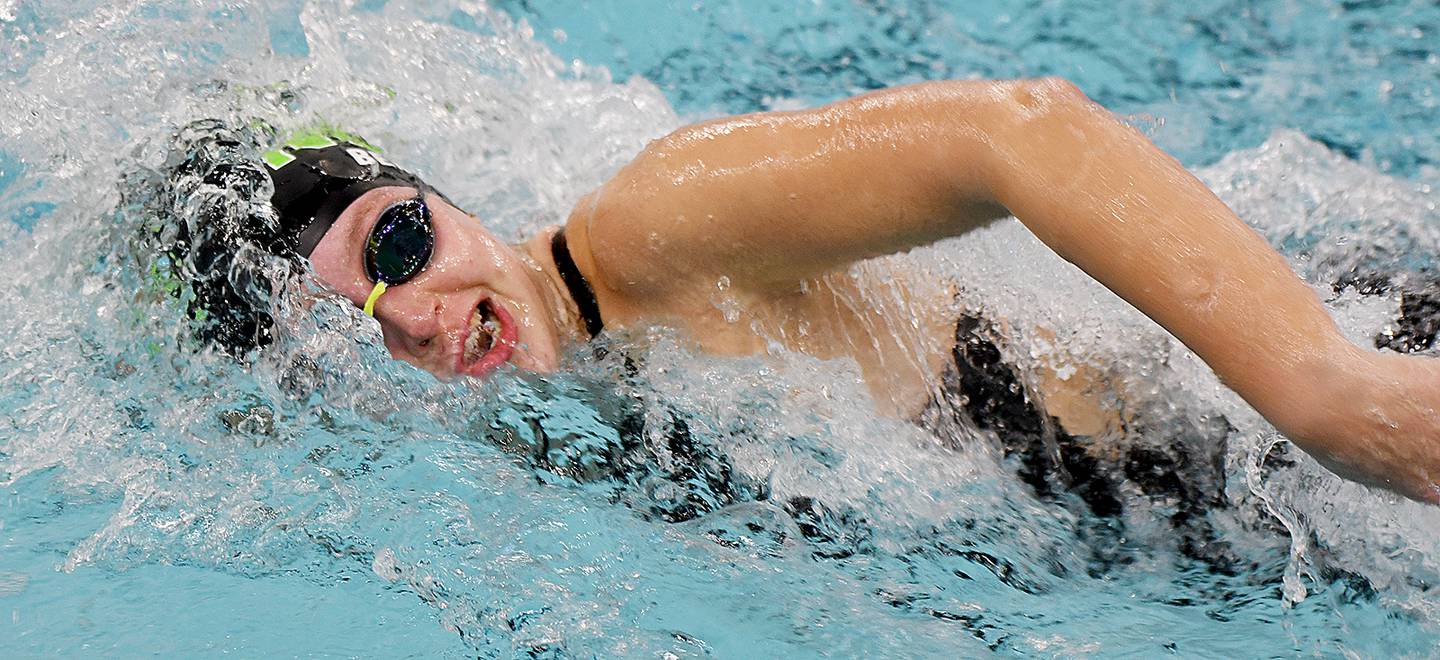 It took a 54.63 to make the 'B' final. Iowa City High's Grace Hoeper grabbed the 100 freestyle championship in 50.27 seconds.
"I swam pretty well. I didn't swim what I swam at districts. I was happy with 20th I guess," Barton said. "I wanted the 'A' final, but I think I can do that next year."
White was next in the pool and she was 31st in the 100 backstroke. Her time of 1:02.59 was the second-best time of her career. It took a 1:00.50 to make the 'B' final.
Waukee's Payden Rafferty won the 100 backstroke title in 55.52.
"Everyone dropped time in that race. I'm just glad I didn't get last," White said. "That's what I thought I was at first. I soft-touched the wall so my time wasn't right on the board. I was mad about the high 1:03 because that's not what I wanted at all. But my time was better and that was closer to my best. To be in the 1:02s for me was still good."
The final individual swimmer was Addison Van Maanen and she placed 24th in the 100 breaststroke. Her career-best time of 1:08.44 moved her up five spots from her qualifying position.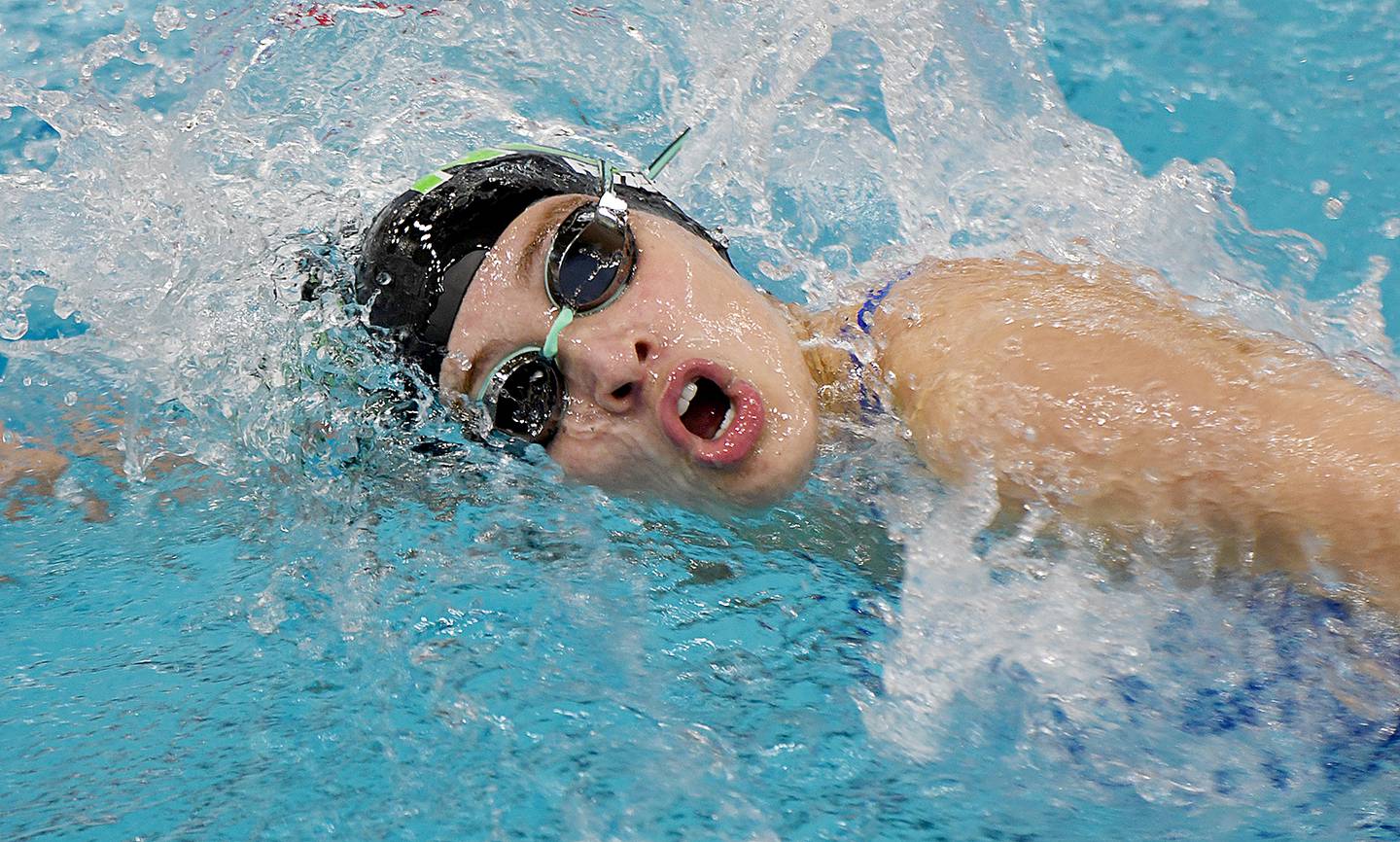 Van Maanen was second in her heat and she also was better than at least one swimmer in the two heats after hers.
It took 1:07.27 to make the 'B' final. Waukee's Willa Hage claimed the 100 breaststroke title in 1:02.17.
"I swam my best time, but I was disappointed to not make the finals," Van Maanen said. "But with everything that was thrown at me this season, I'm just glad I got to be here and swim here another year."
It was the first time White and Van Maanen competed in an individual state event in their careers.
Both swimmers said the experience was different than competing with teammates in relays. It also helped White be more relaxed for her relay race the next day.
"I felt so much more nervous," Van Maanen said. "I was behind the blocks without my teammates. It was such a fun experience though. I loved it."
The only NCMP state qualifier who won't be back next year is Allen. That's an exciting situation for Shelton, his coaching staff and the rest of the Aquagirls who competed at state this weekend.
"They all swam well and posted best times," Shelton said about the relays. "That's all we can ask for.
"Most of them are returning and we have a few options to replace Estella, too, depending on how we decide to do it. I think it's awesome to have mostly everyone back next year."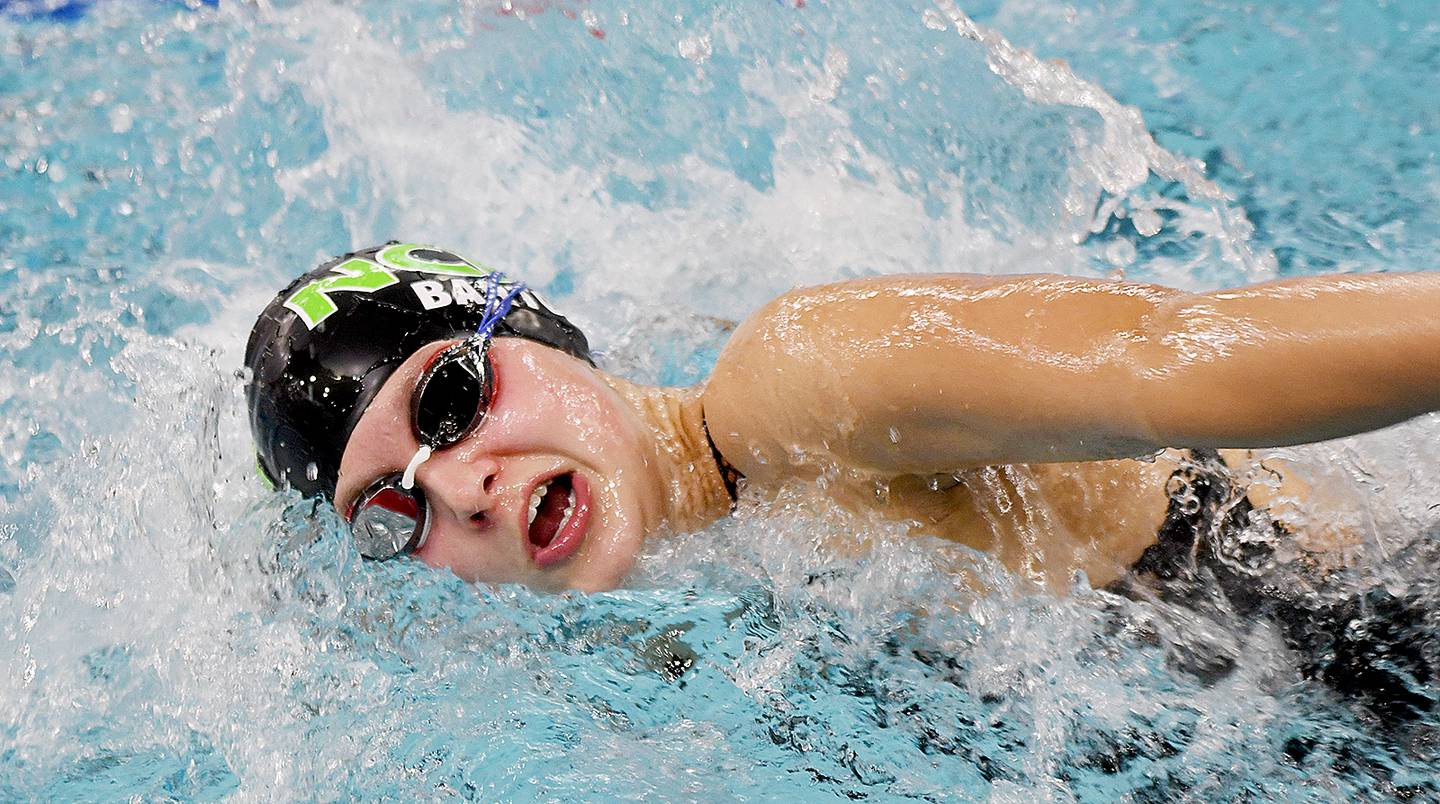 No. 21 NCMP finished 23rd in the team standings with 14 points.
Top-ranked Waukee won the team championship with 381 points, while second-ranked Dowling Catholic was the runner-up with 241.5 points. The rest of the top five featured No. 13 Davenport Central (190), No. 7 Valley (186) and third-ranked Ames (181.5).
Notes: White was the only NCMP swimmer who was on the 200 medley relay at state last year. She enjoyed this year's experience with three new partners and expects to be back at state next year. "I think we all had really strong splits and it was fun to race with that group," White said. "I was on the team with three completely different girls last year. It was so much fun, and it was cool to be a part of Stella's last race. As far as my individual race goes, hopefully next when I'm back, I will do better." … Both Barton and Van Maanen should be in good positions with the 100 breaststroke next season. But they also each will have younger sisters joining them on the team and they both swim the breaststroke, too. "I'm really proud of Addison. She did well this year," Barton said. "I feel like next year will be a big year for me. My sister is coming up next year so I'm excited to be able to go through it with her, too." … Riney and Barton both were on the 200 freestyle relay team that made state last year and Riney and Ray were each on the 400 freestyle relay team. "I think all three relays went well and all three of them have everyone except one swimmer back next year," Riney said. "That's exciting. I think next year will be a big year."… Coach Shelton predicts all three of his individuals will make it back to state next year. He had a very simple message to Van Maanen before her race on Friday. "I told her she didn't have to prove anything," Shelton said. "She made it here despite mono. I even told her not to worry about her time and just go compete, but she even dropped time. That was cool to see."