MONROE — PCM junior Adrien Robbins ranks second in Class 2A in rushing yards through four games.
But what he's doing to get those yards pales in comparison to how important his offensive line has been this season.
Robbins led the Mustangs on Friday with 192 yards and PCM's football team scored early and often during a 50-7 win over Jesup.
The Homecoming victory also was the Class 2A District 6 opener for both teams.
"The holes were amazing," Robbins said. "I give all the credit to the linemen. They do all of the dirty work and no one appreciates them enough."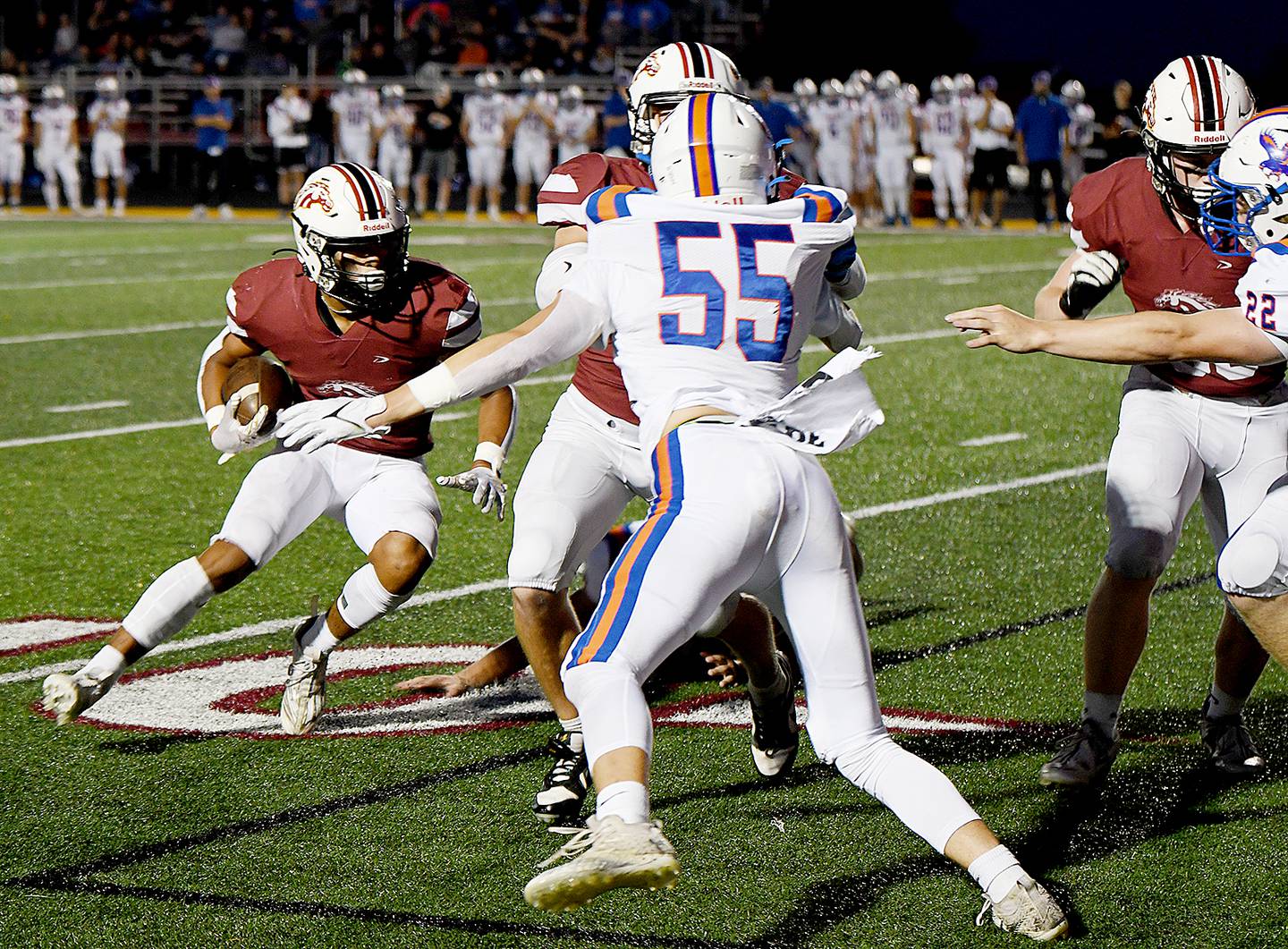 PCM scored 29 points in the first quarter and outscored the J-Hawks 14-0 in a second half that mostly featured a continuous clock.
The Mustangs (2-2 overall, 1-0 in the district) needed just two plays to crack the scoreboard.
Gavin Van Gorp connected with Griffin Olson on a 23-yard pass play and then Robbins scored on a 40-yard run on the following play.
Robbins added touchdown runs of 6 and 43 yards later in the first and Van Gorp scored on a 4-yard TD run with 3:50 go in the period.
"We came into the game wanting to get out to a fast start and put the game away after the first quarter," PCM junior two-way lineman Kaden Clark said. "Losing two straight games was hard. We just wanted to get things rolling again. This is the turning point of the season for us."
Both teams scored seven points in the second.
The J-Hawks' only scoring drive of the game featured 15 plays. Jesup (1-3, 0-1) marched 82 yards to paydirt. Twelve of those plays were runs and the J-Hawks failed to complete a pass.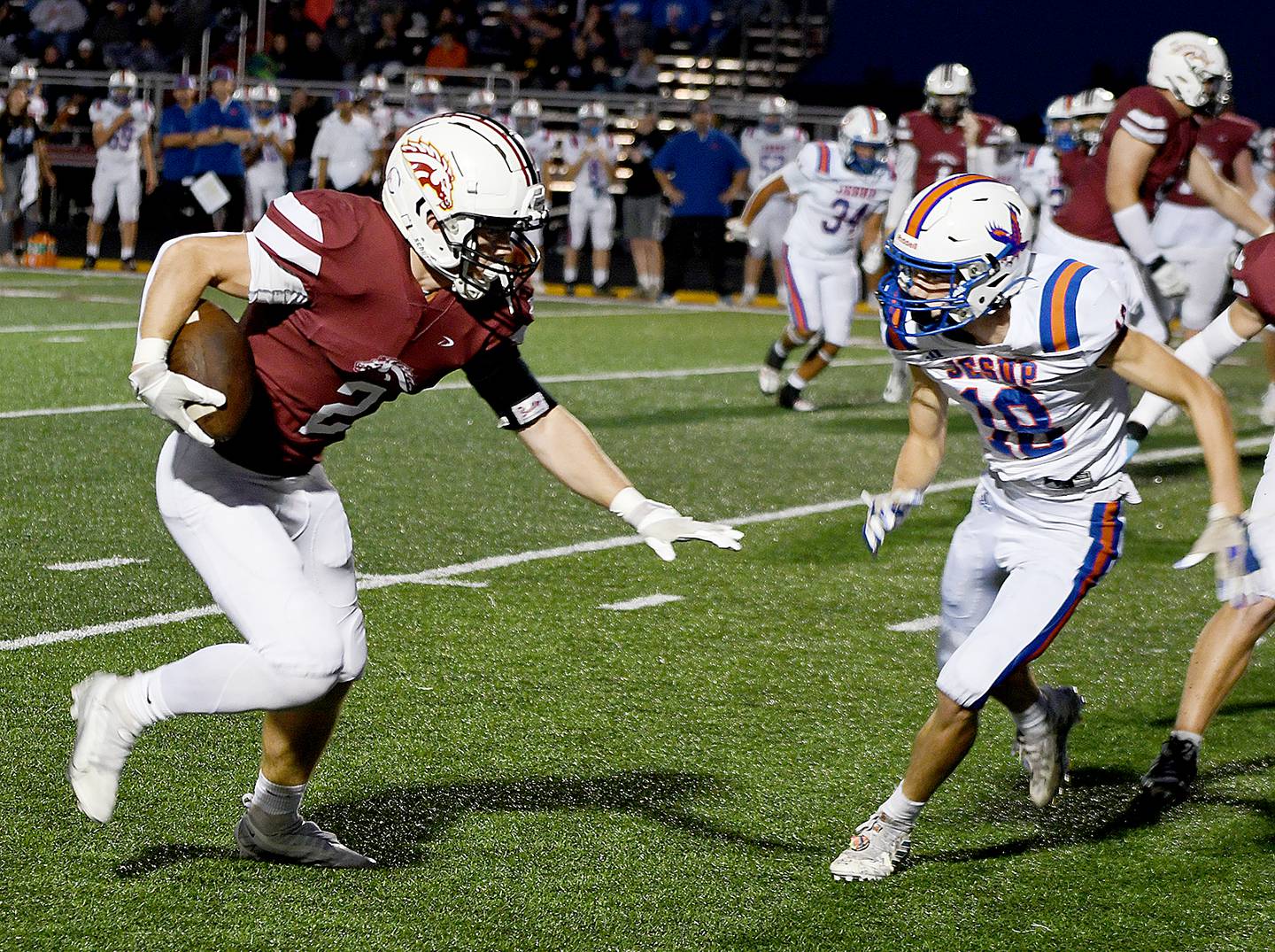 Jesup was held to 33 passing yards and 139 total yards in the loss.
"The defense did pretty well. I wish we wouldn't have given up that one score, but you can't get them all," Clark said. "We locked them down after that."
Besides the scoring drive, the J-Hawks' first-half possessions ended in two punts, a blocked punt by Allias Nolin and an interception by Justin Johnston.
PCM head football coach Greg Bonnett said the defense also featured two new faces.
"We lost Gavin DeRaad so (Evan Jones) had to play more defense," Bonnett said. "We took a DB out and put Jones in at linebacker. And then Hewitt Brinegar played an outside backer spot.
"That brings a little bit of excitement because someone who wouldn't normally get to play was out there. And for us, it was two new guys."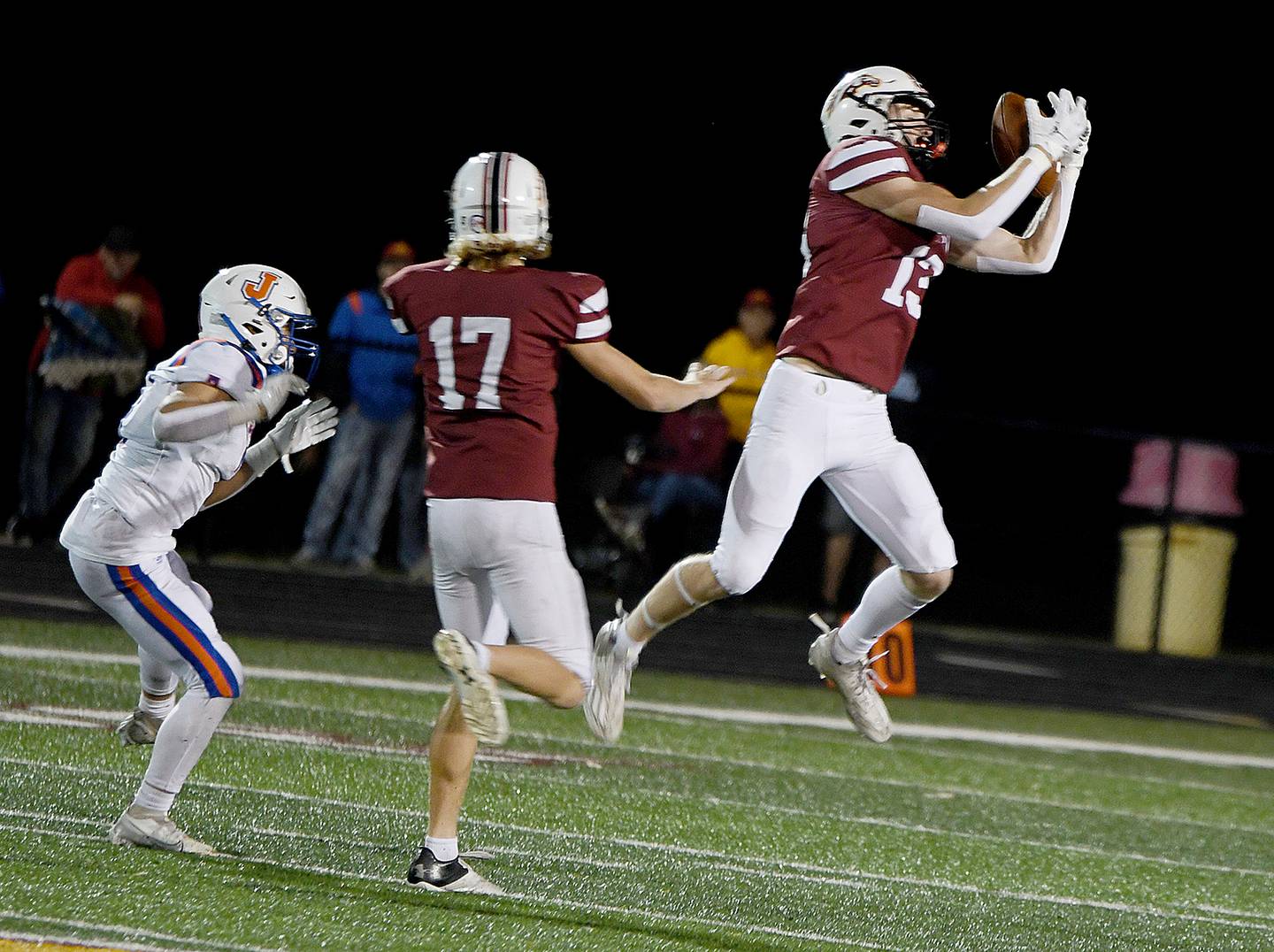 PCM answered Jesup's scoring drive with a 12-play, 54-yard drive that ended with a 14-yard touchdown pass from Van Gorp to Olson.
Robbins also had runs of 12 and 10 yards and Van Gorp connected with Jacob Wendt for 10 yards.
The first-team offense scored on its first two possessions of the second half.
After the defense forced a pair of three-and-outs, the Mustangs marched 46 yards in six plays and 51 yards in 10 plays.
The first drive featured a 21-yard pass play from Van Gorp to Wendt, a 13-yard run by Robbins and a 1-yard TD run by Van Gorp.
Shay Burns and Evan Jones handled the running back duties on the next drive. They combined for 46 yards and Van Gorp also hit Carson Hansen for an 11-yard gain and then scored on a 4-yard TD run.
"I felt really good about everything we did on offense," Bonnett said. "We only punted one time. We emphasized scoring in the red zone this week. We got in there a lot last week and just didn't score enough.
"I even called a timeout just to tell them they were in the red zone and we don't want to work and not get paid."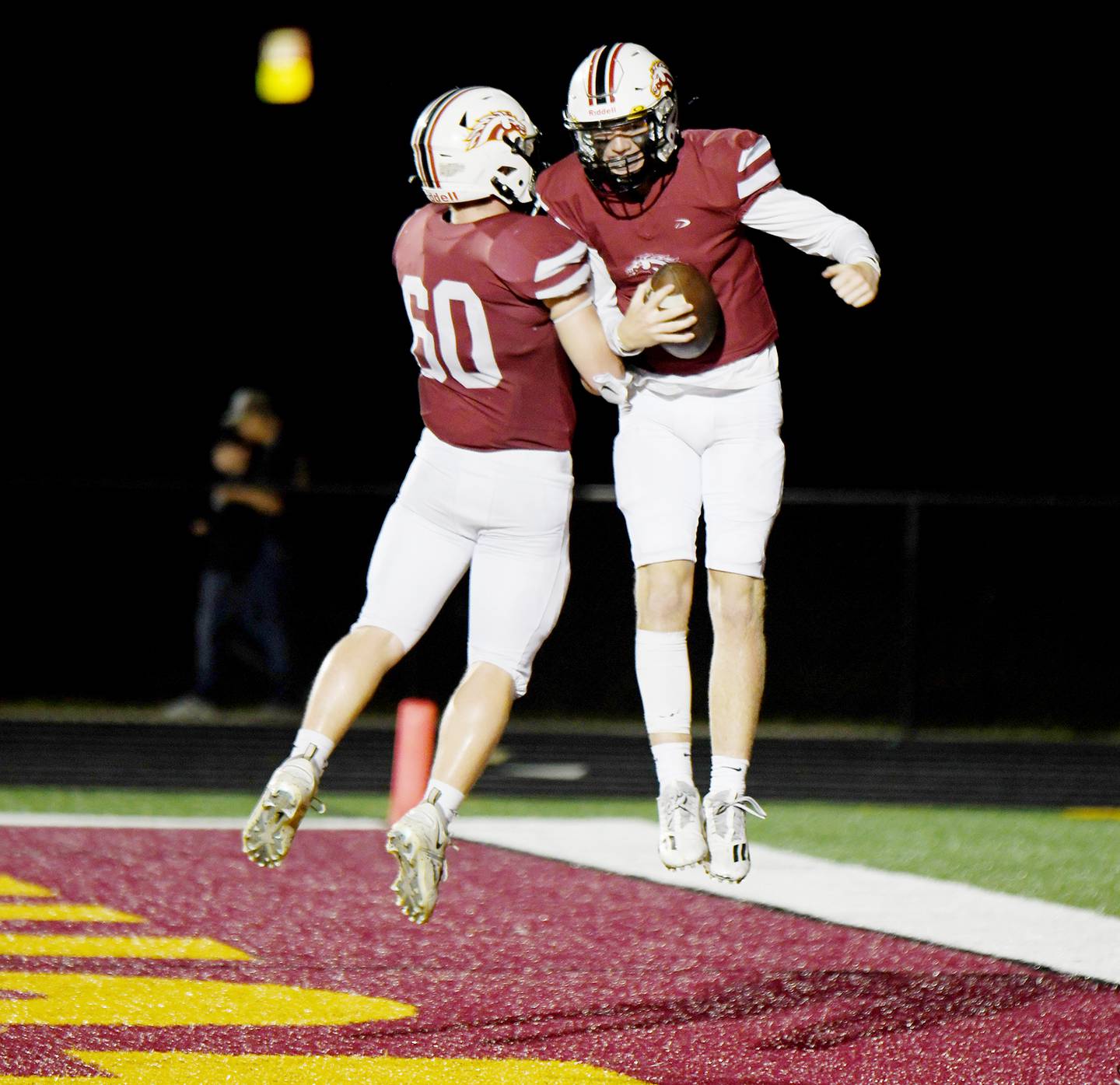 Robbins finished with 192 yards and three touchdowns on 15 carries and added a 16-yard reception.
He now ranks second in 2A with 600 rushing yards and is tied for seventh with seven rushing touchdowns.
"The line did a great job tonight," Robbins said. "I think I need to treat them to Pancheros or something. It feels good to get back on track. I think it will be great for the morale of our team."
Van Gorp rushed for 29 yards and three scores on nine carries and was 11-of-15 through the air for 142 yards and another TD.
Jones gained 23 yards on three carries and Burns rushed for 24 yards on five carries.
Olson led the receivers with 56 yards on four catches. Wendt added 31 yards on two grabs and Hobbs had three catches for 28 yards.
Finn Wilson led the defense with 7.5 tackles, while Jones finished with six tackles and Hewitt Brinegar and Nolin each had 4.5 tackles. Brevin DeRaad tallied three tackles and Johnston snagged his first pick of the season.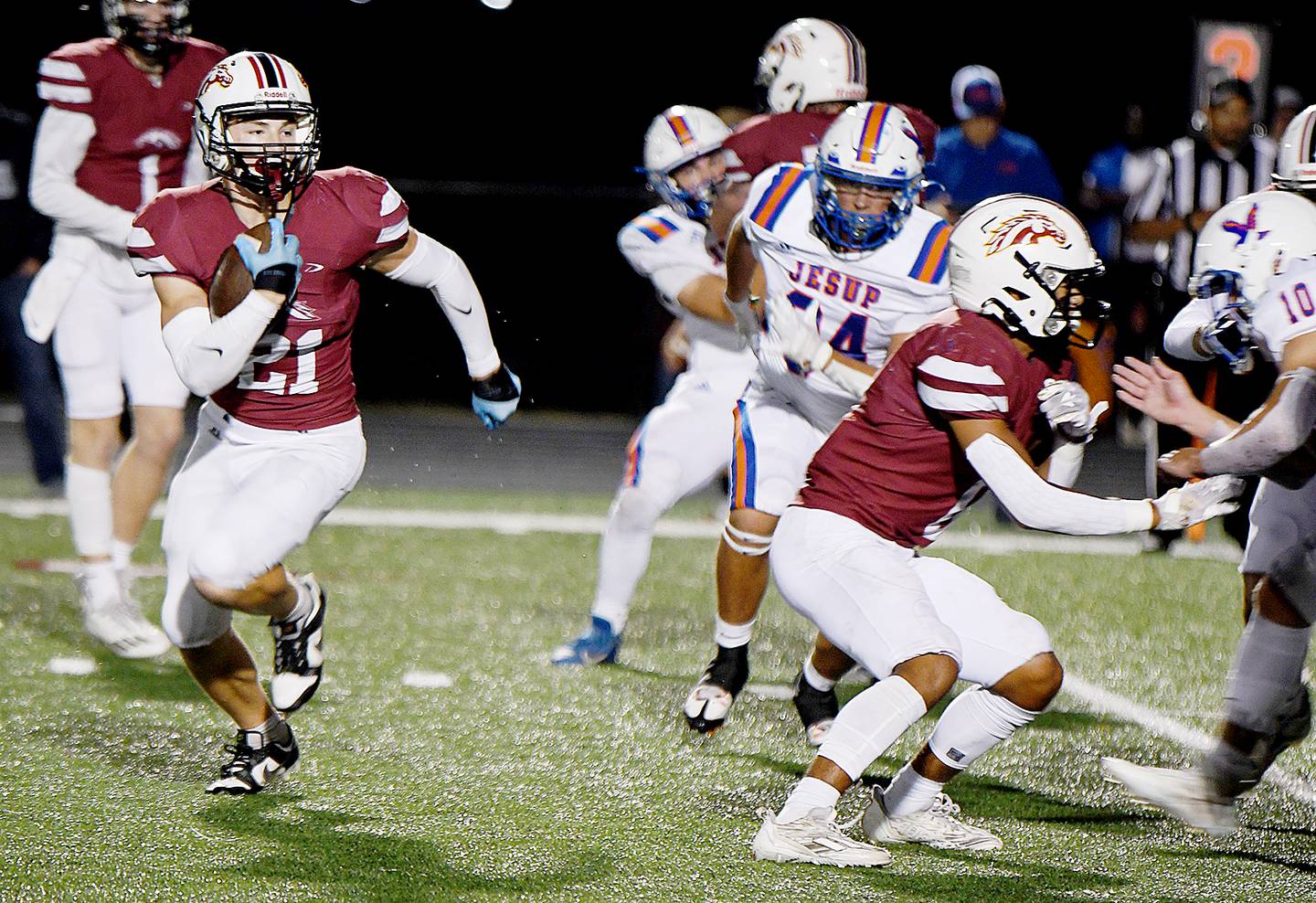 The Mustangs ran for 277 yards and averaged eight yards per carry.
"It was a pretty good team effort and we got a bunch of guys in there, too," Bonnett said. "That's always a good thing, especially on Homecoming."
Notes: Dominic Witt booted three touchbacks and was 6-of-6 in extra points. Van Gorp's lone punt went 47 yards. … Jesup got 51 rushing yards and 33 passing yards from Ryan Treptow. … Bonnett doesn't worry about the distractions that can come with Homecoming like he used to. "It's a memory they'll have for the rest of their life so I try not to be overly assertive about trying to make them go home at night," Bonnett said. "I want them to have a lot of fun. If it becomes a distraction, then it was going to be anyway."