MARSHALLTOWN — A dominating defense headlined the Newton football team on Friday night.
The Cardinals held Class 5A Marshalltown to 55 total yards and spoiled the Bobcats' Homecoming game during a 45-0 road win at Leonard Cole Field.
Newton led 21-0 after one quarter and 38-0 at halftime before coasting in the second half.
"Our defense has been pretty solid all year," Newton head football coach Andy Swedenhjelm said. "They did a nice job making adjustments after the ADM game and since then have been rolling. They read their keys really well and played aggressively."
Marshalltown, which has been outscored 152-24 this season, was only 1-of-12 on third down and gained negative yardage on 16 carries.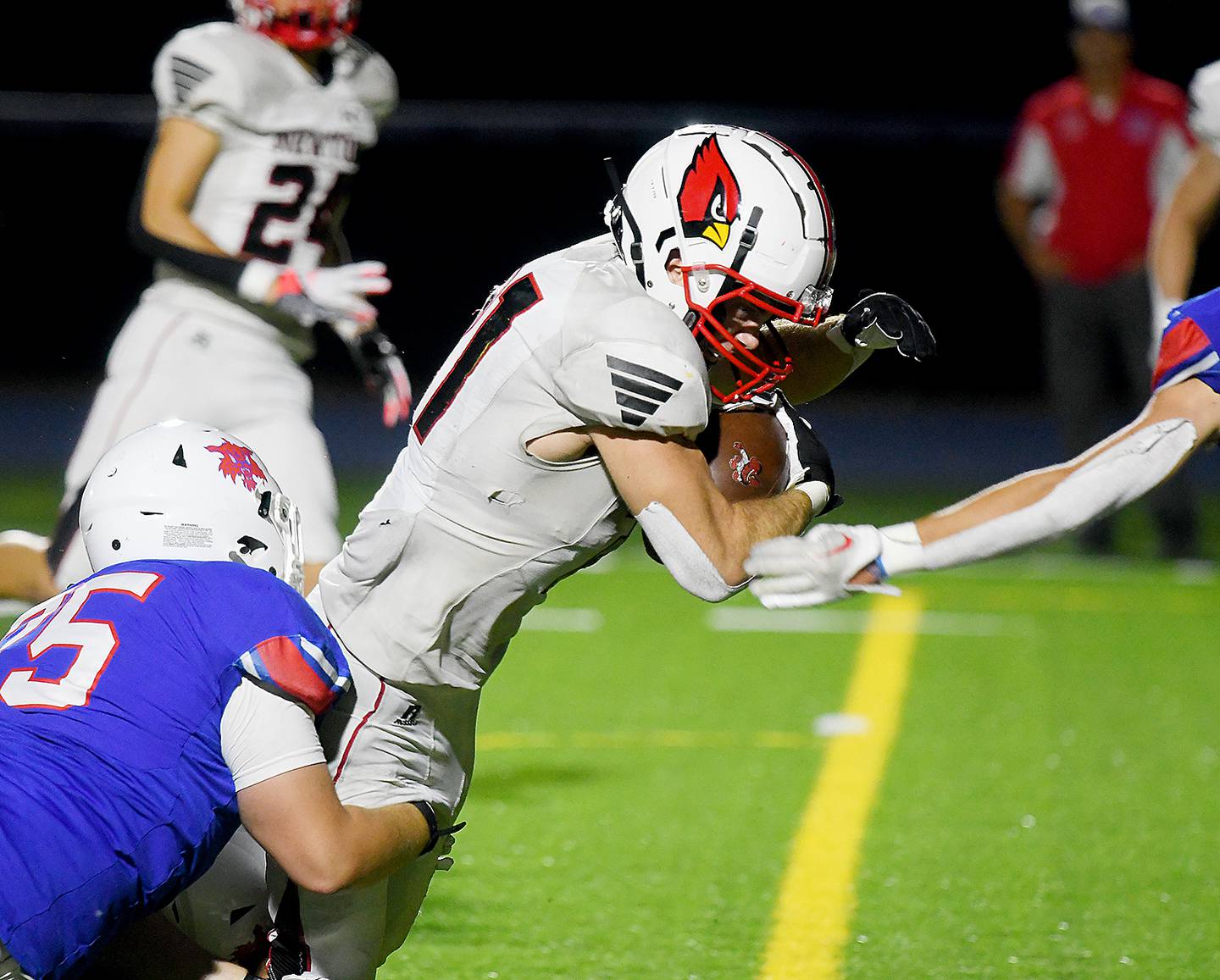 Caleb Mattes opened the scoring with a 17-yard touchdown pass to Christian Ergenbright early in the first quarter. That capped a five-play, 54-yard drive for the Cardinals, who improved to 2-2 on the season.
Later in the first, Eli Stewart scored on a 5-yard run and Cody Klein made 21-0 with an 8-yard TD run.
Stewart's touchdown run was the only play of that drive after the Cardinals blocked a punt.
"Our special teams had a really nice game pressuring their punter and forcing some short punts," Swedenhjelm said. "They also had a couple of nice punt returns, blocked a punt and we hit a fairly long field goal. It was a good night overall by those units."
Cade Bauer grabbed his first two varsity TD passes from Mattes in the second. A 27-yard hook-up with 8:10 to go in the period made it 28-0 and the duo capped the half with a 2-yard scoring pass.
"I thought our offense was pretty good," Swedenhjelm said. "We didn't have a ton of yards but scoring 38 points in a half is pretty good, and we didn't have to punt. We were set up pretty well by our special teams and defense."
Christian Lawson booted a 39-yard field goal with 3:47 to go in the second. He also made all five of his extra points and registered five touchbacks on kickoffs.
Klein capped the victory with a 1-yard TD run with 4:17 to play in the third. That finalized the Cardinals' longest scoring drive of the day at 57 yards.
Klein rushed for 73 yards and two scores on 14 carries, Kyler Griffin gained 16 yards on four carries and Reilly Trease had three carries for 13 yards and an 8-yard catch.
Mattes was 11-of-16 through the air for 138 yards and three scores. He also gained 26 yards on four carries.
"We felt like we needed to get our passing game going a bit this week and put a focus on that," Swedenhjelm said. "We were able to get some nice chunk plays in the passing game and Caleb was pretty accurate all night."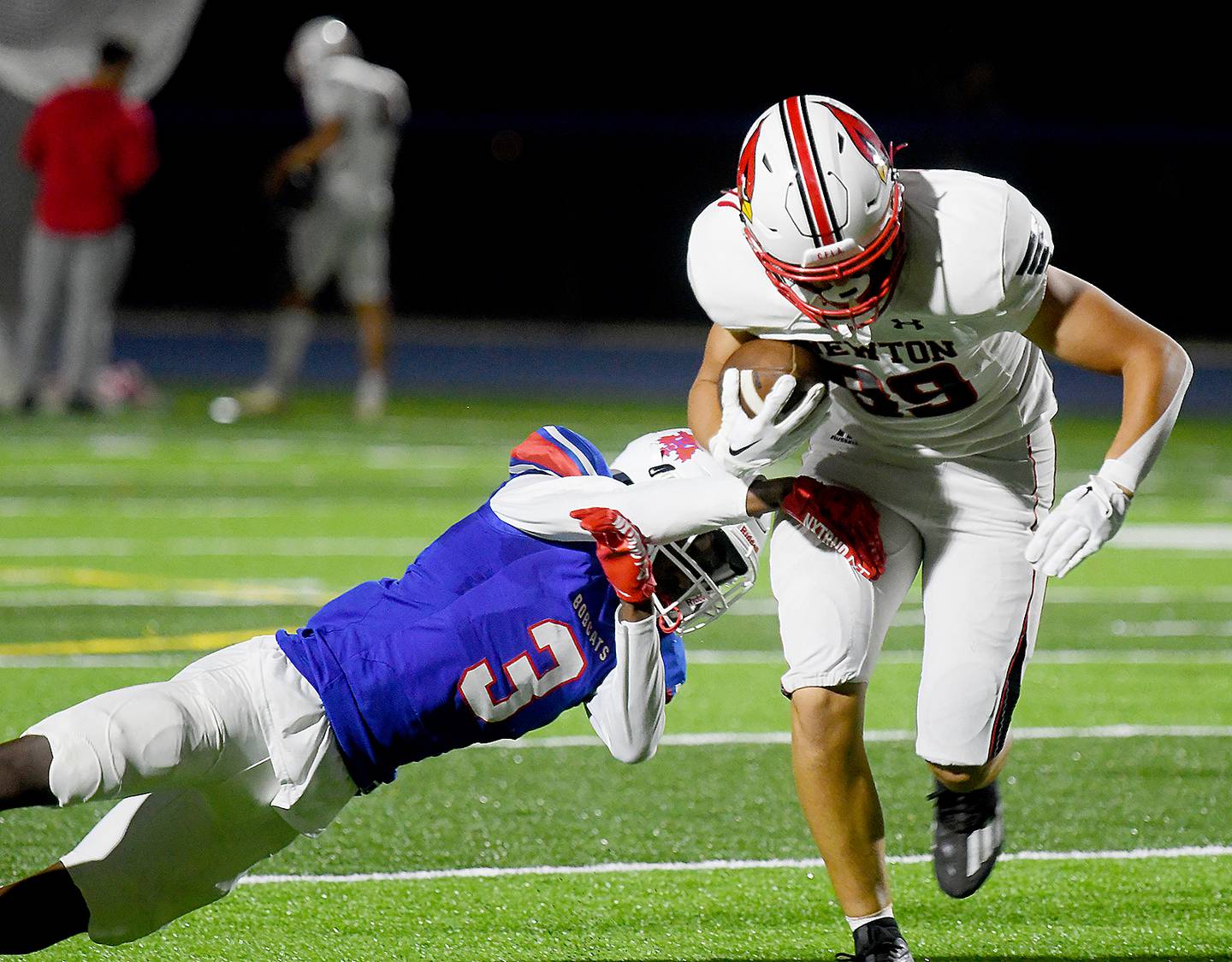 Ergenbright finished with three catches for 57 yards and a TD, Bauer grabbed three passes for a career-high 41 yards and two scores and Nate Lampe caught a 23-yard pass and returned a punt 42 yards. Finn Martin snagged two passes for nine yards.
Nate Milburn led the Newton defense with 5.5 tackles, one sack and one fumble recovery. Wyatt Weter and Koltt Ahn registered one sack each.
Jacob Hayes led Marshalltown (0-4) with 58 passing yards. Treshaun Brooks grabbed three passes for 28 yards.
Davis Ragland and Nicholas Wise led the Bobcat defense with five tackles each.
The Cardinals return to H.A. Lynn Stadium to face Bondurant-Farrar (3-1) at 7:30 p.m. on Friday. It's the 4A District 4 opener for both teams.
"We feel really good about where we are sitting entering district play," Swedenhjelm said. "We are going to keep working hard to get better each week and feel that we have some great opportunities ahead of us.
"Anyone can make a deep run this year, and we have to have the belief that we can be one of those teams when it's all said and done."