SULLY — For the first time in more than two years, the Lynnville-Sully football team dropped a regular season game.
A few days after being named the No. 1 team in Class A by the Associated Press, the Hawks struggled to run the football and turned the ball over one too many times during a 27-9 home loss to No. 8 Madrid.
Lynnville-Sully trailed 14-6 at halftime and was outscored 13-0 in the fourth. The Hawks were held to 62 rushing yards on 33 carries during the Class A District 6 contest.
The Tigers controlled the line of scrimmage, rushing for 257 yards in the win. Preston Wicker led the attack with 160 yards and two touchdowns on 21 carries and Nash Ramirez gained 97 yards on 19 carries.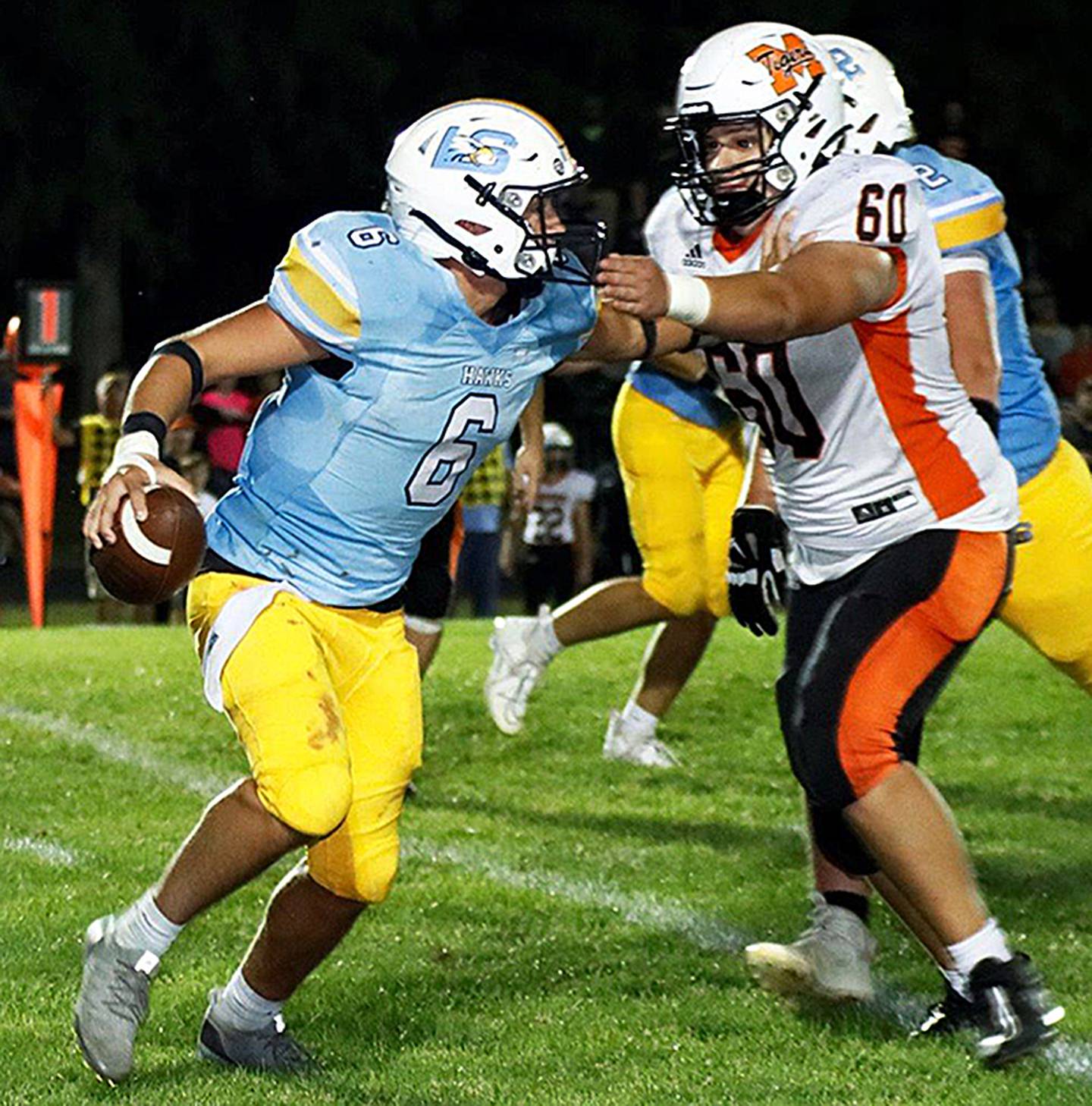 Wicker also threw a pair of touchdown passes to Kyle Kruckenberg in the second quarter to give the visitors the lead at halftime.
The Hawks' lone score in the first half was a 6-yard TD run by Lannon Montgomery with 2:38 to go in the second. Madrid (4-0 overall, 1-0 in the district) answered with the second TD pass 1:31 later.
Lucas Sieck booted a 36-yard field goal late in the third to pull the Hawks closer, but Wicker scored on TD runs of 37 and 15 yards in the fourth to finish off the win for Madrid.
It was the first regular-season loss for Lynnville-Sully (3-1, 0-1) since losing to Pleasantville on Aug. 27, 2021.
Montgomery rushed for 47 yards and a TD on 17 carries, caught three passes for 26 yards and was 3-of-8 through the air for 34 yards and an interception.
Sieck completed 16-of-24 for 144 yards and an interception. Blake Van Wyk finished with six catches for 39 yards, CJ Nikkel grabbed three passes for 69 yards and Mitchell Miller snagged four balls for 35 yards.
Nikkel also gained 29 yards on nine carries and Jack Bowlin grabbed three passes for nine yards.
Both teams finished with 16 first downs. Madrid was flagged 10 times for 55 penalty yards. Lynnville-Sully had 55 penalty yards on six penalties.
Terran Gosselink led the Hawks' defense with 10 tackles, while Dawson James had eight tackles.
Nikkel finished with four tackles and one interception, Miller collected three tackles and two tackles for loss, Klayton Van Dyke registered five tackles and Keegan DeWitt, Carson Maston and Sieck all tallied three tackles.
Wyatt Mathis recovered a fumble and Sieck's lone punt went for 41 yards.
Wicker was 7-of-10 through the air for 91 yards, two scores and one interception. Kruckenberg grabbed two passes for 54 yards and two scores.
Wicker also led the defense with 10 tackles, Ramirez had nine tackles and one fumble recovery. Kruckenberg collected six tackles and Jayce Fuson snagged both interceptions and finished with five tackles.