PLEASANTVILLE — Monday's performance by the PCM girls' cross country team was strong enough to push the Mustangs into the state rankings one day later.
The Mustangs registered a plethora of career-best finishes, Abi Teeter and Tiffani Koonce both were in the top 10 and PCM cruised to its first team championship of the season at the Pleasantville Cross Country Invitational.
"It's always exciting to see the newer runners PR as they start to get the 5K figured out, but I thought our veteran runners had fantastic times, too," PCM head cross country coach Eric Karr said. "It was a total team effort to get the win."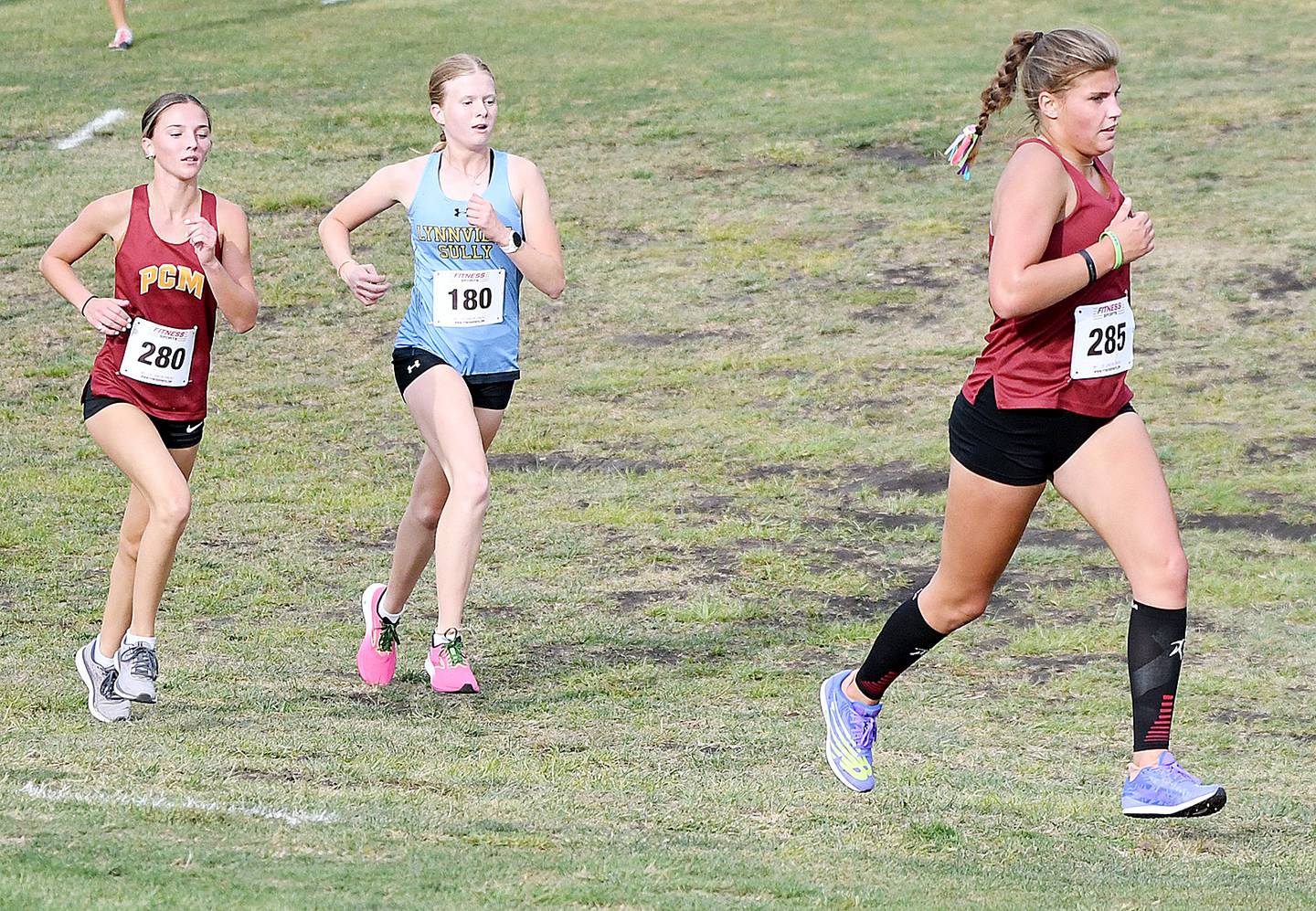 The top area finisher was Lynnville-Sully's Olivia Norrish, who posted a career-best time of 20 minutes, 2.4 seconds in third place.
Teeter's career-best time of 20:22.6 put her seventh and Koonce also was impressive in eighth with a career-best time of 20:23.2.
There were eight area harriers in the top 20. The Mustangs, who are now ranked 14th in Class 2A, had five of them as they won the meet with 53 points.
Lila Milani recorded a career-best time of 20:47.6 in 12th, Bailey Wheeler has a new career-best time of 21:29.3 and she was 18th and Mikayla True ran 21:35.1 in 20th.
The two varsity non-scoring runners were Ali Hilsabeck (career-best 21:46.6) in 22nd and Raegan Vannoy (22:43.6) in 33rd.
Lexi Fagg (26:06.4) and Alyce Engle (26:52.4) also competed and finished 71st and 78th, respectively.
"The Pleasantville course is typically a pretty fast race, and it's nice to get so many PRs," Karr said. "Makayla, Raegan and Lexi were significantly faster than last week at Davis County."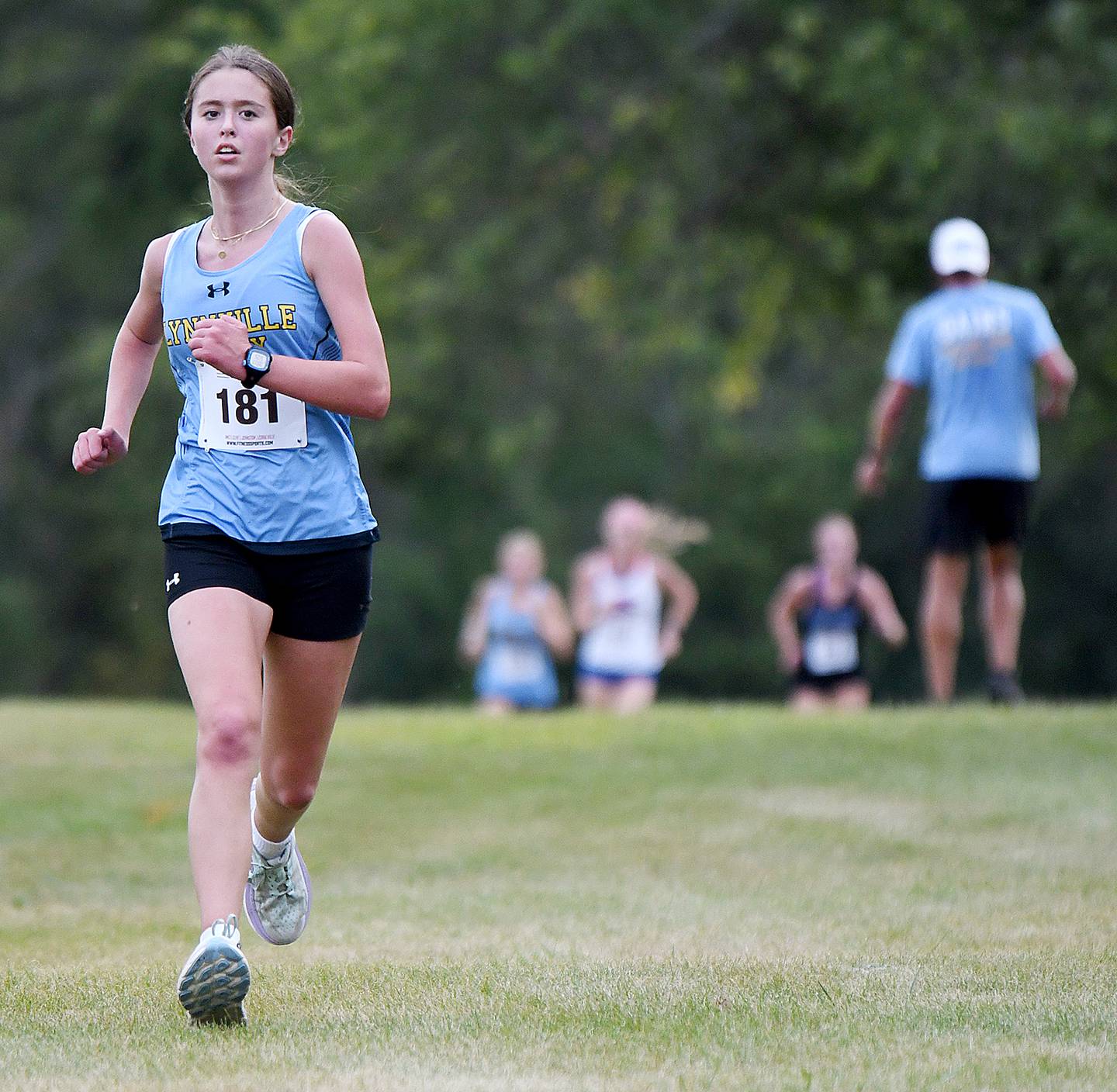 PCM was 27 points clear of runner-up Grand View Christian, who is ranked 12th in 1A. The Thunder scored 80 points, 1A No. 14 Central Decatur finished third with 82 points and 1A No. 11 Martensdale-St. Marys finished fourth with 128.
Interstate 35 completed the top five with 139 points, while the rest of the 11-team field featured Lynnville-Sully (142), Montezuma (179), Mount Ayr (191), Wayne (221), Colfax-Mingo (231) and Pleasantville (250).
After Norrish for the Hawks were Emma Parkinson and Peyton Sharp in 13th and 15th, respectively.
"Olivia ran a very smart race, staying patient early on and gaining a number of spots in the second mile," L-S head cross country coach Darin Arkema said. "Over the last mile, she was in a pack with two other runners and for a bit was in the lead. She gave her all to try and race for the win. Over the last quarter mile, the other two girls just pulled ahead and Olivia couldn't reel them back in. Outstanding run for her and a good confidence boost."
Parkinson completed the girls' 5K race in a career-best time of 20:56.5 and Sharp hit the finish line in a personal-best 21:03.8.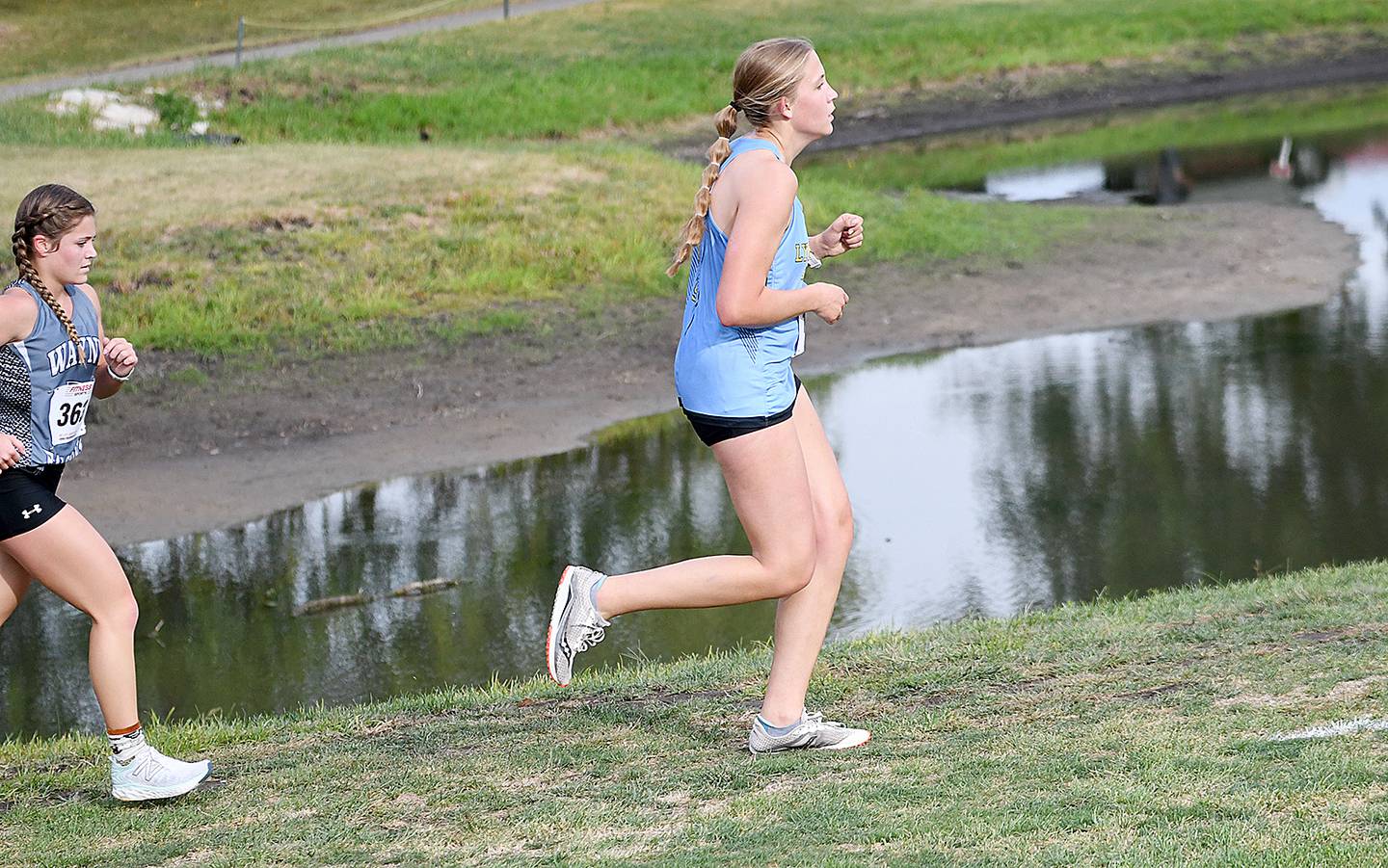 Brooke Conover ran a career-best time of 24:18.4 in 54th and Helle Augustinussen finished 94th in 29:31.8.
"Emma has been dropping time and moving up with each meet we've had," Arkema said. "Peyton had a solid race, although I know not as good as she was hoping for. Still a top-15 finish against some good competitors. Brooke backed up her excellent race from last week with another one tonight."
Colfax-Mingo's top finisher was Addie Schroeder, who also played volleyball for the Tigerhawks later that night. She was 29th overall in a career-best time of 22:09.7.
Shae Wilkins was next in 34th with a career-best time of 22:44.3. The rest of the scoring runners included Devan Chadwick (25:49.8), Rachael Uecker (26:17.4) and Lilyan Hadsall (26:19.5) in 69th, 74th and 75th, respectively.
Claire Hunsberger (27:26) and Bianca Lane (27:53.4) were the varsity non-scoring runners in 82d and 84th, respectively, and Evalyn Anderson (28:05.4) also competed and finished 85th.
Grand View Christian's Lydia Ives won the girls' race in 19:50.9 and 1A No. 23 Karson Oberender of Martensdale-St. Marys was the runner-up in 19:54.3.