DES MOINES — Lynnville-Sully's Caleb Rea gave up his final season on the wrestling mat to take part in a winter baseball league in Cedar Rapids.
And that extra work on the diamond has shown up the most on the mound and Rea has become a viable pitching option for the Class 1A No. 5 Hawks.
He got the ball to end the game again on Tuesday and his two innings helped the Hawks finish off Albia, 5-0, at Principal Park.
"Caleb has shown so much confidence on the mound. From where he was last year to this year, I have no hesitation to put him on the mound in any situation," L-S head baseball coach Scott Alberts said. "He's going to be a guy we use. He throws hard and mixes pitches so well. He's been able to keep batters off balance."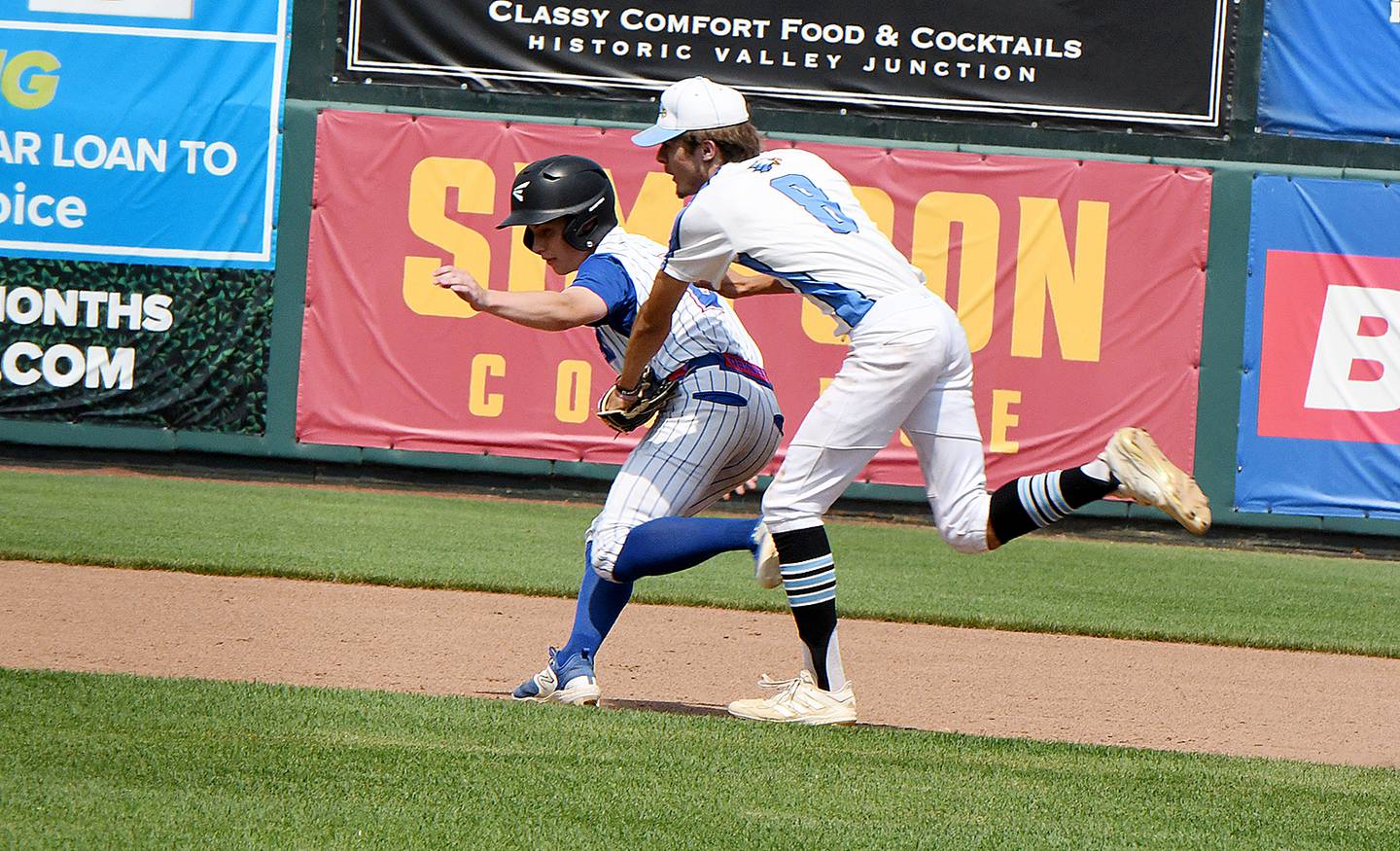 Lynnville-Sully won at the home of the Iowa Cubs for the third straight season. All three wins were shutouts as the Hawks downed Southeast Warren 1-0 two seasons ago and defeated Albia 2-0 last summer.
This time, the bats gave starting pitcher Lucas Sieck and Rea more run support.
Sieck started on the Principal Park mound for the third time in his career and he once again delivered a gem.
Rea needed a couple of pick-offs of runners at first base to get out of his two innings, but the Hawk pitchers limited Albia to just two hits.
"It's a different experience pitching in a big stadium like this," Rea said. "You zone out of just throwing the ball. I was trying to have fun and let my defense makes plays behind me."
The Hawks, who improved to 10-0 on the season, made just one error in the game. Albia put runners on base in every inning but the fifth, but only advanced past second base one time.
Lynnville-Sully scored right away this time around. Corder Noun Harder opened the bottom of the first with a walk and then he stole second and third base. Lannon Montgomery also walked and moved to second on a fielder's indifference.
With one out, Bryce Richards' RBI groundout plated Noun Harder and pinch runner Terran Gosselink later scored on a wild pitch to make it 2-0.
"I love how aggressive we are playing baseball right now," Alberts said. "We are aggressively swinging the bats, we are not chasing pitches and we are attacking our zone. And when we get runners on base, this team is fast, and I love the speed we have and how aggressive we can be on the bases."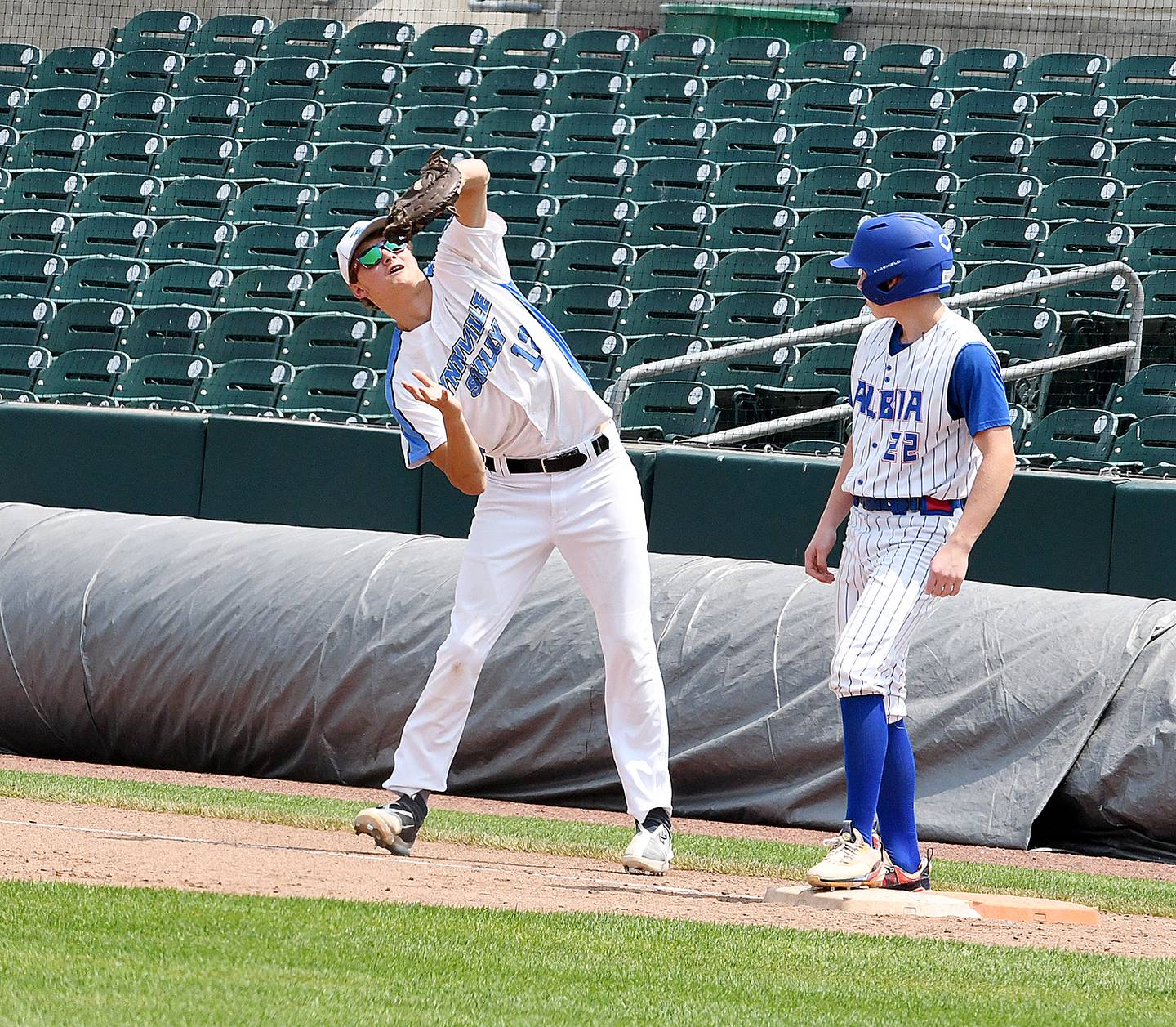 The Hawks added on in the third. With one out, Conner Maston doubled to the gap in left-center field and then scored on Richards' RBI single.
Richards took second on Albia's throw home and then advanced to third on a throwing error. Rea brought in Richards with an RBI suicide squeeze bunt.
"The more you are here, the better you can adapt to your surroundings," Rea said about playing at Principal Park. "It's a bigger feel and a bigger stadium so it does take a while to adapt to."
Rea doubled with one out in the fifth and then stole third. Carson Maston was hit by a pitch and Blake Van Wyk walked to load the bases. Reese Dunsbergen then delivered an RBI single to cap the scoring.
Sieck (3-0) earned the pitching win after allowing no runs on two hits with two walks, one hit batter and seven strikeouts in five innings.
Rea walked one and hit two batters in his two innings, but two of those runners were picked off first base in the sixth.
"That felt really good. That helped me out and it boosted my confidence," Rea said.
Sieck walked the first batter he faced on four pitches in the first inning and he walked another Blue Demon on five pitches in the second.
Albia's first hit came in the third and Sieck got out of a big jam in the fourth after recording back-to-back strikeouts.
"We'll get better on the pitching side," Alberts said. "We have gotten off to a slow start. We have depth, but our kids were so good at track that it's taken a little bit of time to build our arms back up. They were playing spring ball, but they threw an inning or two and now we are asking them to throw five, six or seven innings. It takes more arm strength and we are building that up."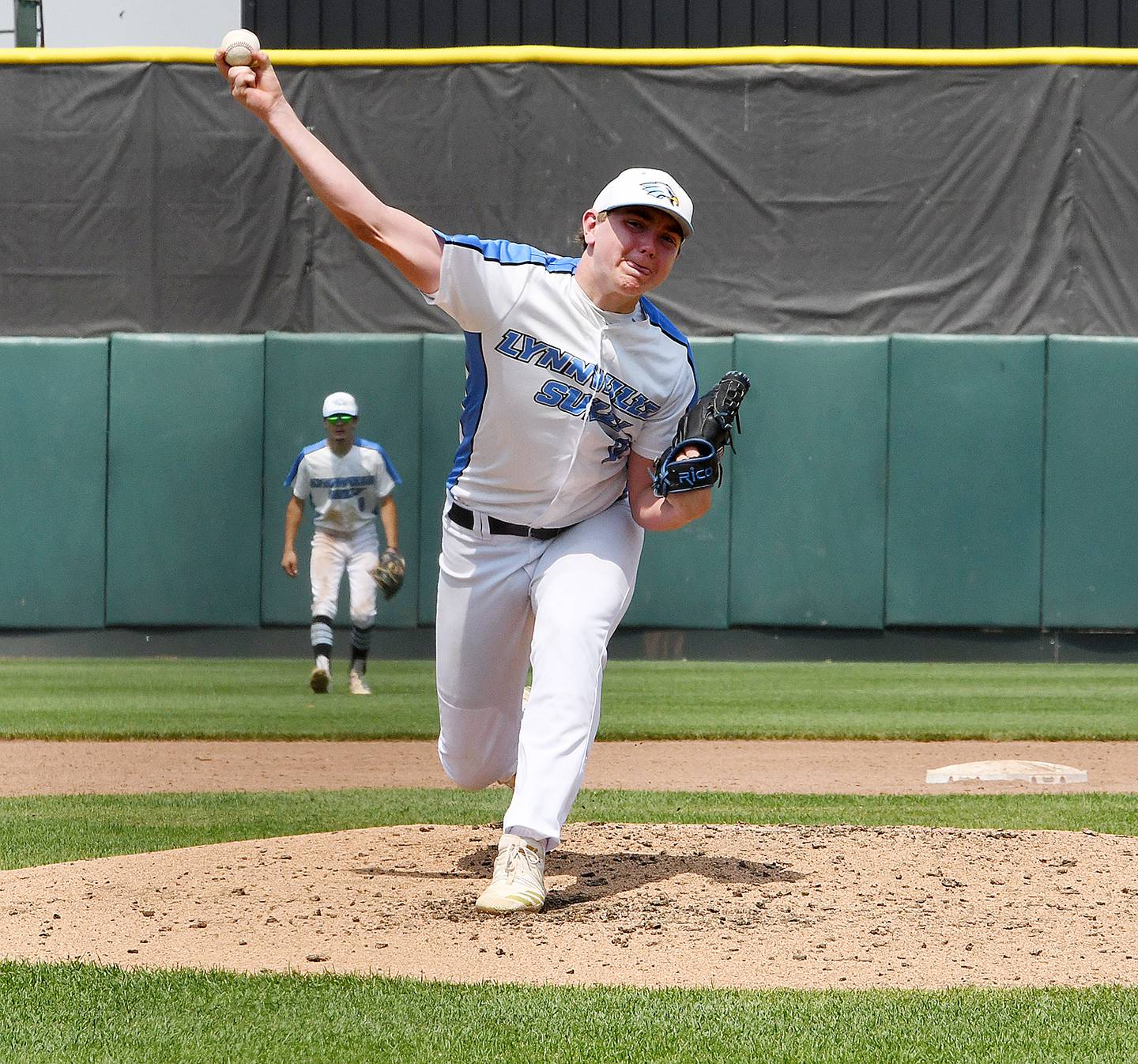 Conner Maston finished with two doubles and one run and Rea doubled and collected one run, one RBI, one walk and three steals to lead the offense.
The Hawks swiped eight bags and Albia did not attempt to throw a single runner out.
"We are going to be aggressive and push the limits. We are not secretive about that," Alberts said. "This team is fast, and we are going to use that to our advantage. We are going to push bases any time we can."
Maston's second double would have left the yard in every high school field in the state, but it caromed off the Principal Park wall in left field.
Van Wyk added one hit, two walks and one steal, Noun Harder chipped in one hit, one run, one walk and two steals, Richards collected one hit, one run, two RBIs and one steal and Montgomery drew two walks.
Dunsbergen and C.J. Nikkel each had one hit, Dunsbergen collected an RBI, Nikkel stole one base, Gosselink scored one run and Carson Maston was hit by a pitch.
"What I love about this team is our upperclassmen leadership because it sets the tone for everything else that we're doing," Alberts said.
Gage Oddo led the Blue Demons (3-9) with one hit and he was hit by a pitch and Matt Selby walked once, was hit by one pitch and stole one base.
Notes: Rea pitched five innings and had an earned run average of more than 18 as a junior last season. He tossed nine innings and sported an ERA of 7.50 as a sophomore. This year, Rea has thrown 8 1/3 innings and he has an ERA of 1.68 with 15 strikeouts.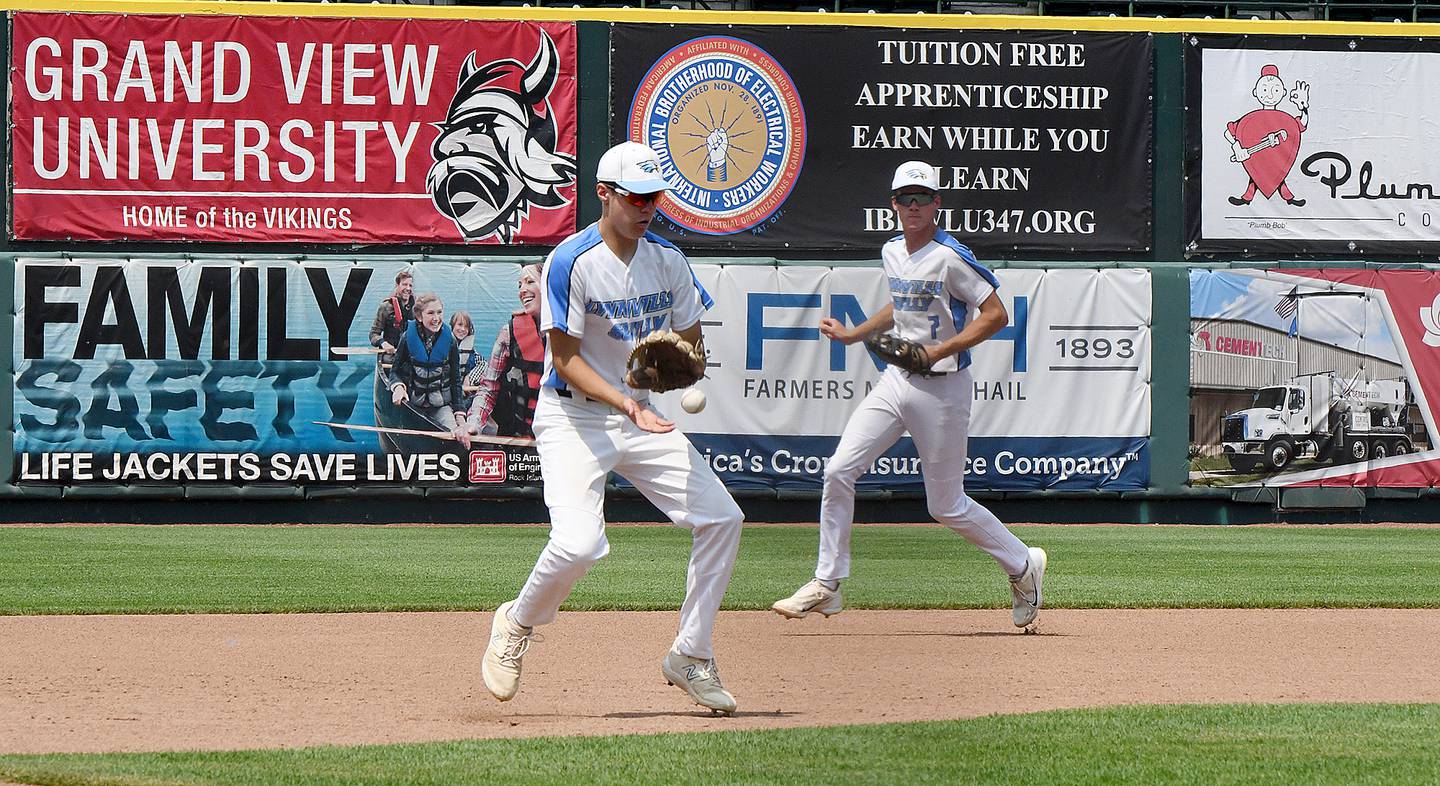 Lynnville-Sully 13, Sigourney 2
SIGOURNEY — With first place in the South Iowa Cedar League on the line, the state-ranked Hawks were simply too much for Sigourney on Monday.
Lynnville-Sully led 3-0 after three innings and dominated the Savages from there on as the Hawks downed their conference rival 13-2. The Hawks scored four runs in the fifth and five in the seventh.
L-S (10-0 overall, 6-0 in the SICL) out-hit Sigourney 10-4 and both teams committed three errors.
Rea finished with three hits, Noun Harder tallied two hits and Conner Maston, Carson Maston, Montgomery, Richards and Davis Utech all registered one hit.
Rea added two runs, two steals, one RBI and one walk, Noun Harder doubled, scored one run and finished with one walk and one steal and Conner Maston registered two runs, two RBIs, three walks and three stolen bases.
Conner Maston is now batting a team-best .571 and has a team-high seven doubles. Noun Harder has a team-high 20 steals, 17 runs and eight walks.
Richards doubled and chipped in two runs, two RBIs, two steals and one walk. Carson Maston doubled and walked twice, Van Wyk drew two walks, was hit by one pitch, scored two runs and stole one base, Montgomery scored one run and Utech had one RBI.
Gosselink, Wyatt Mathis and Karter Smead each scored one run, Gosselink and Nikkel stole one base and Sieck was hit by a pitch.
Conner Maston improved to 2-0 on the mound after allowing no earned runs on one hit with 11 strikeouts and four walks in 4 2/3 innings and 89 pitches.
Rea and Sieck both tossed 25 pitches in relief. Rea allowed one earned run on two hits while striking out two and walking one in one inning. Sieck tossed 1 1/3 innings and struck out two and walked two.
Sigourney (7-3, 5-1) struck out 15 times and drew seven walks at the plate. Jake Moore had two hits and one RBI, while Caden Clarahan, Reid Molyneaux and Ty Shafranek all walked twice.
Clarahan was the losing pitcher after allowing six earned runs and striking out seven in four innings.