Peyton Durr spent most of last season out with an ACL injury. Even when she was playing, the results weren't what she wanted.
Durr played in just nine games last summer and was 0-of-10 at the plate.
On Wednesday, against Pella Christian, the junior catcher had three hits and two RBIs to lead the Newton softball team to an 11-5 home win over the Eagles during Little Hawkeye Conference play.
"It feels really good to be back," Durr said. "We scored 11 runs tonight, but I do think we could have done better. Batting twice in one inning is a big deal and it was important."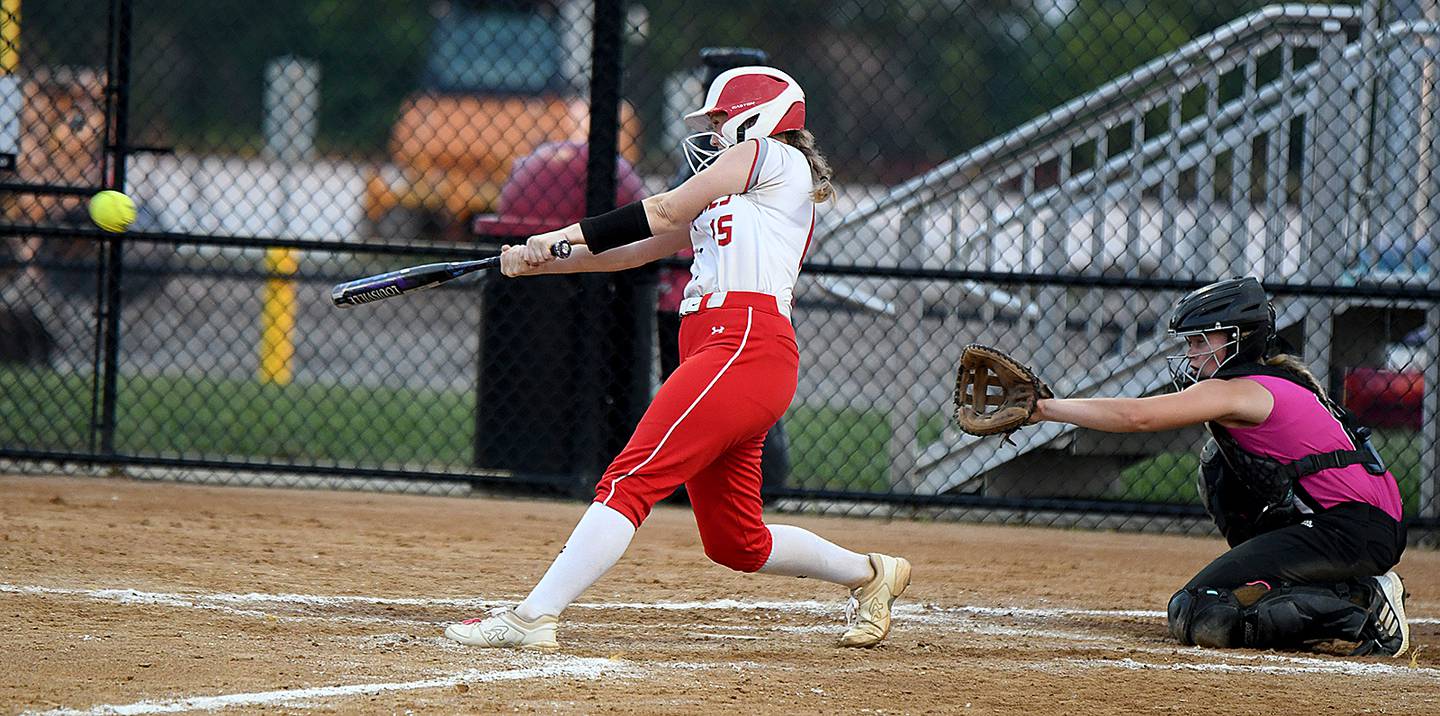 Four Cardinals batted twice in their eight-run second inning. They trailed 2-1 after the first but the eight runs put them in front for good and they held off a small Eagles' rally late.
"I still think we were sluggish to start. I felt like we started flat. But it got much better in the second," Newton head softball coach Kory Leiker said. "In this league, if you don't keep the pressure on, they will smoke you. We have work to do still obviously."
Pella Christian (4-11 overall, 0-7 in the LHC) scored both of its runs in the first with two outs. Emma Eekhoff and Claire Westerkamp had RBI hits for the Eagles.
Newton answered with one in the bottom of the first. Mack Sims led off with a single. She moved to third on an error and then scored when Durr dropped down an RBI sacrifice bunt.
The Cardinals (7-5, 3-3) sent 13 batters to the plate in the second. Eight of the nine hitters scored a run and Paige Benson's two-run single down the third-base line started the scoring.
Sims, Durr and Sloan Brodersen added RBI hits in the inning and Hailey Sumpter chipped in an RBI after reaching on an error. The Eagles were plagued by six errors in the game.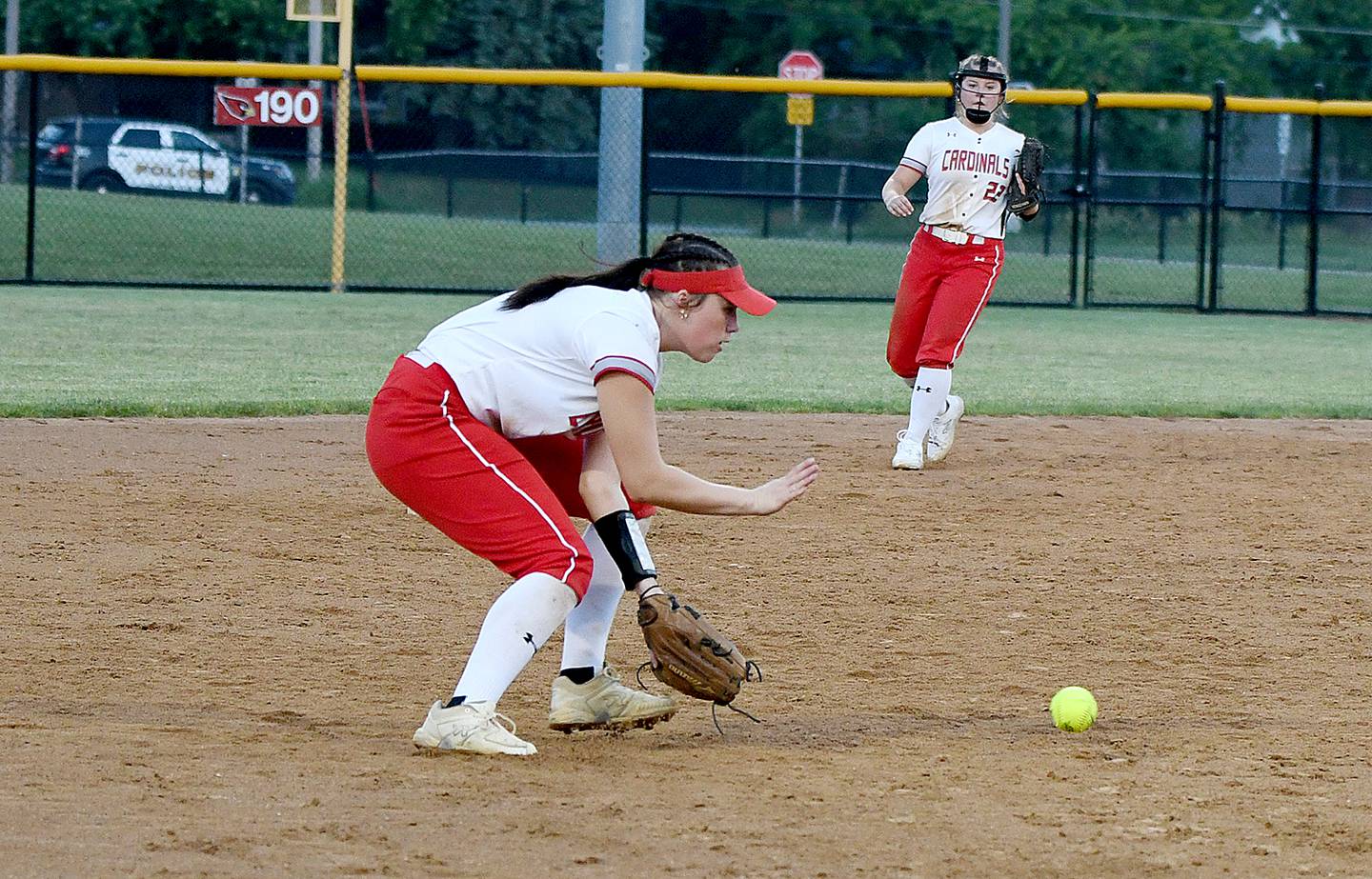 Leiker felt like the Cardinals settled too much after the eight-run second. They went 1-2-3 in the third, Durr had the only hit in the fourth and Katelyn Lambert reached on an error in the fifth.
"We need to keep putting pressure on," Leiker said. "The season is almost at the halfway point, and I feel like we have to be more ready to go when the game starts.
"I know they're young, but they need to flip that switch when they walk through the gates."
Newton tacked on a pair of runs in the bottom of the sixth. With one out, Durr singled, Haylie Ryan walked and Brodersen had an RBI single. An RBI sacrifice bunt by Kadance Ahn capped the scoring.
"I think we should have still been better," Durr said. "We scored a lot of runs in one inning, but there were a lot of 1-2-3 innings, too."
The Eagles closed the gap with single runs in the fourth, fifth and seventh frames, but Sumpter finished off the victory with another complete game in the circle.
She allowed five runs — four earned — on 10 hits and struck out 10 while walking two.
Sims finished with two hits, two runs, one RBI and one steal, Brodersen registered two hits, one run, two RBIs, one walk and two steals and Ryan added one hit, one walk, one RBI and one steal.
Benson tallied one hit, one run and two RBIs, Ahn chipped in one hit, one run and one RBI, Swank scored one run and stole one base and Lambert scored one run and stole three bases.
BrookLynn Britton and Mackenzie Cupples each scored two runs and Viana Vasseau drew a walk on a pinch-hit at-bat in the sixth inning. The Cardinals stole six bases in the win.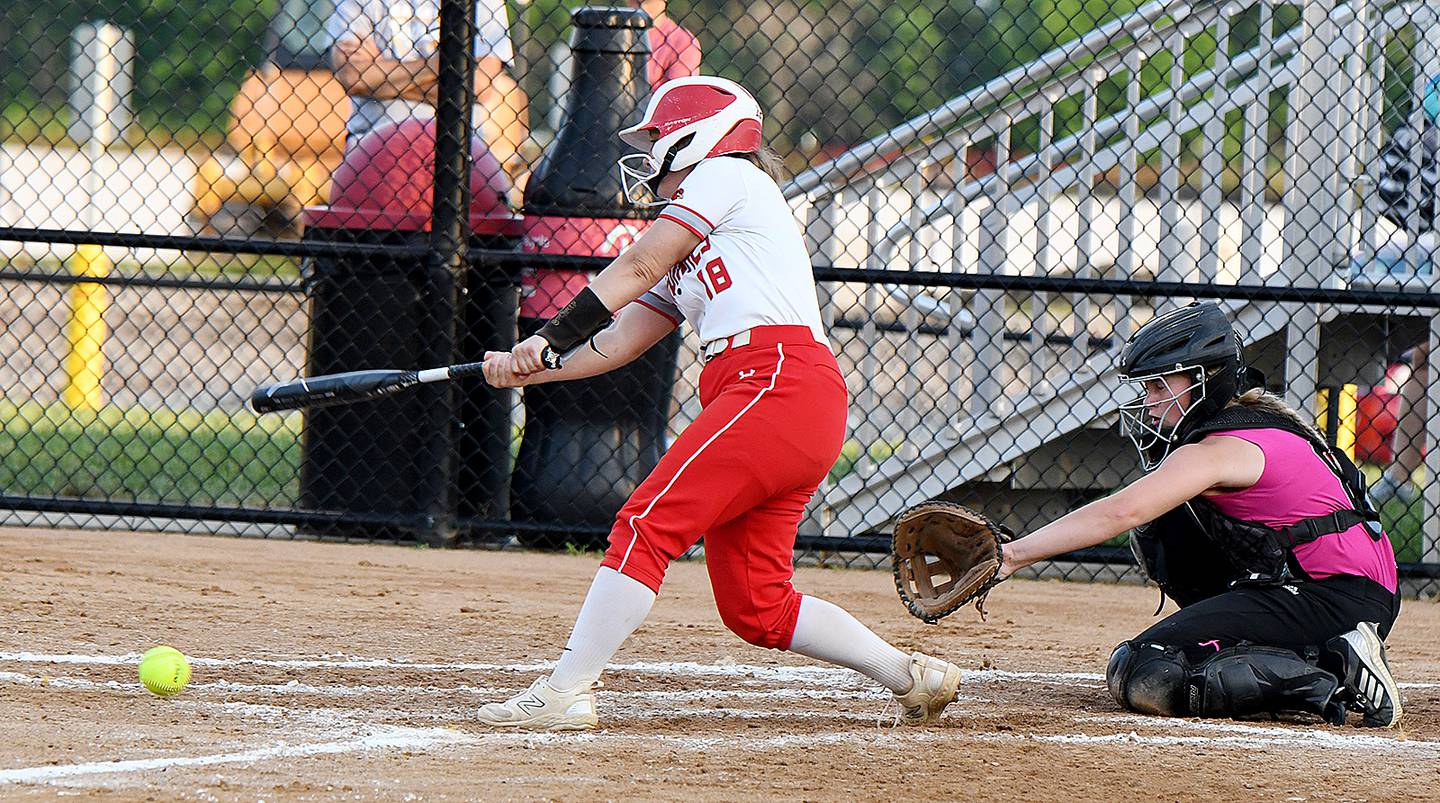 Durr now leads the team with a .375 batting average and she also has a team-best 12 RBIs, 15 hits and 22 total bases.
"She's really stepped up for us," Leiker said. "It seems this is a closer group than in the past. The older kids are taking the younger ones under their wings more. I really like how they all come together and have each other's backs and they don't get down on each other."
Eekhoff led the Eagles with two hits and two RBIs and she took the pitching loss after striking out six in six frames. Emri Agre also had two hits and scored two runs.
Fast starts lead Grinnell softball past Cardinals
Newton had just as many hits as Grinnell during their LHC doubleheader on Monday.
But the Cardinals were plagued by five errors in the two games and a three-run home run early in the opener gave the Tigers the momentum they needed during 8-4 and 11-8 road victories.
The blast in the opener put Grinnell in front 4-1 and the Tigers never trailed in the contest.
In the nightcap, Grinnell plated eight runs in its first at-bat and held off a late rally by Newton. The Cardinals scored four runs in their final two at-bats but couldn't get over the hump.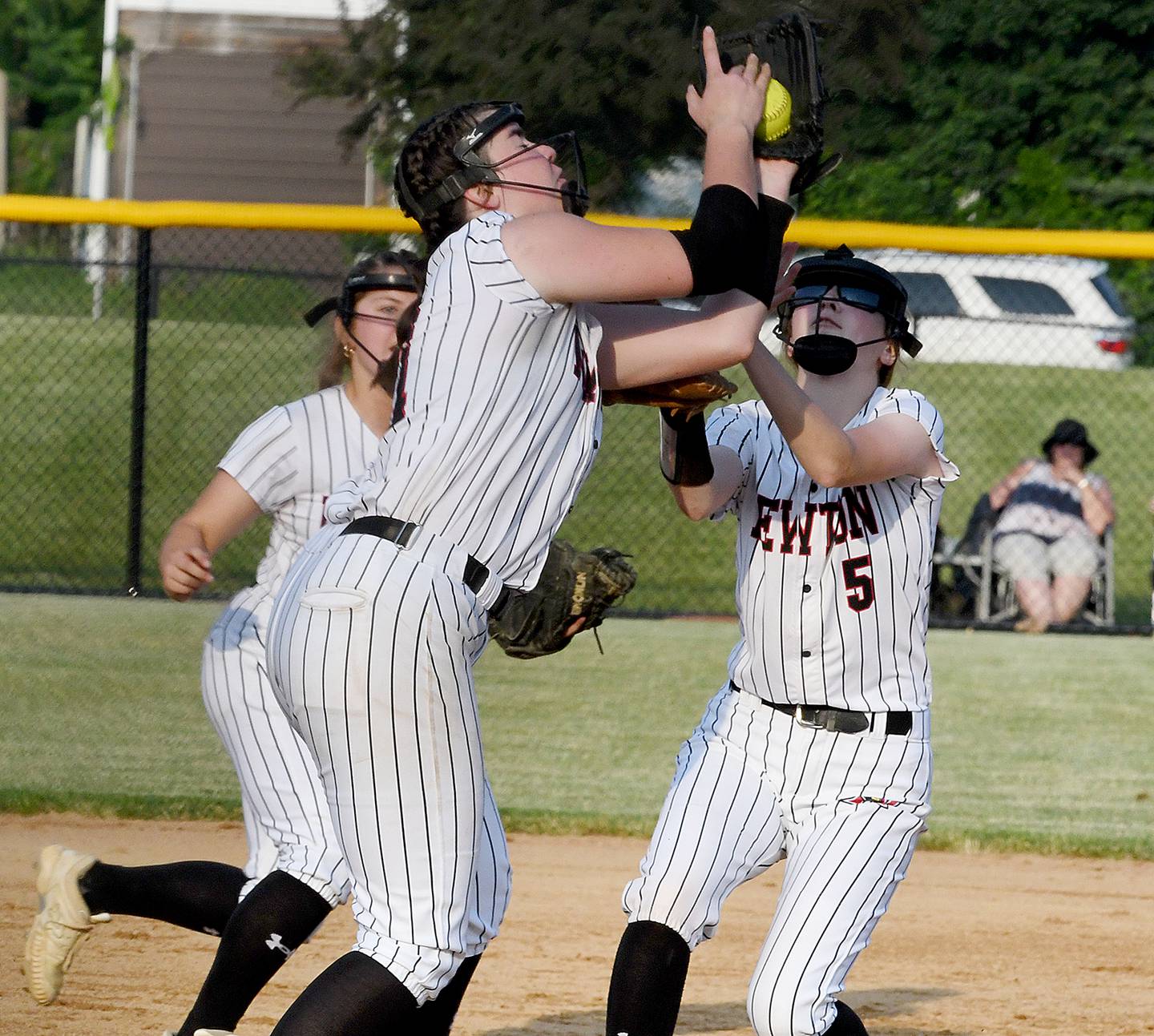 Swank, Ryan and Brodersen each registered two hits in the opener. Brodersen added one run, one RBI and two walks and she now has a team-best seven walks this season.
Ryan doubled and scored one run and Swank tallied an RBI. Swank's 15 hits lead the squad.
The other four hits came from Sumpter, Ahn, Benson and Lambert.
Benson doubled, Sumpter and Benson each collected one RBI and Ahn stole one base.
Sims walked once, scored one run and stole one base, Durr was hit by a pitch, Jacy Linahon scored one run and Cupples swiped one bag.
Sumpter (6-4) took the loss in the circle after allowing eight runs — six earned — on 11 hits. She also fanned four, walked three and hit one batter.
Grinnell (9-2, 3-2) out-hit Newton 11-10 in the first game but Newton (15) had one more hit than Grinnell (14) in the nightcap
Sumpter had three hits, two doubles and three RBIs to lead the offense.
Lambert collected four hits and scored one run and Durr and Brodersen each had two hits. Durr added one RBI and one steal and Brodersen contributed one run and two RBIs.
Sims tallied one hit and two runs, Swank collected one hit and two RBIs and Benson doubled and scored two runs. Ahn finished with one hit and one run and Linahon scored one run.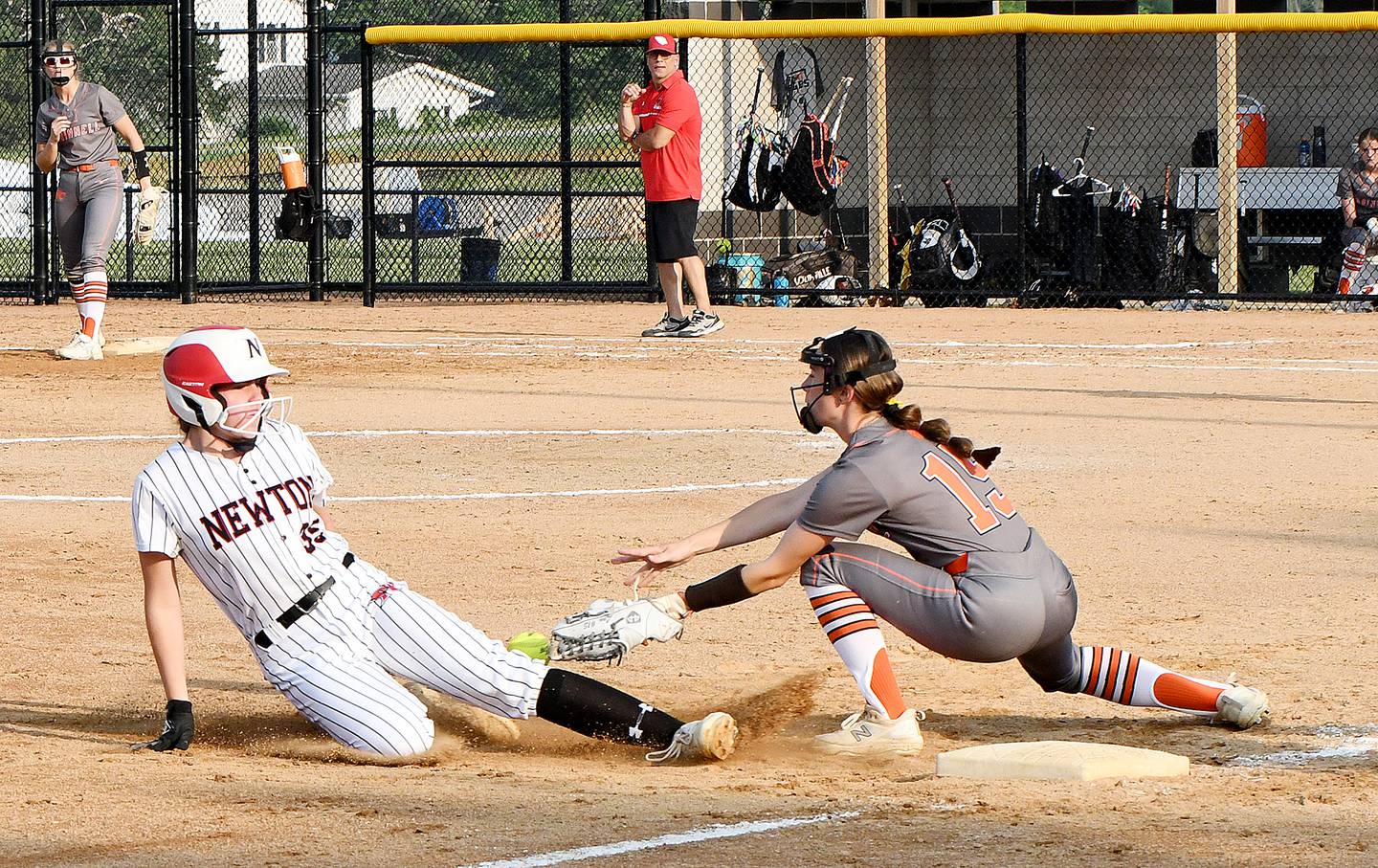 Sims now leads the team with 14 runs scored and Swank moved near the top in RBIs with 11.
Brodersen (1-1) started in the circle but didn't get an out after allowing four earned runs on two hits with two walks.
Tallyn Seitz pitched 6 1/3 innings of relief and surrendered seven earned runs on 12 hits and walked seven. Sumpter got the final two outs and struck out one.