HUMBOLDT — The Newton boys' soccer team overcame its first deficit of the match against Class 3A No. 5 Humboldt on Wednesday.
But a second margin was too much as the 10th-ranked Cardinals fell one game short of their second straight trip to the state tournament.
The Wildcats scored twice in the first 16 minutes of the second half to go up by a pair of goals and then held off a late charge by Newton during a 4-3 win in the 3A Substate 2 championship match.
"It's everything you wanted in a playoff matchup — goals, fouls and cards," Newton head boys' soccer coach Zach Jensen said. "We were just on the wrong side of it. That's soccer. You can't win them all, and we'll come back stronger from it."
The Cardinals (11-7) traveled more than two hours to play in the substate final at Mason Maach Field, a grass surface that featured plenty of bumps and holes.
Both teams played on the same pitch, but Newton was at a disadvantage based on what it's used to playing on. Cardinal players struggled with their footing in the first half, too.
"We are historically not good on grass. And the ball doesn't roll as much on grass as it does on our turf field," Jensen said. "It's a major difference. It's not a great pitch, but both teams had to play on it."
Caleb Mattes gave the Cardinals an early lead when he scored on a header off a Nate Lampe throw-in in the 5th minute.
The Wildcats tied the contest in the 7th minute and then went in front on a penalty kick from Cristhian Ramirez 2 minutes later. It was Ramirez's 23rd goal of the season.

Humboldt (16-1) stayed in front 2-1 until Jesus Murillo scored the equalizer off a Mattes assist in the 38th minute.
But the Wildcats scored the first two goals of the second half and stayed in front for the remainder of the match.
Bryan Hernandez answered Humboldt's second goal with his third goal of the season in the 57th minute.
"I felt like we were outnumbered in the middle at times. We were getting beat in the middle," Jensen said. "They are physical and direct. That's how they are effective in what they do, and we don't play a lot of teams that play with a sweeper. There are ways to play effectively against it, and I don't think we did that tonight."
Newton finished with 23 shots and 15 shots on goal. The Wildcats unofficially registered 25 shots and 16 shots on goal.
Mattes scored his 10th goal of the season and added an assist, while Lampe's assist was his 19th of the year. That ranks second in 3A.
Christian Lawson added his 12th assist of the spring and Murillo's goal was his fourth of the year.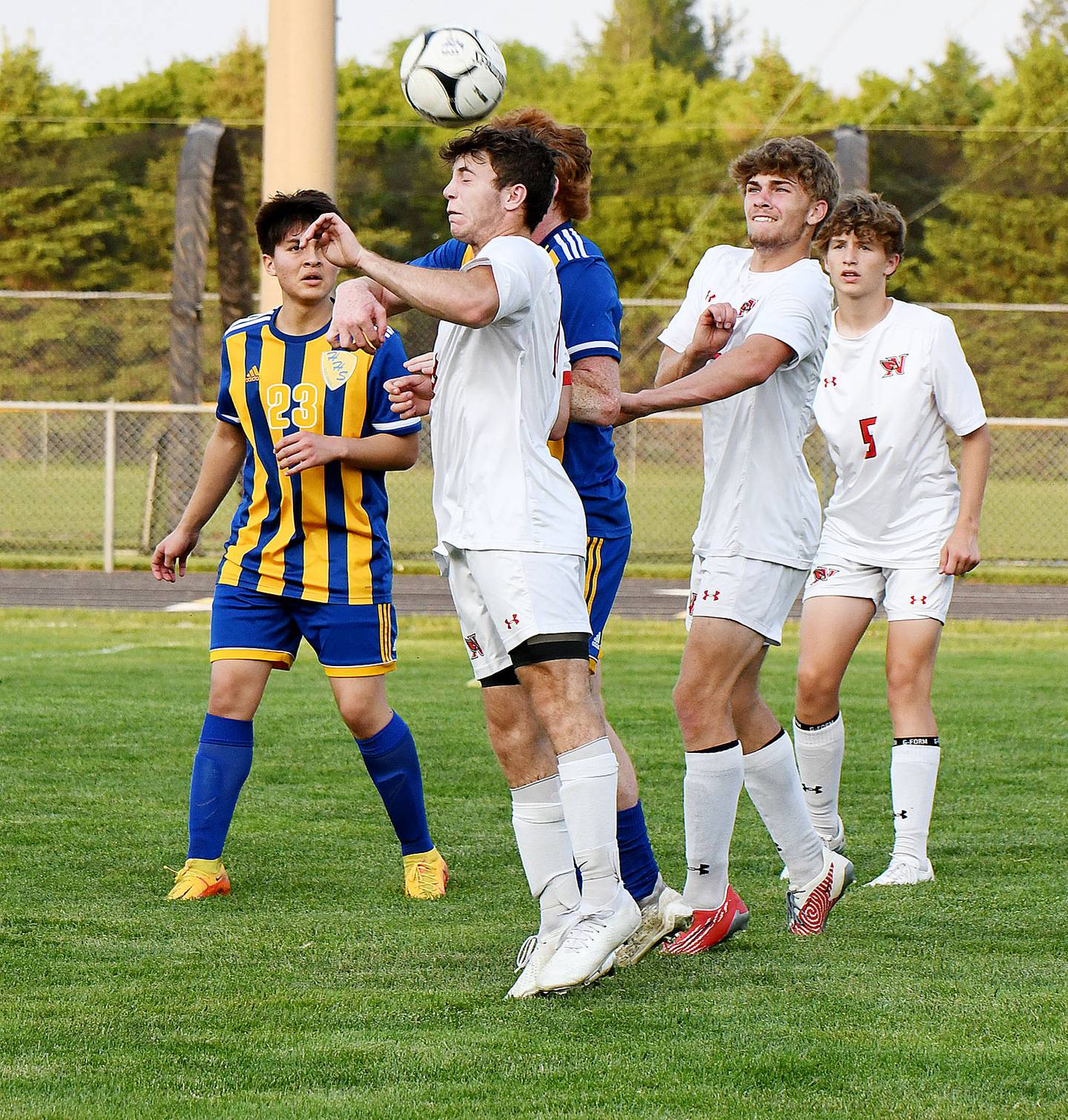 Newton's defense allowed at least four goals in a game for the fifth time this spring.
"We didn't challenge the ball as well as we needed to. We watched the ball too much," Jensen said. "They have some big guys and that affected us. It's extremely hard to mark those guys. I understand that. I played the game. It's hard to defend that. But those are things you need to do. You have to stay tight and not lose your mark."
Hunter Teague made 12 saves in the match. He registered a diving stop with 7:24 to play in the match that kept it at 4-3 and then his jumping save 11 seconds later conserved the margin.
Teague ended the season with a school-record 144 saves, which ranks fifth in 3A. His 1,420 minutes in goal currently leads 3A.
The previous school record for saves in a season was set by Grant Davidson in 2015.
Humboldt's goalie — freshman Karson Rubel — made two huge saves in the final 6 minutes to preserve the Wildcats' lead.
With 5:50 remaining, Rubel made a diving save on a long shot attempt by Lampe. Lawson took a shot with 4:12 to play that Rubel knocked down and then grabbed just before it crossed the line.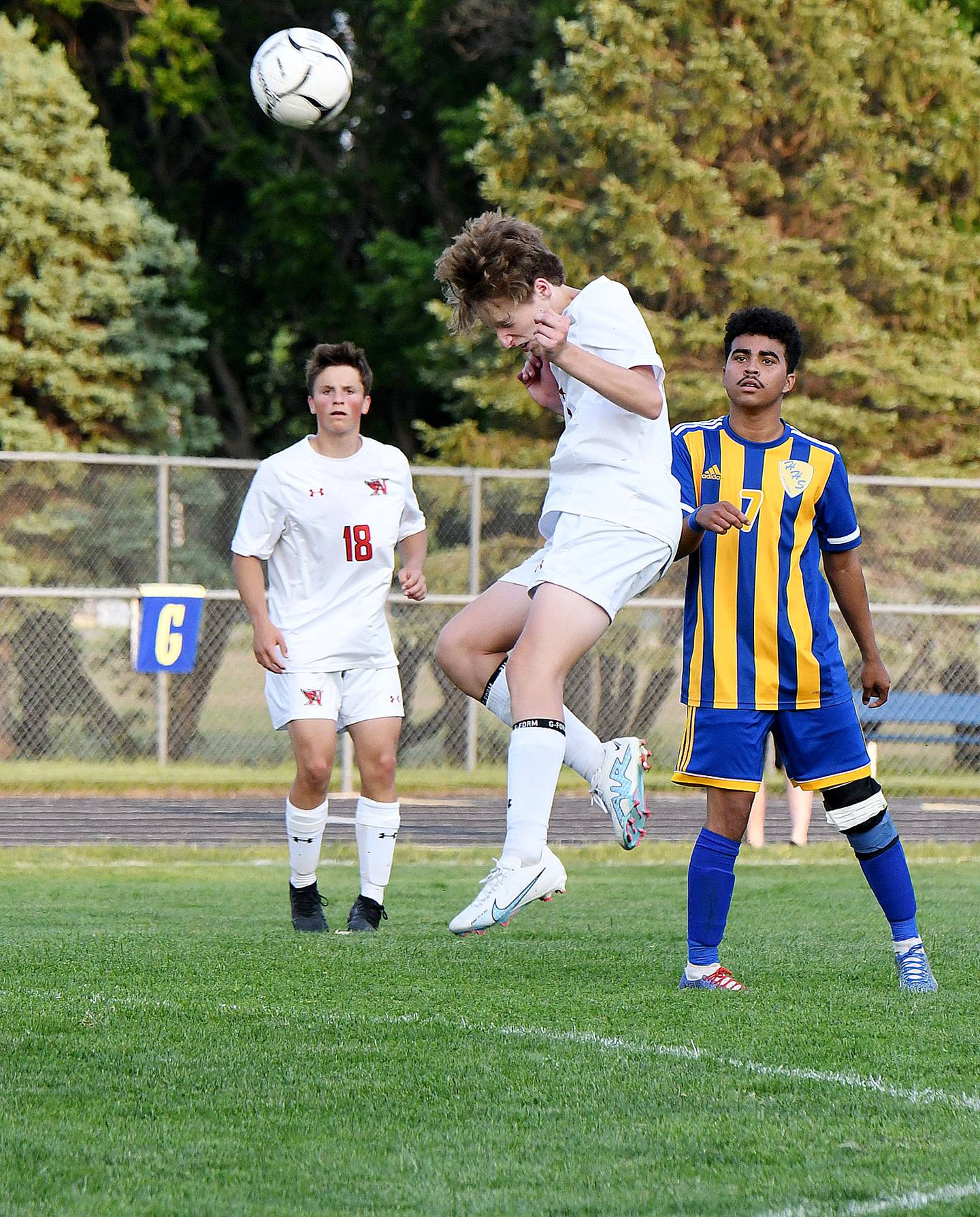 Notes: Eleven teams Newton played this season were in substate championship matches on Wednesday night. … Humboldt had a significant advantage in corner kicks. The Wildcats took nine corners in the second half. … The Cardinals did not have a single senior on the pitch Wednesday night. "The only positive is we don't graduate a single player who was on the field tonight," Jensen said. "We don't lose a single player. That's the only positive thing from tonight."
Newton 7, Mason City 0
Lawson scored his final goal of the Cardinals' 7-0 win over Mason City on a free kick from about 40 yards out.
It was just one of those nights for the Newton junior and all he could do after that was the "Jordan shrug."
Lawson set a new Cardinal postseason record and tied a school record with five goals and Newton shut out Mason City, 7-0, in the 3A Substate 2 semifinals at H.A. Lynn Stadium on Monday.
It was all Cardinals from the opening kickoff. Lawson scored his first goal in the 3rd minute and his final goal came 59 minutes later. He scored both of the Cardinals' second-half goals and registered a hat trick in the first half.
"I just came out hot I guess," Lawson said. "On that long free kick, I was just trying to pass the ball but it went in. It was just one of those nights."
Jensen said it was the best match the Cardinals played all season. They posted their fifth shutout win, had a 30-7 advantage in shots and a 21-3 surplus in shots on goal.
"Big players and great teams show up in playoff games and they get to a different level," Jensen said. "That's what we did tonight. We played some of our best soccer of the season. It was great to see.
"It was a complete game for us and we got everyone on the roster into the game."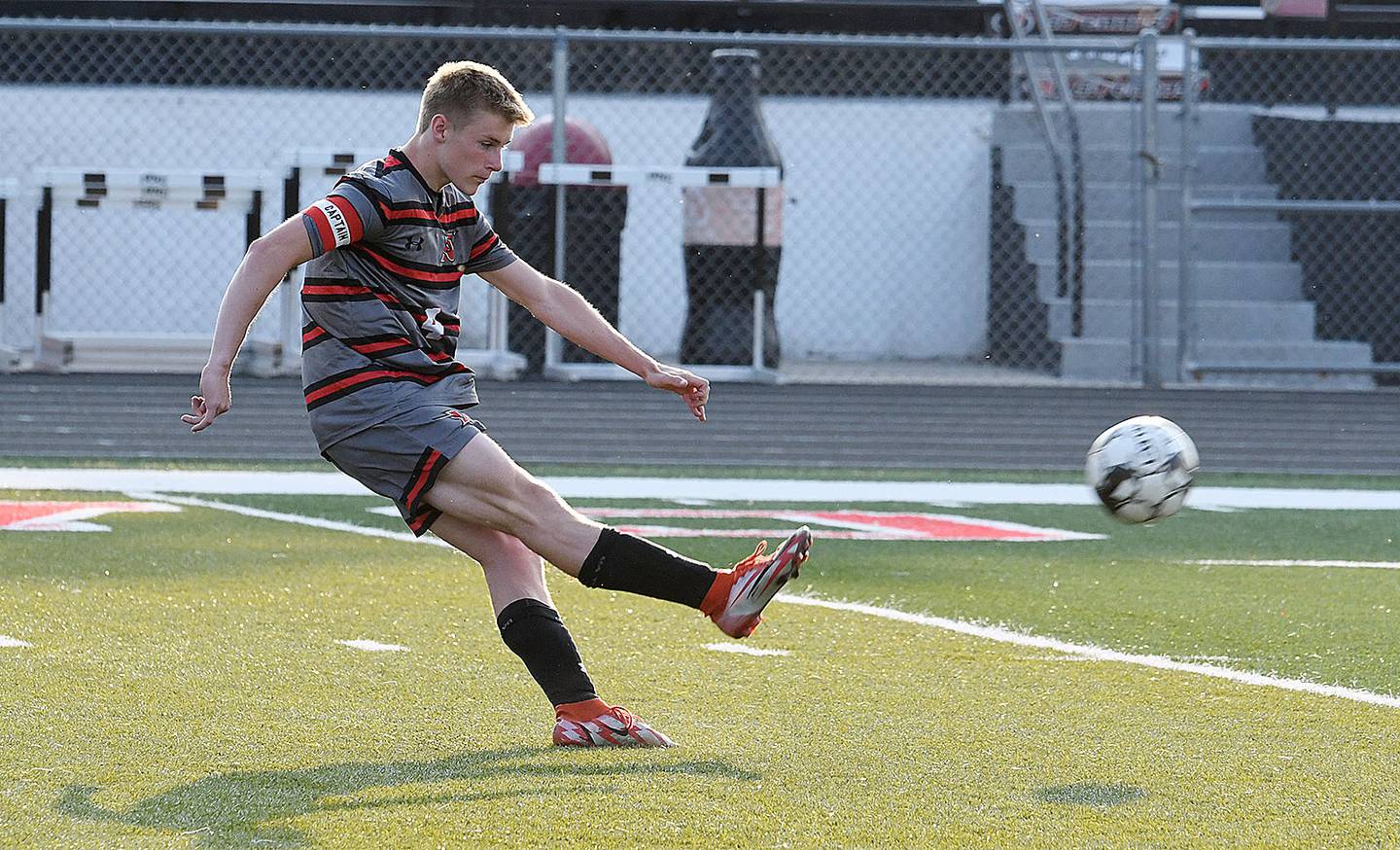 Murillo scored his third goal of the season in the 10th minute to make it 2-0 and then Lawson went back-to-back in the 12th and 16th minute to push the margin to 4-0. Lawson's third goal of the half came on a penalty kick.
"It's win or go home and we just came out hot," said Lawson, who tweaked his ankle in the first half and had an ice pack on after the match. "Playing in these games and winning last year has helped us a lot. We just need to keep competing."
Rodrigo Velasquez scored his first career varsity goal when he converted a header off a Conner McPartlin throw-in in the 17th minute. It was one of two assists on the night for McPartlin.
Lawson's fourth goal, off an assist from Lampe, came in the 44th minute and made it 6-0. The long 40-yard direct kick capped the scoring.
"The No. 1 thing on our board was set the tone," Jensen said. "We wanted to get going early and be the aggressor. We knew they had a two-hour bus drive and we wanted to set the tone right away."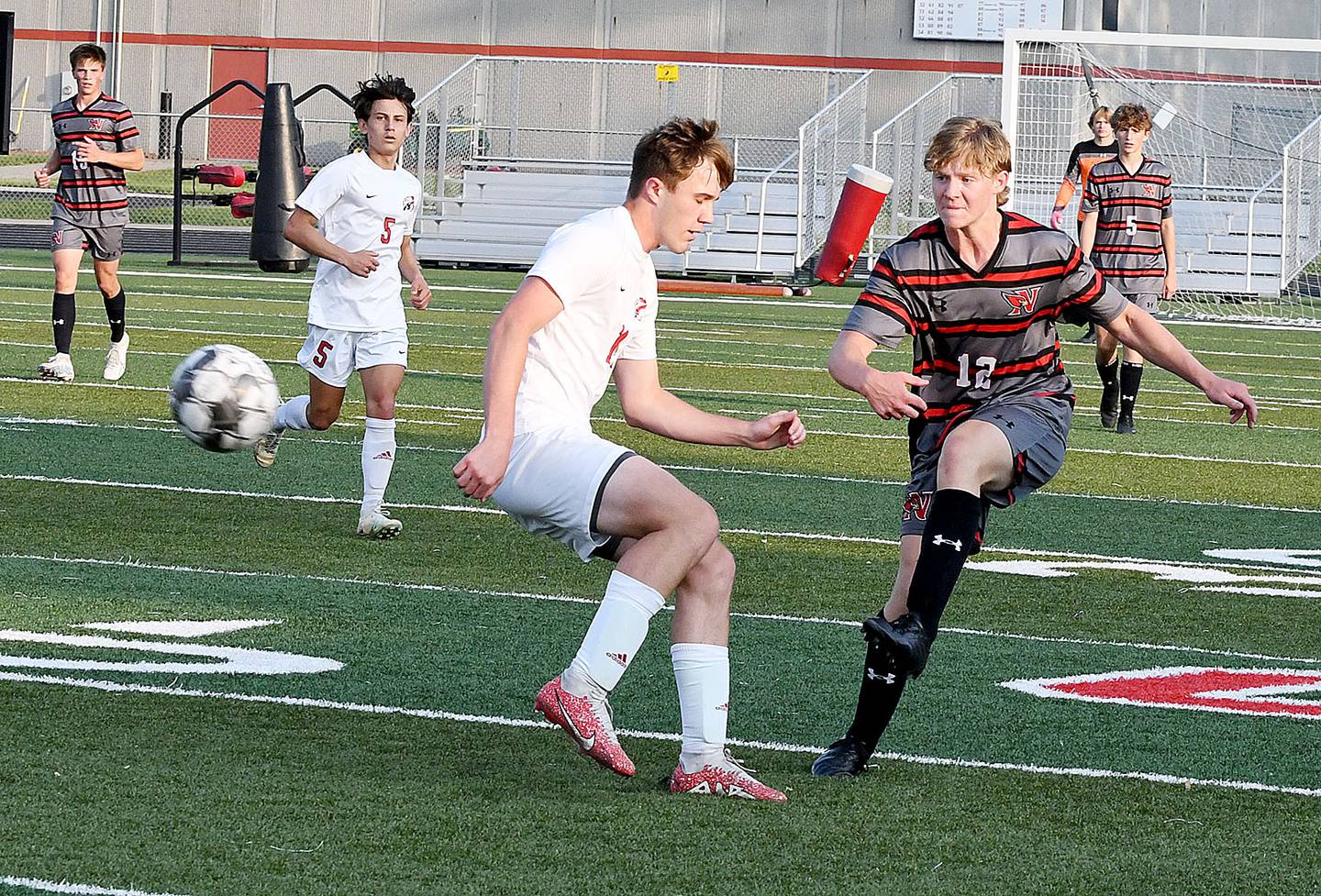 Lawson now has a team-best 18 goals this spring. That ranks 11th in 3A. Jacob Sweeney and Mattes also had assists for the Cardinals.
Teague made two saves in his 70 minutes in goal. Javin Doland registered his first save of the season in the final 10 minutes.
Mason City (3-13) finished with seven shots and three shots on goal in the loss.