BONDURANT — The Newton girls' soccer roster features one senior who played in the Class 2A Region 6 semifinal matchup against No. 8 Bondurant-Farrar on Tuesday.
Bondurant-Farrar's roster features 15 seniors. The Bluejays time just might be now.
For the Cardinals and their young roster, their time could be coming.
Bondurant-Farrar's experience was evident during its postseason matchup and Newton's season ended following a 9-0 road loss.
"I think when the girls heard what ages the other team has, that is scary for the freshmen and sophomores," Newton co-head girls soccer coach Susan Altemeier said. "We came out flat. And I kind of expected that just by the way we warmed up."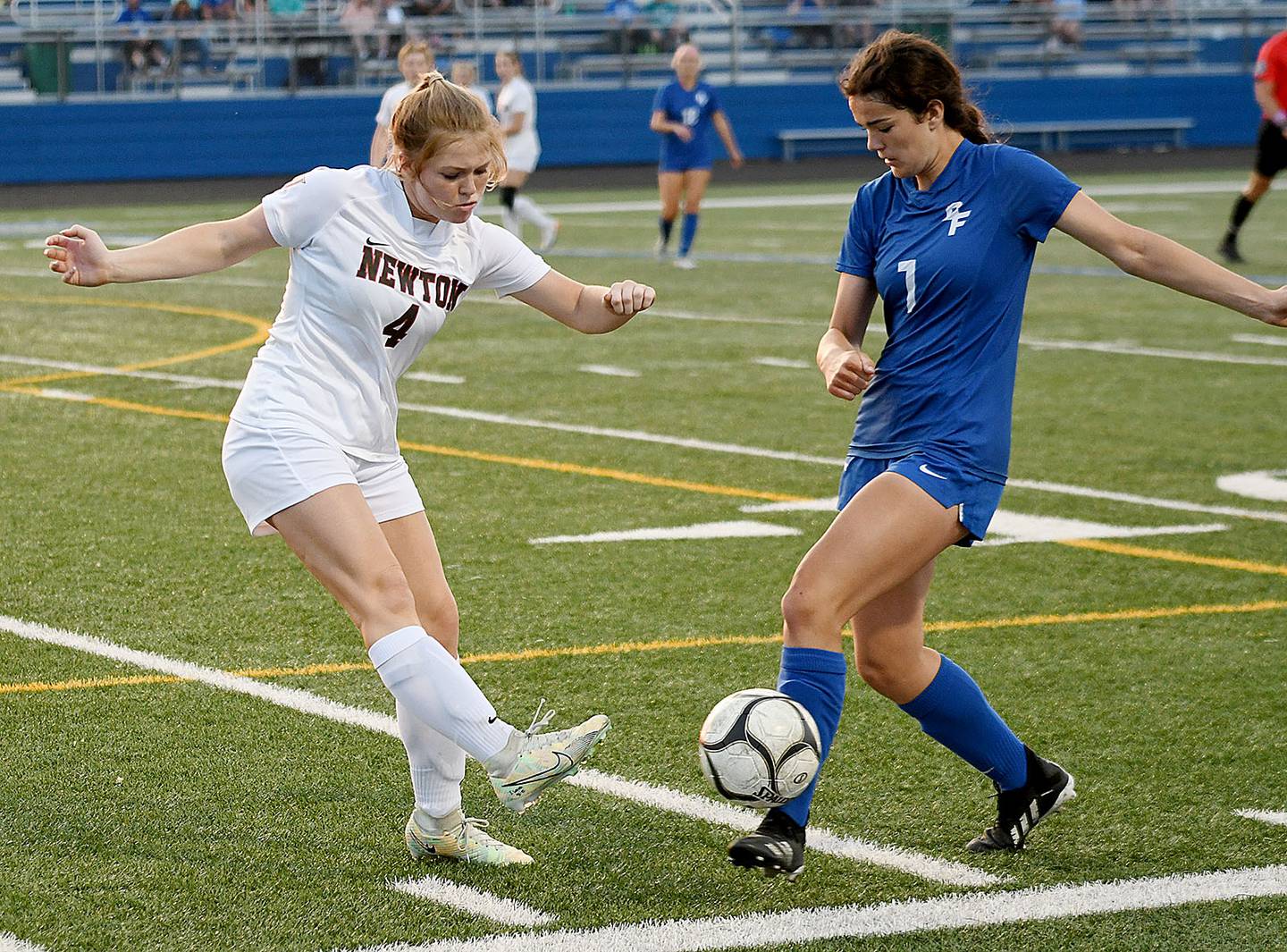 Bondurant-Farrar jumped out to an early lead and never looked back. The hosts led 3-0 not even 10 minutes into the match and went into halftime with a 5-0 advantage.
Abbie Denham produced a hat trick in the first 30 minutes and Makenna West also scored twice for the Bluejays. Lauren DeCosta finished with one goal and three assists.
Denham, West and DeCosta started the scoring with goals in the 2nd, 8th and 10th minutes. DeCosta made it 3-0 when she sent the ball over the head of Newton goalie Natalee Freese on a shot from nearly out of bounds along the sideline.
Denham scored back-to-back goals to make it 5-0. Her third tally of the match came off a deflection following a diving save by Freese.
Bondurant-Farrar (11-5) had a 20-0 advantage in shots and it took the only six corners in the first half.
The Cardinals put two shots on goal in the second half, but Bondurant-Farrar tallied 20 more shots and continued to pepper Freese with shots on goal.
It was Newton's ninth shutout loss of the spring. Bondurant-Farrar, which has won six in a row, posted its seventh shutout of the season.
"We still struggled with first touches and passing," Altemeier said. "I think we get really overwhelmed and nervous and just kick the ball down the field and that doesn't serve us well.
"Some of them are figuring out why it's important to stay in our triangles. That always gives us someone to pass to. We see glimmers. We will keep giving them the tools they need and hopefully, they can put it together to be successful in the future."
DeCosta's most impressive assist of the night came on a crosser that ended just in front of the goal and Hallie Bedler was there for the tap-in.
The Bluejays added three more goals in the second half, but the Newton defense and Freese did enough to avoid the mercy-rule defeat. Bondurant-Farrar finished with 41 shots and 23 shots on goal.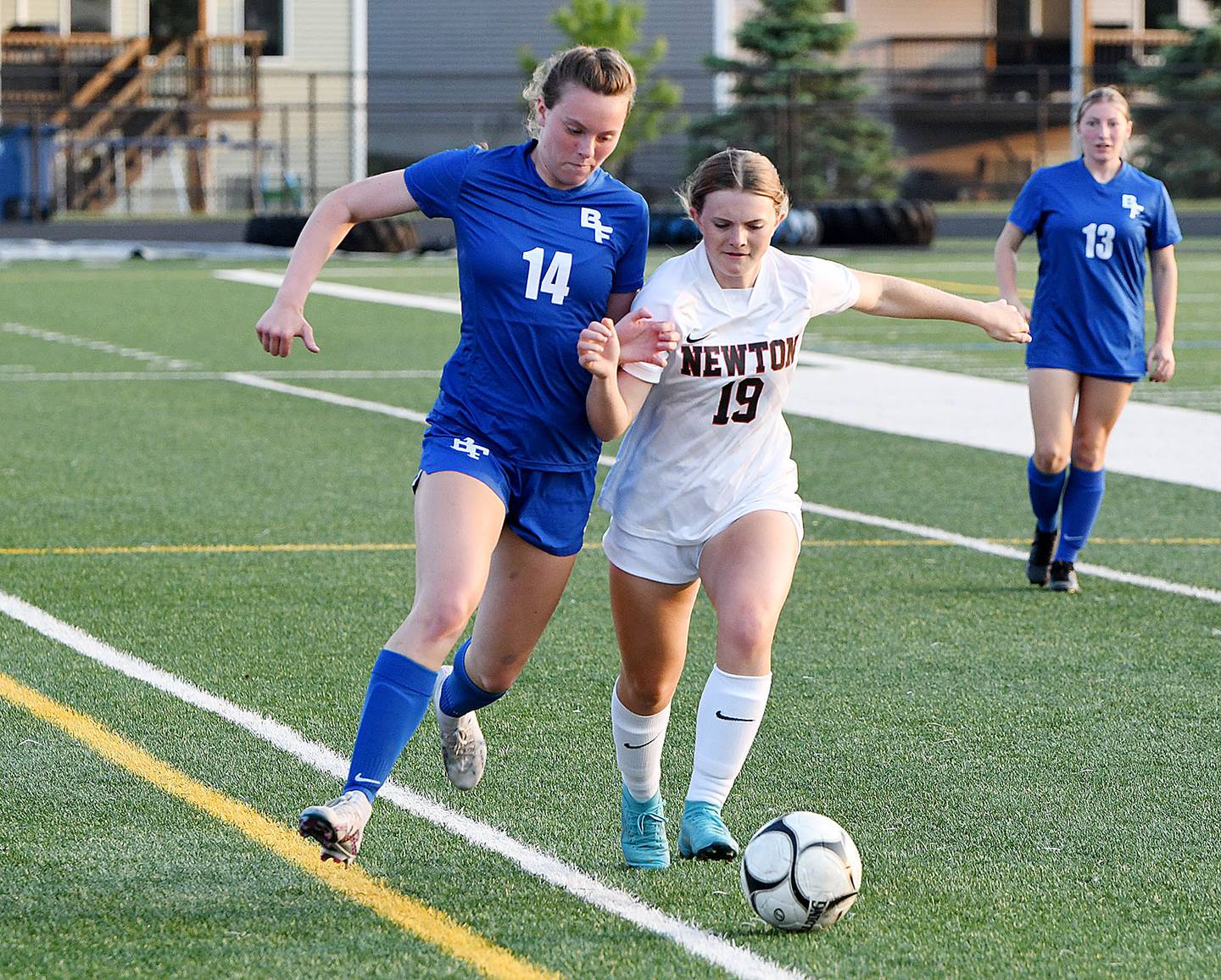 Freese contributed 14 saves for the Cardinals, who retired at 7-10-1.
"We need to spend more time together. Working on fundamentals can be and needs to be a group effort," Altemeier said. "They need to continue to work hard in the offseason on first touches and passing into a wall. We can't fix some of the issues during the season. It has to be done in the offseason. I think most of these girls are going to come back and be improved."
Newton 2, Central Iowa United 1
Briana Shannon and Cailyn Doland each scored a goal to lead Newton past Central Iowa United during the opening round of the regional tournament at H.A. Lynn Stadium on Friday.
The Cardinals went into halftime with a 2-1 lead over CIU (1-14) and neither team scored in the second half.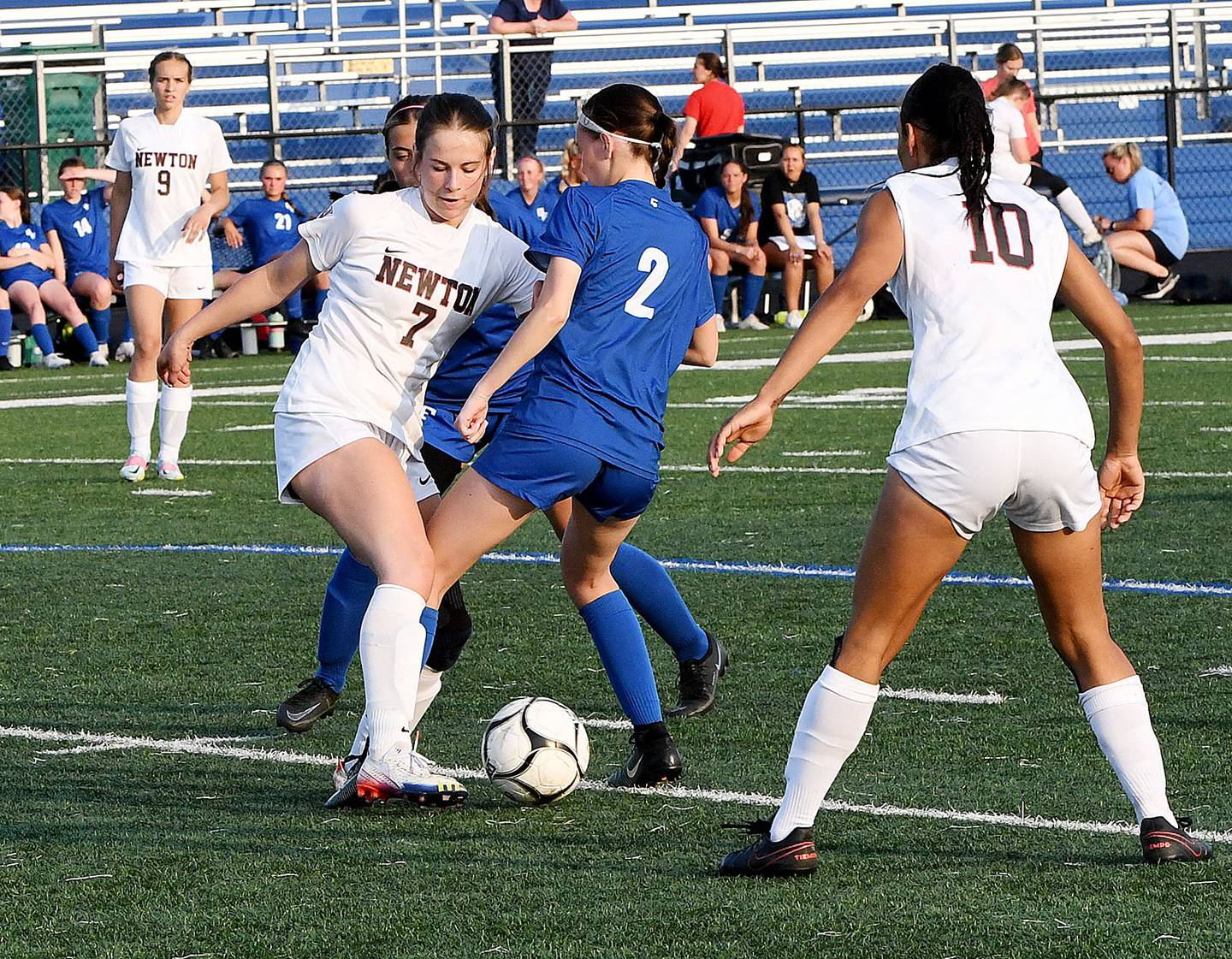 Newton led 2-0 before Reese Jensen scored to close CIU's gap to one goal. It was Jensen's team-best seventh goal this spring.
Cassidy Smith, a Colfax-Mingo junior, finished with 17 saves for CIU, while Freese tallied seven saves for the Cardinals.
Smith's 228 saves this season ranks third in 2A, while Freese's unofficial 204 saves are sixth.