PERRY — Donovan Nickelson won an individual championship and the PCM wrestling team registered 12 top-three finishes and finished second as a team during the Heart of Iowa Conference tournament on Friday.
The Mustangs' 14 wrestlers scored 222 points and trailed only West Marshall, who won the conference tournament title with 257.5 points.
Nickelson won his second HOIC title after finishing 2-0 at 182 pounds. Zach Richards (120), Remington Fry (126), Tucker Wheeler (138), William Vanderpool (152), Wyatt Wheeler (160), Griffin Olson (170), Nate Richards (195) and Kaden Clark (285) all finished as the runner-up at their weights. Kaliber Fry (106), Sawyer Bouwkamp (132) and Hewitt Brinegar (145) all placed third.
Class 2A No. 7 Greene County scored 147 points with nine wrestlers and placed third as a team.
Perry (130) and South Hamilton (84) completed the top five and Nevada (77), Roland-Story (57) and Saydel (43.5) finalized the eight-team field. Only PCM and West Marshall had full lineups.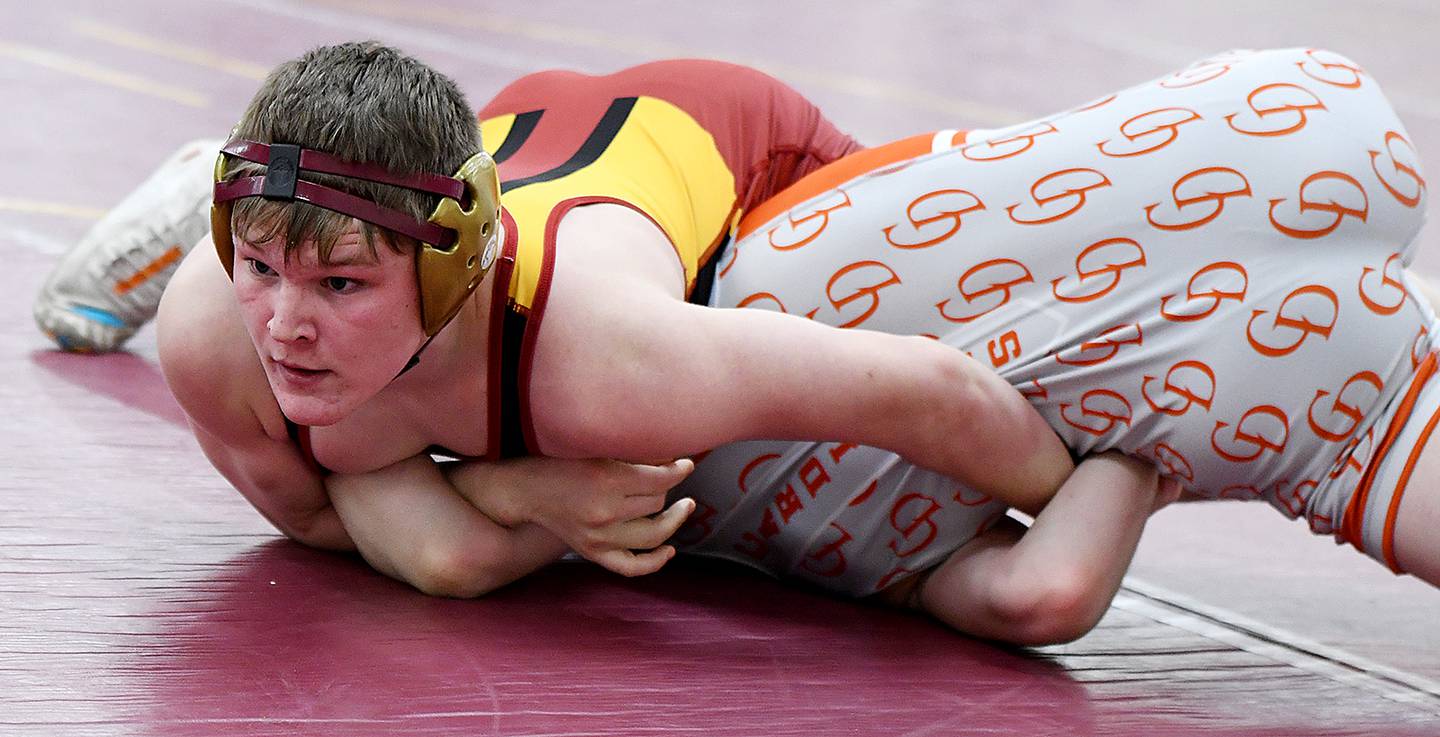 Nickelson (18-7) won twice by fall. He recorded his pins in 1 minute, 44 seconds and 51 seconds. The Mustang senior won the HOIC title at 195 last year and was second at 195 two seasons ago.
Vanderpool was 2-1, while the rest of the runner-up finishers were 1-1.
Zach Richards (22-12) won a match by fall at 120 and his lone loss came against 2A No. 9 Shane Hanford of West Marshall.
Class 2A No. 10 Tucker Wheeler (32-10) won once by fall and lost to 2A No. 1 McKinley Robbins (37-0) of Greene County.
Wyatt Wheeler (12-8) and Olson (9-7) also lost to ranked wrestlers and won once by decision. Wheeler won 6-3 and Olson claimed a 6-5 victory.
Wyatt Wheeler lost to 2A No. 7 Gavin Scheuermann of Greene County and Olson was defeated by 2A No. 10 Austin Pfantz of West Marshall. Remington Fry (30-9) and Nate Richards (23-13) both won once by fall and Clark (25-13) posted a 7-0 win by decision. It was the second straight conference runner-up finish for Remington Fry.
Vanderpool (19-16), Kaliber Fry (20-13), Brinegar (28-14) and Bouwkamp all went 2-1 for the day. Kaliber Fry and Brinegar each won twice by fall, while Bouwkamp scored a win by pin and a win by 17-8 major decision. Vanderpool had a win by pin and a 10-4 victory by decision.
Bouwkamp's lone loss was against 2A No. 1 Kale Peterson (34-0) of Greene County.
Both Joel Greiner (220) and Charlie Sitzmann (113) placed fifth at their weights. Greiner was 2-2 with two pins and Sitzmann finished 1-2 with one pin.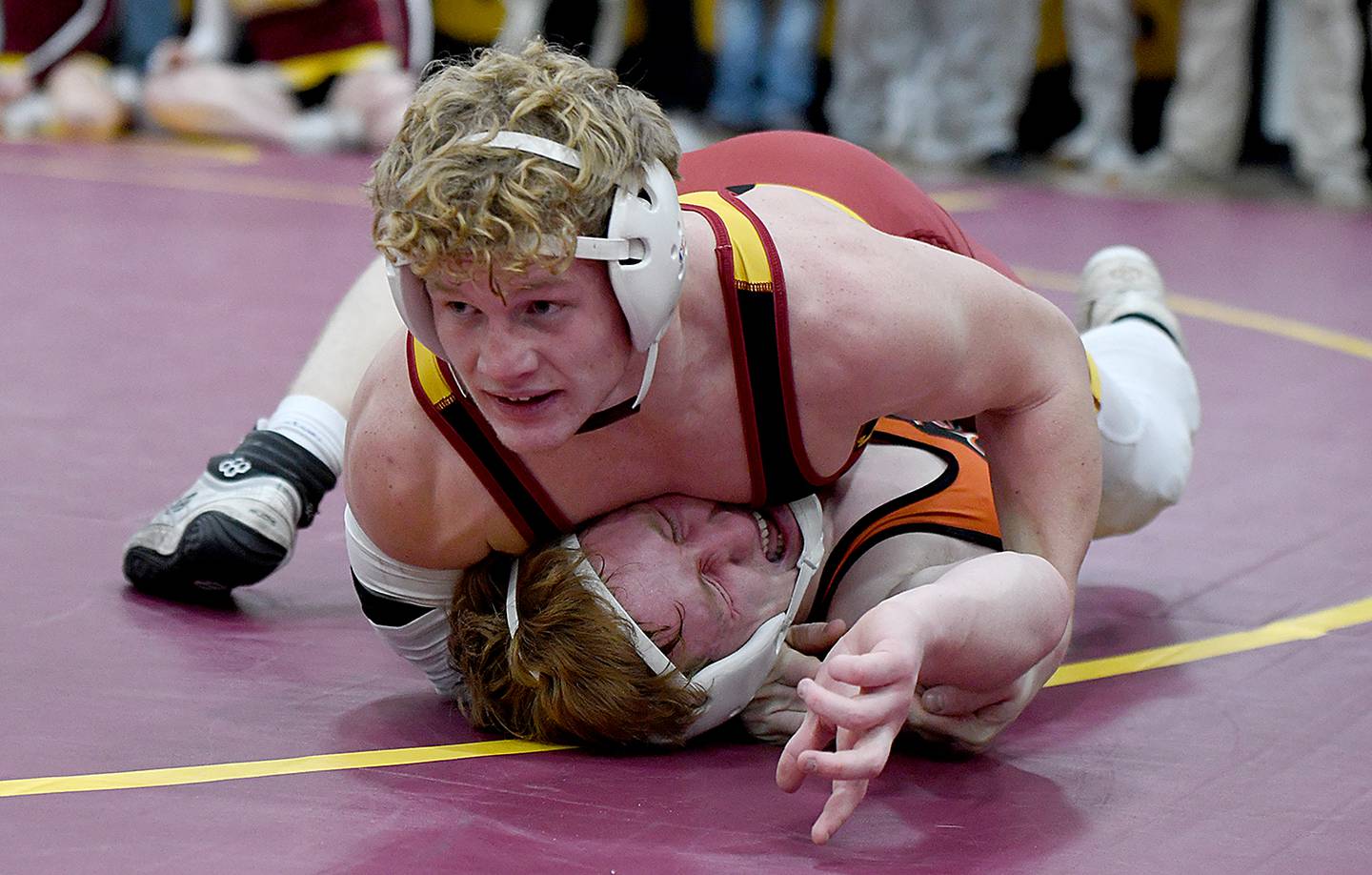 Mustangs face tough field at Ed Winger Invitational
URBANDALE — The Mustangs' competition at the Ed Winger Invitational on Saturday was tougher than what they will face at this year's district and state tournaments.
The annual classic hosted by Urbandale High School featured nine ranked teams through three classes and nearly 100 ranked individuals.
The only PCM grappler to finish in the top six was Clark. The Mustangs only scored 28 points and finished 21st in the 24-team field.
Class 3A No. 2 Waverly-Shell Rock won the tournament with 192 points, while 3A No. 1 Southeast Polk (176), 3A No. 4 Bettendorf (159), 3A No. 10 Ankeny Centennial (117) and 3A No. 9 Waukee Northwest (104) completed the top five.
Clark was sixth at 285. He was 2-3 for the day with two pins and he lost to a pair of ranked wrestlers.
Tucker Wheeler and Vanderpool each were 2-2. Wheeler won 11-1 and 13-2 and lost to one ranked wrestler. Vanderpool won his first two matches, the first was a 10-3 victory and the second a win by no contest.
Wheeler lost 5-1 and 13-8 and both of Vanderpool's defeats both were 13-5.
Kaliber Fry, Zach Richards, Remington Fry, Brinegar, Nickelson and Nate Richards all claimed one win on the day.
Kaliber Fry won 3-2 at 106, Zach Richards scored a 14-5 win at 120 and Remington Fry earned an 8-4 victory at 126. Brinegar won by pin at 145, Nickelson scored a win by fall at 182 and Nate Richards won by fall at 195.
Sitzmann (113), Bouwkamp (132), Jeffrey McDanel (160), Olson (170) and Greiner (220) each went 0-2.