MONROE — Gavin Van Gorp got the shot PCM head boys basketball coach Fred Lorensen wanted. And the Mustangs executed the final play of the game exactly how the veteran coach drew it up.
The shot was just off target.
Trailing by as many as eight in the first half and down by seven with 31.8 seconds to play, PCM rallied and had a chance to tie in the final seconds.
Lorensen called timeout just before his team turned the ball over with 5.3 seconds to play. He drew up a play the Mustangs hadn't done in practice at all, and got Van Gorp open enough for the potential tying 3-pointer but the ball hit the back iron and bounced off, giving Greene County a 54-51 road win in Heart of Iowa Conference play on Friday.
"We did exactly what we wanted to do," Lorensen said. "We haven't even practiced it, but they did it pretty well. He back rimmed it, which is about as close as you can get without making it."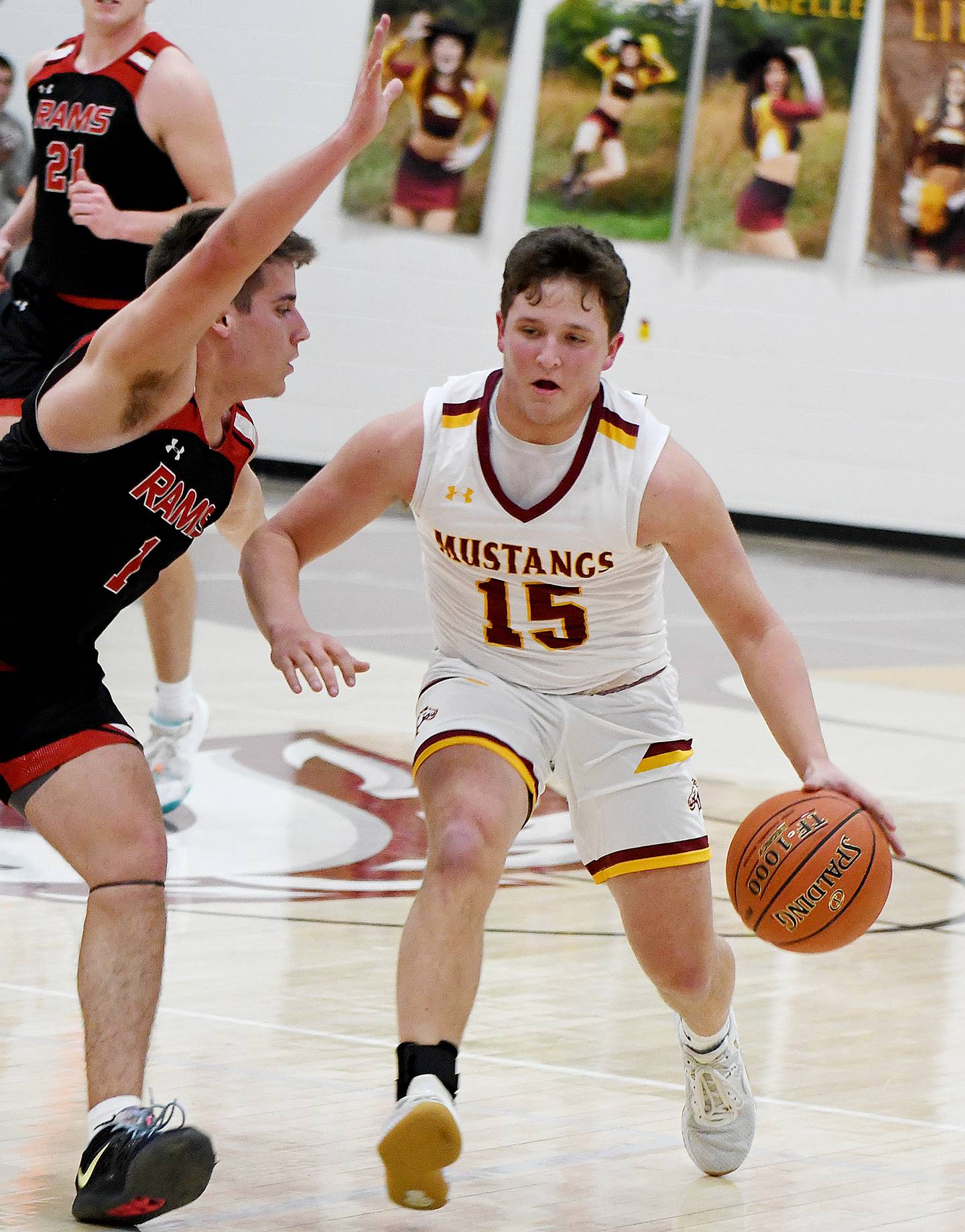 Van Gorp was one of three Mustangs in double-figures and Jacob Wendt posted another double-double, but PCM was plagued by 20 turnovers and was outscored 19-13 in the first quarter and 18-14 in the fourth.
The Rams' win helped them salvage a season split. PCM defeated Greene County on its home floor earlier this season and that game also was close.
The game was tied at 5- and 8-all in the first before Grant Van Veen's second trey of the frame put the Mustangs in front 11-8.
That triggered a 10-0 run from the Rams. During that stretch, August Stock went to the bench after picking up his second foul and Van Gorp followed him after being called for a technical foul.
PCM (4-12 overall, 3-7 in the HOIC) rallied in the second with a pair of freshmen — Chase Wagaman and Shay Burns — on the floor. Van Veen and Wendt scored on back-to-back buckets inside the lane and Kaleb DeVries' layup and Van Veen's triple gave the home team a 24-21 lead.
Greene County buried a trey of its own late in the half and the two teams went to halftime tied at 24-all.
"That's a tough spot to put those two freshmen in, but they played hard and did OK," Lorensen said. "The guys who start are starters for a reason. We lose some shooting when we take Gavin out, but he said a word he shouldn't have said and we aren't going to mess with that. He's a good kid, but sometimes you get frustrated and let your emotions get the better of you."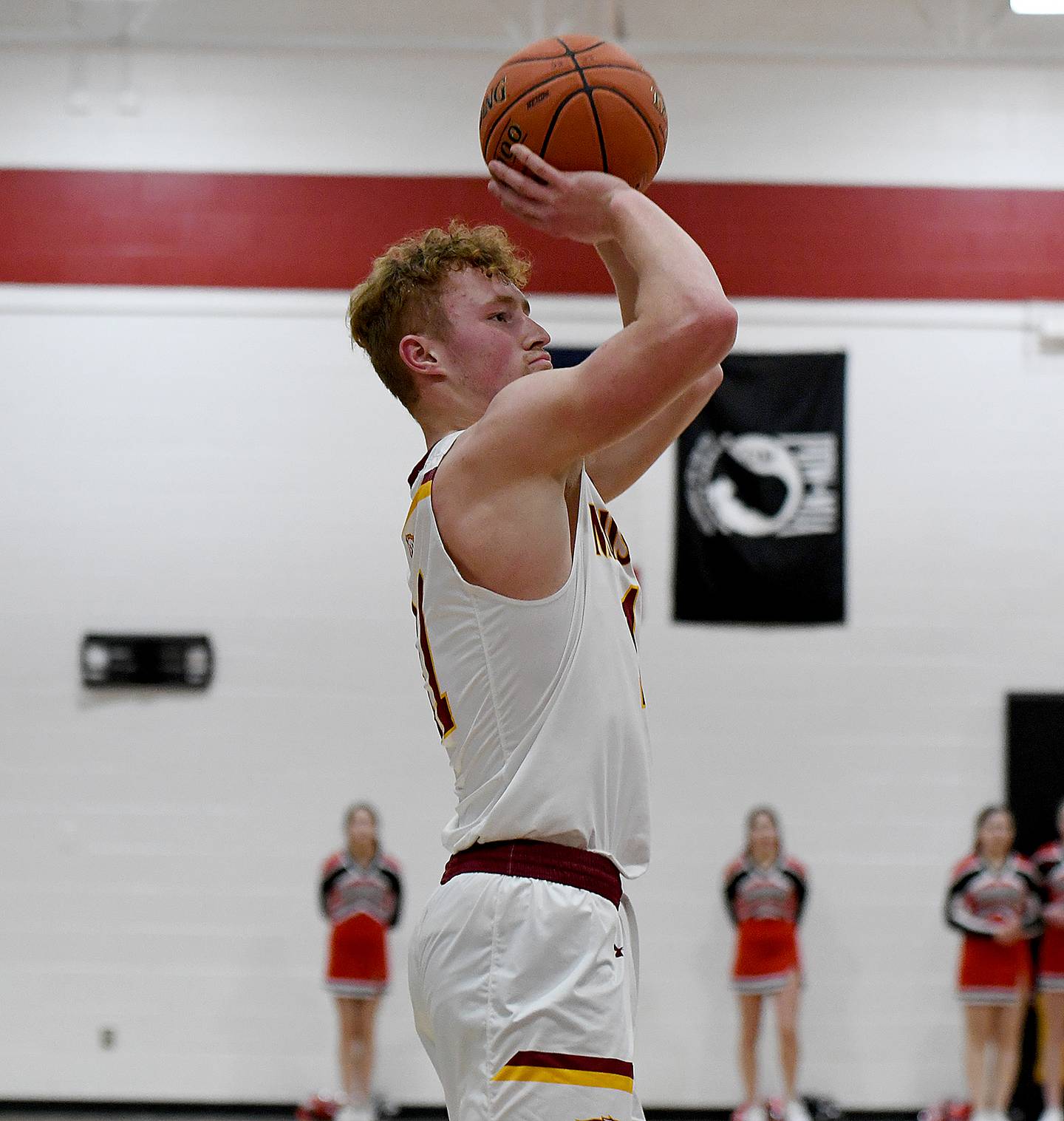 The game stayed close in the third. A 3-point play by Wendt put the Mustangs in front by one and a Van Gorp triple made it 30-28. A bucket inside by Wendt gave PCM a five-point lead, but the Rams (7-8, 6-4) hit back-to-back 3-pointers to go back in front.
Stock ended the period with a buzzer-beating putback that put the Mustangs in front 37-36 after three quarters.
Stock had to go back to the bench after picking it his fourth foul early in the fourth.
The Rams made nine 3-pointers in the game and Richard Daugherty hit two of them in the final frame to push the Rams to a 44-41 lead.
The Mustangs led 47-46 with 2:17 to play, but an 8-0 by Greene County was too much to overcome.
Lorensen said one of the biggest reasons his team lost was because they failed to identify shooters on the perimeter.
"They have one guy we were not going to guard. No. 11 and No. 23 are really good shooters," Lorensen said. "No. 1 cannot shoot it ,and there were several times they threw to him up top and we'd slide over to pick him up, and we couldn't quite get back to the guys who can shoot it in time.
"One time we let No. 11 walk into his 3-point shot. He ripped that one through."
Wendt posted a 16-point, 16-rebound double-double and added two assists and three steals.
Van Veen put in 13 of his 16 points in the first half and chipped in six rebounds, while Van Gorp registered 11 points, two rebounds, two assists and two steals.
Stock scored four points and grabbed six boards and DeVries registered four points and six assists.
The Mustangs shot 42 percent of the floor, connected on 7-of-22 from 3 and buried 8-of-10 from the free-throw line.
"We had some really bad turnovers in the first half. We try to play too fast," Lorensen said. "That's coaching. That's my job to get them to play the way they are supposed to play."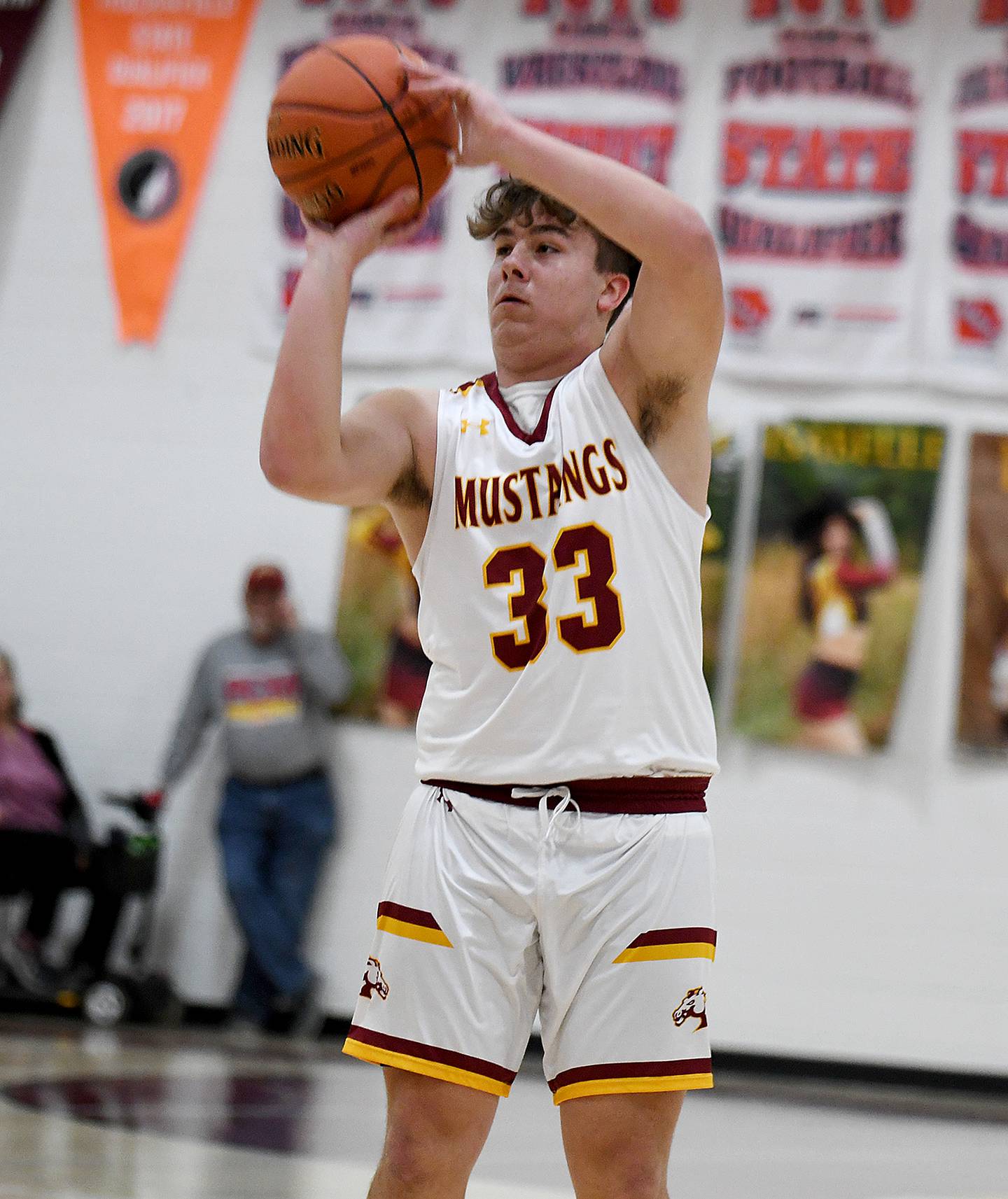 Van Veen made three 3-pointers in the first half and that forced Greene County big man Jesse Miller to defend outside the lane.
It should have opened things up inside for the Mustangs, but they couldn't take advantage enough.
"We are glad he's on our team, but we have to get Jacob Wendt to play meaner," Lorensen said. "There was a few times he got the ball inside and could have attacked but kicked it back out. He needs to be more aggressive.
"He's really hard to guard inside, and I want him to take the ball at the defense."
Miller, a 6-foot-6 center, was extremely hard to guard inside throughout the game. He and Van Veen missed the first meeting earlier this season which resulted in a 47-42 win for the Mustangs.
Miller stayed in the game after picking up his fourth foul with 4:50 to play and scored six points in the final 3 minutes to close out the Rams' win.
"You have to front him. For the most part, Grant did a good job on him," Lorensen said. "I told him early in the second half that if he didn't front him, we were going to lose. It was that simple. He can't catch the ball deep in the lane. It's not going to go well."
Notes: PCM basketball coaches and players and several community members wore shirts in honor of Scott Van Veen, who is battling cancer. "I am not sure who initiated it, but everyone got on board right away," Lorensen said about the T-shirt. "Things are tough. Hopefully, he'll be OK. I know he's dealing with some pretty tough treatments right now."