Competing in the Newton YMCA pool for the final time didn't hit Newton senior Lillie Ray until her sister gave her the gift for Senior Night.
Then the elder Ray lost it.
"I did cry. I was doing fine until they introduced me for Senior Night and they had Peyton give me my gift," Lillie Ray said. "She gave me a hug and was crying so it made me cry. I kind of lost it right there.
"I can't believe this is the last time I'm going to swim competitively in this pool. It doesn't feel real yet. It hasn't hit me, but it is bittersweet."
Lillie Ray and a five other Aquagirls competed at home for the final time on Tuesday and NCMP cruised to a pair of wins over Oskaloosa and Perry.
The Aquagirls dunked the Lady Jays 151-26 and swam past the Indians 166-10. NCMP won eight of the events overall, finished 1-2 five times, 1-3 three times and were 2-3 three times.
NCMP won all three relays, finished first and second in the 200-meter medley and 400 freestyle relays and went 1-3 in the 200 freestyle relay.
"The Aquagirls had an awesome Senior Night last night," NCMP head girls swimming coach Sarah Patterson said. "For having a tough training day Monday, the girls swam well."

Lillie Ray was part of four wins, while Peyton Ray and Tori White earned three victories.
Maylei Ruggles, Harper Barton and Alex Riney claimed two wins each.
Ray, Ruggles, Skyler Gooden, Emily VanderMolen, Olivia Felten and Ellie Wogen were recognized for Senior Night at the break. VanderMolen was part of four junior varsity wins, Gooden claimed three JV victories and Felten was part of NCMP's JV 200 medley relay win.
"The seniors all had a great meet, which was fun to see," Patterson said.
Ruggles didn't get too emotional for her Senior Night. It hasn't quite hit her yet, but she knows when it likely will.
"I think I will cry on Lillie's birthday. That is one of the days for the state meet," Ruggles said. "Lillie and I have been swimming together for so many years. It will finally set in at that point that it's senior year and we are going to be going to different colleges soon."
Senior Night provided a large crowd around the Marv Zimmerman Pool at the Newton YMCA. The home fans were treated to a pair of rather easy victories by the Aquagirls.
"The team would like to thank all of those who came out to 'race an Aquagirl' and all those who came out to watch," Patterson said. "It was much appreciated. We had a lot of former Aquagirls there, too, so Coach Jenny and I really enjoyed that. My mom, Mary Schuchmann, even came over from Grinnell."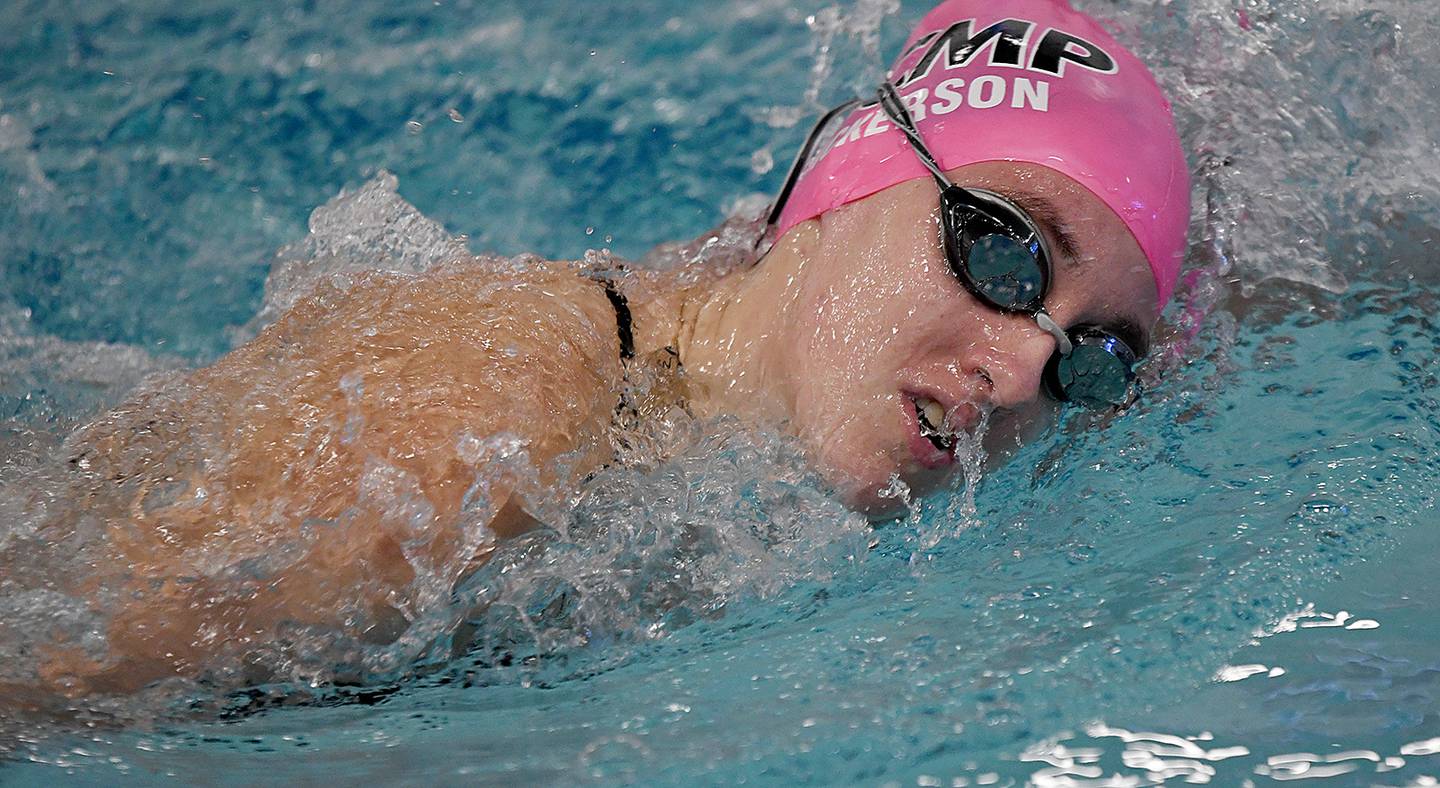 NCMP opened the night with a 1-2 finish in the 200 medley relay.
The team of White, Barton, Lillie Ray and Peyton Ray won the race in 2 minutes, 10.98 seconds. The foursome of Riney, Estella Allen, Izzy Lane and Paige Benson finished second in 2:19.53.
The Aquagirls closed the evening with a 1-2 finish in the 400 freestyle relay.
Lillie Ray, Peyton Ray, White and Ruggles won the relay in 4:21.12. Riney, Lane, Evelyn Munk and Addison Van Maanen came in second in 4:33.55.
The 200 freestyle relay was won by the foursome of Barton, Peyton Ray, Ruggles and Lillie Ray in 1:56.9. The team of Allen, Benson, Lane and Munk finished third in 2:04.4.
"Lillie Ray won the 100 freestyle and continues to be a pillar in all of our relays," Patterson said. "Her sister Peyton Ray turned in a great 200 IM time and also has been on fire on relays."
Ray and Ruggles are not yet sure who will be on the relays come postseason time. But they know it will be a battle for those always-popular spots.
"Coach always tells us it's a battle for the relays," Lillie Ray said. "We don't know anything yet really."
The other 1-2 finishes came in the 100 freestyle, 200 freestyle and 100 backstroke.
Lillie Ray and Barton were first and second, respectively, in the 100 freestyle. Ray won the race in 1:03.42 and Barton hit the wall in 1:04.95.
Lillie Ray was a state qualifier in the 50 freestyle last season. She is unsure of which sprint freestyle event she will focus this postseason.
"I like the 50 freestyle more, but whatever coach puts me in, that's what I will swim," Lillie Ray said. "She will decide it for me."

Munk and Van Maanen had one of the closest races of the night in going 1-2 in the 100 freestyle. Munk (2:30.04) edged Van Maanen (2:30.32) by .28 seconds.
In the 100 backstroke, White won the race in 1:13.71 and Van Maanen was the runner-up in 1:17.26.
"Addison VanMaanen swam her first 200 freestyle, looking strong, and touched out a Perry girl to take second in the 100 backstroke," Patterson said. "Both of her times were impressive.
"Tori White continues to score big varsity points for us."
The other wins came from Riney in the 50 freestyle and 400 freestyle.
Riney won the 50 freestyle in 29.8 seconds and Benson was third in 30.65.
Riney hit the wall first in the 400 freestyle in 5:16.27 and Munk finished third in 5:29.7.
"Alex Riney had an amazing meet, winning both the 50 and 400 freestyle with personal-best times," Patterson said. "It was fun to see her really break out and swim like I know she can."
NCMP registered 2-3 finishes in the 200 individual medley, 100 butterfly and 100 breaststroke.
Peyton Ray took second in the 200 IM with a time of 2:41.43 and Ruggles was third in 2:46.5.
Ruggles was the runner-up in the 100 fly with a time of 1:14.94 and White finished third in 1:16.1.
In the 100 breaststroke, Barton finished second in 1:18.56. Allen hit the wall in third in 1:30.43.
Perry's Quin Mahler-Moreno won the race in 1:17.93. She also won the 200 IM.
"The race of the meet had to be Harper Barton in the 100 breaststroke with Perry's Quin Mahler-Moreno, who is a state-ranked swimmer in a number of events," Patterson said. "It was intense until the very end, but Harper was right there. I know this will motivate her and add fuel to the fire."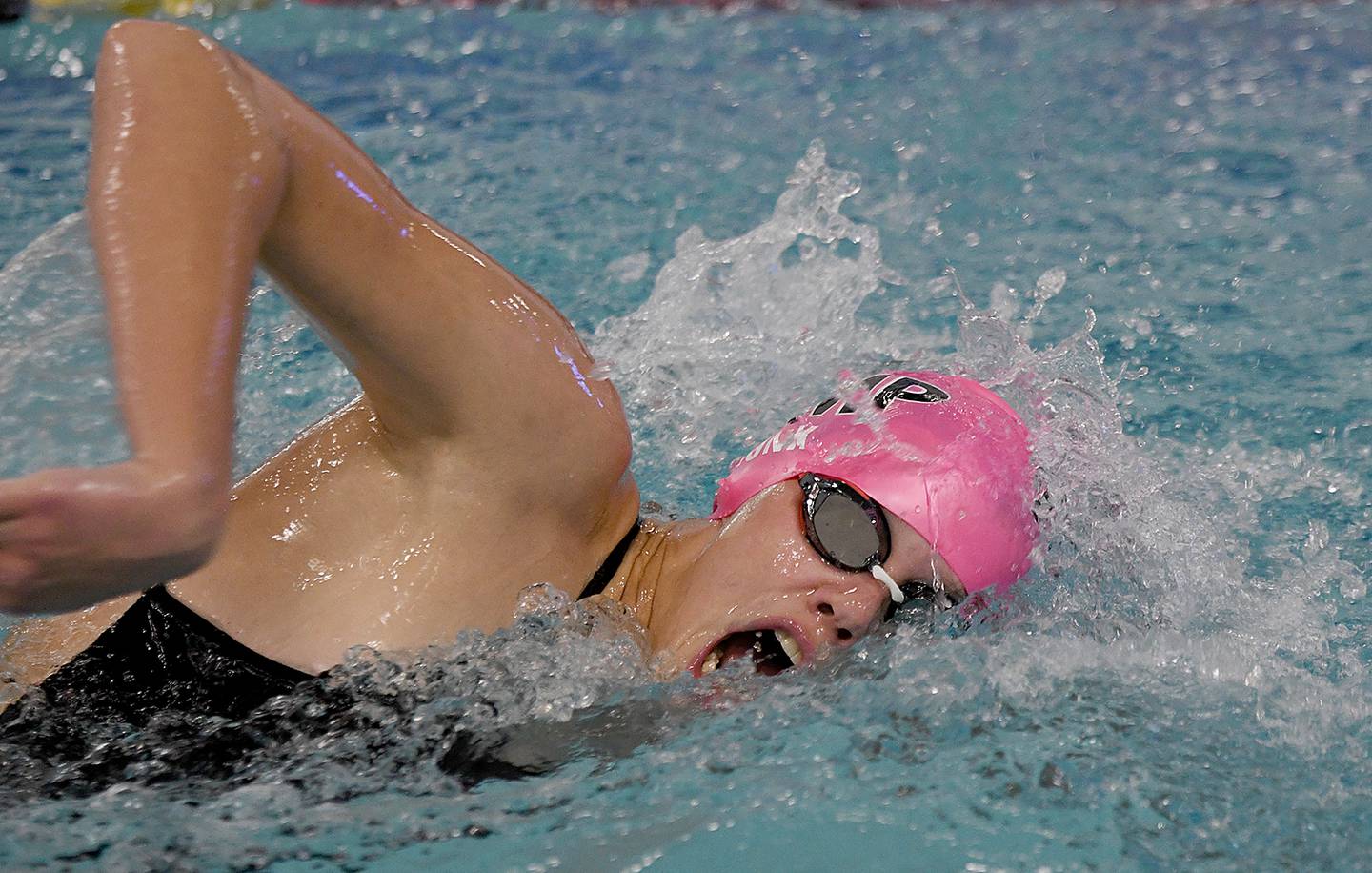 Notes: Coach Patterson and Coach Jenny Jensen were recognized before the meet for their years of service as NCMP coaches. Patterson, who is the longest tenured athletic coach in the district, is retiring from teaching after this school year and Jensen is retiring from coaching following this season. … NCMP was the only team to have swimmers in every JV event. The JV 50 and 100 freestyles were the only events that featured swimmers from the other programs. … VanderMolen and Lauryn Garrett each won two individual JV races. Garrett and Avery Meyer joined Gooden with three JV race wins, while Hailey Dickerson and Anna DeVries each were part of two victories. Lane also had a JV win. … Brooke Linahon swam on two relays despite having an injured arm. "Shoutout to Brooke Linahon," Patterson said. "She's still fast even with a wall start and one arm. She has continued to train hard and stay positive."