Landon Menninga doesn't care about the rankings. And he doesn't worry about targeting any specific opponents when on the cross country course.
His strategy for most races is to just finish as high as he can and score the fewest points for his team.
The Cardinal junior got the chance to compete against four ranked runners from North Polk on Tuesday at the 46th Annual Steve McDermott Cross Country Invitational and held his own with a sixth-place finish.
"It would be good to get back in the rankings, but I also want to run my race. I don't pick targets. I just compete the best I can," Menninga said. "I don't pay attention to rankings. It was hot, but I think I ran well. It may not have looked like it though."
Temperatures were above 90 degrees at Maytag Park for one of the Cardinals' toughest courses of the season. Newton's boys were fourth in the team standings with 106 points.
Class 3A No. 2 North Polk won the meet championship with 19 points. The Comets put their four ranked runners in the top five and Grinnell's Jonas Conner was fourth.
Class 3A No. 3 Zach Sporaa of North Polk won the boys' 5K race in 17 minutes, 29.1 seconds and his brother Max Sporaa, who is ranked 13th, was the runner-up in 17:51.4.
North Polk's Alik McIlravy, who is ranked 21st, was third in 18:18.3 and No. 26 Austin Stierman of North Polk was fifth in 18:40.9. Conner, who was ranked last week, finished fourth in 18:33.6.
Menninga's sixth-place time wasn't too far behind Stierman in 18:48.5.
"It wasn't fun for sure. The heat was difficult," Menninga said. "This is maybe the second most difficult course on the schedule, but because of the heat it probably made it the most difficult."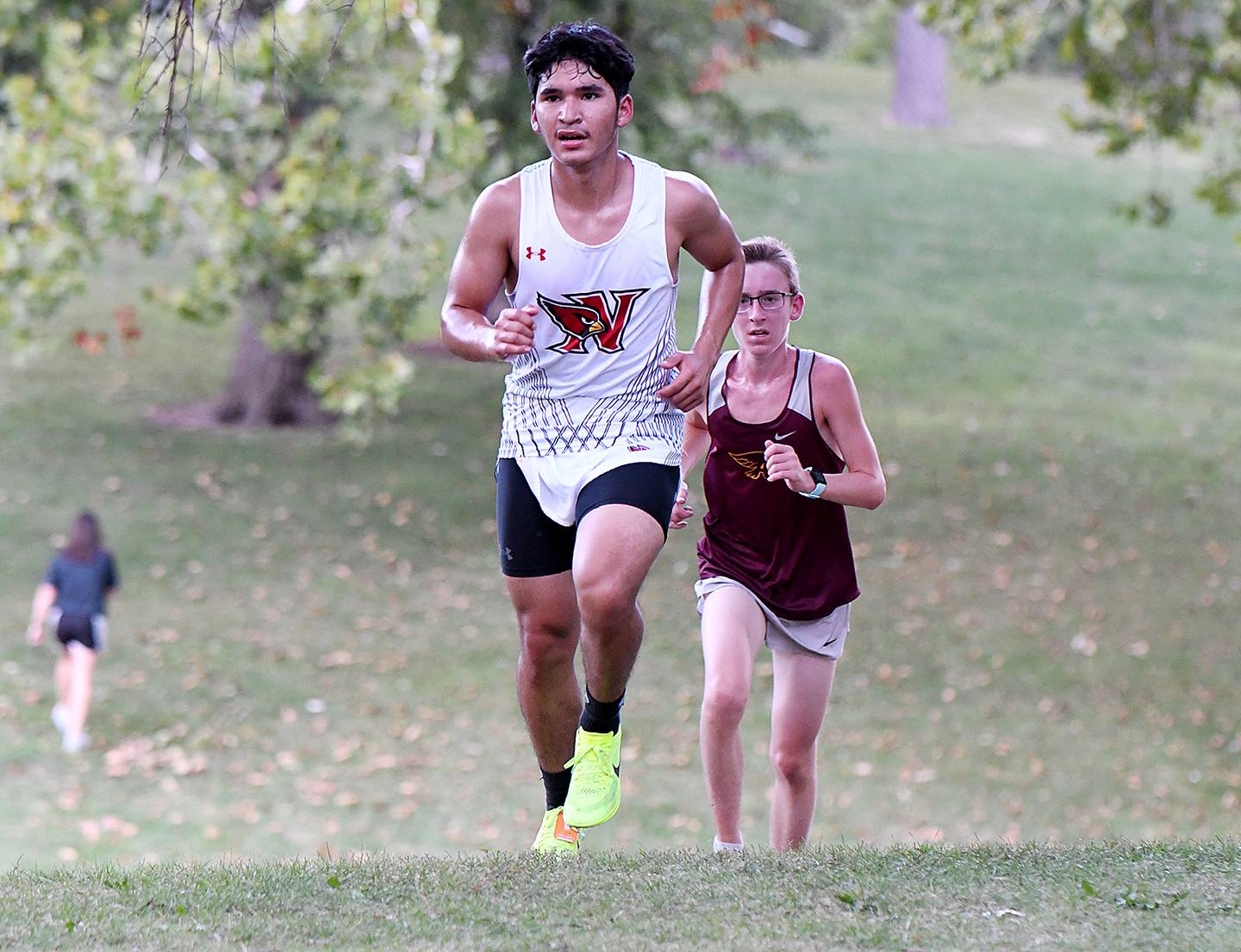 Finishing second behind North Polk was Norwalk's JV with 68 points. Grinnell (98), Newton (106) and Nevada (123) rounded out the top five and the rest of the eight-team field featured the Ankeny JV (125), Marshalltown (172) and Knoxville (202).
"Everyone should ignore the times as the heat and hills combined for the perfect storm of a slower race," Newton boys cross country coach Steve Weeks said. "Even some of the state's top runners, North Polk's Sporaa brothers, were each about two minutes slower than their regular times."
Menninga's sixth-place finish was good enough for a meet medal. Leo Friedman was 14th in 19:33, Collin Buchli finished 24th in 20:01.3, Christian Buchli took 25th in 20:04.9 and Javin Doland (20:50.1) finalized the scoring runners in 37th.
Jesus Murillo (21:04) and Lance Zaabel (21:37) were Newton's two non-scoring runners in 42nd and 46th, respectively.
Notes: The boys' JV race was halted due to lightning. Presley Arnold, who is expected to be on the varsity squad later this season, returned from injury and started the JV race on Tuesday. "The Newton JV runners were performing very well, so much so many of them felt slighted they couldn't finish, and a few proclaimed they still want to do a timed 5K to prove to themselves how well they have been doing this season," Weeks said. "This is the stuff that makes coaching fun." ... Norwalk's varsity is ranked No. 2 in 4A and Ankeny's varsity is No. 7. Neither program competed with their varsity runners at Maytag Park though.