Newton sophomore Hadley Kruse might have gotten out too fast during her 5K run at Maytag Park on Tuesday.
But with so many screaming fans cheering her on, Kruse got caught up in the home atmosphere during the 46th Annual Steve McDermott Cross Country Invitational.
Kruse led for a good portion of the girls' varsity race and ended up third against some tough competition. She led the Cardinals to a sixth-place team finish.
"It wasn't the plan. I just heard a lot of people cheering for me and it was easy to go a little harder," Kruse said about her start. "All the support being at home made me go faster."
The heat got the best of most runners on the course as temperatures at Maytag Park reached beyond 90 degrees. Couple that with the high number of hills throughout the course and it turned out to be the toughest meet of the season for the Cardinals.
Kruse wound up third overall with a time of 23 minutes, 48.5 seconds. Newton scored 126 points in sixth.
"It was really hot. I think I hung in there pretty well," Kruse said. "I may have went out a little too fast. I'm still working on finding a pace I can keep up the entire race. I was happy with third though."
Class 3A No. 14 North Polk was the meet winner with 30 points. Norwalk (81) edged Nevada (83) for second and Ankeny (96) finished fourth. Knoxville (149) completed the seven-team field. Marshalltown and Des Moines North had incomplete rosters.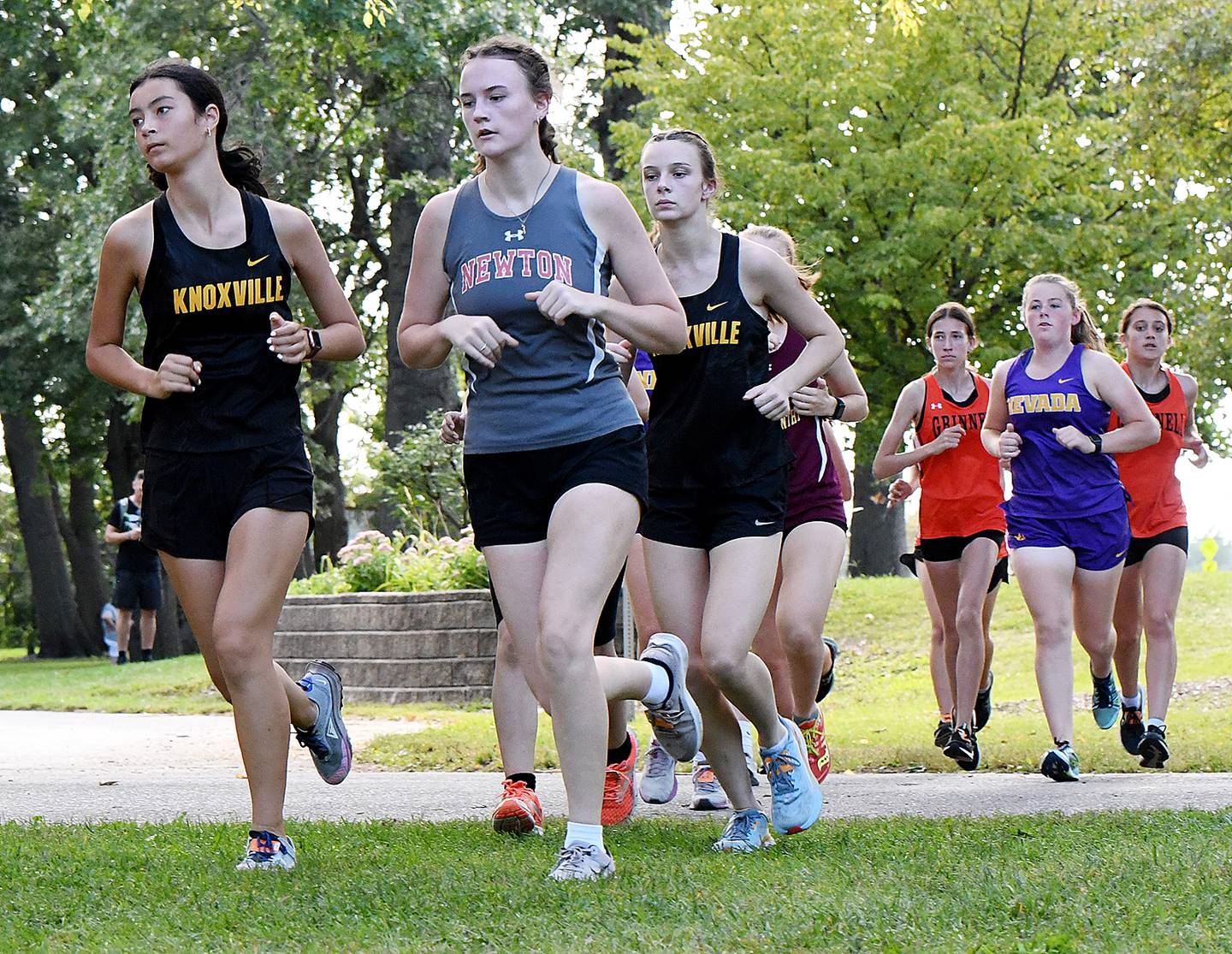 Kate Muckler was the second Cardinal to finish and she was 16th in 25:31.1. Bella Winther (28:41.3), Paxton Panada (31:28.2) and Carol Sander (36:59.7) completed Newton's varsity lineup in 30th, 38th and 44th, respectively.
"With the heat, it became pretty clear today was not going to be about times," Newton girls cross country coach Rachelle Tipton said. "The team just needed to get out, compete and overcome. In completing the race, they all did just that. I'm very proud of them all."
Norwalk's Breelie Mauro won the girls' varsity race in 22:25.2 and North Polk's Mya Bond was the runner-up in 23:33.2.
Notes: Ankeny's varsity squad is ranked 11th in 4A, but the Hawks used JV runners on Tuesday. … Three Cardinals competed in the girls' JV race. Jessie Hutchinson (31:39.3) led the way in 39th, while Alexis Dirksen (36:53.5) was 56th and Aryssa Hinderberger (37:29.6) finished 59th.