MONROE — Freshmen have led PCM's cross country teams this season. But head coach Eric Karr is not surprised.
The entire boys' squad is made up of freshmen or sophomores and the girls' team has a talented group of underclassmen.
The future for the Mustangs appears to be promising. For now, the squads will continue to get better and prepare themselves for an end-of-the-season run.
"We knew that it was going to be a rebuild with a lot of younger kids. They are working hard and the team chemistry is so incredible," Karr said about the girls' squad. "I think this group of boys, in a year or two, can set themselves up for a fantastic future, too. I really like how both teams are progressing."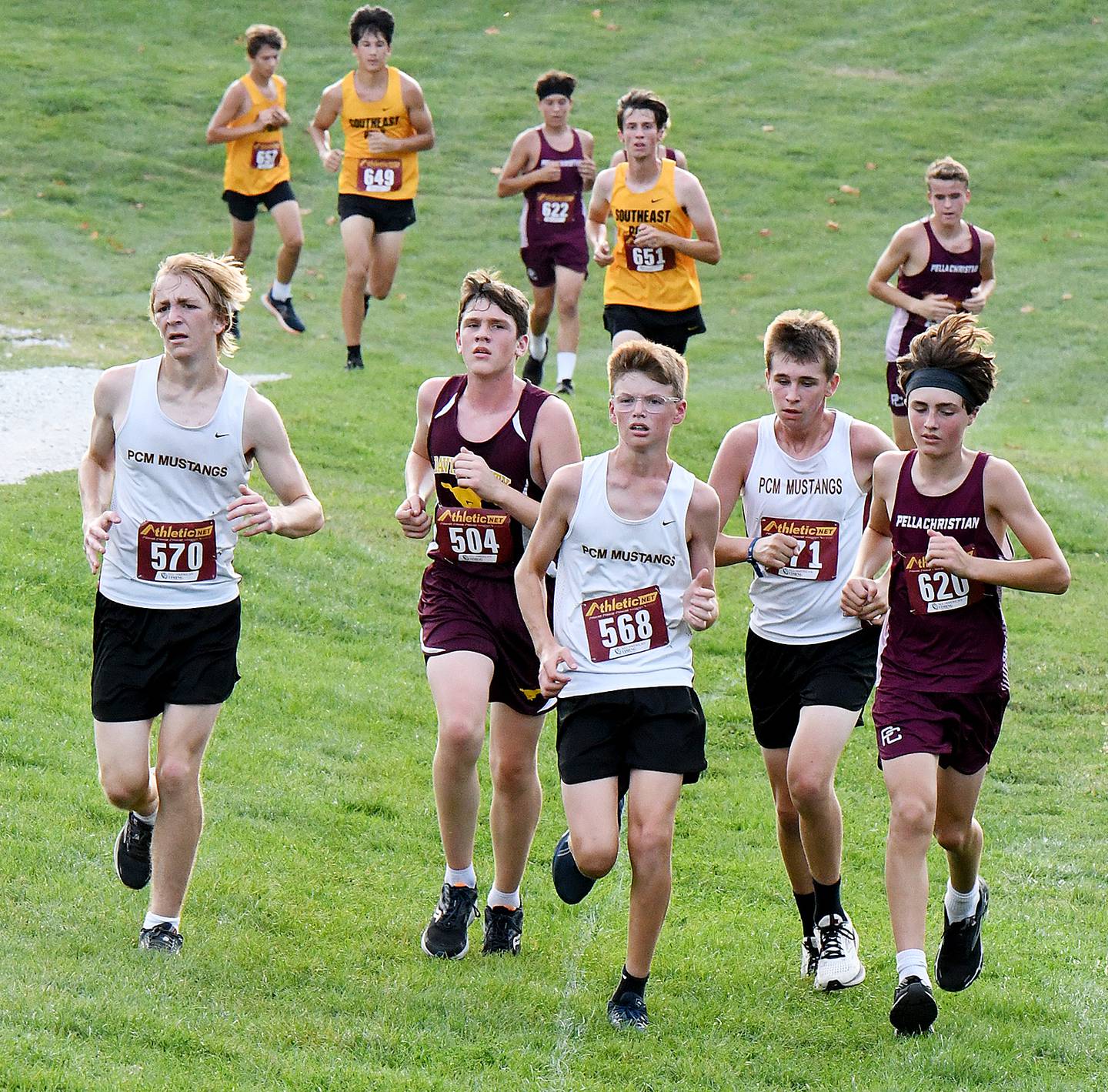 The Mustangs got to run in front of their home fans on Monday at the PCM Cross Country Invitational at Gateway Recreation Golf Course.
The PCM girls — led by freshmen Reagan Vannoy and Abi Teeter — were third in the five-team field and freshman Coby DeRaad led the boys to a fourth-place finish.
Both squads faced a ranked team at the top of the standings and the Southeast Polk JV boys and Pella Christian girls also were very strong.
The Mustang girls scored 78 points in third. Urbandale, which is ranked 16th in Class 4A, won the meet with 20 points after putting all five scoring runners in the top eight. Pella Christian (49) was second and the other two teams were Davis County (97) and Des Moines Hoover (138).
Vannoy led the PCM girls in seventh. She finished in 24 minutes, 8.96 seconds. Teeter came in shortly after in ninth with a time of 24:24.82. Makayla True, a sophomore, was 15th in 25:35.76.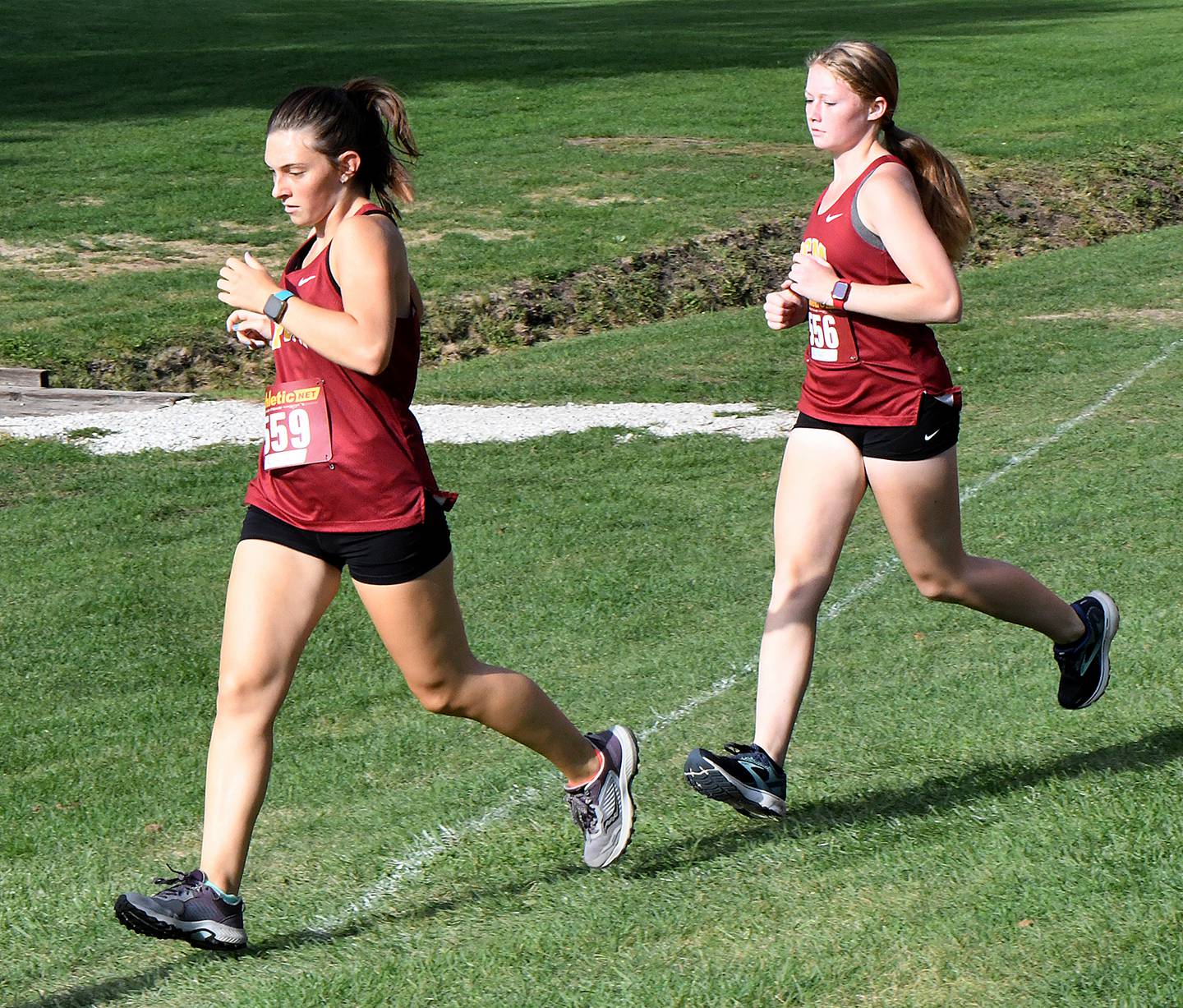 The final two scoring runners were seniors Riley DeVore (28:25.66) and Jillian Fairbanks (29:30.82) in 25th and 31st, respectively.
Alexis Fagg (31:46.40) and Alyce Engle (31:53.74) were the two non-scoring varsity runners in 34th and 35th and Emma Heibert (33:55.12) finished 37th.
"They have continued to improve all year," Karr said. "I'm happy with how they are progressing, and I think we are setting up to see what we can do at conference."
The top five finishers earned medals. Urbandale's Sophia Huber won the girls' 5K race in 22:14.64 and her teammate Norah Seeley was the runner-up in 22:31.07.
Class 2A No. 14 Kaden Van Wyngarden of Pella Christian was the boys' race winner in 18:11.59. His teammate, Ben Gosselink, was the runner-up in 20:12.44.
The 2A No. 11 Eagles went 1-2-3-4 to win the meet with 20 points. Southeast Polk's JV was second with 49 and the rest of the field included Davis County (72), PCM (121) and Des Moines Hoover (129).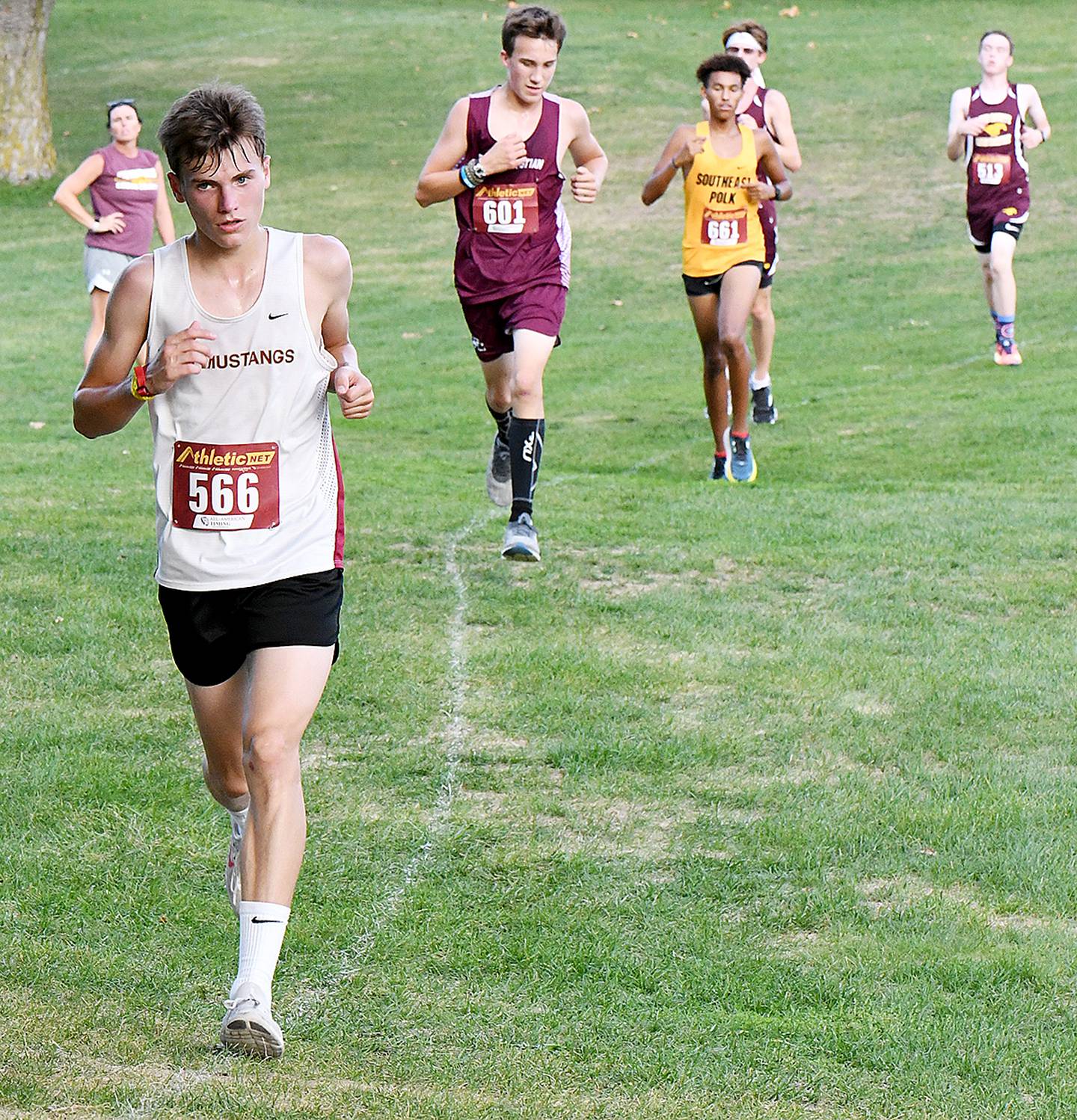 DeRaad's 18th-place time was clocked in 21:22.98. Carson Taylor (23:32.34) was next for the Mustangs in 36th, Charlie Ford (24:11.91) finished 40th and Wyatt Vannoy (24:15.64) and Carter Dudley (26:07.66) were the final scoring runners in 41st and 53rd, respectively.
Leighton McClure (26:10.4) and Jacob Buys (29:25.25) were the two non-scoring runners in 54th and 64th, respectively.
"I just told the kids they can't look at today's times and get mad or sad because of all of the turns and hills," Karr said. "This was a challenging course."