Eight players made at least one rush with the football. Six others caught at least one pass. And 17 Cardinals were responsible for one tackle or more.
The Class 4A No. 8 Newton football team had a lot of fun on Friday during a 44-0 non-district victory against Saydel at H.A. Lynn Stadium.
The Cardinals had a significant advantage in first downs and the defense held the Eagles to 62 total yards on Homecoming.
"It's always fun to get as many kids in as possible and involved with the game," Newton head football coach Andy Swedenhjelm said. "These kids work extremely hard in practice and in the offseason so it's great to reward them."
Newton is one of six 4A programs to start the season 4-0. Saydel dropped to 0-4 and has been outscored 229-8 this season.
"We feel good about our start and our kids are confident yet not quite satisfied," Swedenhjelm said. "I love the approach our kids take toward practice and getting better."
Newton led 21-0 after one quarter and 44-0 at halftime. Neither team scored in the second half during the continuous clock.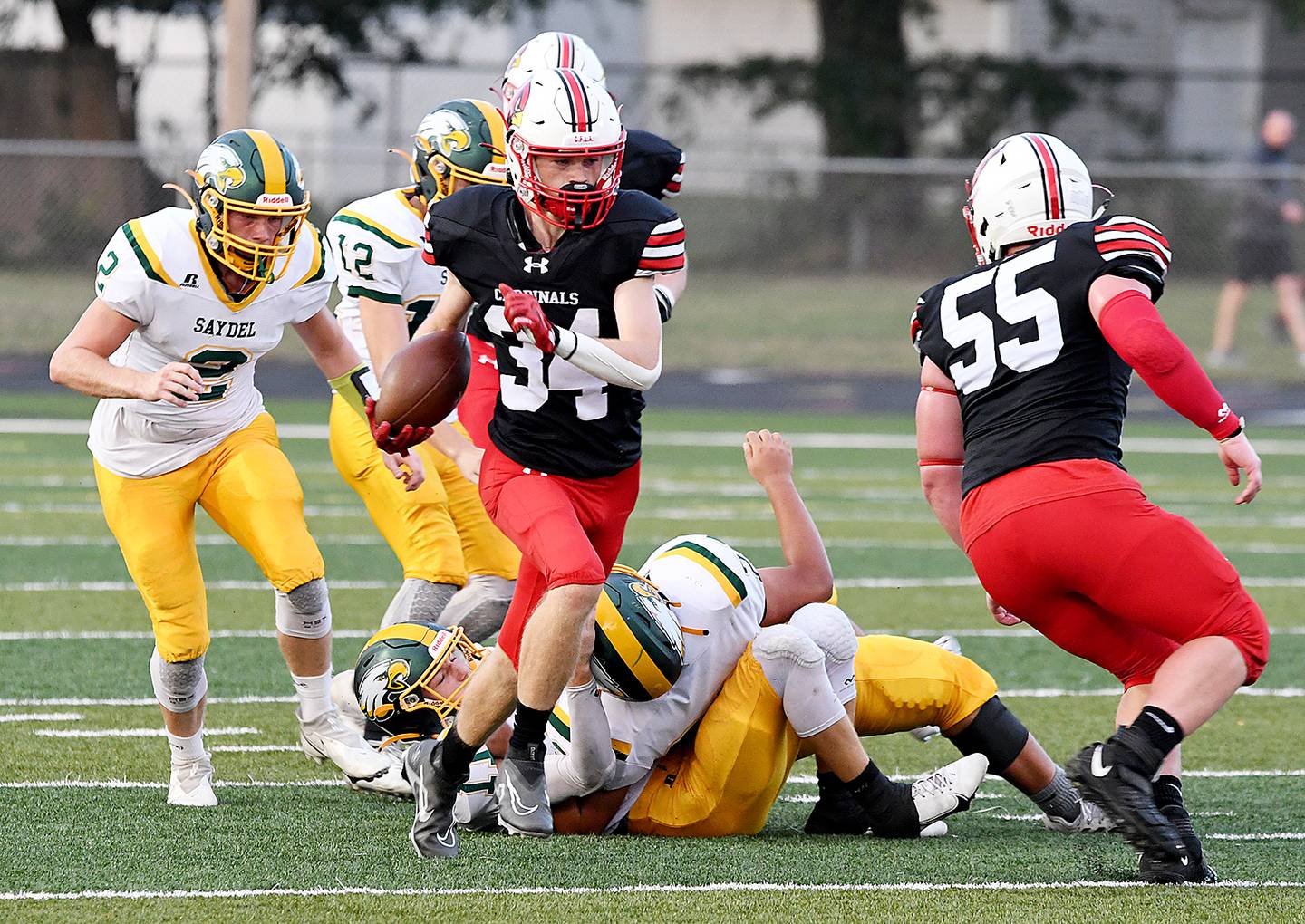 The Cardinals opened the scoring with a 2-yard run by Cody Klein less than a minute into the game.
Klein made it 14-0 on the team's third drive when he scored on a 52-yard run. That capped a two-play, 59-yard scoring drive.
Saydel went three and out on its first two possessions. Newton's second possession ended on downs but did feature a 56-yard run by Christian Ergenbright.
Newton held a 16-4 advantage in first downs. The Eagles' initial first down came on their third offensive series by way of a Cardinal penalty.
The Cardinals eventually got the ball back and Turner Williams caught a 12-yard touchdown pass from Homecoming King Brody Bauer to push the advantage to 21-0.
Klein scored his third and final TD of the game with 8:49 to go in the second. It capped a two-play, 15-yard drive that started after another Saydel three and out.
Klein rushed eight times for 106 yards and three touchdowns in the win.
The rest of the first-half scoring came on a 9-yard TD run by Reilly Trease and a 2-yard TD catch by Dalton Mowbray from Bauer. Newton also scored on a safety after Saydel snapped the ball over the punter's head, forcing him to kick the ball out of the back of the end zone.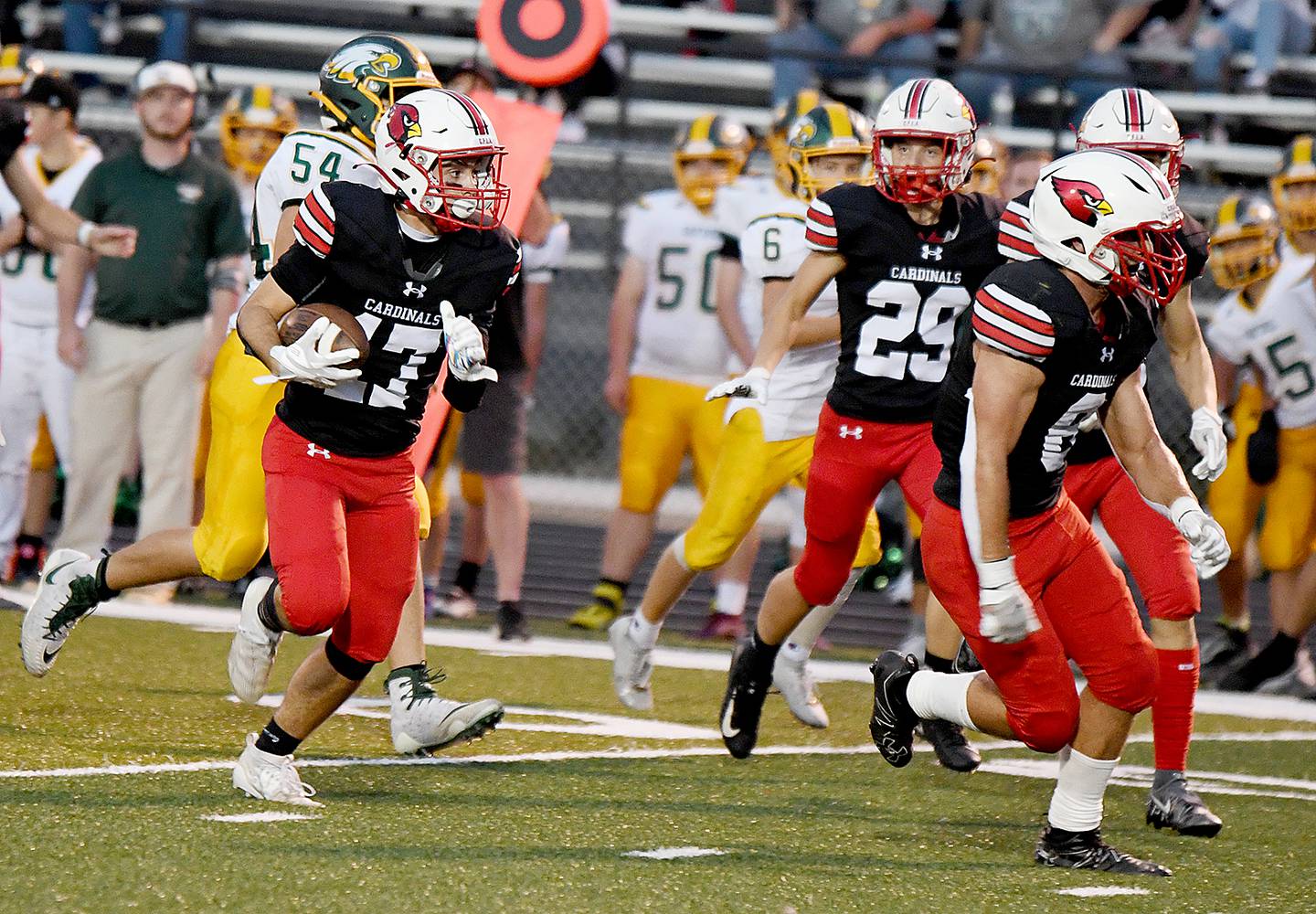 Bauer finished 8-of-11 for 74 yards and two TDs. Cade Bauer hauled in two passes for 39 yards, Nate Lampe grabbed a 23-yard catch and Curtis Payne snagged three passes for 14 yards.
Trease rushed six times for 54 yards and one TD, Boston Cupples had a 27-yard run and Landon Bozarth rushed one time for 12 yards.
Creighton Andrew threw for 22 yards as Brody Bauer's backup quarterback. The Cardinals gained 339 total yards.
Newton's defense accounted for seven sacks and 12 tackles for loss. Nathan Milburn led the defense with 5.5 tackles, two sacks and three tackles for loss.
Tyler Anderson tallied 3.5 tackles, two sacks and two tackles for loss, Carson Satterfield added three tackles, one sack and two tackles for loss and Zander Ponce and Blake Schilling had one sack each.
Caleb Mattes, Peyton Rozendaal and Avery White all recorded three tackles.
Newton's special team's units are much improved this season, too.
The Cardinals got a 35-yard kickoff return from Jackson Nichols and Jake Ingle averaged 31 yards on his two punt returns.
Christian Lawson set a new school record with his 13th straight touchback on a kickoff. That bested Nick Easley's 12 straight from back in 2014.
Lawson had seven touchbacks on his seven kickoffs against Saydel. That tied Easley's single-game school record he also set back in 2014.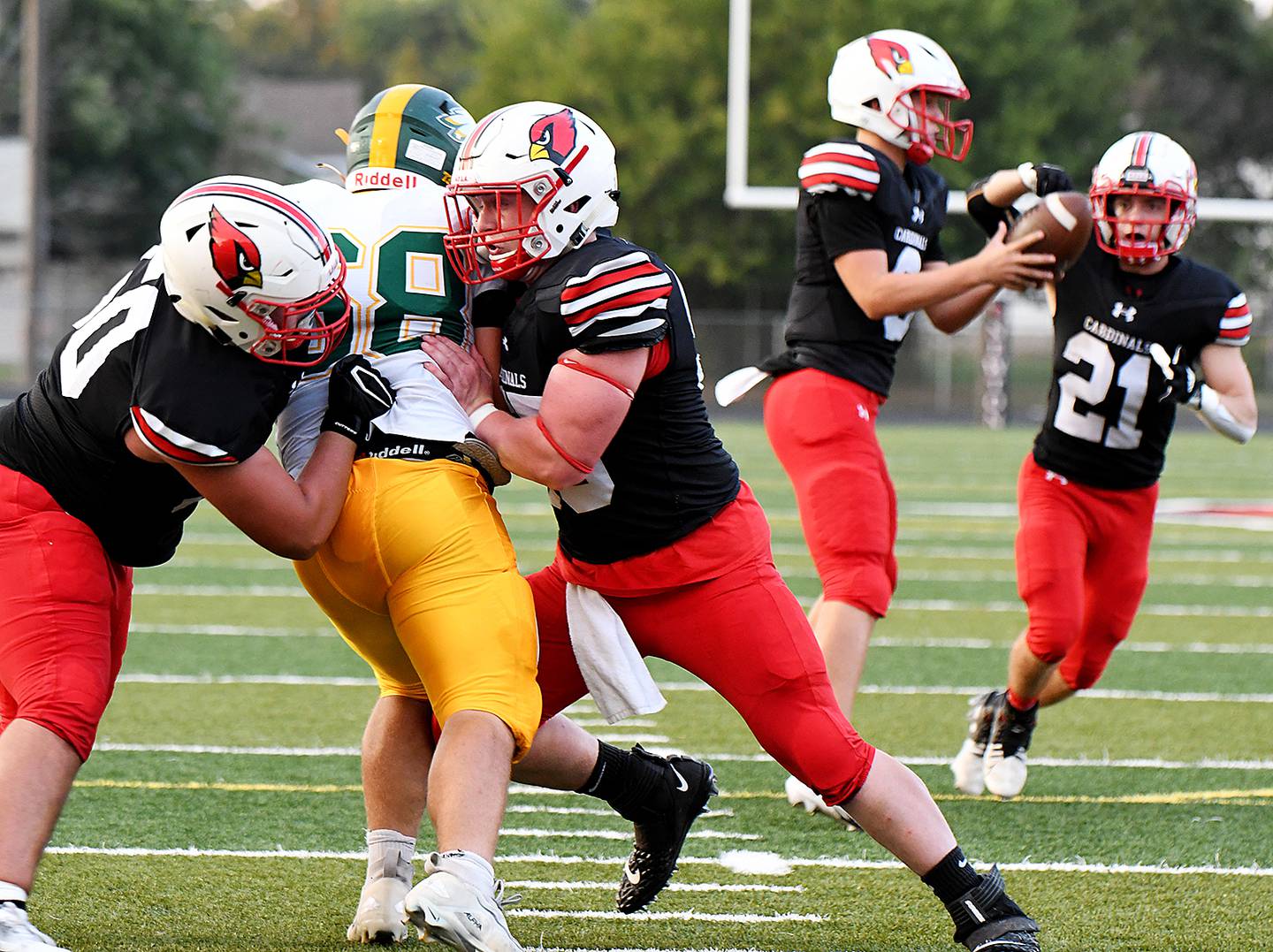 The Cardinals take their 4-0 record and No. 8 ranking in 4A into Friday's showdown with arch-rival Pella.
The Dutch are 0-4 with all four losses coming against teams currently ranked in the Associated Press poll — 4A No. 5 Indianola, 4A No. 6 Bondurant-Farrar, 4A No. 10 Norwalk and 3A No. 6 North Polk.
Pella has won six straight games against Newton. The Cardinals last defeated the Dutch 41-14 in 2011.
"We talked about it briefly," Swedenhjelm said about the team's current ranking in 4A. "Our goals are beyond being ranked, but part of what we want as a program is to earn respect. The only way you earn respect is by working hard and taking care of business. Keep that process going and the respect and rankings will follow."