Pato O'Ward had a huge weekend for the IndyCar Series at Iowa Speedway.
Unfortunately, so did several of the other series drivers in contention for a championship.
O'Ward took advantage of a Josef Newgarden crash with 65 laps to go and drove his No. 5 Chevrolet into Victory Circle during the Hy-Vee Salute to Farmers 300 Presented by Google in front of a packed house on Sunday.
The win pushed O'Ward to within striking distance of points leader Marcus Ericsson and the rest of the top five who are trying to secure a series title.
"It was a great weekend for us. We knew we had to execute just to have a shot at the championship," said O'Ward, who was second in Saturday's IndyCar Series race at Iowa. "But everyone who is in the mix for the title had a good weekend. Not too many of us are having bad days."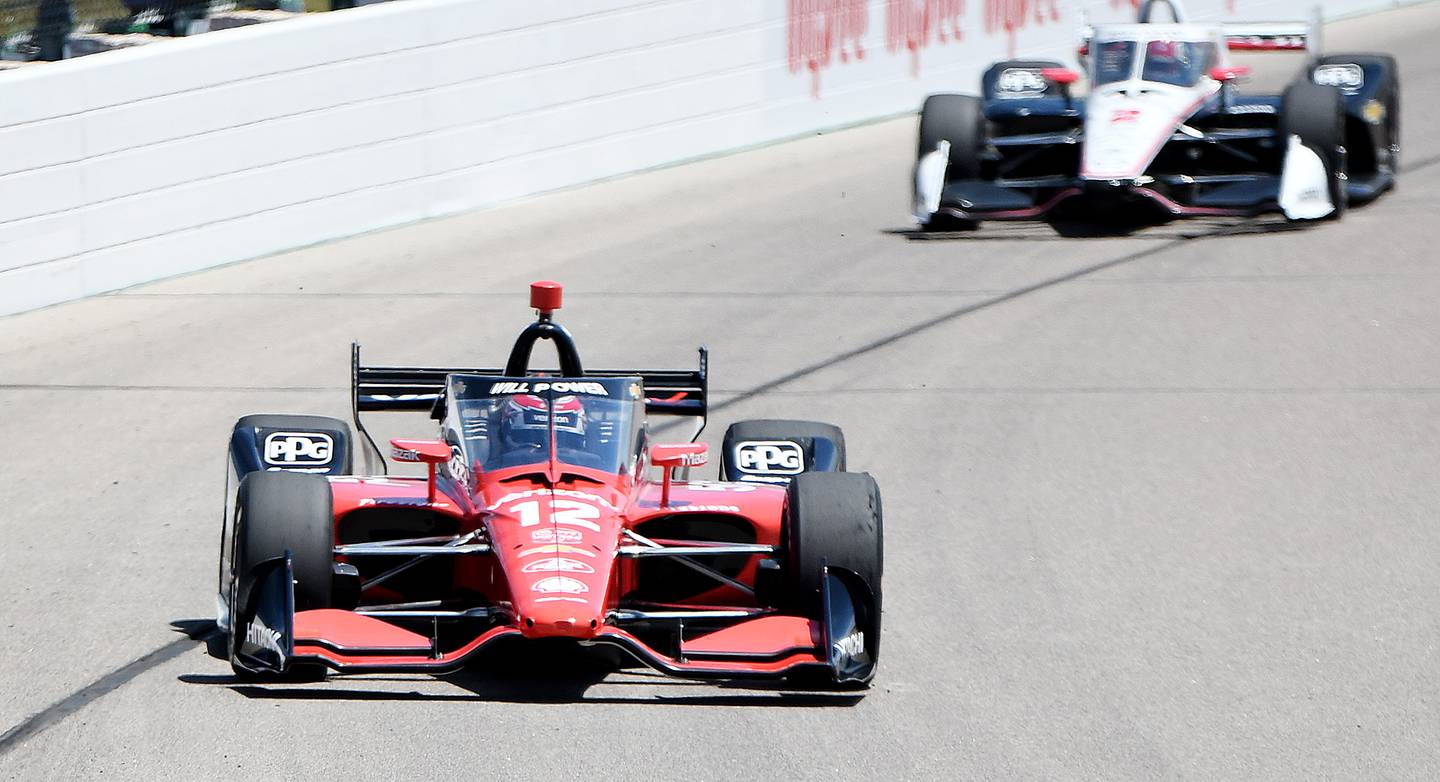 After winning for the fourth time at Iowa on Saturday, Newgarden did have a bad finish on Sunday. He led a race-high 148 laps before crashing into the wall on Turn 4 with the lead on lap 235.
Newgarden would have been leading the points after the weekend doubleheader had he finished off the win Sunday but instead is tied with Scott Dixon in the third position.
Newgarden, who drives the No. 2 Chevrolet for Team Penske, had a 2.84-second lead on O'Ward at the time of his crash. He lapped Dixon on lap 106 and just five cars were on the lead lap seven laps later.
"It was a bit of a shock," said Newgarden, whose crash was caused by something mechanical with the car. "Man, I want to cry. So sad for my team. I don't know what happened. It was a good run. I feel terrible for us. I don't know; something went wrong there."
Newgarden, a two-time series champion, was released from the infield care center after being evaluated following the crash but later fell and was taken by helicopter to a hospital in Des Moines. He was held overnight for evaluation.
"I'm glad Josef is OK, but we took advantage of him crashing," O'Ward said after the race and before he found out Newgarden went to the hospital. "I knew we had the car to win one of these. We were there in both races. We took advantage of the opportunities that were given to us. I think we still give Josef a hard time even if he didn't crash."
O'Ward entered the weekend in sixth but leaves it in fifth. He trails Ericsson by 36 points with five races to go.
Will Power, Newgarden's teammate who was third on Saturday, was the runner-up on Sunday. He led the first 65 laps from the pole and led 80 laps in all.
Power won his only championship in 2014 but has been in the top-three seven times.
He earned his sixth podium finish of the season and the 91st of his career on Sunday. Power entered the weekend trailing Ericsson by 35 points but his second and third, respectively, on back-to-back days closes the gap to eight.
"It was a great weekend points-wise," Power said. "We would have loved to get a win here, but the competition was really good.
"I know we have good cars here. It was just about being mistake-free. I knew if I could do that, I'd be at least top five."
The rest of the top five on Sunday included Power's Team Penske teammate Scott McLaughlin and Chip Ganassi Racing teammates Dixon and Jimmie Johnson. Three Chevrolets were in the top three in both races this weekend.
Points leader Ericsson was sixth for Chip Ganassi Racing and the rest of the top 10 featured O'Ward's Arrow McLaren SP teammate Felix Rosenqvist, rookie David Malukas, Romain Grosjean and Takuma Sato.
The only other drivers who led laps besides Newgarden (148), Power (80) and O'Ward (66) were Sato (5) and Malukas (1).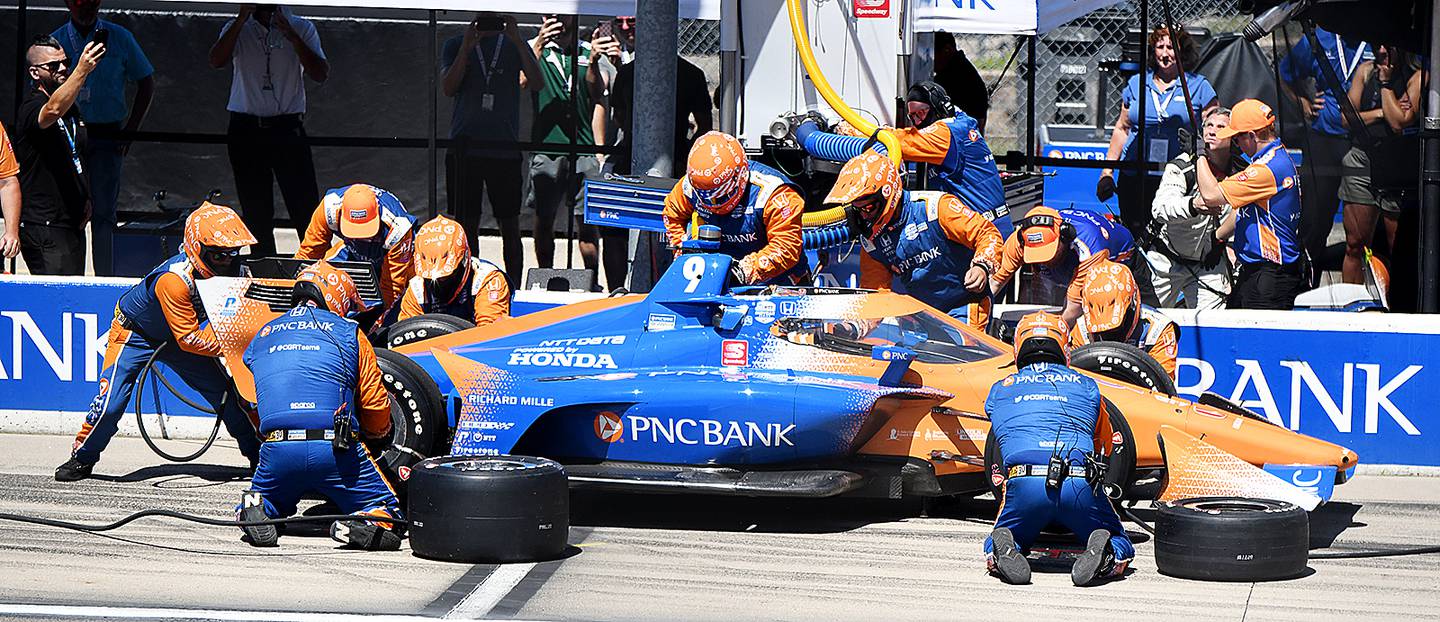 McLaughlin thought he had a podium car on Saturday, too, but a lug nut issue thwarted that opportunity.
McLaughlin made an impressive pass of Dixon, a six-time series champion, late in the race for his fourth podium finish of the season.
"That was a fun pass. I'm sure (Dixon) didn't enjoy it as much as I did, but I had a blast racing against him," McLaughlin said. "Really pumped to bounce back after yesterday. I wish we could race here every weekend."
Dixon finished fourth despite starting 18th and dropping back even further early in the race. He is tied with Newgarden in the points race but Newgarden is in third because he has more race wins.
Dixon gained 10 points on teammate Ericsson this weekend.
"I tried to attack on the last (restart), but I couldn't pull it off," Dixon said. "The top three there were very quick, and I don't think we had the ultimate pace on the early laps. The long run was really good for us, and I think that's what was good for us today to pass all those cars."
Johnson started 13th, but like Saturday, moved his way into the top 10 and eventually the top five quickly. The fifth-place finish on Sunday was a career-best in the IndyCar Series.
And the fifth-place finish came following an impressive pass of teammate Ericsson in the closing laps.
"I race my teammates with the most respect I possibly can," Johnson said. "Every race I've been in I've given away (positions), and this was the first time I've fought for a position (with them) because I felt like I should have been up there passing (Dixon for fourth place).
"I made a mistake and got up in the marbles. I felt a (top-three finish) was within reach."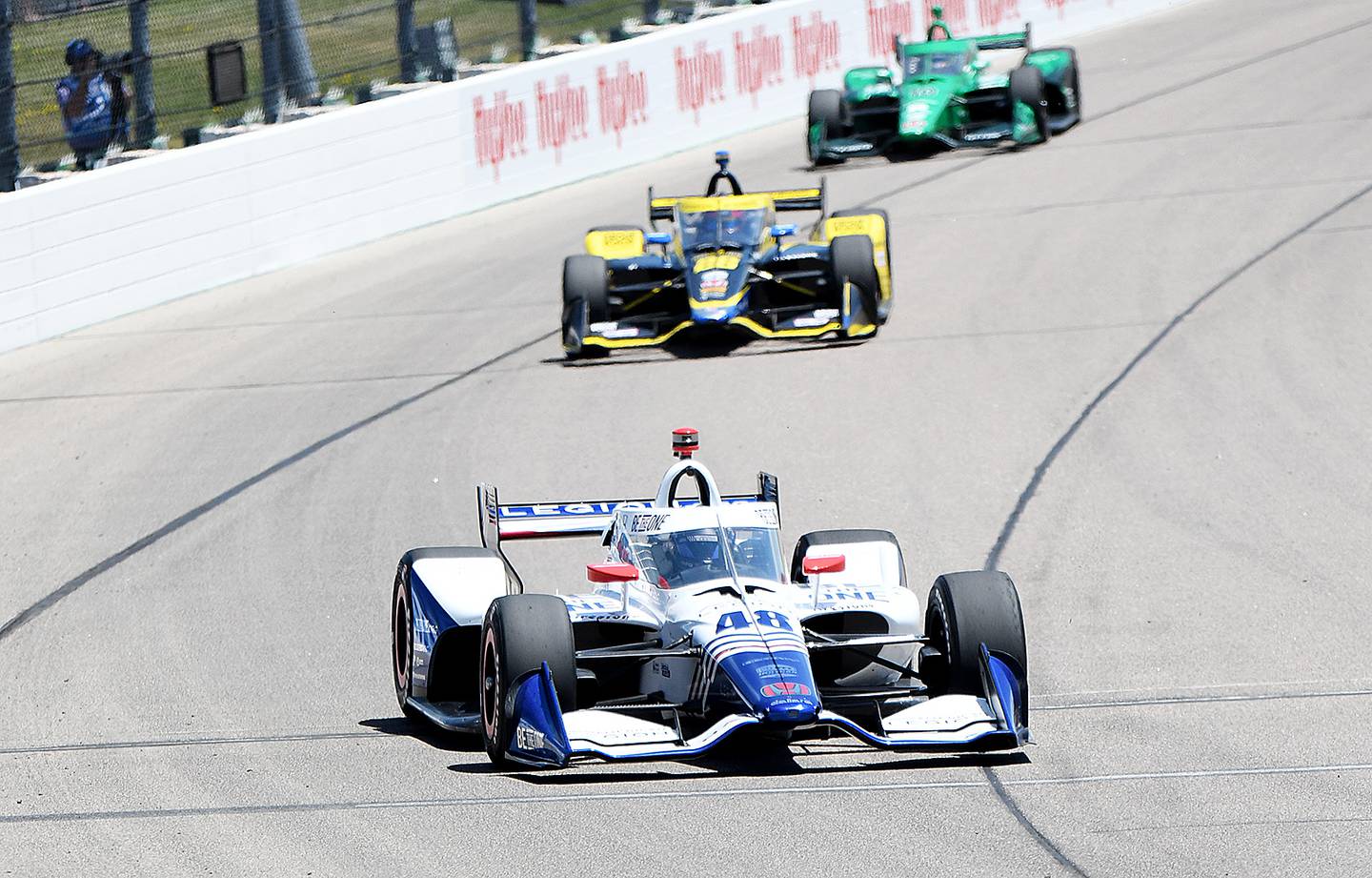 Ericsson had no issues with Johnson's pass late and even complimented his teammate on the move. And admitted he has way more experience on ovals.
"You can tell he's experienced on the ovals," Ericsson said. "He was doing a really good job of placing his car and placing it where I wasn't. I'm still learning on the ovals, especially short ovals. But it was fun, very fun."
Ericsson maintained his points lead because he was in the top 10 of both Iowa Speedway races.
"I'm really happy with our day and our weekend," Ericsson said. "Still in the championship lead after this weekend was big for us. We know Penske is great here and to stay in the lead is what we were hoping for.
"The race will be tight the entire way. We're in a good spot with five to go. Getting a win or two would be nice, but I think we have the best consistency in the field. If we stay that way, I think we'll be fine."
While Dixon made the biggest jump from his starting spot, Jack Harvey started sixth but finished 20th and Conor Daly started third but ended up 16th. Rinus Veekay began the race in eighth but finished 19th.
Rookie Callum Ilott started 22nd and finished 11th, Ericsson started 15th and finished sixth and rookie Devlin DeFrancesco went from starting 25th to finishing 15th.
O'Ward's plan coming into Sunday after finishing second Saturday was to "get into the Penske sandwich."
"The team has a great package on the ovals. It is our strong suit," said O'Ward, who collected his fourth podium finish of the season. "We go to every oval believing we can beat anybody. We have done a good job with strategy, but we don't seem to have that on road courses yet."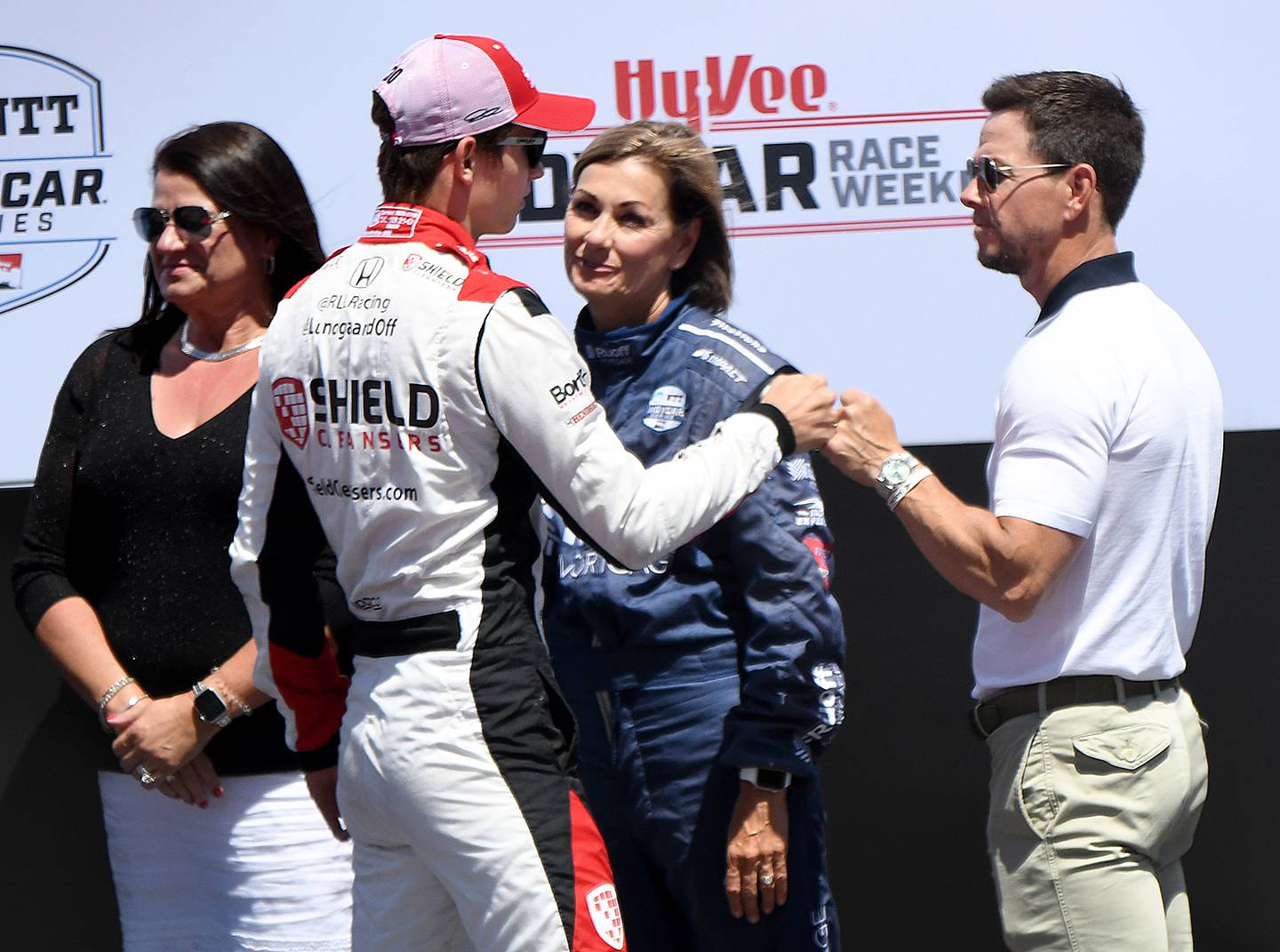 Notes: In addition to concerts of Tim McGraw, Florida Georgia Line, Gwen Stefani and Blake Shelton, the Hy-Vee IndyCar Race Weekend featured four-time Olympic gold medalist gymnast Shawn Johnson East and entertainer Mark Wahlberg as grand marshals. … Three-time IndyCar Series champion Bobby Rahal told the Associated Press on Sunday that a routine physical on May 5 showed he suffered a heart attack with complete blockage. He had triple bypass surgery on June 6. … Sunday's race for Johnson was the closest experience that crosses over to NASCAR that he has had this season. "I'm starting to understand how these cars reward aggression," Johnson said. "I have been on the soft side of that. The ovals feel more natural to me. I'm enjoying driving these little rocket ships around. It's been a lot of fun." … Alex Palou is the sixth driver in the hunt for a season championship. The fourth member of the Chip Ganassi Racing team placed 13th on Sunday and is now sixth in the points race, trailing teammate Ericsson by 44.