Rylee Heryford had a plan. She was ready to play for a school she grew up rooting for. The Iowa Hawkeyes gave her a walk-on opportunity she was set on taking.
Then, the Drake Bulldogs came howling and gave Heryford an offer she couldn't refuse.
"It was an offer I feel like I just couldn't pass up so I took it," Heryford said.
Heryford was actually on her visit at Iowa when she got a call from former Newton girls golf coach Scott Enyart. He is friends with the Drake women's golf coach.
Steve Smith was the interim coach the entire spring and couldn't go all in on recruiting until he got the full-time gig. When that happened, he became very interested in the 2022 Class 3A state champion.
"He got the job a month ago and started working on things and checking on where numbers were at and he finally reached out two weeks ago," Heryford said.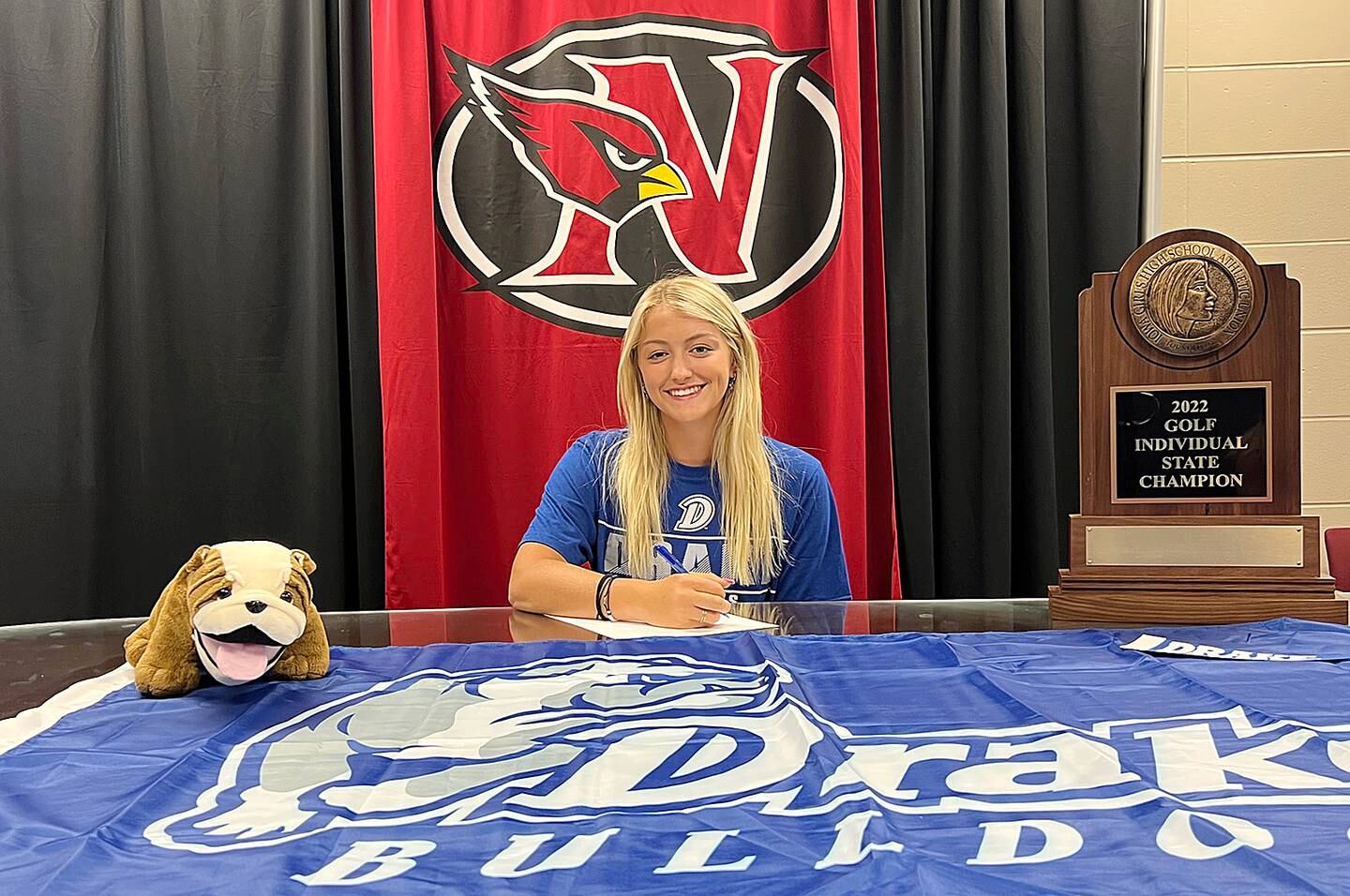 Heryford was one of the best golfers in Iowa her entire prep career. She was third in Class 4A as a freshman and second as a junior. This past season, she won a three-hole playoff to win the individual 3A championship. There was no high school golf season during Heryford's sophomore year.
Winning that title wasn't necessary to earn a Division I scholarship at Drake, but it certainly didn't hurt.
"I was another thing to have. I'm sure it helped, but I don't think it was going to hurt me either way," Heryford said.
Heryford does think focusing on one sport was something she needed to do to get to the level she reached.
She played softball through junior high but was a one-sport athlete all the way through high school.
"I think golf just took over. It takes a lot of time and is really an all year thing," Heryford said. "I didn't have a lot of time to do anything else. I thought if I wanted to be good at it, I needed to focus on just playing golf.
"I really don't think I would have been where I am if I played other sports. It just takes so much time."
As a freshman, Heryford ranked tied for ninth in all of Iowa with a nine-hole low of 35 ad her 37.83 nine-hole average ranked sixth. Her 18-hole low of 71 was 10th and her 18-hole average of 78.67 ranked 11th.
"Going to Iowa as a walk-on was a great opportunity, too, but then Drake and a whole bunch of schools came hollering," now former Newton girls golf coach Ashley Kahler said. "This is a great opportunity for her and she should be able to step right in and contribute. She deserves this."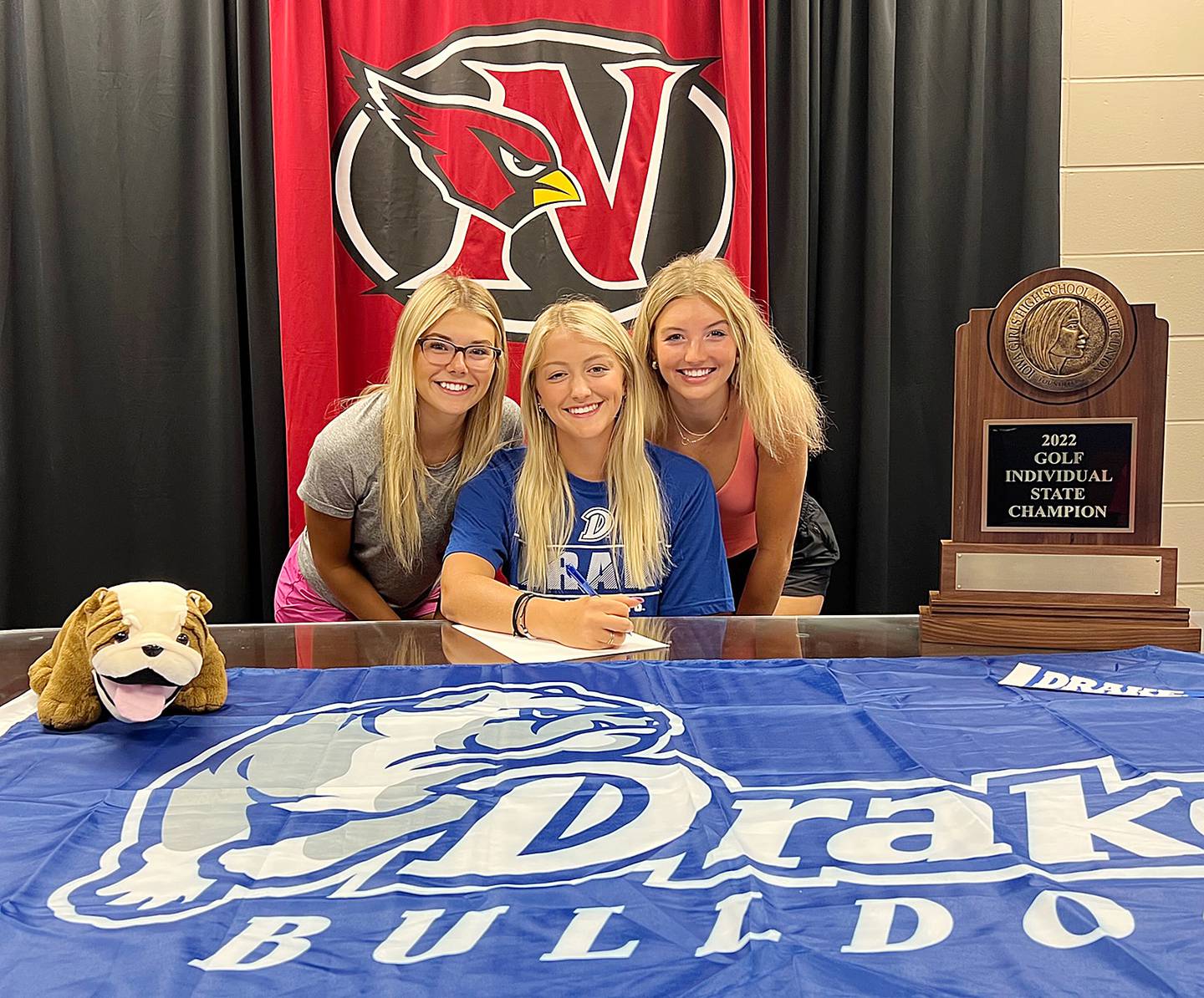 As a junior, Heryford posted a nine-hole average of 37.83 and an 18-hole average of 75.88, which ranked fourth and 10th, respectively. Her 34 nine-hole low ranked tied for second and her 18-hole low of 70 was tied for 11th.
This past season, Heryford's nine-hole average of 37.33 ranked tied for third and her 18-hole average of 74.83 was eighth. The nine-hole low of 34 was tied for third and the 18-hole low of 70 ranked tied for eighth.
"I'm very excited," Heryford said. "I like the coach a lot. I'm close with a lot of the girls and two of my closest high school golf friends are going there, too. It will be really fun."
Those future teammates are Marshalltown standout Amber Henson and Pleasant Valley prep Erika Holmberg. They were two of the top 4A golfers the past few seasons.
Heryford said Drake's current roster has a few talented seniors. One of them made the NCAA tournament, which is a first for the program.
"I think with the addition of us three, it should be a really solid team," Heryford said. "I think we'll be competitive.
"It will be longer and some of the greens are tougher at that level. I just need to keep working on my short game and get that dialed in."
All three incoming golf recruits will be rooming with incoming volleyball players. Heryford's future roommate is former Roland-Story all-stater Madison Geise.
Heryford plans to major in business finance.