Being a winning baseball team often means doing the three aspects of the game well.
Pitching, defense and offense are all important. And not doing even one well makes it hard to win games.
Newton's baseball team found that out on Monday when four errors plagued the Cardinals in a loss to conference rival Indianola.
One day later, Newton's defense wasn't perfect but a pair of double plays, a diving catch in center field by Brody Bauer and a hustle play a on wild pitch by Drew Thompson all factored positively into a 4-2 non-conference home win over Des Moines East.
"The defense was not good last night. But it was better tonight," Newton baseball coach Brad Kahler said. "We turned some big double plays and that makes it fun for the pitcher, too."
The Cardinal pitcher at Eversman Field on Tuesday was Riley Mouchka. He went the distance and allowed just five hits while striking out five, walking two and hitting one.
Only one of the runs Mouchka (4-2) allowed was earned as the Scarlets scored an unearned run in the first inning and then plated another run in the fourth.
"My slider was really working. When I hit my spots, it was good," Mouchka said. "The zone was pretty big, but it helped me for sure.
"I really clutched up to get those ground balls and then the guys making the plays makes it 100 times better."
The Cardinal defense came through more times than not against Des Moines East. Mouchka got the first two Scarlet hitters in the first, but Austin Fleener singled to put a runner on.
Then, a single by Evan Becker turned into multiple bases and an unearned run because of an error in the outfield.
The defense did make a play though when it threw out Becker trying to get to third after the throw home. Thompson gunned down Becker for the final out.
Thompson again helped his pitcher out with an impressive defensive play in the third.
Dane Littell was hit by a pitch to lead off the inning and then he took second on a passed ball. Another error by Newton put two runners on base, but Thompson ran down a wild pitch and threw it to Mouchka to retire Littell at home.
Bauer's diving catch in center field was the final out of the frame and it stranded two Scarlets on the bases.
"That could have been a big inning for them," Kahler said. "If things don't go our way early, I see us waiver at times. It was nice to see us keep fighting and keep going tonight. It helps that Mouchka pitched well and our defense was good."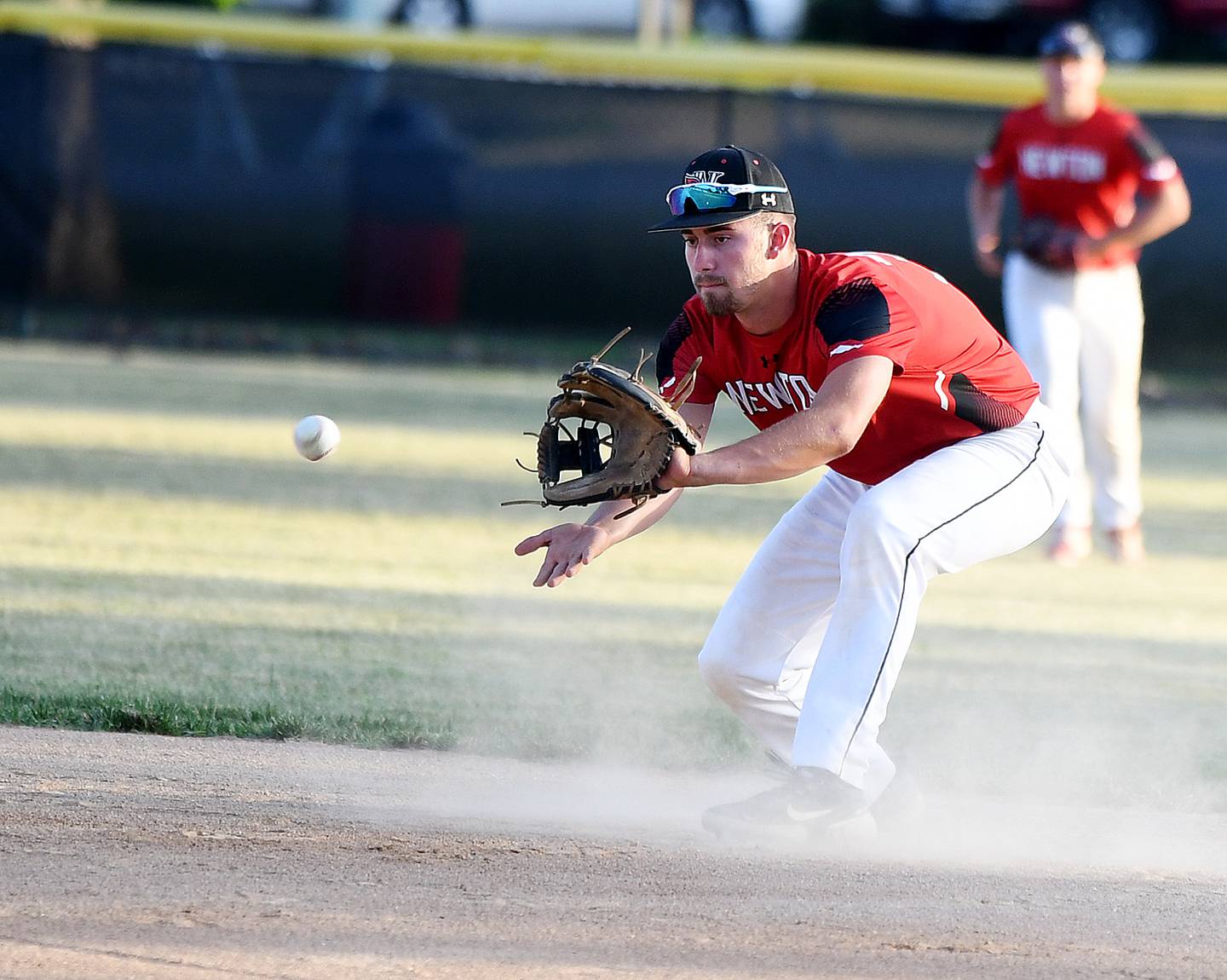 Every time Des Moines East (13-22) scored a run, Newton answered in the bottom half of the frame.
In the bottom of the first, Bauer reached on a one-out infield single and then moved to third on a single by Kacey Sommars. Bauer scored on a wild pitch to tie the game.
Newton (15-11) jumped in front 2-1 in the fourth. Kael Swarts reached on an error and then scored on Eli Stewart's RBI double.
The Scarlets tied the game with an earned run in the fifth, but the Cardinals answered with a pair in the bottom of the fifth to take the lead for good.
Thompson reached on an error to begin the frame and then Turner Williams singled. Bauer's sacrifice bunt moved both players up a base and Braydon Chance's RBI sacrifice fly to right field plated both runners.
Thompson scored on the fly ball and Williams scored when the throw home got past the Scarlet catcher.
"Our swings got better as the game went on. We were hitting more line drives," Kahler said. "We got two runs on a sacrifice fly. That was big."
Williams warmed up in the bullpen after Mouchka got through six. He was available for 25 pitches, but Kahler gave his starter the chance to finish it. Mouchka was up to the challenge, thanks in part to a few big defensive plays.
The first batter in both the sixth and seventh innings reached base. But both times, Mouchka induced a ground ball to Sommars at shortstop.
The first double play was a 6-4-3 that involved second baseman Kael Swarts, but Sommars took it himself for the 6-3 double play in the seventh.
Mouchka ended the game with a strikeout of Littell. The Cardinal pitcher celebrated with an aggressive clap and an excited yell to his catcher.
"I was pretty pumped. It felt good," Mouchka said.
Kahler's biggest concern for Mouchka in the seventh was the Scarlets potentially coming back to the top of their order.
"Turner was available for 25 pitches," Kahler said. "In a perfect world, I was going to let Riley finish it, but I also knew we were at 6-7-8 and if the top came up again that would have been the fourth time through the order.
"When (Riley's) full go, and by that I mean throwing hard and not focusing on being too accurate, and his curve ball is working, he's tough. He was in some difficult situations, too. He pitched pretty well."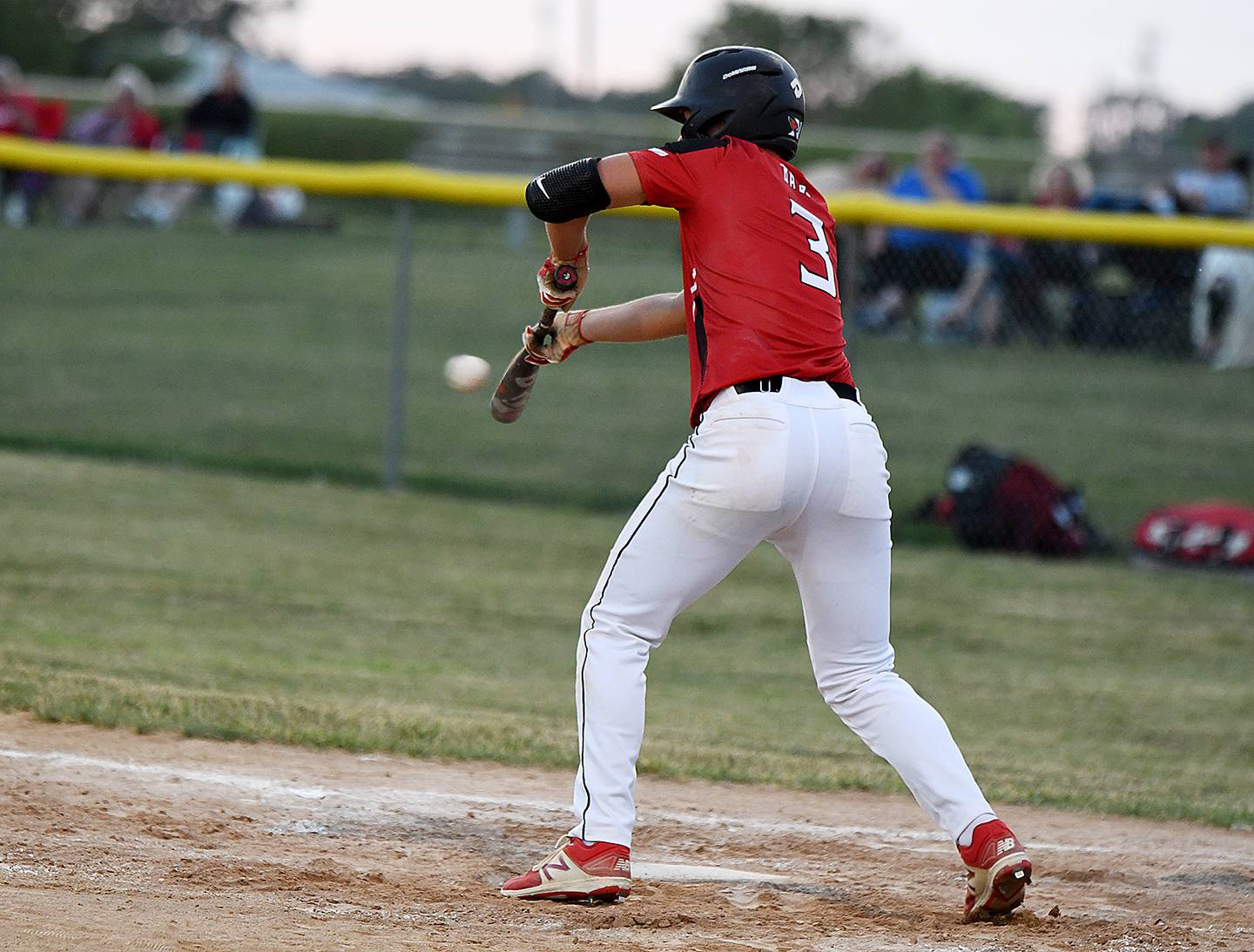 Williams and Bauer both had one hit and one run and Stewart had an RBI double to lead the offense.
The other hits came from Grimm and Sommars, Thompson and Swarts each scored one run, Chance had an RBI and Tade Vanderlaan was hit by a pitch.
Kobe Kunert (1-7) went the distance for Des Moines East. He allowed four runs — two earned — on five hits and hit one batter. He also struck out four in six innings.
Fleener, who has played in just 10 games but entered the night batting .435, had two hits and one run and Littell added one hit, one run and one hit by pitch to lead the Scarlets' offense.