The softball season series between Newton and Pella could not have been closer this summer.
All three games were decided by one run and both teams had leads they could not hold onto along the way.
On Monday, the Cardinals claimed their seventh straight win when they edged the Lady Dutch twice in a Little Hawkeye Conference doubleheader.
Newton trailed 6-0 in the opener but rallied to win 8-7. In the nightcap, the Cardinals were down 1-0 after five innings but found a way during a 2-1 triumph.
Kallie Van Kley pitched one of the best games of her career to lead Newton in game two.
"Great wins tonight," Newton softball coach Kory Leiker said. "The girls never stopped fighting. It's fun to coach a team which is never out of a game."
Pella scored two runs in the first to take an early lead in the opener. The visitors tacked on four more in the third to go up 6-0.
The Cardinals answered with a six-run bottom half of the inning and then took the lead for good with two in the fourth.
Newton (12-10 overall, 7-7 in the conference) held on to win by one after Pella got a solo home run from Ava Curry in the top of the seventh.
Hailey Sumpter (5-4) pitched through a tough night in the circle but got the win after allowing seven runs — six earned — on 10 hits. She struck out five in seven innings.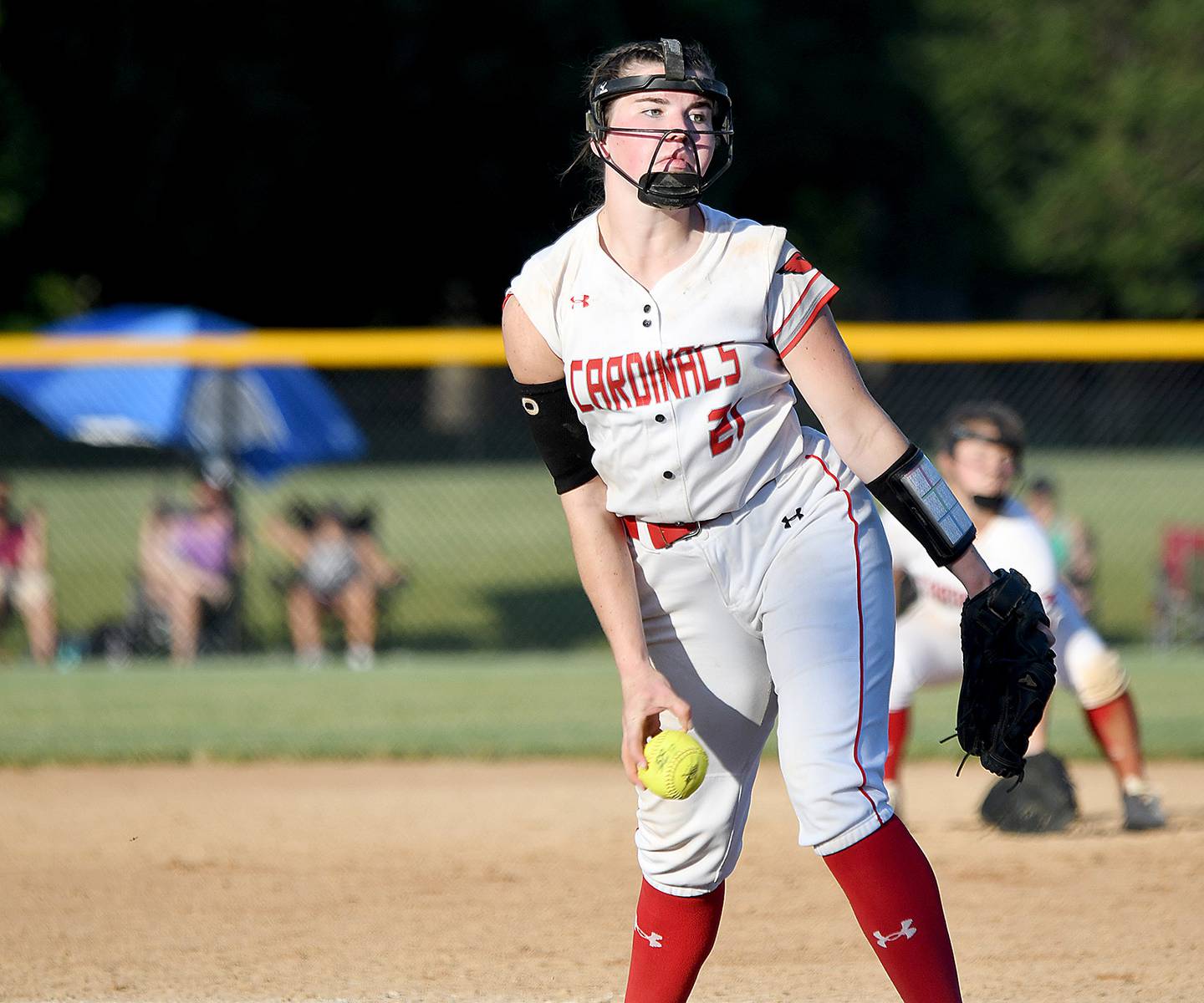 They key stretch in the game was when Sumpter retired Pella in order in the fourth, fifth and sixth innings after Newton took the lead.
At the plate, Jaz Cooper belted a two-run homer in the six-run third to help the Cardinals draw even. It was the first varsity homer of Cooper's career and she also was hit by a pitch.
Mackynna Sims collected two hits, scored one run and had one RBI to lead the Cardinals.
Sumpter, Cooper, Kadance Ahn, Taylor Lust, Grace Benson and Madison Henwood all had one hit apiece.
The Cardinals won the game despite being out-hit 12-8. Pella committed six errors.
Sumpter added two RBIs, Lust tallied one run, one RBI and one walk and Ahn and Henwood each scored one run. Sloan Brodersen, Olivia Rausch and Peyton Durr all scored one run and Brodersen was hit by a pitch.
Curry and Thea Wisse had three hits to lead the Lady Dutch (8-15, 4-10). Wisse scored two runs.
Van Kley was fantastic in the nightcap for the Cardinals. She went all eight innings in the circle and struck out five while allowing no earned runs and six hits.
The Cardinal pitchers did not walk a single batter in either game.
"Both pitchers threw great games," Leiker said. "(Henwood) got some time at third for us and did a very good job."
Pella scored first again in the second game, plating one run in the third. Newton tied it with a run in the fifth and then Vanessa Vasseau delivered the game-winning, walk-off, two-out RBI single that scored Paige Benson in the bottom of the eighth.
"When you get down early it's easy to start looking at the next game and lose focus, but this group has discovered it's never over until the last out," Leiker said. "They are getting the tough wins."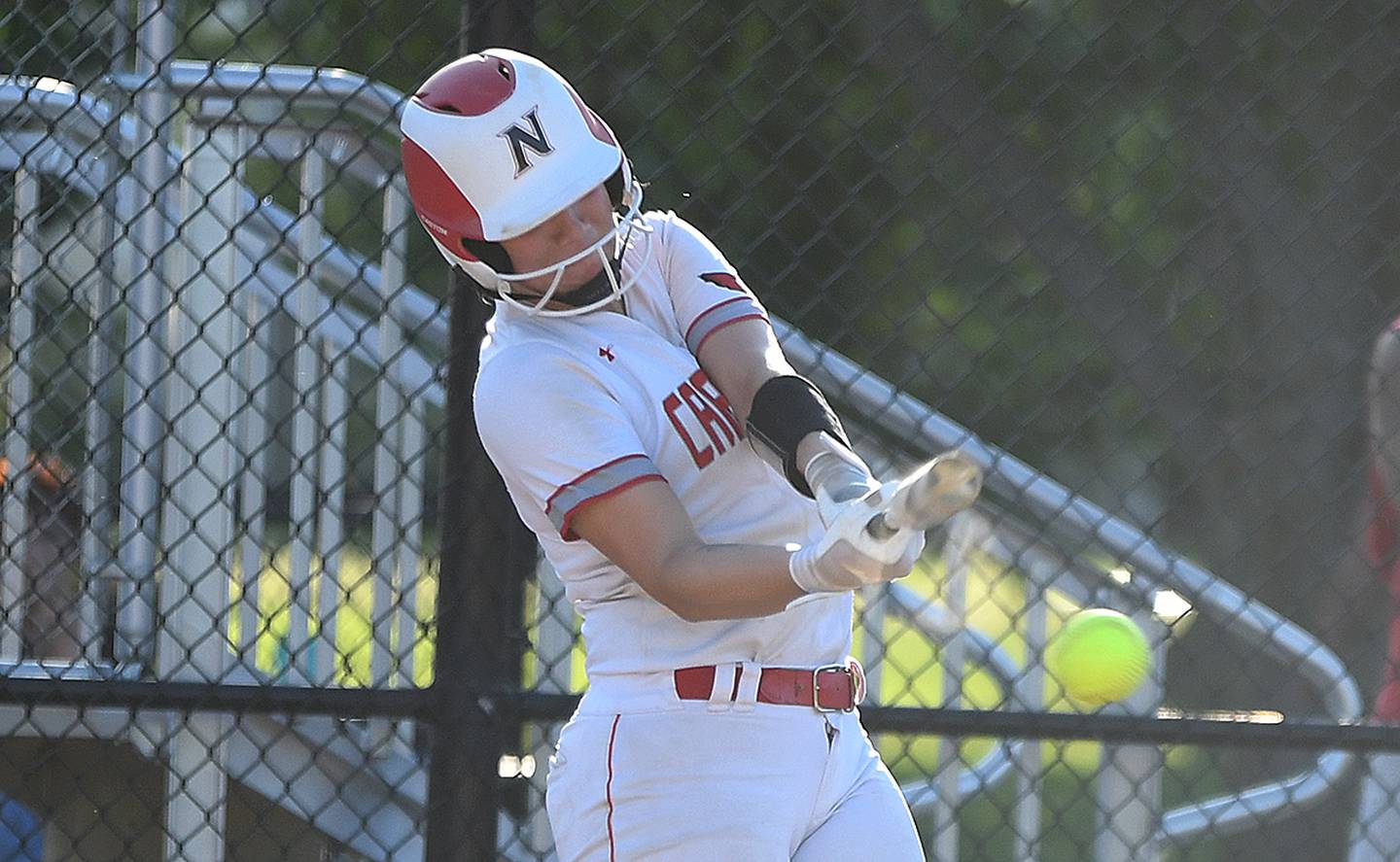 Newton cranked out 12 hits but scored only two runs. The Cardinals had five more hits than Pella and both teams combined for seven errors.
Sims, Ahn, Cooper, Henwood and Chloe Swank all had two hits apiece. Sims doubled, Henwood had an RBI and Ahn stole one base.
Vasseau and Van Kley each had one hit and Vasseau finished with one walk and the game-winning RBI.
Sumpter and Lust each walked once and Rausch and Paige Benson scored Newton's two runs.
Curry and Wisse had two hits each to lead Pella again. Ella Corbin went the distance and allowed two earned runs and 12 hits in 7 2/3 innings. She stuck out three and walked three.
Pella won the first game of the series earlier this season 11-10 after Newton led 10-6 after six.