Heading into this week, Newton's softball team was 5-9 overall. And a narrow loss to Dallas Center-Grimes on Monday dropped the Cardinals to 5-10.
That defeat was their sixth in seven games but a five-game win streak to end the week has Newton feeling good about themselves again.
The Cardinals swept West Marshall one night after registering a conference sweep of Grinnell. And following a walk-off win over Oskaloosa on Friday, Newton is now 10-10 on the season.
"If we just keep playing solid softball, we can compete with anybody. I have always said that," Newton softball coach Kory Leiker said. "I'm proud of the way they bounced back from the early-season downers. They have started coming together as a team."
Newton had deficits to overcome in both games against West Marshall on Thursday and the Cardinals downed the Trojans 6-3 in both non-conference games.
"It was big. We needed a confidence boost," Kadance Ahn said about back-to-back doubleheader sweeps. "It's been a roller coaster this season and these sweeps will impact a lot of our attitudes."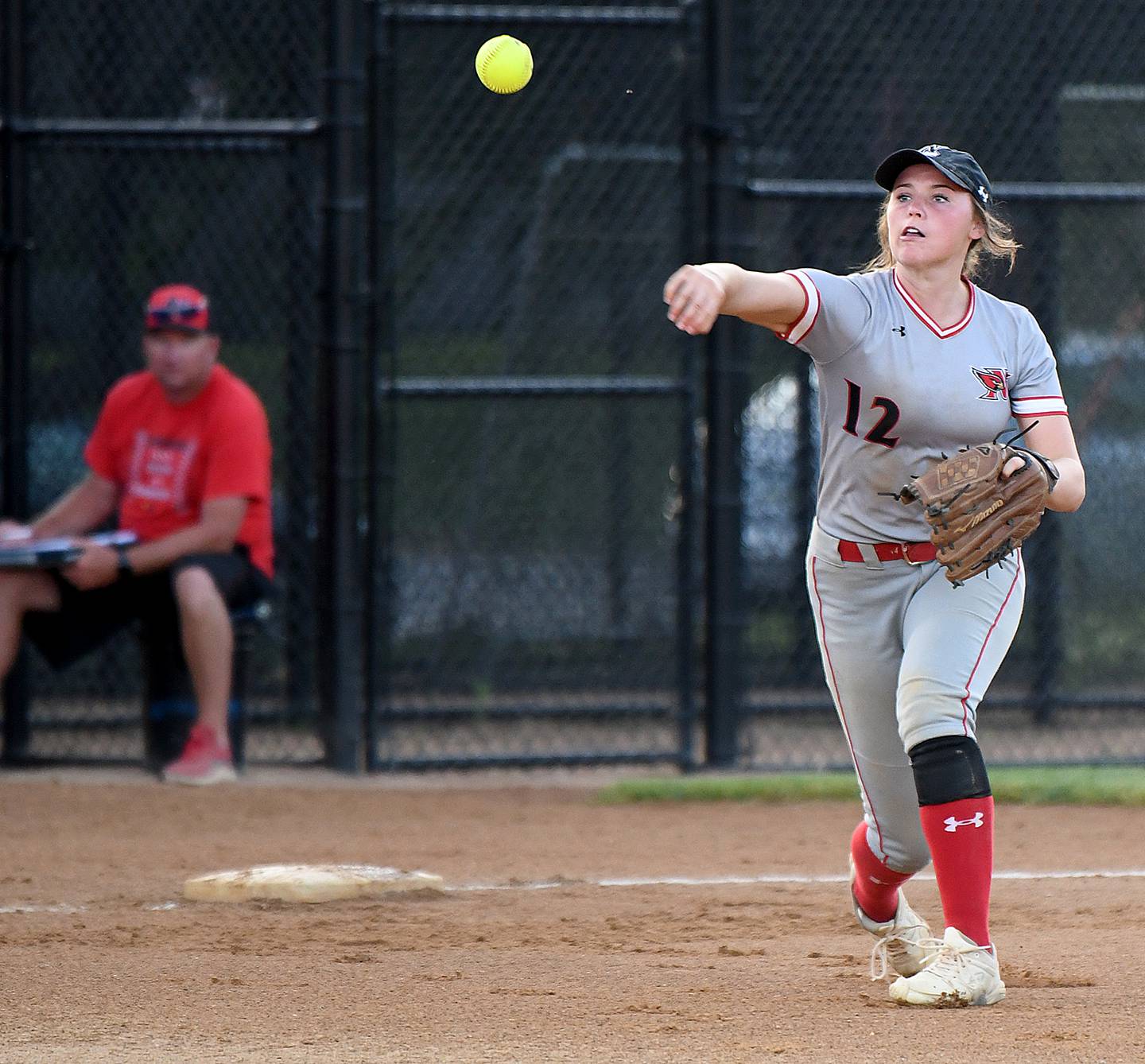 The Cardinals scored first in the opener. In the third, Vanessa Vasseau drew a lead-off walk and then moved up a base after a sacrifice bunt by Grace Benson.
An infield single by Mackynna Sims put runners on the corners and Kya Butler brought the first run in with a sacrifice fly to left field.
Vasseau walked three times and scored three runs in the win. Sims was 3-for-4 with three RBIs and one run scored.
Sims also stole one base and was aggressive in advancing from bag to bag. She knows how to anticipate where the pitch is going to land, which gives her an advantage.
"Being a catcher helps me read the pitches when I am on the bases," Sims said. "I like being aggressive. I always try to get into scoring position."
Sims, who is just an eighth-grader, leads the Cardinals in several offensive categories including batting average (.400), total bases (29), RBIs (15), hits (24) and stolen bases (12). She's second on the squad with 15 runs scored.
"We knew she could play from watching her in open gyms and watching her travel ball team," Leiker said about Sims. "She caught our eye in seventh grade. This is just the beginning for her, too."
West Marshall's three runs all came in the fourth. Lauren Solberg blasted a one-out, three-run home run to left field. It was only the fifth game of the season for Solberg, who hit the homer after an error by the Cardinals.
Hailey Sumpter started in the circle. It's been a busy week and both Newton pitchers felt fatigued after back-to-back doubleheaders.
Sumpter admitted to "feeling it" in the fourth before Solberg gave West Marshall a 3-1 lead.
"When she hit that home run, that was a test for me because we lost the lead," Sumpter said. "It was a lot to battle through and the umpire wasn't working with me much. My defense had my back though. Our bats came alive, too. It was a team win tonight."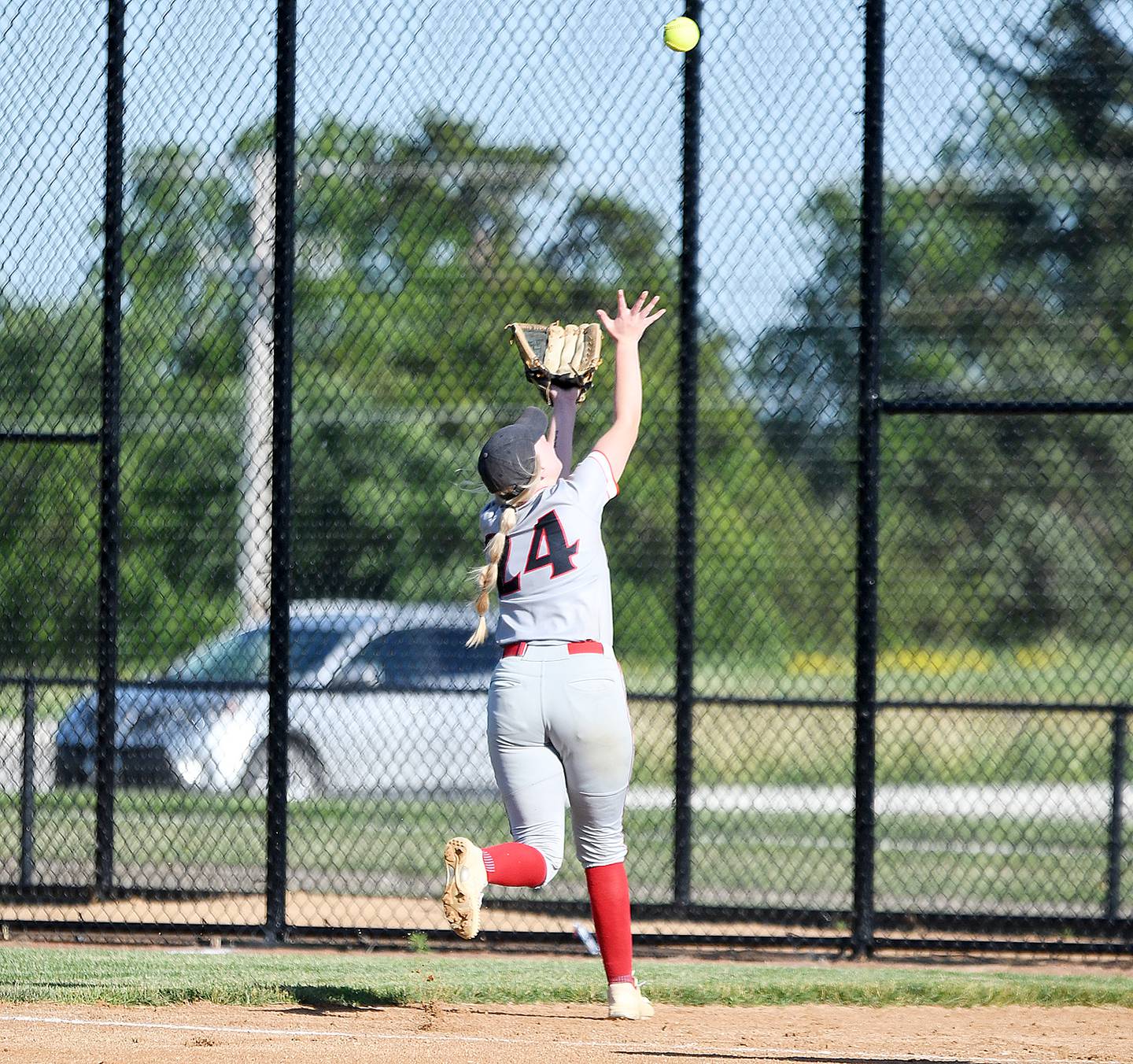 The Cardinals (10-10) came right back to tie the score in their half of the fourth.
With two outs, Peyton Durr was hit by a pitch and Vasseau drew another walk. Benson then reached on an infield single. Sims tied the score with a two-run infield single.
Newton tacked on another run in the fifth and two more in the sixth.
In the fifth, Chloe Swank hit a lead-off double and her courtesy runner Madison Henwood scored on an RBI bunt single by Ahn.
Vasseau opened the sixth with a lead-off walk and then she stole second and went to third on an error.
Another RBI hit by Sims plated Vasseau and she eventually came around to score herself on a wild pitch.
Sumpter (4-4) won the game in the circle after allowing three runs — two earned — on nine hits. She struck out five and walked one.
"It feels great. We struggled at the start of the year, but I think we are coming together as a team now," Sumpter said. "Kya is back. Peyton is back. We are getting our injured teammates back. We are starting to mesh and come together as one."
Butler is one of the players who recently returned from injury and she had two hits, two steals and one RBI in the opener. Durr also returned to action this week and she was hit by a pitch and scored a run in the two-run fourth.
Ahn collected two hits, one run and one steal, Swank doubled, Benson singled and Henwood scored one run.
Solberg's homer was her only hit. Josie Zahnd and Lilly Fischer registered two hits each for the Trojans. West Marshall (7-10) was plagued by seven errors.
Bella Borgos tossed six innings in the circle and took the loss after allowing six runs — three earned — on six hits with four strikeouts, three walks and one hit batter.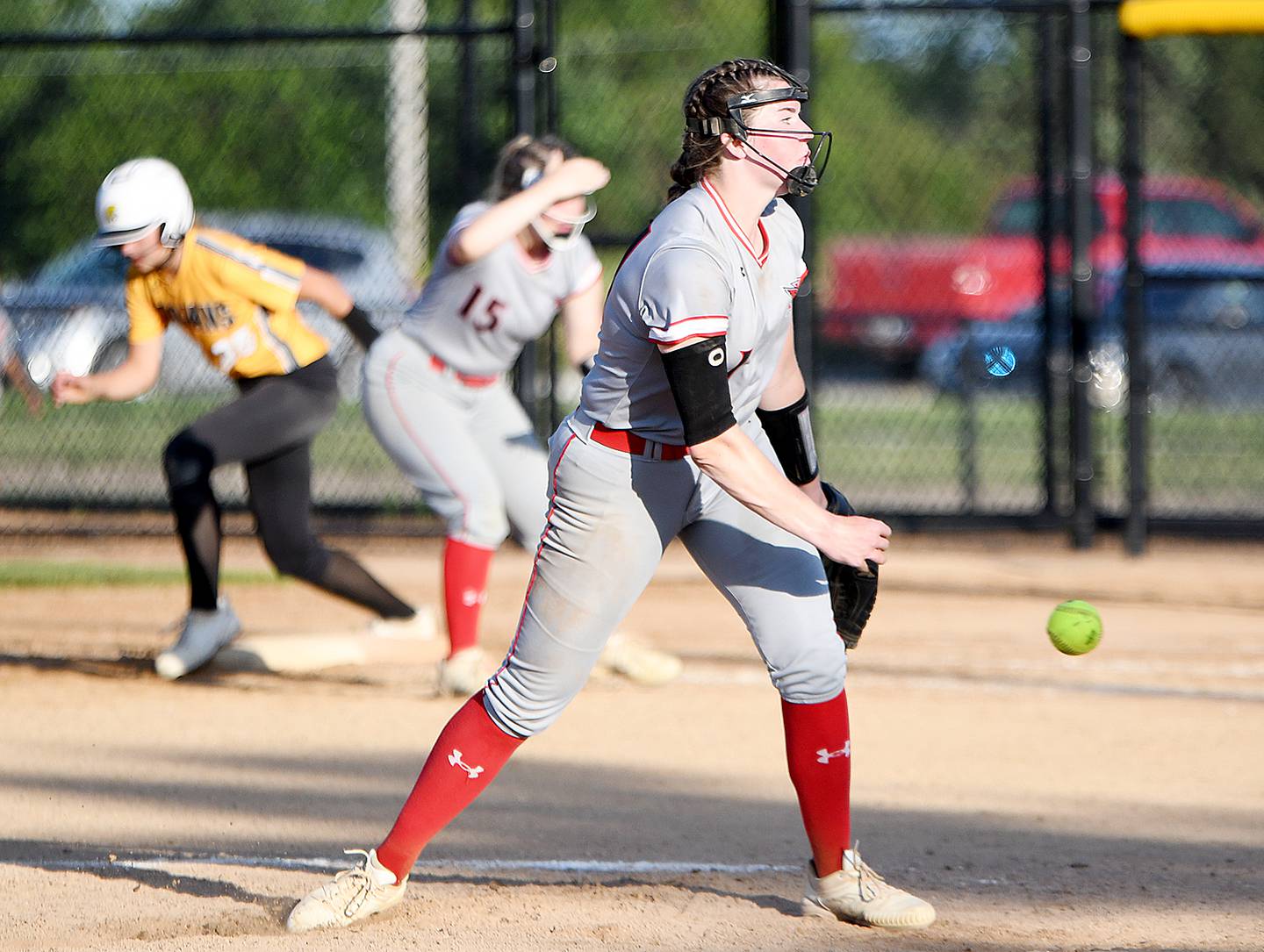 In the nightcap, West Marshall scored first and plated two unearned runs in the sixth.
The Trojans and Cardinals each were limited to four hits, but West Marshall couldn't take advantage of four Newton errors.
The Cardinals rallied with a three-run second and they made it 5-1 with a two-run fifth.
Ahn, Taylor Lust and Sloan Brodersen all drew consecutive walks to lead off the second frame. Jaz Cooper delivered a two-run single to put the Cardinals in front for good.
In the two-run fifth, Sims led off the frame with a walk. She stole second, went to third on a passed ball and scored on a wild pitch.
Swank also walked with one out. She moved up to second on a fielder's indifference and took third on a wild pitch.
Another RBI bunt single by Ahn made it 5-1. This time, Ahn suggested the squeeze bunt to the Newton coaching staff.
"The bunt's been working lately. I actually asked him if I could squeeze on that last one," Ahn said. "There were two outs and I noticed the third basemen was sitting back pretty far. I knew we needed a run and I knew I could get to first so I wanted to try it."
The final run for Newton came in the sixth. Brodersen led off with a walk but the next two batters struck out.
With two outs, Sims cranked an RBI double to the gap in left-center field.
Newton was limited to four hits, but the Cardinals walked six times and were hit by two pitches. Of those eight free passes, six of them scored.
"When you study the pitcher, you have to at least get a strike and then go from there," Leiker said. "We told them not to swing unless they give you a strike. A few of them got the message. A few of them went against it. We just want to get on base. We have plenty of speed to work with after that."
Ahn is batting .333 this season but her on-base percentage is .508. She's walked nine times and been hit by seven pitches.
"I just want to get on base. Any way I can get on base I will take it," Ahn said. "The team just needs base runners."
Kallie Van Kley (6-6) started in the circle and went the distance. She earned the win after allowing three runs — one earned — on four hits. She struck out seven, walked zero and hit one batter.
Leiker had made up his mind that Van Kley would only get six innings and he would use Sumpter for the final three outs.
But his senior hurler asked for the ball for the final inning and Leiker gave it to her. Van Kley then came through with a 1-2-3 frame.
"I wanted to finish the game. I know Hailey is tired, too, so I wanted the chance to get through it," Van Kley said. "He wants me to communicate with him so I tried to tell him I wanted to stay in. I hit my spots better after that first inning."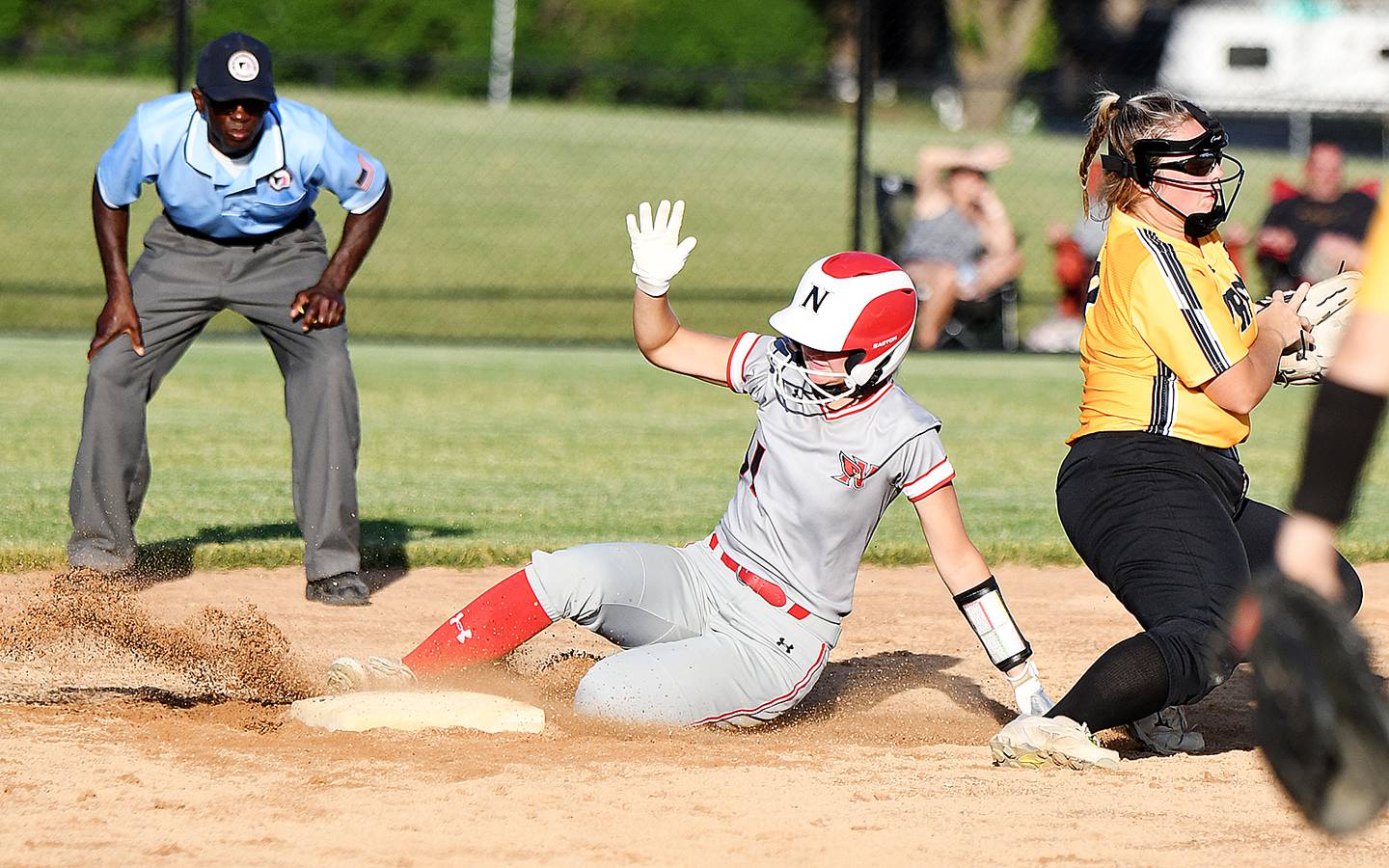 Van Kley got the first two outs of the game, but West Marshall plated one run on three consecutive hits. The first hit was a bloop single that went over Ahn's head at third and landed just fair.
The Trojans got two more off Van Kley in the sixth, but both batters reached base on errors and then advanced on passed balls.
Van Kley said she needed to re-focus this week following the tough stretch that drove the Cardinals' record down to 5-10. She wants her final year in a Cardinal uniform to be memorable.
"This is my last season as a Cardinal. I am so thankful for the opportunity to play and I want it so bad that sometimes that hurts me," Van Kley said. "I needed to re-focus on why I play this game. It's helped me and some of the other girls, too, I think.
"Our goal this week was to get five wins and get back to .500. So that would include a win tomorrow. That's a big one, too."
Newton 7, Oskaloosa 6
Another squeeze bunt led to an RBI for Newton's softball team on Friday night during a Little Hawkeye Conference home matchup with Oskaloosa.
This time, the call came from assistant coach Eric Vander Velden and Ahn's bunt down the third-base line scored Butler from third during the Cardinals' walk-off, 7-6 victory against the Indians.
"When Oskaloosa's coach called time to talk to his pitcher, Coach Vandy said to us and our girls let's squeeze," Leiker said. "I was a little apprehensive at first because I had Kya on third and she's just getting back from an injury and squeeze plays can get a little hectic coming to the plate.
"Kya said to me 'we got this coach' and Kadance said 'let's do it, and I'll get the bunt down.' It worked out just like they said it would."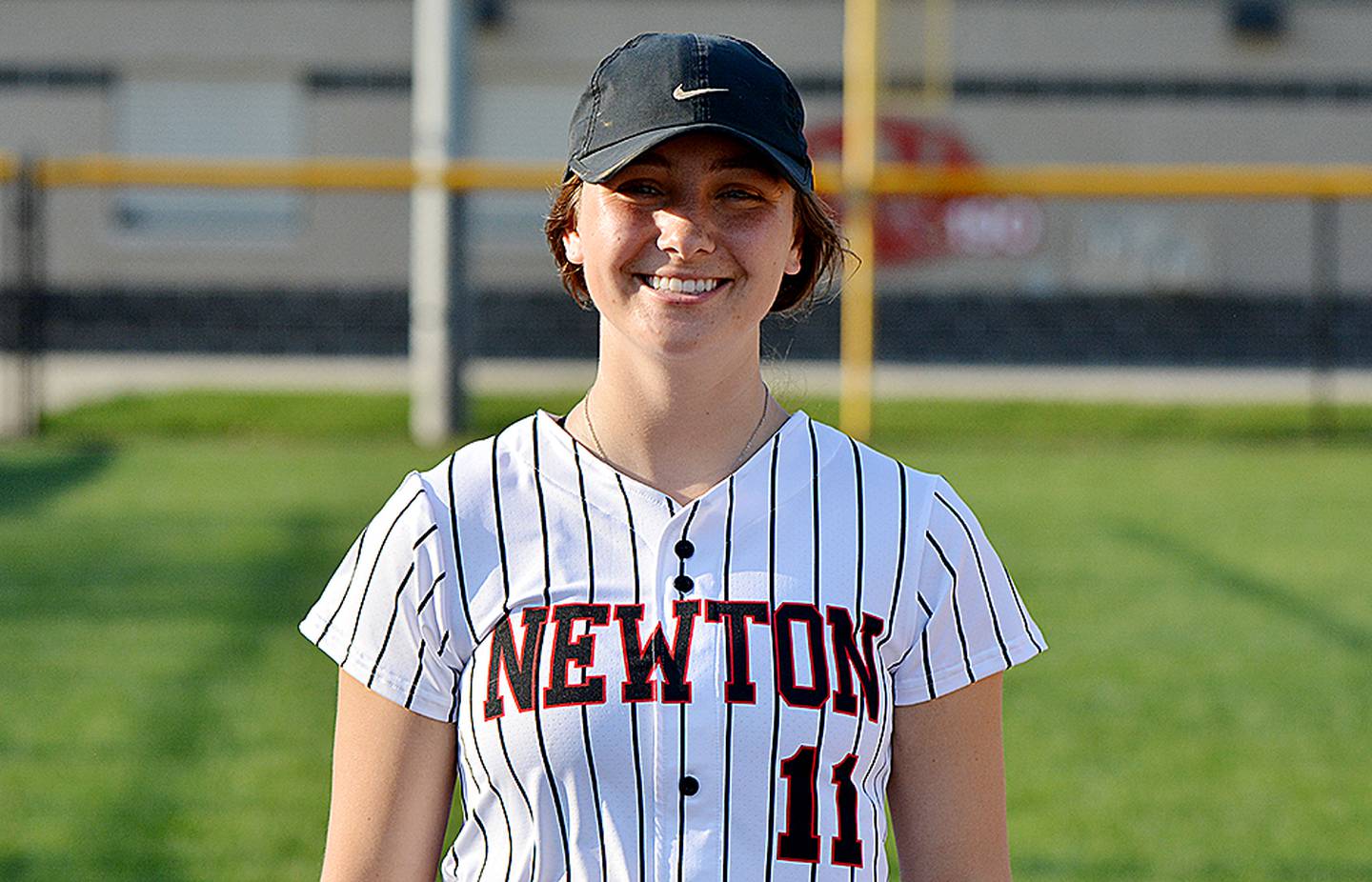 The walk-off RBI bunt by Ahn ended a back-and-forth affair on the diamond.
Newton (10-10 overall, 5-7 in the LHC) led 2-0 after one but trailed 4-2 in the third. Butler's first homer of the season came in the bottom of the third and it drew the Cardinals to within 4-3.
The home team went in front with a run in the fourth and two in the fifth, but Oskaloosa plated two in the top of the seventh to force another Cardinal at-bat.
In the seventh, Butler was hit by a pitch to lead off the frame. She then stole second and moved to third on a ground out by Swank.
Oskaloosa (7-11, 5-7) intentionally walked Sumpter before Ahn laid down the game-winning bunt on the second pitch of the at-bat.
"It took the entire team to get us to that point in the seventh," Leiker said. "I'm happy with their perseverance through the week. It's the first time in a while that Newton will win the season series against Grinnell and Oskaloosa. We hope to take this momentum and get two more against Pella on Monday."
Butler finished with three hits, one homer, one double, four runs, one RBI and one stolen base to lead the Cardinal offense.
Swank tallied two hits, Sumpter had one hit, one RBI and one walk and Sims and Ahn each registered one hit and one RBI.
Vasseau walked twice and stole one base, Benson walked once and scored one run and Henwood scored two runs and stole one base as a courtesy runner.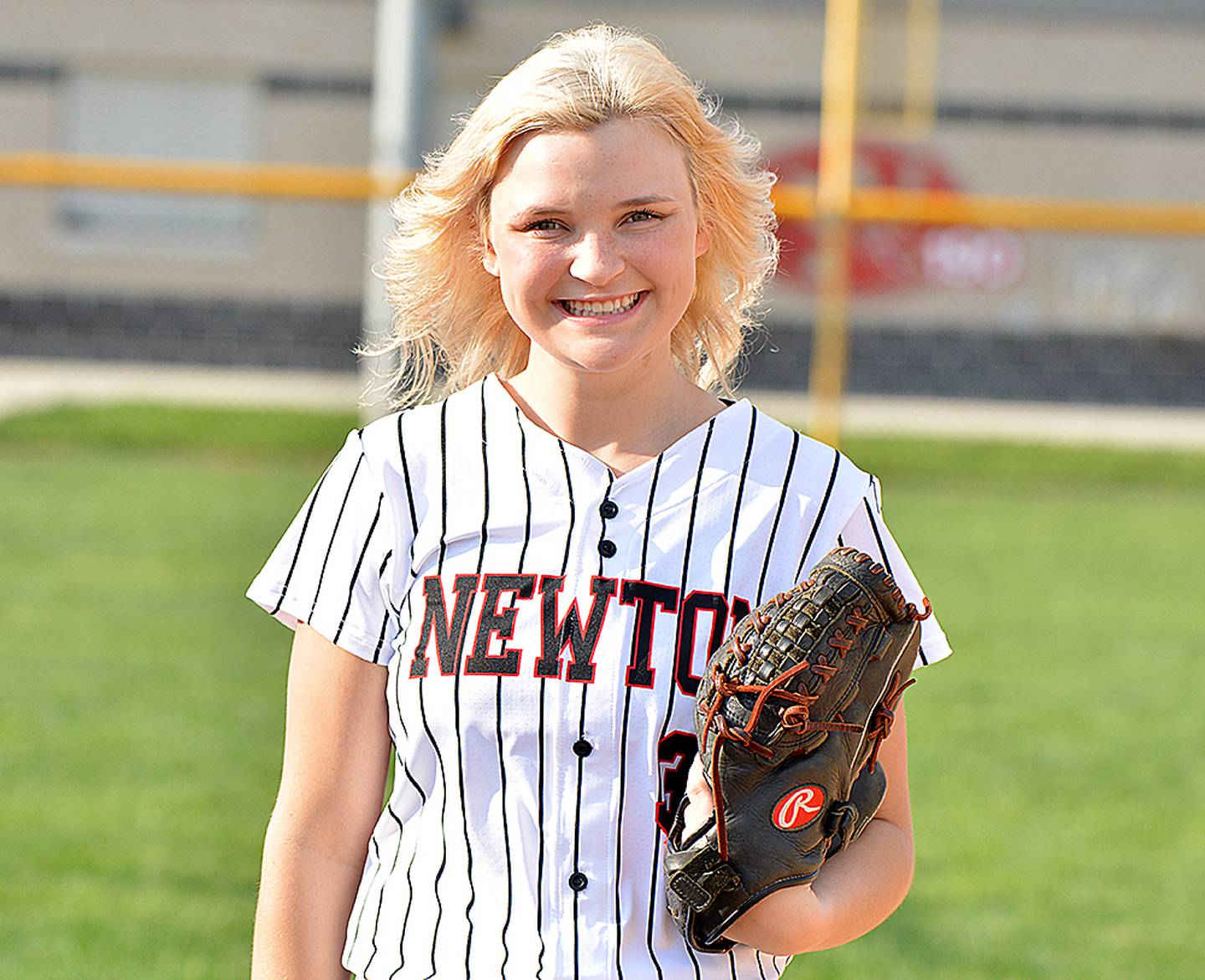 Sumpter started in the circle and tossed the first six innings. She allowed four runs — one earned — on five hits, struck out two and walked one but got the no decision.
Van Kley earned the win after surrendering two earned runs on three hits in her one inning of work.
Both teams finished with eight hits and Newton was plagued by four errors.
"The girls pulled it together when we needed it," Leiker said. "They all played hard this week and stayed focused even when a few mistakes were made. Overcoming adversity will help them not only in softball but in the game of life."