MONROE — Newton's softball team fought back from an early hole against PCM on Tuesday.
Then the Cardinals let down their guard on defense.
The Mustangs scored six runs on just two hits in the third inning and that was enough to pull away from Newton during a 10-6 home win.
PCM was out-hit 12-9 by the Cardinals, but Newton committed five errors, four of which came in the deciding third frame.
"It doesn't matter who you play in the state, 1A to 5A, you have to show up ready to play," Newton softball coach Kory Leiker said. "When the game starts, you have to show up. We didn't show up. We were flat. And until we can learn how to come out and be ready to play, that type of stuff is going to keep happening. We just have to shore it up."
The Cardinals managed 12 hits in the loss. But PCM's top two hitters in the lineup reached base seven times.
Sidney Shaver had two hits, four runs and three RBIs and was hit by two pitches. Both of her hits were doubles and she had a bases-clearing three-run double in the deciding six-run third.
"I have been down with my hitting lately so it felt good to be able to see the ball and finally get some hits," Shaver said. "I put in a lot of time in the cage."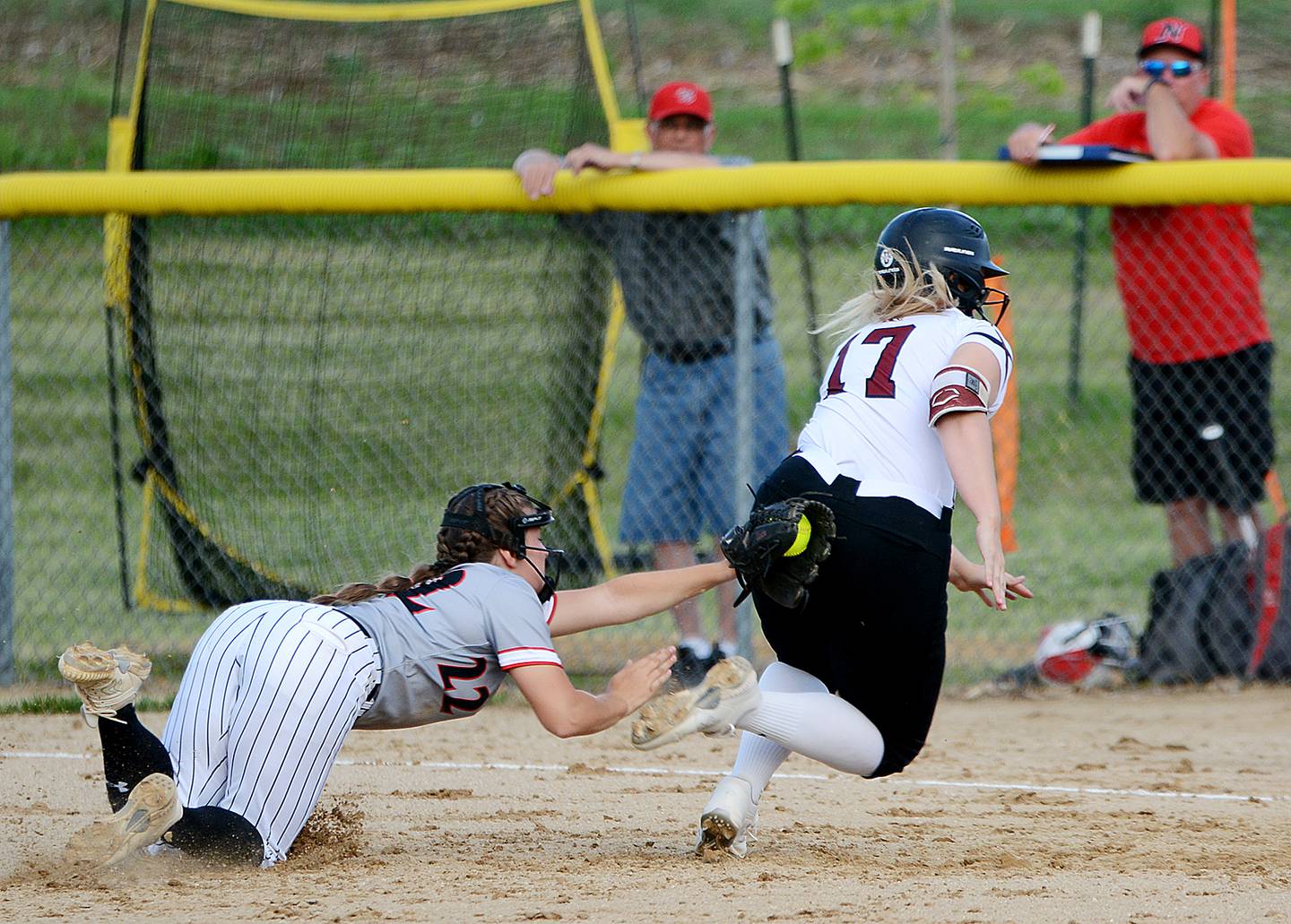 Belle Hudnut returned from injury and finished with two hits, one run, one RBI and one walk. The only time her or Shaver did not reach base was in the fifth when Hudnut laid down a sacrifice bunt.
That bunt put Shaver into scoring position and Riley Johannes drove her in with an RBI single.
"That's what we need from those two to set the table in front of our 3-4-5-6," PCM softball coach Shaun Hudnut said about Shaver and Belle Hudnut getting on base. "If we can do that, we'll do some damage."
The Cardinals did damage against PCM last season, winning 11-1 in Newton.
The Mustang coaching staff did not talk about last year's loss before the game. They had other issues to navigate through. Coach Hudnut had to make a late change to the lineup minutes before a contest that was already moved up two hours because of rain in the forecast.
Paige Steenhoek was scheduled to start in the circle but was not feeling well enough to pitch. She gutted it out in left field, but Ella Schendel was told just before the game she would get the ball against the Class 4A Cardinals.
"We didn't talk at all about last year's game. When we came to the park today, we were hoping to just piece something together," Coach Hudnut said. "We had some girls not feeling well. It just comes down to competing every night.
"I thought we blended the small ball and having a patient eye with getting clutch hits when we needed them."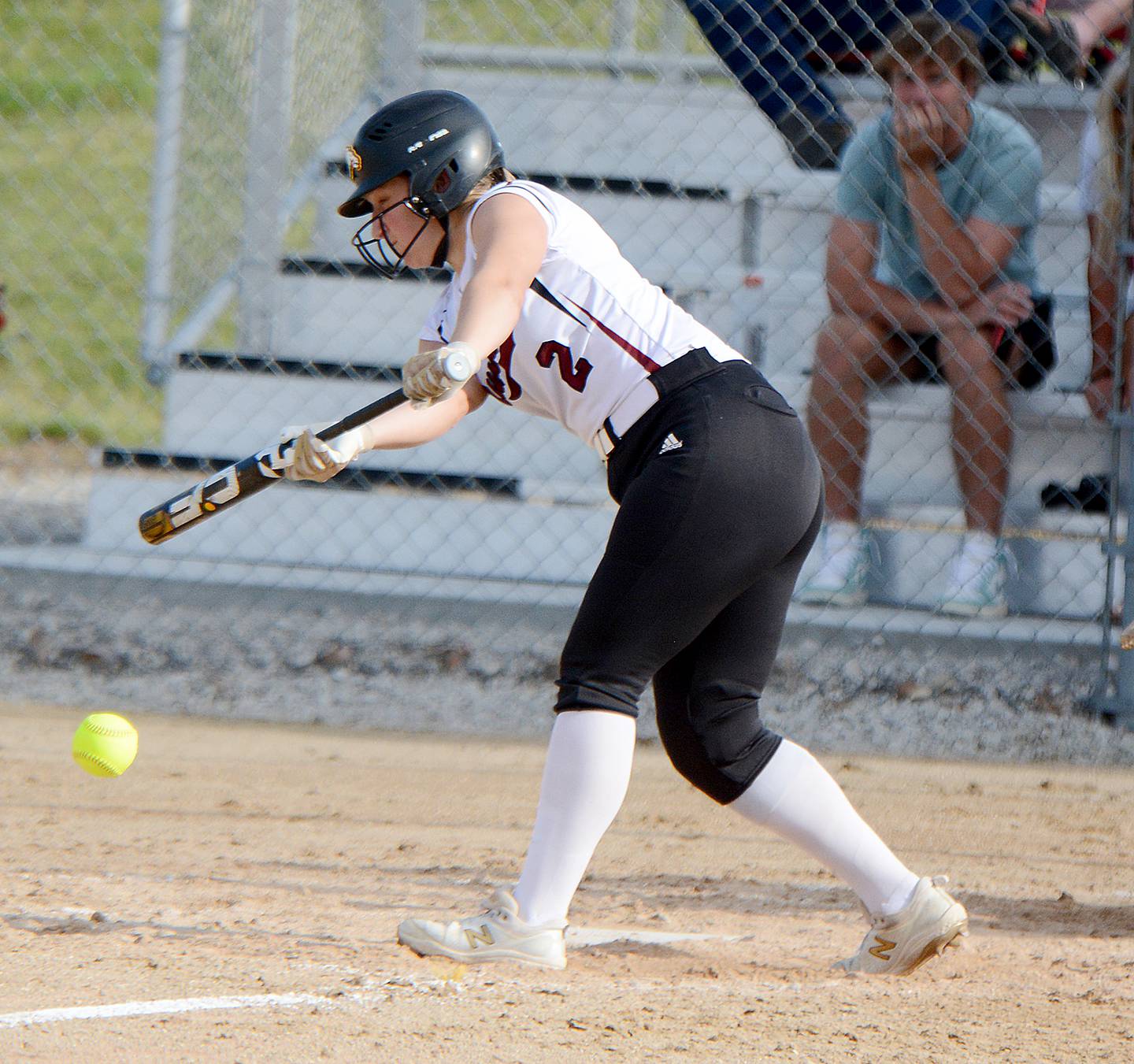 Schendel pitched a 1-2-3 first inning and then her squad scored one in the bottom half to grab an early lead.
Shaver was hit by a pitch and then moved up a base after a Belle Hudnut single. Johannes walked to load the bases and Shaver trotted home after RaeAnn Duinink came through with an RBI single.
Addison Steenhoek drew a one-out walk in the second and advanced to third after a double by Shaver. Belle Hudnut's RBI single made it 2-0 and Shaver later scored on a passed ball.
"She does everything you want as a leadoff," Coach Hudnut said about Shaver. "She takes a bunch of pitches, she communicates what she's seeing back to the hitters behind her and she's willing to get hit by a pitch. She gets on base a lot."
Newton answered with a three-run top of the third. Grace Benson singled and stole second to lead off the frame. Vanessa Vasseau singled to put runners on the corners.
After Vasseau moved up to second on a fielder's indifference, Sloan Brodersen made it 3-1 with an RBI single. An RBI single by Mackynna Sims and an RBI ground out from Chloe Swank tied the game at 3-all.
But PCM bounced back right away to take the lead in the bottom half of the frame.
The Mustangs (4-4) sent 10 batters to the plate in the third. They were aided by four Newton errors, but Shaver's bases-clearing three-run double put the home team back in front.
"We knew they were going to score runs on us. We had to just make sure we answer back and be able to get on top and stay on top," Shaver said. "Fielding, to me, shows how much you really care about the game. If you put in the effort in the field, it can help you win games. Their errors tonight probably cost them the game."
PCM's final run came in the fifth. Shaver was hit by a pitch to start the frame and she advanced to second on Hudnut's sacrifice bunt.
Johannes made it 10-3 with an RBI single but was thrown out trying to extend the hit to a double. She was injured on the play and left the game after Newton's Brodersen made a diving tag, which sent both players to the dirt.
The Cardinals made things a bit interesting in the seventh. With one out, Sims singled and went to second on a throwing error.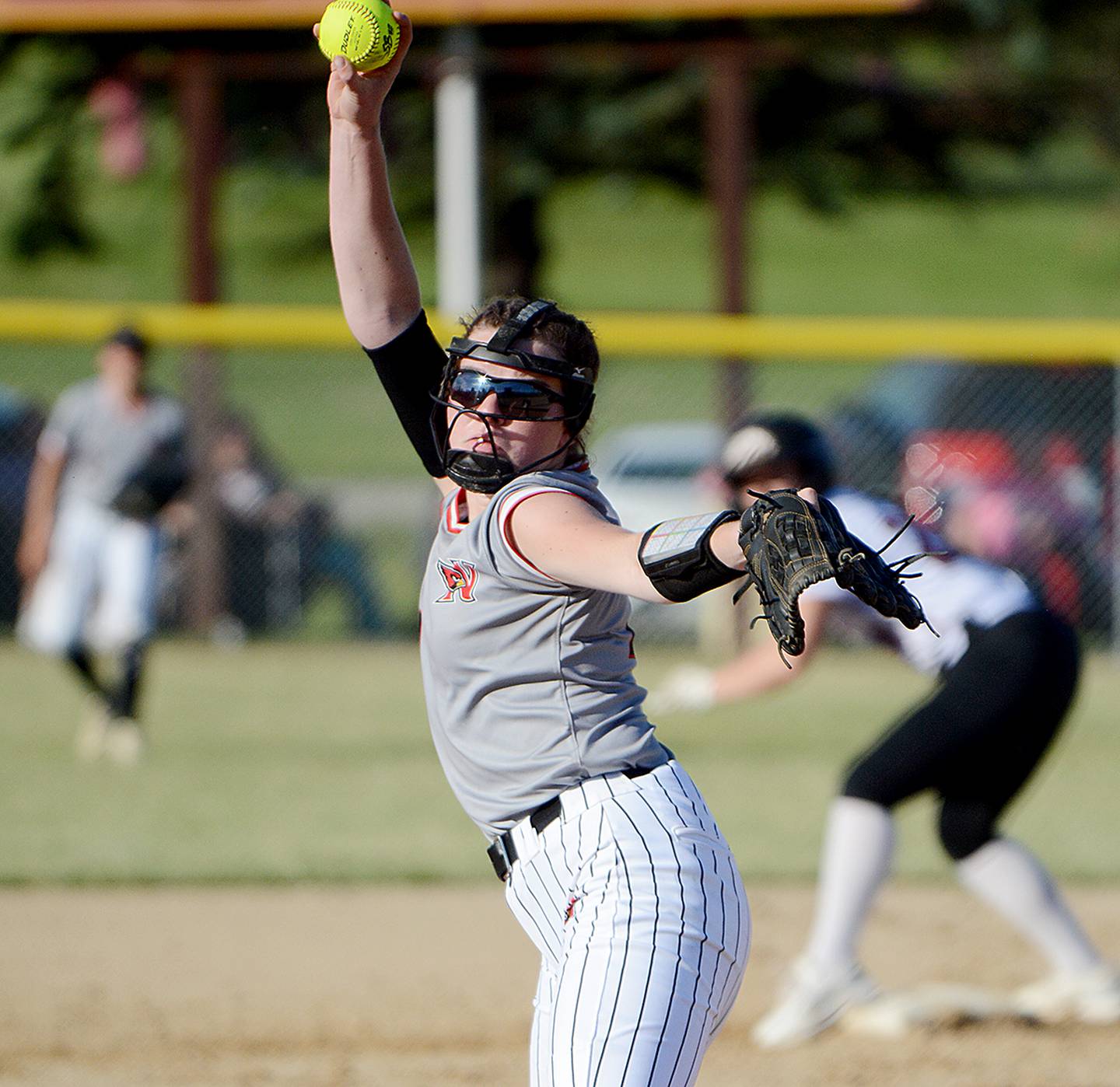 Kallie Van Kley came through with a two-out RBI single that brought Sims home.
Kadance Ahn then single before Taylor Lust's two-run, two-out hit closed the gap to 10-6.
Leiker said playing a doubleheader against state-ranked Norwalk the night before might have factored into the Cardinals not playing with a lot of energy on Tuesday.
Newton (4-7) left eight runners on base and had another runner thrown out trying to score on a wild pitch in the fourth. The Cardinals loaded the bases with one out in that frame but did not score. The Mustangs stranded six on base in the first three innings.
"I think the doubleheader last night took a toll tonight," Leiker said. "They were a little off and looked a little tired."
Sims led the Cardinals with three hits, one run and one RBI. Lust and Benson each had two hits and one double. Benson scored one run and stole one base and Lust tallied a pair of RBIs.
Vasseau registered one hit, one run and one walk, Ahn added one hit, one run, one walk and one hit by pitch and Brodersen chipped in one hit, one run and one RBI.
Swank and Van Kley each registered one hit and one RBI, Jaz Cooper drew a walk and Madison Henwood scored one run.
Van Kley started in the circle and allowed three earned runs on three hits with two strikeouts, two walks and one hit batter.
Hailey Sumpter pitched the final four frames and took the loss after surrendering seven runs — four earned — on four hits. She added one strikeout, one walk and one hit batter.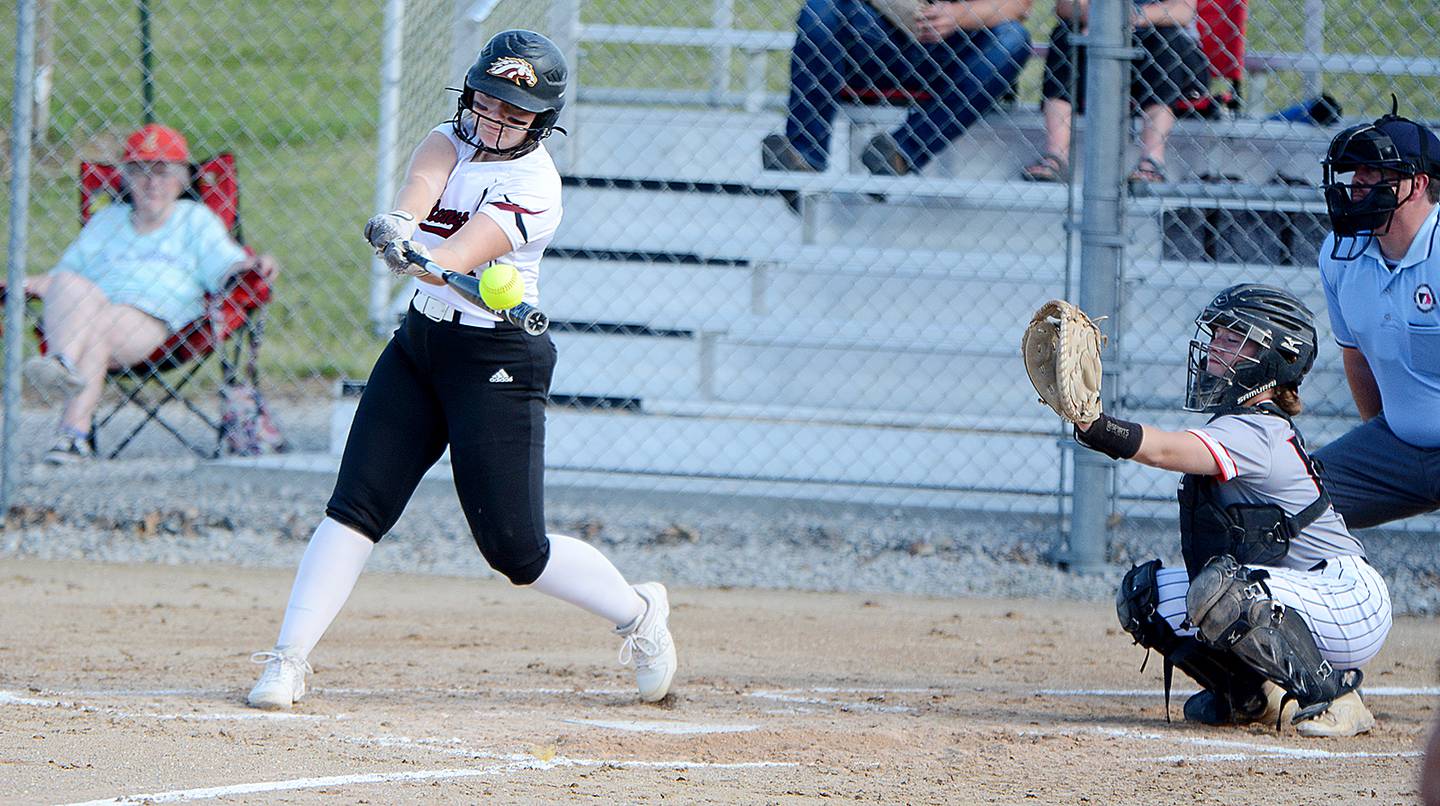 Schendel earned the pitching win for PCM after allowing six earned runs on 12 hits with two strikeouts, three walks and one hit batter in seven innings.
Duinink finished with two hits and one RBI for PCM, while Johannes tallied one hit, one run, two RBIs and one walk.
Addison Steenhoek scored two runs, had one hit and walked once, Briles registered one hit and scored one run and Paige Steenhoek added one run.