ADEL — For the two best golfers in Class 3A, 36 holes just wasn't enough. Neither was 37 or 38.
It took three sudden-death playoff holes, but Newton senior Rylee Heryford is a state champion at last.
"It's been a long time in the making so it feels good to finally get it done," Heryford said after winning the Class 3A individual state championship on Friday. "It feels really good. Finally."
Heryford is the first girls golf state champion in school history. She was tied with Gilbert's Eden Lohrbach after Day 1 and each golfer shot a 74 on the final 18 holes to force a playoff at River Valley Golf Course.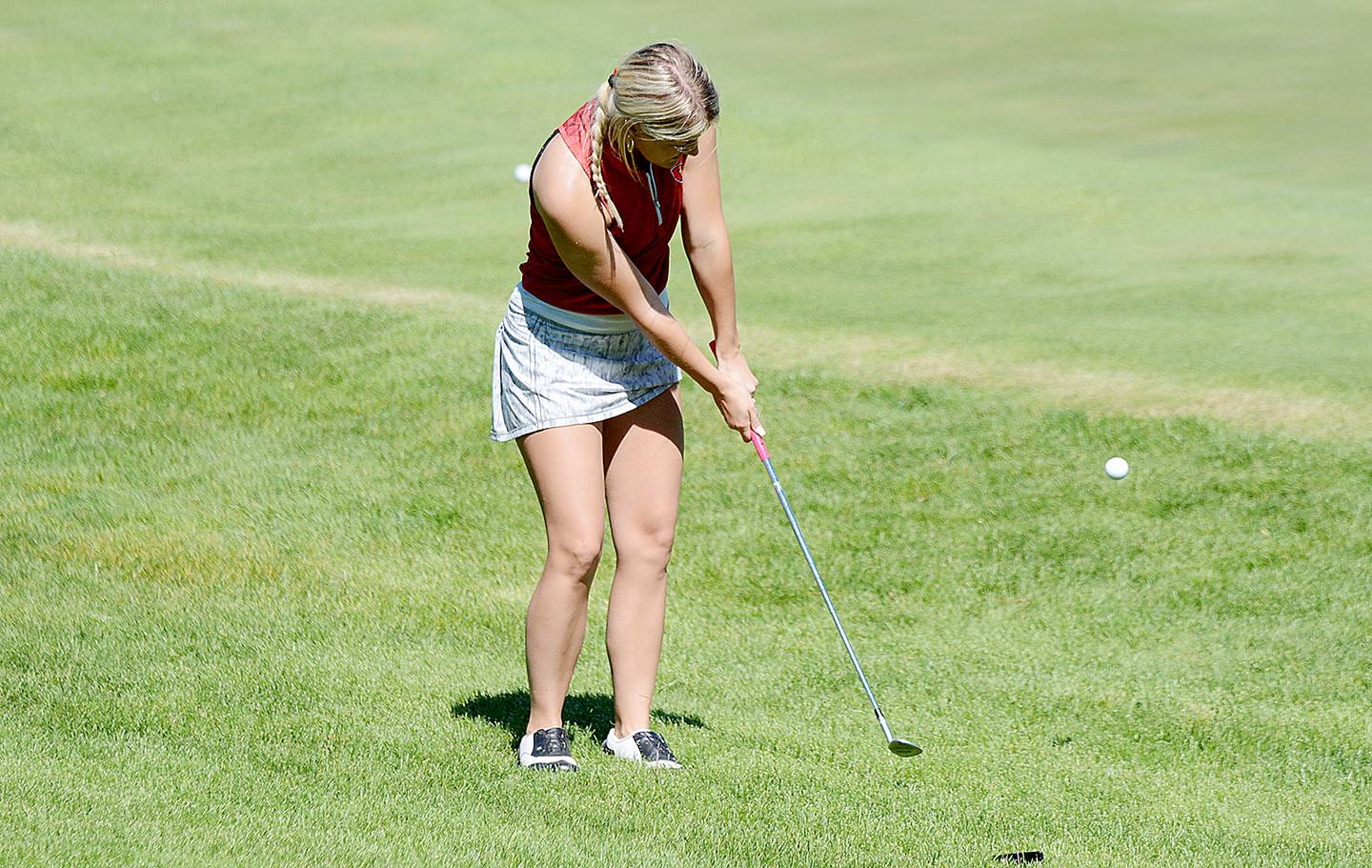 They matched each other with pars on the first two playoff holes. On the third, Heryford made another par putt to put pressure on Lohrbach. The Gilbert sophomore and 3A defending champion then missed her putt to the right.
"It's basically the same mindset," Heryford said about her approach in the playoff. If you lose on a birdie, then you lose on a birdie but never lose on a par or a bogey. That's how I approach it. I just wanted to have good drives and good approaches and make some putts."
Lohrbach made a 30-foot putt to save par and force a third playoff hole. She also turned in a par on the brutal par 4 No. 18 hole that gave most golfers on the course fits the entire day.
The pin placement on No. 18 was not suitable for the field. The ball often rolled off the green unless it was put in the perfect spot around the hole. The average score for the day was an eight and only three golfers turned in a par.
Heryford made a bogey putt and was happy with the result.
"No. 18 was tough today. The pin placement was brutal," Heryford said. "There was nothing you could do to get it to stop. I was happy with my two-putt bogey. Eden came to play on that hole. Getting a par to force a playoff was clutch."
Heryford had an opening-round 75 with nine-hole splits of 36-39. She went 39-35 on her final round Friday and the 74 put her at 149 for the two-day tournament.
She was second in 4A last year with a 141. Lohrbach won the 3A title last spring with the exact same score of 149.
"It feels awesome. It feels amazing," said Newton girls golf coach Ashley Kahler, who also was celebrating her first state champion as a head coach. "I'm just super proud of her though. This was all about her. I'm just there for the mental and emotional side of it. She's been playing golf since she was 8 years old. To have this cap her high school career, is so awesome. I love it. It feels great for me, but this is all her. This was her baby."
The struggles on the No. 18 hole piled groups up at the tee box. Heryford waited there for about 45 minutes before taking her tee shot. She also had a 2.5 hour wait after she was done before playing in the playoff against Lohrbach.
That didn't affect her much though as she was great off the tee and often had strong approach shots to the green on all three playoff holes.
It wasn't all great for Heryford though. She had an up and down two days of golf and the putter often was the issue when she wasn't playing well.
"My putting could have been better. I started off hitting the ball rough yesterday, too," Heryford said about her 75. "I got that under control eventually. I had a four putt on a par 3 so that was a double. It was a decent day though.
"I wanted to go even par (on Friday), but I feel good about the day. It could have been worse. I was three over through nine holes. I was putting the worse I have ever putted. I made a long putt on No. 9 to save par. That kind of turned it around for me."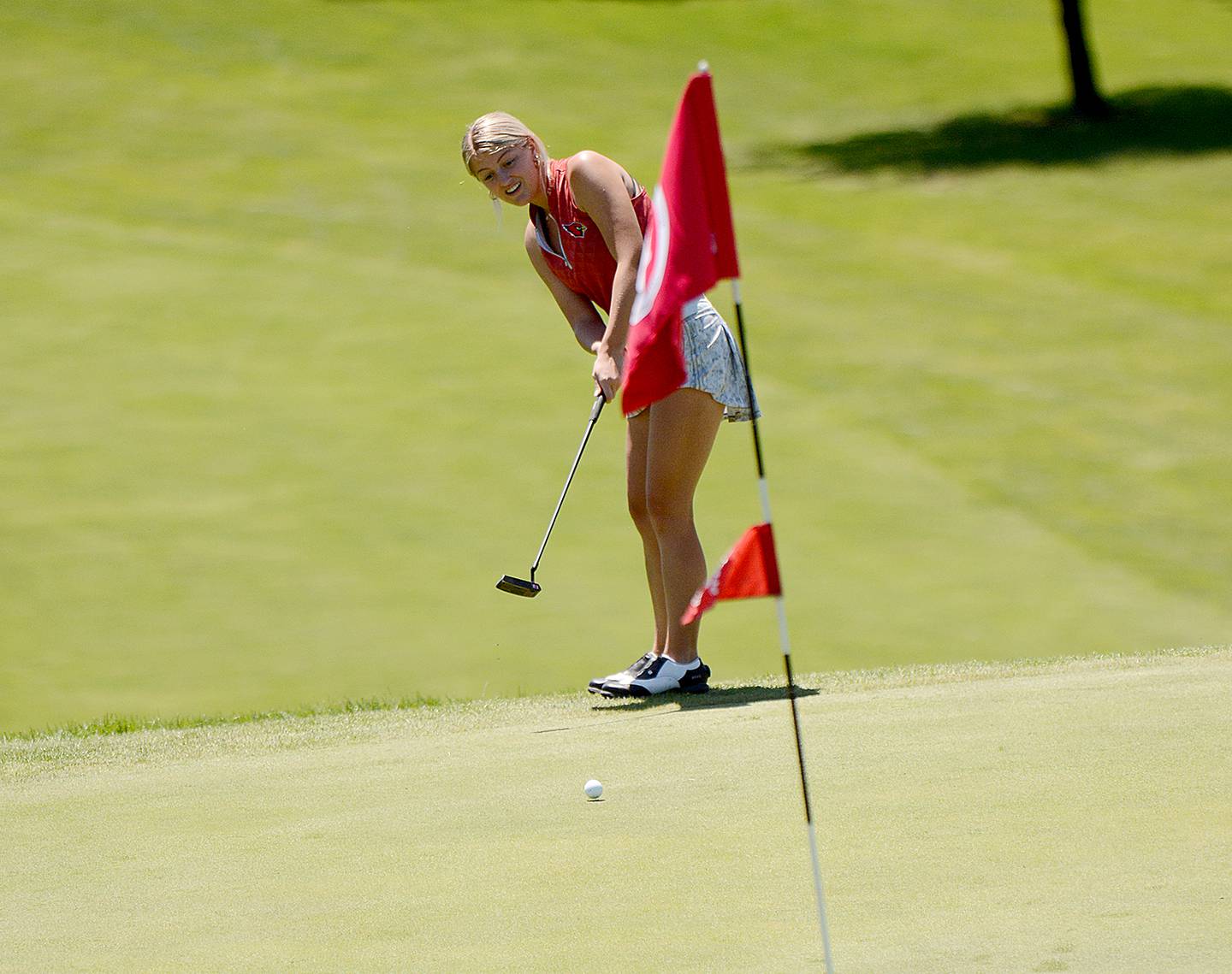 She changed her grip on her putter before the long putt on No. 9, too.
"I played left hand low the rest of the way," Heryford said. "Growing up, I always putted that way, but two or three years ago I started putting conventionally."
When she finally got to play the difficult No. 18, she was one of the only golfers to actually walk up to the green and figure out what she was dealing with.
Even then, it didn't look as bad as it played.
"It was very scary," Heryford said. "Down on the tee box, they were talking about the pin being in a very difficult spot. So I figured I needed to walk up and get a good look. Even from the looks of it, it didn't seem that severe.
"I was very nervous on the putt. I have never been shaky during a putt before, but I was shaking on that one. A bogey is like a birdie on that hole today. I will take the 5."
Heryford and Lohrbach had a three-shot lead after the first day. The Newton senior had three pars, three birdies and three bogeys on the front nine and her final nine featured five pars, one birdie, two bogeys and a double bogey.
On Friday, her front nine score of 39 featured seven pars, one bogey and one double bogey. The 35 on the second nine included six pars, two birdies and one bogey.
Lohrbach went 37-37 for her 74 on Friday.
Sudden death playoffs are intense for everyone involved. The two golfers started at No. 1 then played No. 11 before ending on No. 10.
Kahler was not surprised Heryford came out on top. She loves playing against pressure.
"That was awesome. It was intense, but any competition you do, Rylee always steps up. She seems to enjoy the pressure, too," Kahler said. "She just competes."
Both Kahler and Heryford were happy the individual championship was not decided by a miniature-golf style hole at No. 18.
"Today was not fair for any girl on the course with the way that hole was set up," Kahler said. "To not have 18 decide it was great. It's more fair this way. This feels more fair."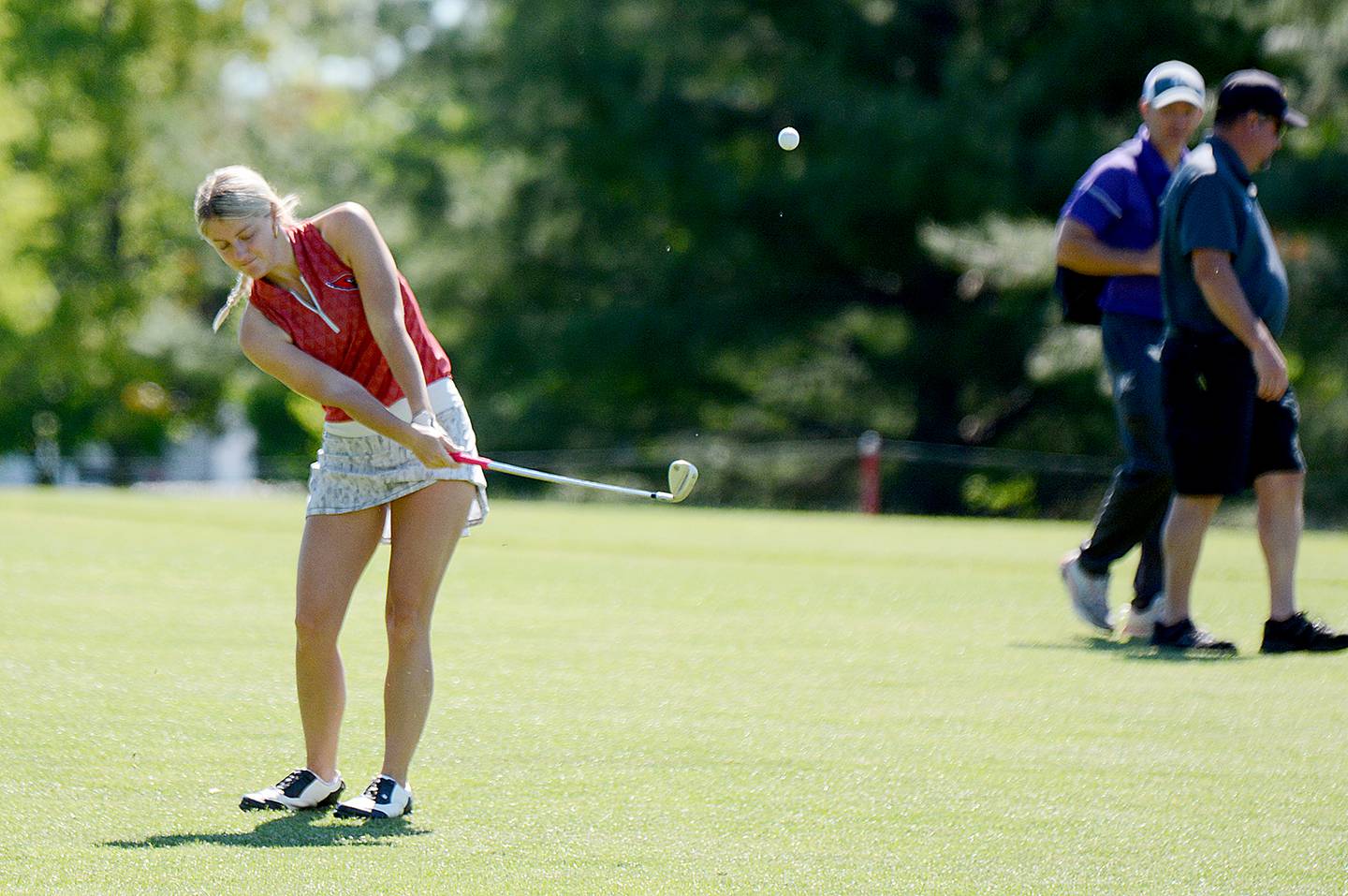 Heryford and Lohrbach defeated the rest of the field by 14 shots or more.
Clear Lake's Meghan DeLong was third for the second straight season with a 163. Humboldt's Nora Carlson finished fourth with a 166 and Winterset's Jaya West and Keokuk's Natalie Ames tied for fifth with 167s.
Carlson tied for fifth last year, while West placed 24th.
Heryford finished third as a freshman in 4A and was the runner-up last year in 4A.
Each season she played in the state tournament, Heryford had scores lower than that season's defending champion.
The Newton senior is one of two golfers in Jasper County who were crowned a state champion on Friday. She joined Lynnville-Sully's Greenlee Smock, who won her second straight title in 1A in Marshalltown.
"It's pretty cool we were both able to win this year. Rylee is an incredible golfer and greatly deserves that state championship," Smock said. "I know she's worked really hard for many years and to see it pay off like that is pretty sweet. I wish her the best of luck at Iowa next year."
Notes: This was Kahler's final year in the Newton school district. She spent the past two years as the Newton girls head golf coach. "It's great to end this way. This year was a highlight year," Kahler said. "This varsity team has amazing girls. Just to have this team to finish my career was fun. I hate to leave Newton. We loved it here." ... The 2A, 3A and 4A girls individual championships all were decided in a sudden death playoff. ... Heryford plans to walk-on to the University of Iowa women's golf team this coming fall.