DES MOINES — Five members of Newton's girls track and field team competed on the blue oval this weekend.
And the Cardinals still found a way into the top 10 of the Class 3A standings.
Led by a state-championship performance from Addy Terpstra, Newton scored 22 points and tied for ninth in the 3A girls' team race at the Iowa High School State Track and Field Championships.
"We had a great showing at the state meet to conclude our 2022 season," Newton girls co-head track and field coach Rachel Tomas said. "Addy Terpstra winning the 100 hurdles with a personal-best time was special."
The Cardinals competed in five events over three days inside Drake Stadium. The end result for all five were top-10 finishes.
Terpstra came into the weekend with the best time in 3A in the 100-meter hurdles. And a career-best run capped Terpstra's junior season with a state championship.
She found herself in another battle with South Tama County's JoJo Tyynismaa and another rally propelled the Cardinal speedster to a career-best time of 14.55 seconds. Tyynismaa settled for second in 14.6.
"It feels good. I enjoyed that," Terpstra said. "My start was pretty strong. She was in front early, but I was able to recover and get back in front. I could feel her the entire time. I just tried to stay in front."
Terpstra's other event was the shuttle hurdle relay. She anchored the Cardinals to a spot in the finals on Friday and then came from behind to rally her team to a runner-up finish in the finals on Saturday.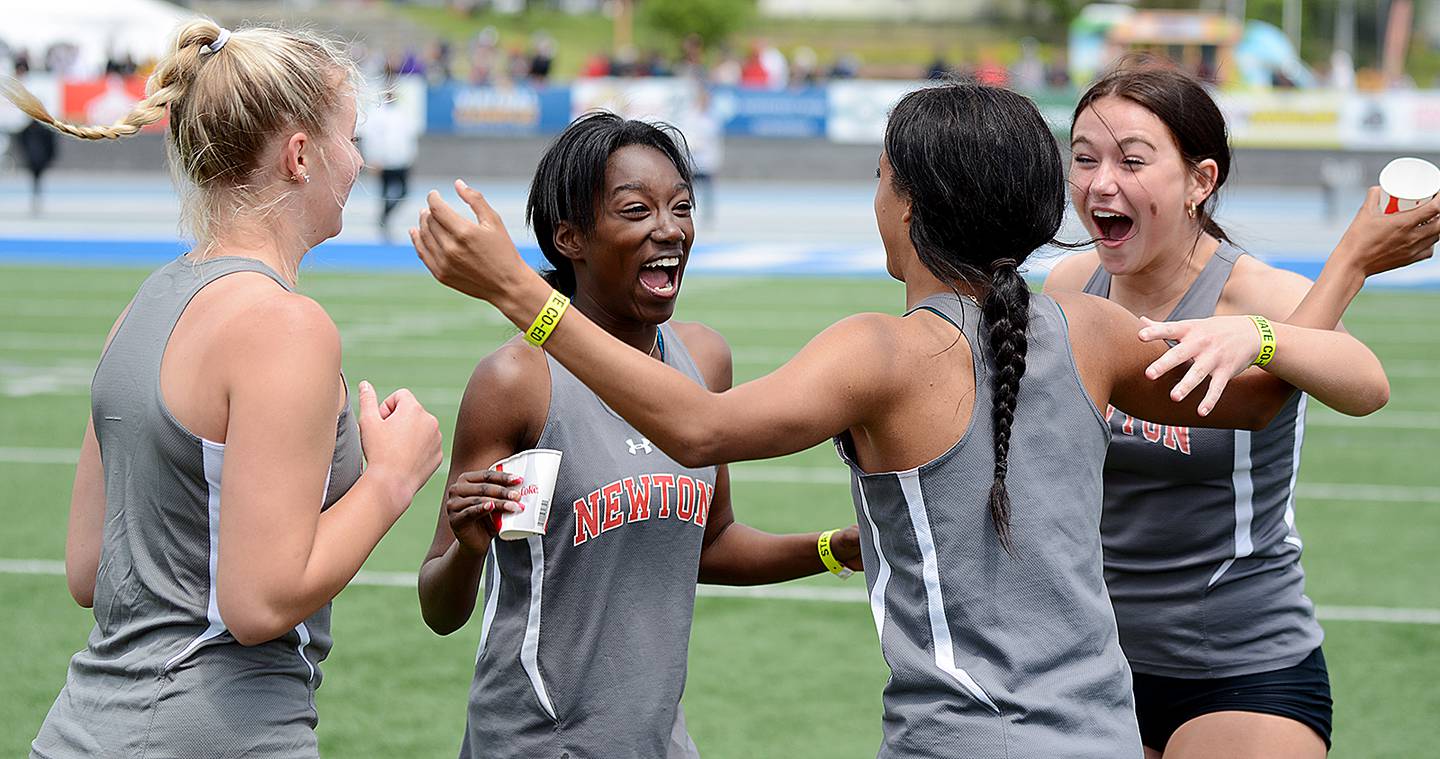 The other Cardinal who competed over the weekend was Alyssa Shannon. She earned her first and only state medal in the 3,000 on Thursday and then capped her career with a pair of ninth-place runs in the 800 and 1,500 on Saturday.
"Alyssa ran well for the conclusion of her Cardinal career," Tomas said. "She has been a great distance power for us so for her to end with a medal in the 3,000 and season-best in the 1,500 was great for her career finish."
Shannon started the Cardinals' weekend with a bang on a hot Thursday afternoon. Entering the state meet ranked outside the top 10, Shannon brought home a medal with a fifth-place finish.
She hit the finish line in 11 minutes, 13.76 seconds. Ballard's Paityn Noe won the race in 10:22.05.
"I was fifth? I honestly thought I was in eighth. I came in 11th so I am actually really happy with that," Shannon said. "It feels amazing. I don't want to doubt myself, but with this heat I thought I would finish 12th or 13th."
Just before Shannon's performance, the shuttle hurdle relay team qualified for Saturday's final.
The team of JaQuay Priest, Macy Lampe, Chloe Rorabaugh and Terpstra won their heat and placed fifth in the prelims with a time of 1:07.17.
"It felt really good. I'm really proud of everybody. They all did their best," Lampe said. "All the practices and all the reps, it just came together today."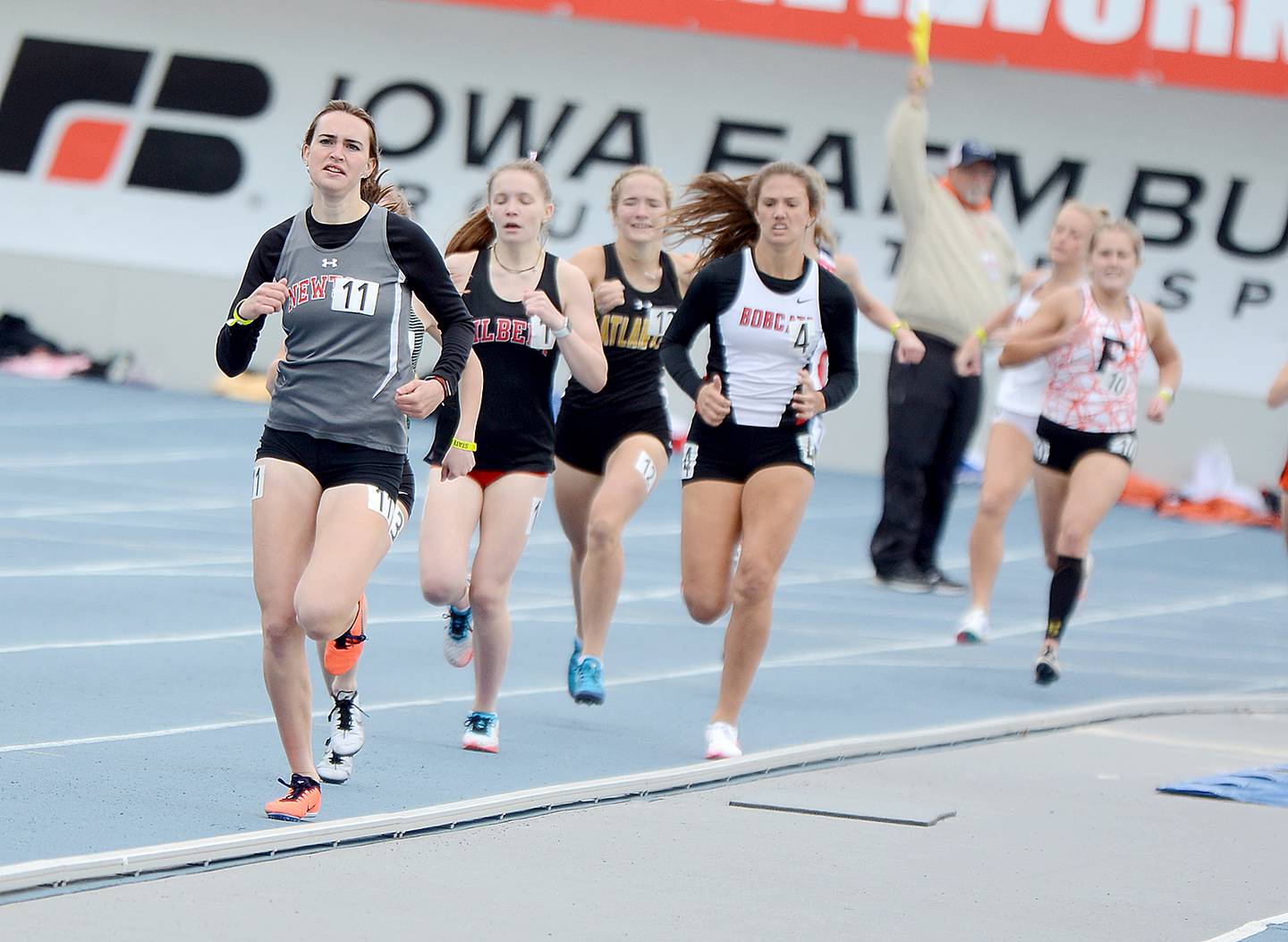 In Saturday's final, Terpstra began her leg of the race in second place but rallied her team to another win in the opening heat of the two-heat final.
The Cardinals' season-best time of 1:06.03 held up for a silver medal. Clear Creek-Amana won the race in 1:05.9.
"We went from 12th last year to second this year. It feels great," Priest said. "It's so good, we improved so much and our hard work paid off. I am so proud.
"We didn't want to come this far just to say we could have done better. We needed to give it our all on that track."
There is not a senior on the relay and hurdles have become events Tomas and co-head coach Rachelle Tipton can count on for big points every season.
"It feels amazing. And all four of us are back next year," Rorabaugh said. "Hopefully we can get better. We want to go to some camps in the offseason and maybe we can win it all next year."
Terpstra was around a hurdle behind in the final run but, like she's done so many times before, got her team into the lead before crossing the finish line.
"She wasn't that far away so I just bared down and went after it," Terpstra said. "I didn't think I wouldn't be able to get her.
"We know what we can do and we just went out and did it."
Shannon's 800 and 1,500 were sandwiched between the shuttle hurdle relay final.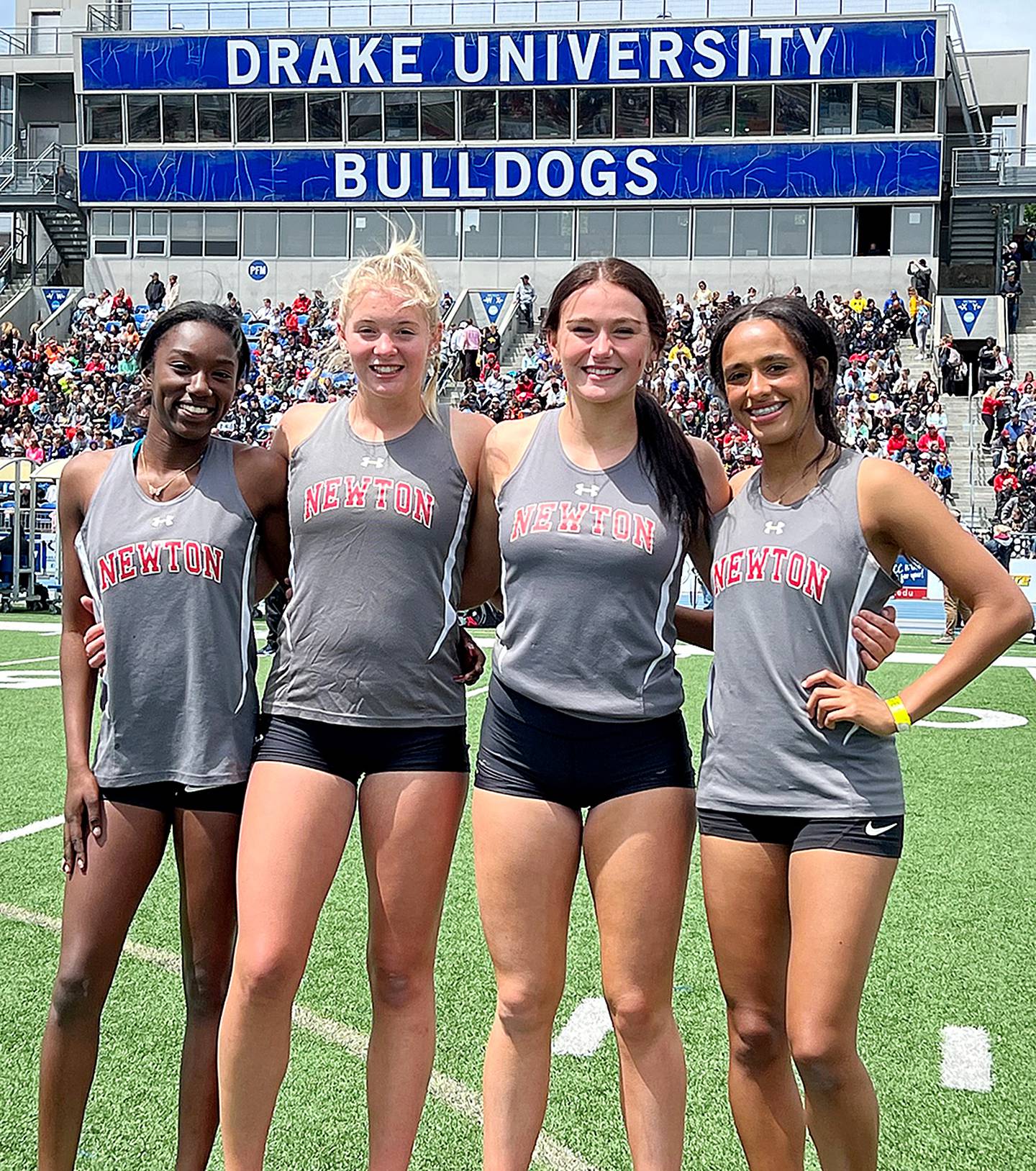 In the 800, Shannon finished ninth in 2:24.25, which is one of her best times of the season. Carlisle's Ainsley Erzen won the race in 2:10.07 and the final medalist was clocked in 2:22.52.
"Finishing ninth in both the 800 and 1,500 is tough, but we can't fault Alyssa's effort," Tomas said. "She will be missed next season."
Shannon started out super slow in the 1,500. Running in the back of the field, Shannon passed around 10 runners on the final lap to get into the top 10. She couldn't quite move up far enough to grab another medal.
Shannon ran a season-best time of 5:01.68 to place ninth overall.
Erzen ran a state-record time of 4:36.96 to win the event. Pella's Raegan Snider finished in 5:01.03 to collect the final medal.
"I was hoping for under five minutes. My legs are so tired. The field went out really fast. I was just dead," Shannon said. "I had way better times last year so that's kind of disappointing. But I got a medal that I didn't get last year. So that's good.
"I wish I would have medaled in all of them. It's better than last year though."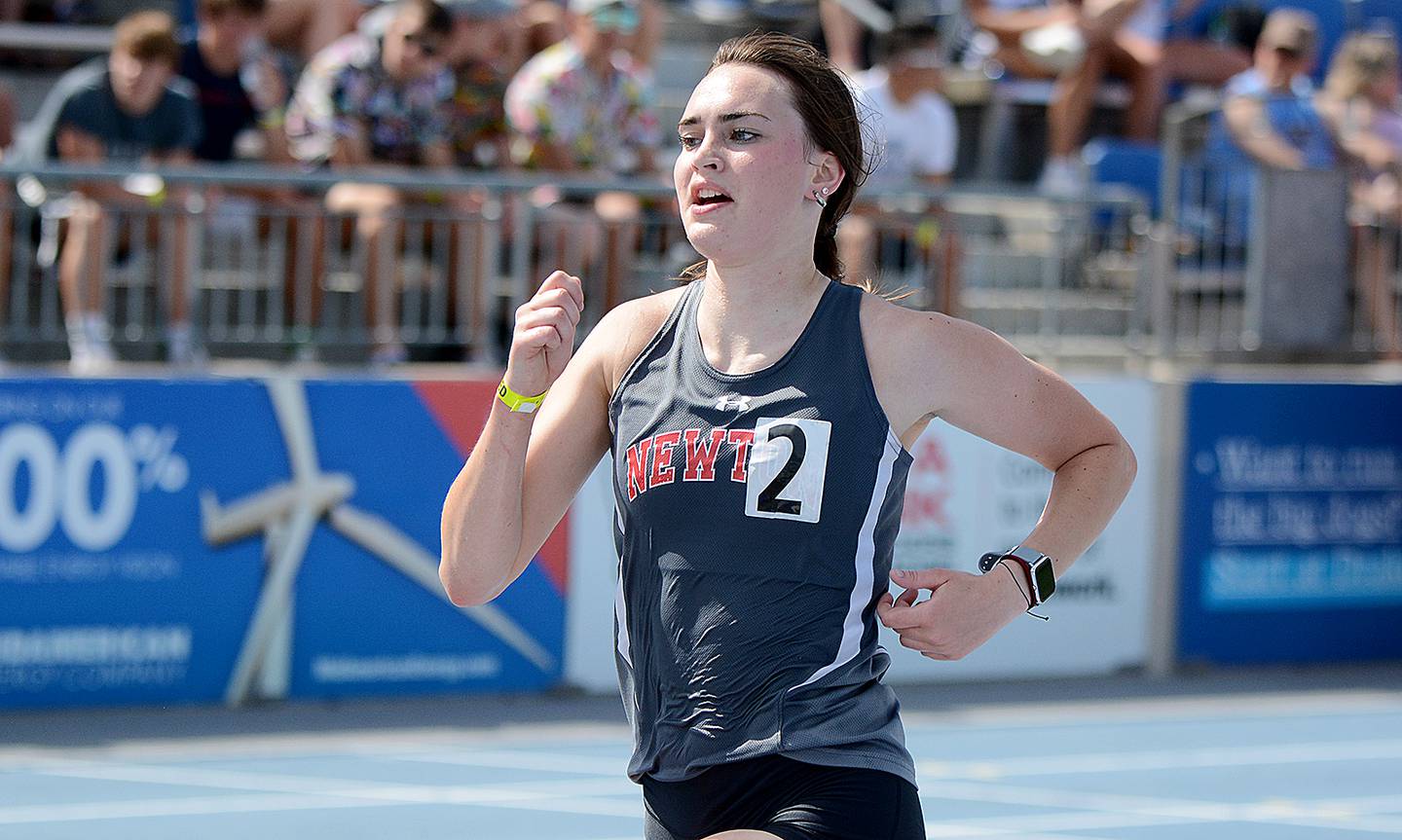 Terpstra's win in the 100 hurdles is Newton's first state champion since Sarah Kalkhoff won back-to-back discus titles in 2014 and 2015.
She came into the meet with loads of confidence and delivered on the biggest stage, running faster than 15 seconds twice.
It's not always a guarantee that the runner with the fastest time in 3A for the entire season caps the year with a state championship though.
"I feel accomplished. I didn't think I could do it," Terpstra said about running under 15 seconds. "I had confidence to win the entire time. I made it this far. And whatever happens was going to happen. All I can do is run my best race."
The Cardinals scored 22 points and tied Mount Pleasant for ninth place in the 3A team standings. It was the highest finish for Newton under Tomas and Tipton, which spans the past 12 seasons.
Solon won the 3A title with 84 points, while ADM (66) was second and Western Dubuque (51) finished third.