CORAVILLE — Newton junior Jessie Hutchinson is a state wrestling medalist once again.
For the second straight season, Hutchinson entered the Iowa Wrestling Coaches and Officials Association's Girls State Wrestling Championships and came home with a state medal.
Hutchinson highlighted the eight Cardinals who competed inside Xtream Arena this weekend. Newton had its best team finish to date, too, coming in 28th with 52 points.
"We brought eight wrestlers and everyone advanced in the bracket," Newton wrestling coach Adam Hale said. "Two advanced to Day 2 and three others were one win away from advancing to the second day."
Hutchinson placed sixth at 195 last season. This year, she moved down to 170 pounds, competed against a much larger field and finished eighth overall with a 3-3 weekend.
All three of Hutchinson's wins came by pin. Her three losses came against three other state medalists, including the runner-up in Southeast Polk's Bella Porcelli.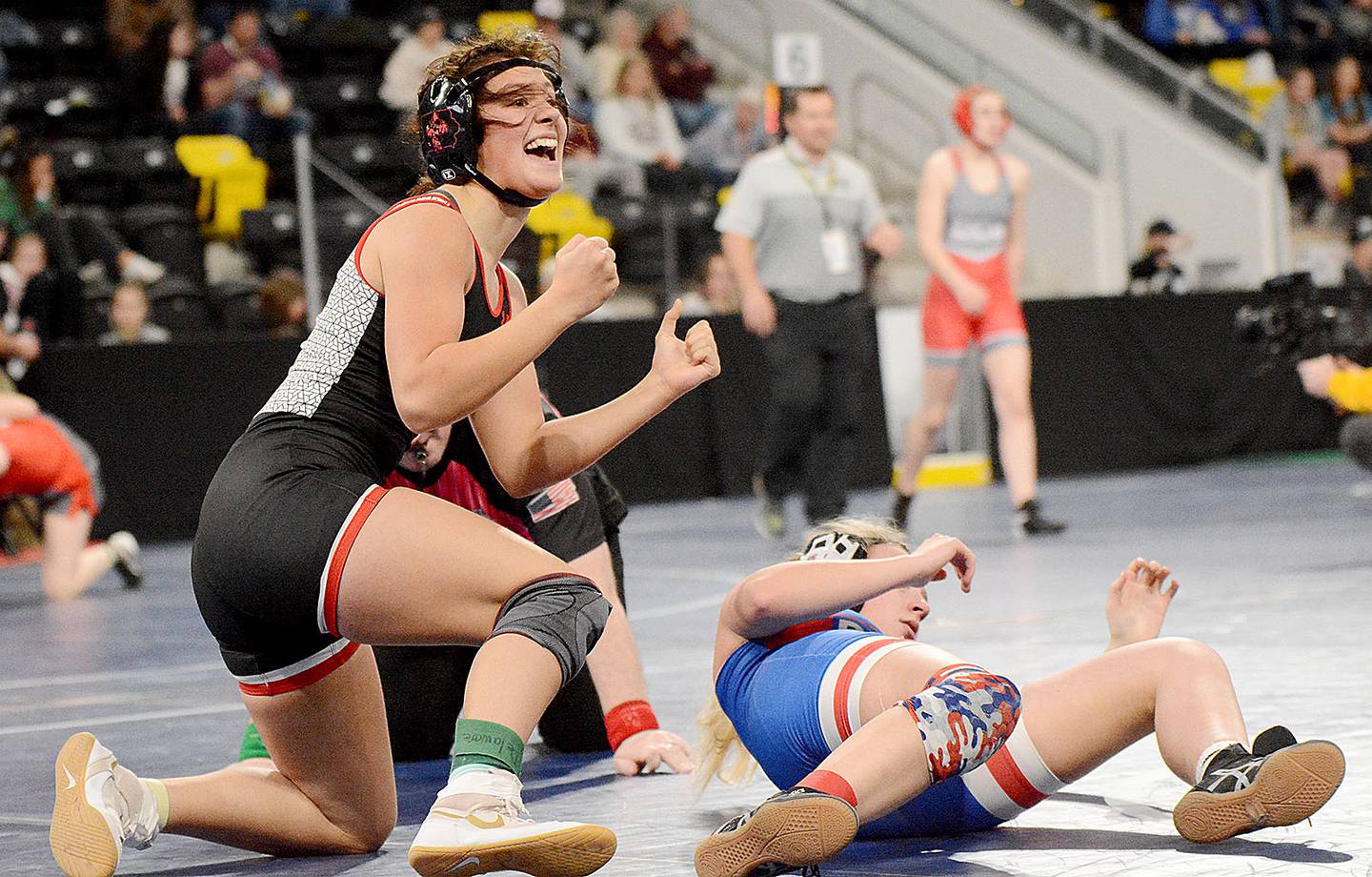 Hutchinson is the second Newton girl to medal twice, joining Grace Brown, who was the school's first two-time medalist.
"It's an honor to be here. Placing last year was awesome and doing it all over again was great, too," Hutchinson said. "I didn't have Grace here with me this time so that stinks, but her beating up on me made me better. She was a role model I looked up to."
Hutchinson and Hale agreed that this year's run by the Cardinal junior was tougher than last year's. There were more wrestlers in the field and the competition was better.
All three of Hutchinson's losses ended in pins but she was leading two of those bouts and just got caught in bad positions.
"She wrestled tougher this year and had a tougher and deeper bracket. There were some tough girls and she wrestled well," Hale said. "She's come a long way even this season from where she started.
"She needs to fine tune stuff. She was close to turning the Mount Vernon girl. We need to improve on the bottom and get a little tougher there. But she's a hammer on top and had both of those last girls turned at one point. She just needs to adjust as they adjust and that comes with mat time."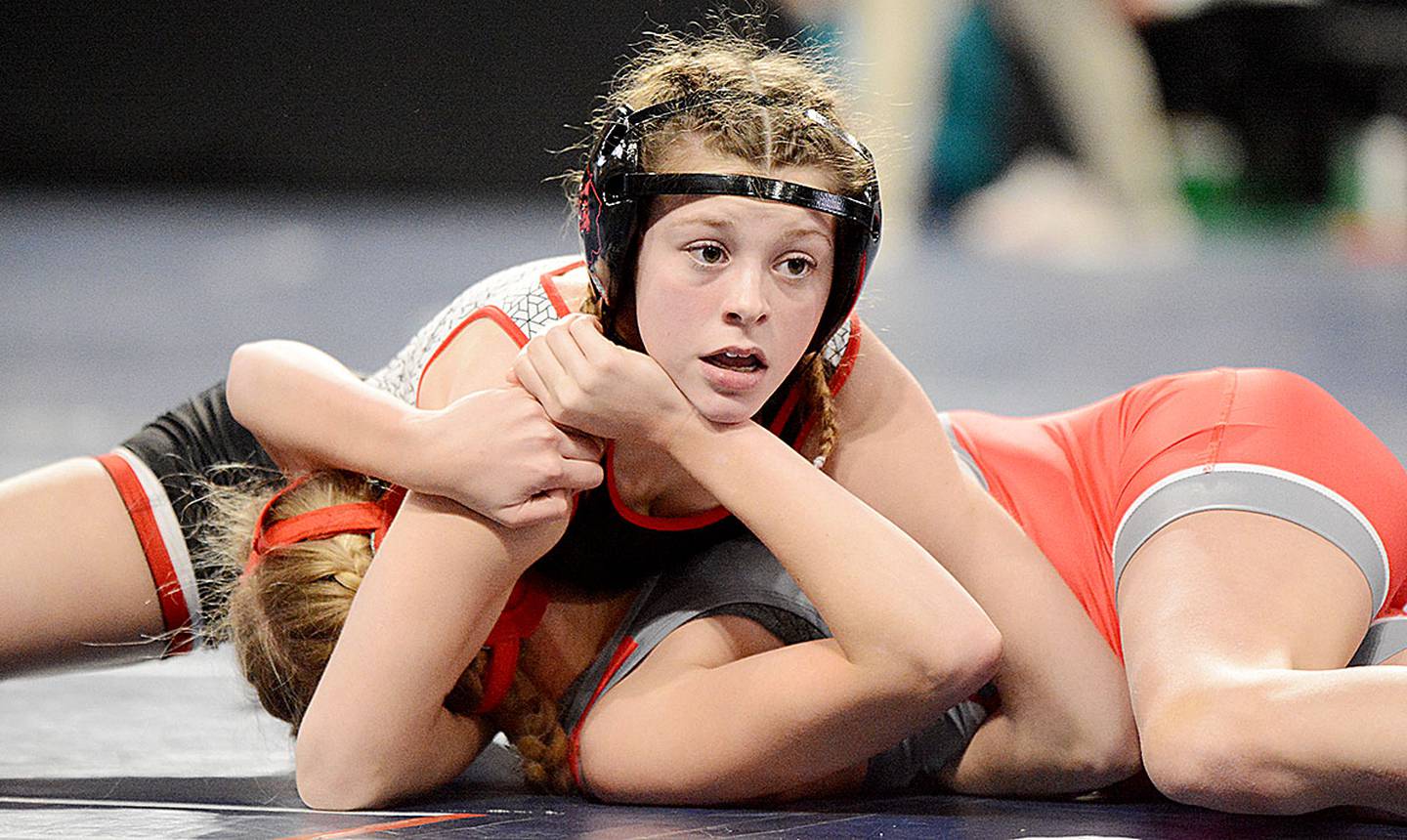 Mat time is the overlying thing Hale knows will help the girls team improve for future years. Perhaps they need to get a little meaner, too.
"Our girls have one or two years experience. Our most experienced wrestlers have two years of experience," Hale said. "We need more mat time to make up for the time they weren't involved in the sport yet.
"We'll get the girls in the weight room and find a way to make them a little meaner and they'll start to take a big step, too."
Two Cardinals made it to Day 2 of the tournament. Joining Hutchinson was Stella Cupples. She was 3-2 at 115, winning three times by fall. Her losses came against two wrestlers who would later earn state medals.
"She had a really good run. She was one win from placing and wrestled as well as I have ever seen her wrestle," Hale said. "She wrestled some tough girls. It was fun to see her have pieces of success against a really tough wrestler and we can always take things from losses."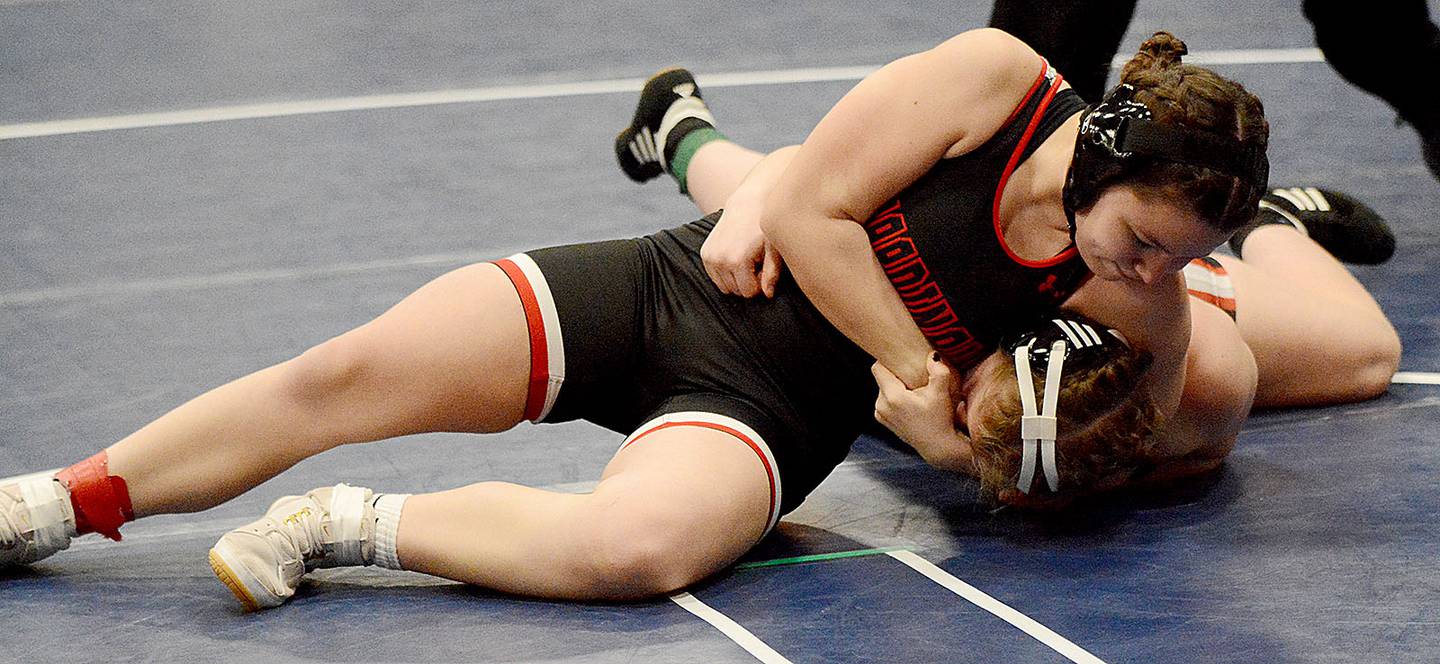 Emma Lopez-Garcia, who was one of the few Cardinals who wrestled in last year's state tournament, was 3-2 on the weekend. She won twice by fall at 135.
The other five wrestlers who competed for Newton were Brianna Aebischer (145), Claire Breuer (130), Anastacia Franco (115), Ella Machin (170) and Abby Chance (170).
Aebischer was 2-2 with one win by fall, Breuer, Machin and Chance all went 1-2 and Franco was 0-2.
"I am just proud of all of our girls," Hale said. "They came here and fought and improved from where they started at the beginning of the year."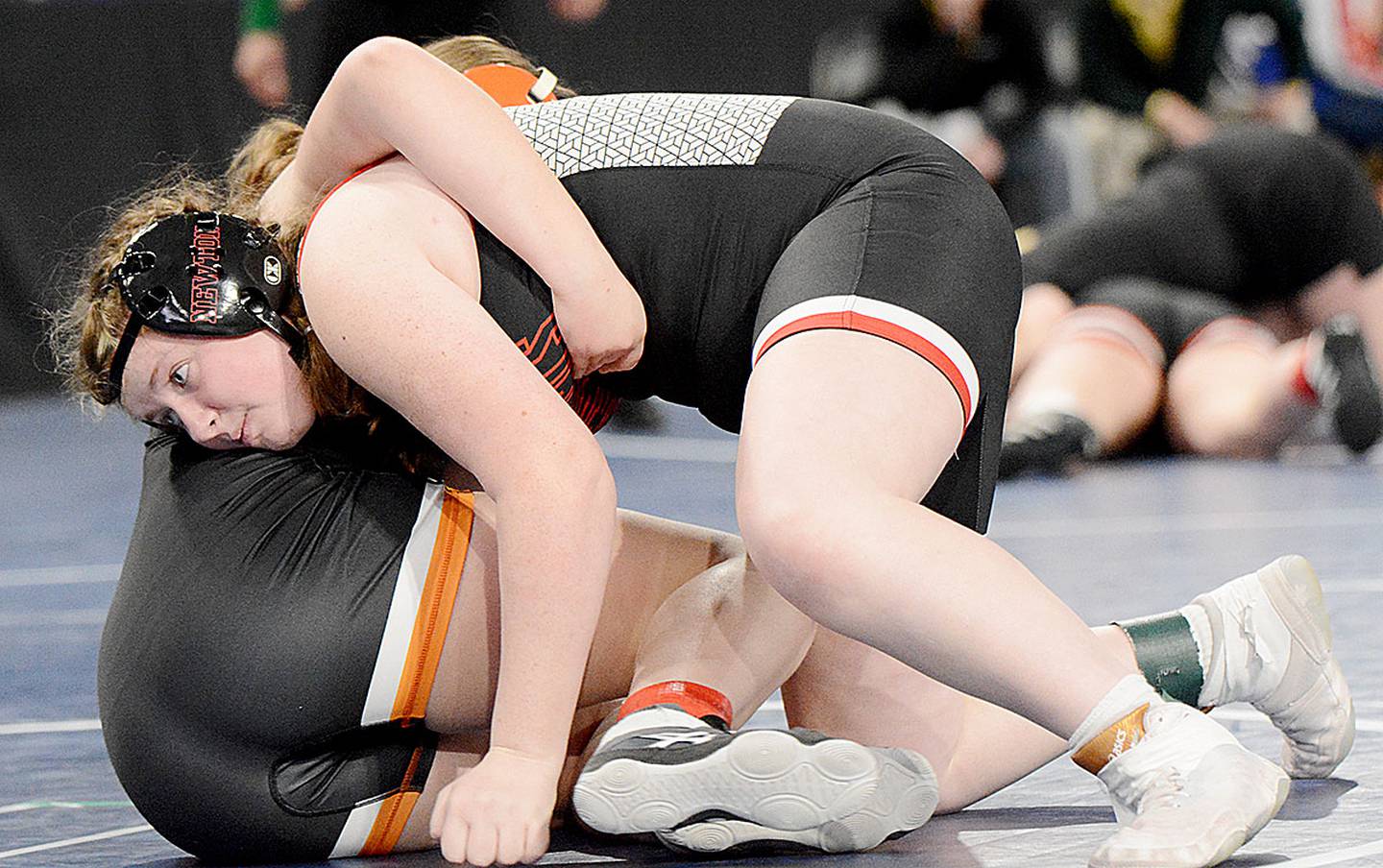 Lynnville-Sully's Elizabeth Elliott competed at the state tournament for the first time, too. She was 2-2 at 100 pounds, winning twice by fall. Her losses came against two wrestlers who finished in the top six.
Waverly Shell-Rock successfully defended its title, winning the tournament with 219 points.
Colfax-Mingo was the state runner-up with 159 and the rest of the top five included Osage (135), Bettendorf (133) and Decorah (124).