Adam Mattes wasn't thinking about his scoring milestone at halftime on Friday night.
Mattes had just two points in the game and Newton's boys basketball team was leading by only four points and the win was still in doubt.
But after piling up five in a row at the end of the third and scoring six straight later in the fourth, the crowd and Mattes' teammates were starting to get antsy.
As the win was getting closer and closer to becoming official, Mattes was given the opportunity late in the game to clear the 1,000-point barrier and he did so at the foul line with 20.2 seconds to play in the game.
"You want it to happen so bad, but it almost needs to happen organically. Otherwise you think about it way too much. I know he's been thinking about it for a while," Newton boys basketball coach Jason Carter said. "He really stepped up in the second half. We were struggling offensively and he came out hot in the second half and was aggressive. And he was a big part of why we pulled away."
Newton trailed by one after one quarter but led 23-19 at the break and outscored the Tigers 15-9 in the fourth during a 48-37 home win.
It was an important Little Hawkeye Conference victory as Class 3A substate assignments will be released on Friday.
"Obviously I hoped it would happen tonight, but it wasn't until the last minute that I focused on it," Mattes said. "We were up 10 and felt good about the win. I can maybe try to get fouled at that point."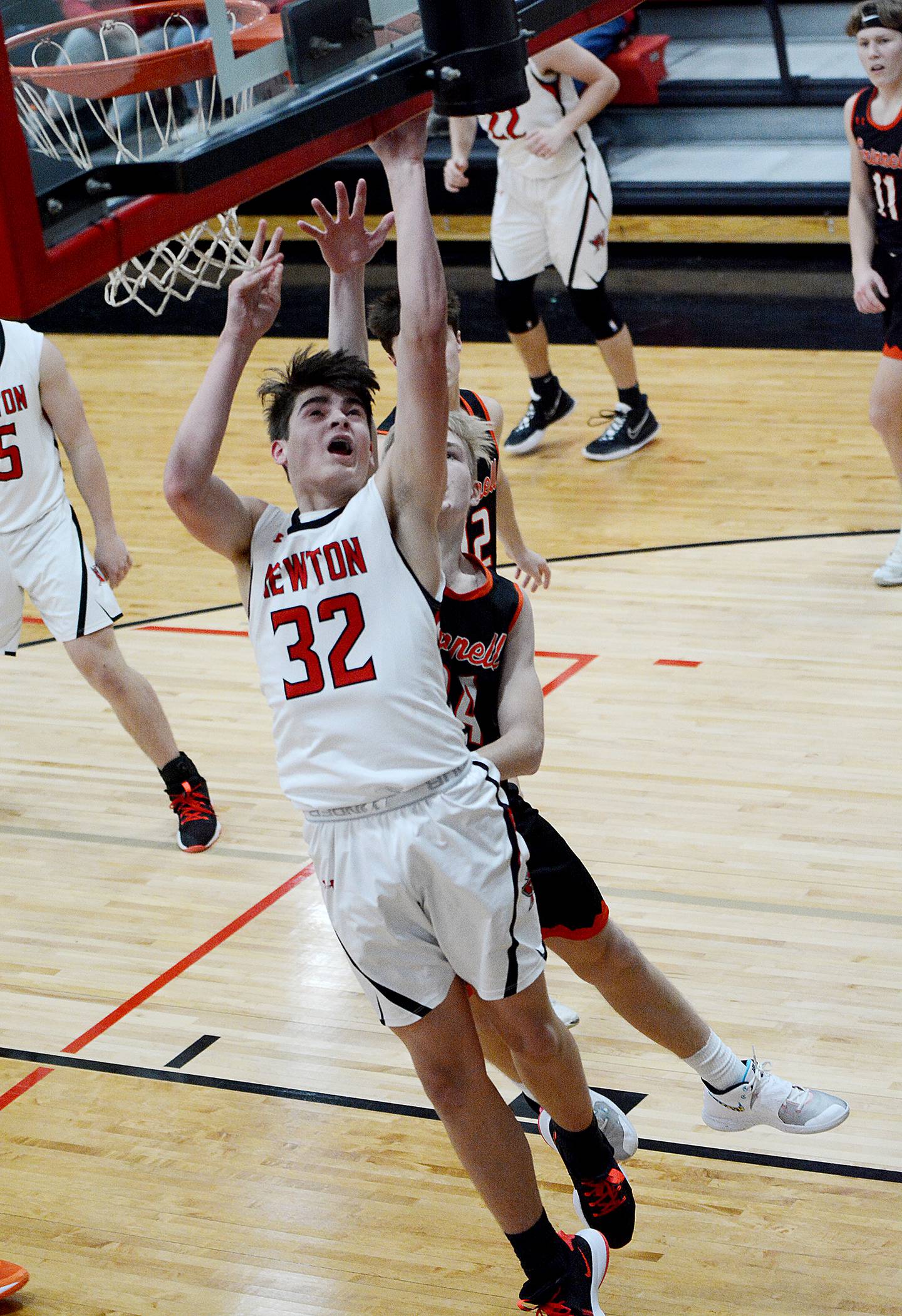 Mattes' 13-point second half pushed the Cardinals to a much-needed win. He finished with 15 points and four rebounds and got an assist from an opposing player in the final seconds.
"(Calvin) Jaworski told me when Tade (Vanderlaan) was shooting his free throws that I was two points away," Mattes said. "So I told him he should foul me so I can get it done. He responded by saying 'I got you.'"
Mattes was actually only one away from the milestone at that point and Jaworski's foul — his fifth and final of the game — put Mattes at the line with 20.2 seconds to play and he made 1-of-2 to end the drama.
"The win feels great, the atmosphere was great and the coaches are happy," Mattes said. "To be able to do this in my home gym means a lot.
"I have worked really hard over the years. I am proud of myself but want to give credit to my coaches and teammates, too."
The game overall was a low-scoring affair. The first meeting between these two teams went to overtime and neither squad reached 60 points. The latest affair featured even less points.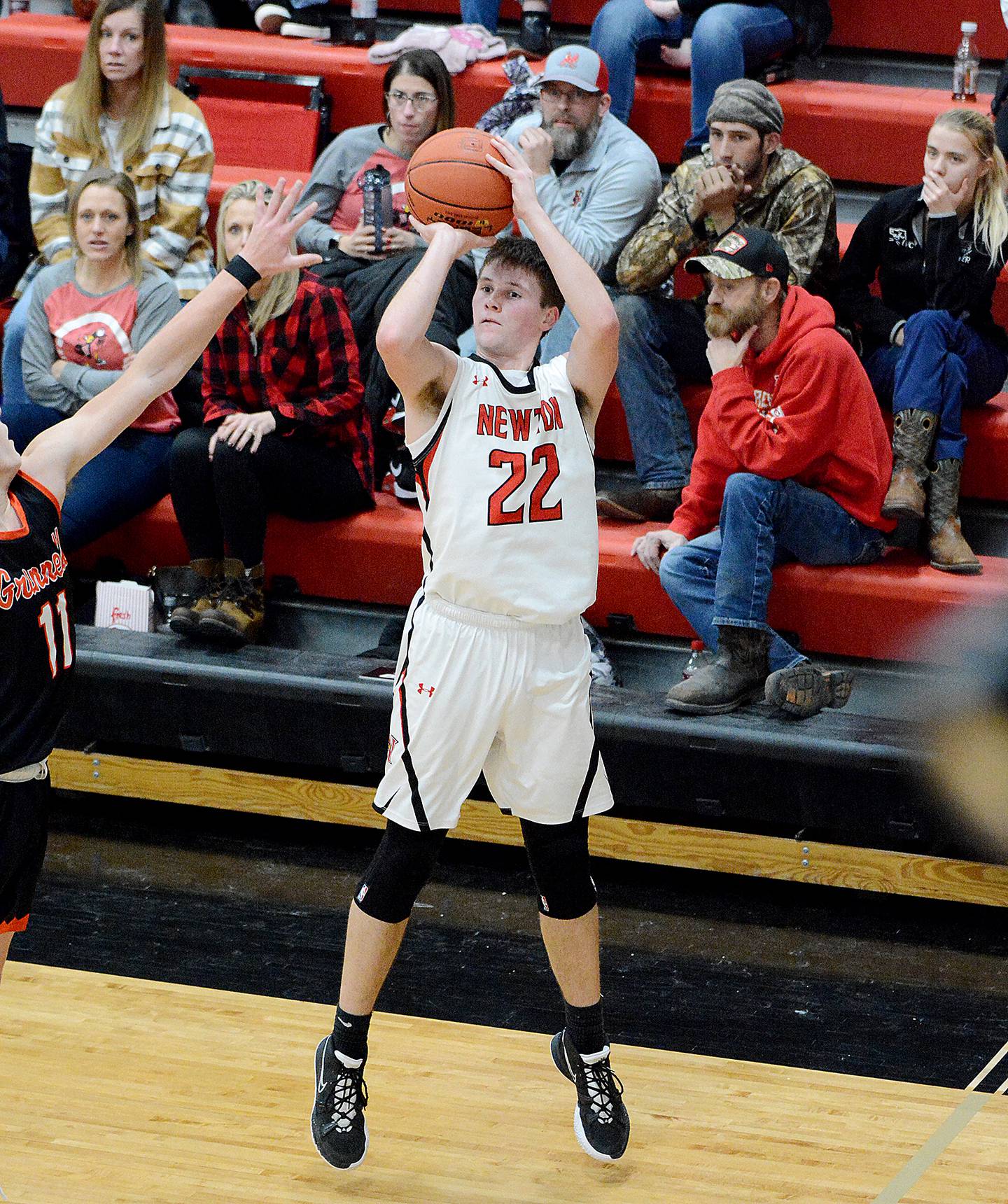 Grinnell (3-10 overall, 0-7 in the conference) scored nine points in three quarters and 10 in the second.
Newton reached double-digits in three periods and 15-point frames in the second and fourth were the difference.
"They muck it up a little bit. That's how they try to stay in games," Carter said. "They were super physical. We had seven fouls in the first quarter and then they didn't call a bunch. You were going to have to finish through contact in this one. They didn't call a lot around the rim.
"We stuck to what we were doing, kept grinding and were able to pull away."
Grinnell was ahead or tied for the entire first. A Tade Vanderlaan 3-pointer in the closing seconds made it 9-8 Tigers after eight minutes.
An 8-0 run in the second put the Cardinals (7-5, 4-4) in front. The first six of that spurt came from Jake Ingle. Vanderlaan buried another trey and added a spinning jumper to make it 21-19.
Mattes' only points of the first half came in the closing seconds and put Newton in front 23-19 at the break.
The Tigers rallied to take a small lead in the third. A 7-0 run by Jaworski pushed his team ahead 26-25, but Newton responded with an 8-0 run that included a trey by Ingle and a triple and layup by Mattes.
Jaworski made it 33-28 after three with a layup of his own.
Ingle and Mattes once again triggered a run in the fourth that decided the game.
After three straight from Jaworski, Ingle made a layup and six straight from Mattes put the margin at 41-31 wit 2:50 to play.
Carter said once the lead grew to 10, the team made it more of an emphasis to get Mattes to 1K. Carter called timeout before the final foul that put Mattes on the line and got him to the desired number.
"We were trying to get him the ball. But he wanted to win way more than he wanted to get the points," Carter said. "The Grinnell kid figured out what we were doing. Props to him for fouling Adam to give him the opportunity. It was really good sportsmanship on his part."
Ingle finished with 13 points, four rebounds, four assists and two steals. Vanderlaan registered a career-best 10 points and grabbed two boards and Cole Plowman tallied four points, 12 rebounds and three blocks.
Brody Bauer swiped three steals and Kacey Sommars grabbed three rebounds.
The Cardinals shot 32 percent from the floor, made 6-of-18 from long range and buried 14-of-18 from the charity stripe. They only turned the ball over 12 times.
Notes: Mattes is the fifth Newton Cardinal to reach the 1,000th point milestone. He joins Curt Greeley, Tyler Wood, Connor Gholson, and Garrett Sturtz.