SULLY — Lynnville-Sully's girls basketball team found success at the end of the first and second quarters on Tuesday.
That momentum helped the Hawks grab control of the game in the third frame and a big period propelled the home team to a 45-26 win over Tri-County during South Iowa Cedar League action.
The Hawks held a narrow six-point lead at halftime but broke the game open with a 17-5 surplus in the third.
"Our second half was better. We were able to execute our offense and make some shots," L-S girls basketball coach Jerry Hulsing said. "The defense was also better in the second half, limiting TC opportunities."
The two teams were tied at 8-all when L-S scored six of the final eight points of the first quarter to lead 14-10 after eight minutes. Greenlee Smock had a pair of layups during that stretch.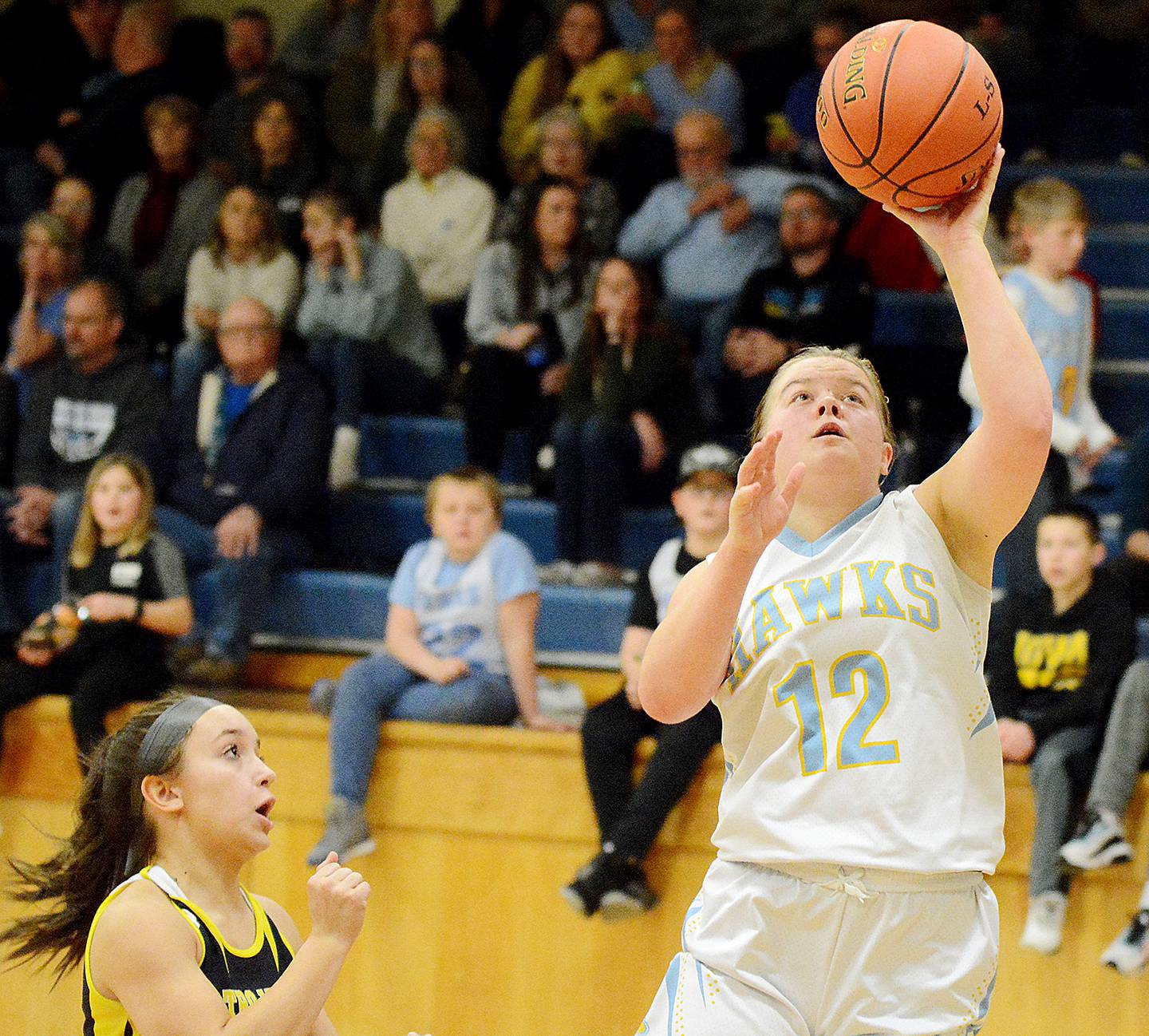 In the second, L-S senior starters Natalie Nikkel and Reagan McFarland both went to the bench with foul trouble.
Tri-County (3-9 overall, 1-8 in SICL play) closed the gap to 14-13, but L-S once again used a small run to create separation.
The Hawks ended the half on a 7-2 spurt and led 21-15 at halftime.
The offense got a little momentum during that final run. Smock buried a 3-pointer, Aubree Arthur scored inside on an inbounds play and Majesta Vos got two inside on a high-low lob from Arthur.
"We needed to do something. We had a flurry there that helped get us some momentum," Hulsing said. "When we executed, we got good looks. We may not have made them all, but they were good looks. One pass and shoot or one pass and turnover is not going to get it done."
Another Smock trey pushed the Hawks' lead to 10 in the third. Lynnville-Sully (8-7, 5-5) ended the frame on a 10-0 run as four different players scored baskets. McFarland connected on a pair layups.
"We started to work as one unit and started to run our offense a little better. We got some fast break points in there, too," Hulsing said of the dominant third quarter. "When we go off script, we tend to stand and watch. We executed a lot better in the second half."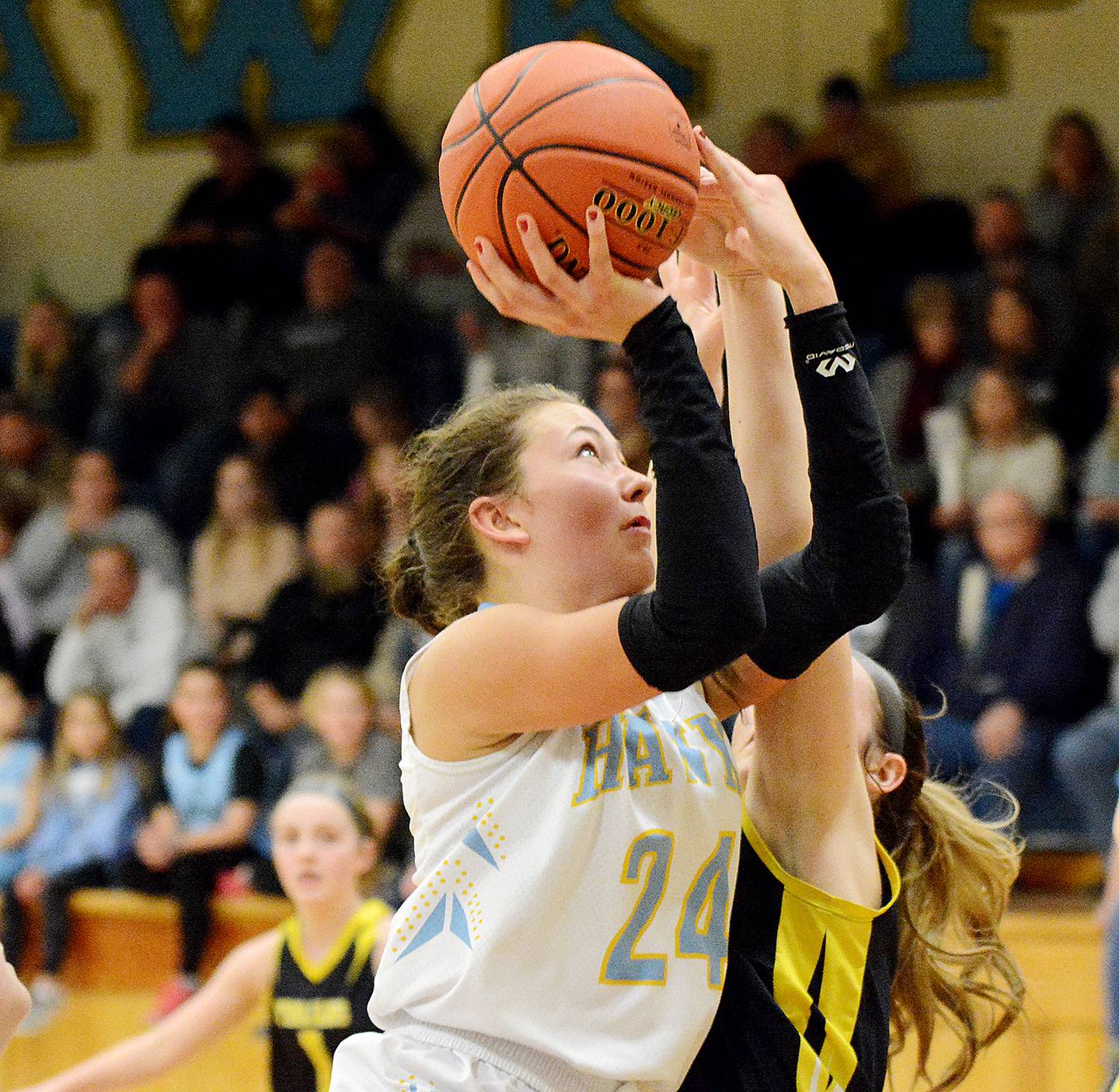 The third-quarter advantage was all L-S needed to secure the win. The Hawks won the fourth 7-6 and McFarland scored the final four points of the game.
She finished with 12 points, three rebounds, two assists and four steals in the win, while Smock led the Hawks with 13 points, eight rebounds, two assists and six steals.
Vos added six points and six boards, Elise Alberts chipped in five points and two rebounds and Nikkel grabbed five rebounds.
Brooke Conover led the reserves with four points, six rebounds and two steals. Arthur registered four points and five rebounds and Alexy Conover dished out a pair of assists.
The Hawks shot 30 percent from the floor, 3-of-17 from 3-point range and 4-of-13 from the free-throw line.
L-S turned it over just 12 times, scored 30 points in the paint and converted 23 Tri-County turnovers into 18 points.
The Trojans shot 21.6 percent from the field and 1-of-11 from the 3-point line.