COLFAX — Colfax-Mingo's young boys basketball team took a step forward on Tuesday night.
The Tigerhawks were within striking distance after three quarters against Class 1A No. 2 Montezuma and a better shooting night resulted in a much better overall effort in a 63-50 South Iowa Cedar League loss to the Braves.
Three players scored in double-figures and the Tigerhawks buried 10 treys but couldn't overcome a huge night from all-state center Eddie Burgess.
Burgess finished with 27 points, 17 rebounds and nine steals for the Braves, who outscored C-M 18-11 in the fourth. It was a six-point game through three frames and tied at 10-all after one.
Cael Bracewell finished with 12 points, three rebounds, three assists and two steals in the loss. He was 4-of-6 from long range.
Cole Bracewell added 11 points, three rebounds, three assists and four steals. He was 3-of-5 from 3-point range and moves into the top five all-time at Colfax-Mingo for career made treys.
Brandon Kite also scored 11 points and finished with eight rebounds, two assists and two steals, Joe Earles registered eight points, three rebounds and three assists and Colton Lind dished out three assists.
Carter Gibson and Trey Hockemeier each grabbed three boards.
Colfax-Mingo (1-3 overall, 0-3 in the SICL) shot 46.5 percent from the floor but committed 25 turnovers. The Tigerhawks missed the only two free throws they attempted.
Montezuma (4-0, 3-0) got 13 points, six assists and six steals from Masin Shearer. The Braves were 5-of-24 from 3-point range and 6-of-9 from the free-throw line.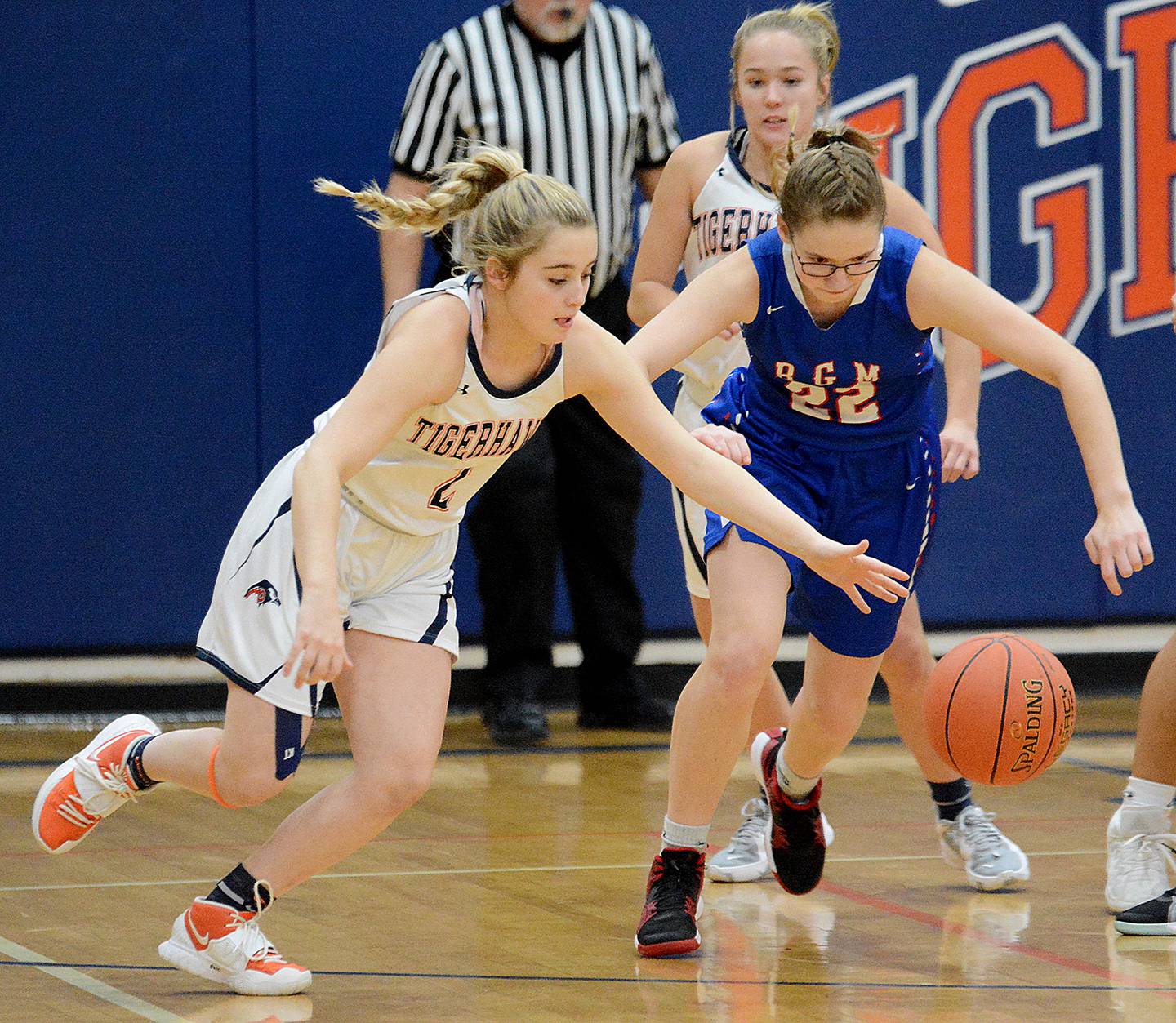 GIRLS
Montezuma 65, Colfax-Mingo 23
The Class 1A No. 10 Bravettes jumped out to a big lead in the first quarter, drained 11 3-pointers and dominated the Tigerhawks, 65-23, on the road.
Montezuma led 27-4 after one and outscored the Tigerhawks 34-13 in the second half.
Abi Rawlins had six points, three rebounds and two assists to lead the Tigerhawks. Madison Riddle had five points and four rebounds, Carley Underwood added four points and two boards and Caylee Cunningham pulled down five rebounds and swiped two steals.
Charlotte Donahue collected three points and two rebounds, Kyra Lester grabbed three boards and dished out two assists and Devan Chadwick scored three points.
The Tigerhawks (2-3, 1-2) shot 25.6 percent from the floor, made 2-of-13 from long range and was 1-of-6 from the line.
The Bravettes (5-0, 3-0) got 18 points and eight rebounds from Shanae Wetering. They out-rebounded Colfax-Mingo 32-22 and made 11-of-22 from deep.