MARSHALLTOWN — One day after four swimmers set career-best times in individual events, the Aquagirls returned to the Linda Bloom Natatorium at the Marshalltown YMCA on Saturday and registered four top-10 finishes at the Iowa High School Girls State Swimming Championships.
Senior Hannah Nedder capped her NCMP career with a podium finish in the 100-yard butterfly and helped the Aquagirls finish ninth or 10th in all three relays.
The Newton-Colfax-Mingo-Pella girls swim team placed 14th in the final team standings, scoring 61 points on the weekend.
"When you say it like that, four events today and all four were top 10, and to come in with one class, that's great," NCMP head coach Sarah Patterson said. "They had fun. They swam relaxed, didn't get tight or nervous and banded together like they have all season. I'm thrilled. This has been one of the best final stretches of a season for our program if not the best."
Nedder led the way with her fourth-place finish in the 100 fly. Nedder and junior Lillie Ray also were part of all three relays.
The Aquagirls started the day by setting a new school record in the 200 medley relay. The foursome of junior Maylei Ruggles, senior Alexa Heiar, Nedder and Ray finished ninth overall.
The 200 and 400 freestyle relay teams each placed 10th.
"It feels amazing. Two school records is unbelievable," Ray said. "I don't ever come into a season hoping to break a record. That's not a goal I set. I didn't know that was even possible. I'm just grateful for my team, how hard we've trained and to be able to get to where we are today."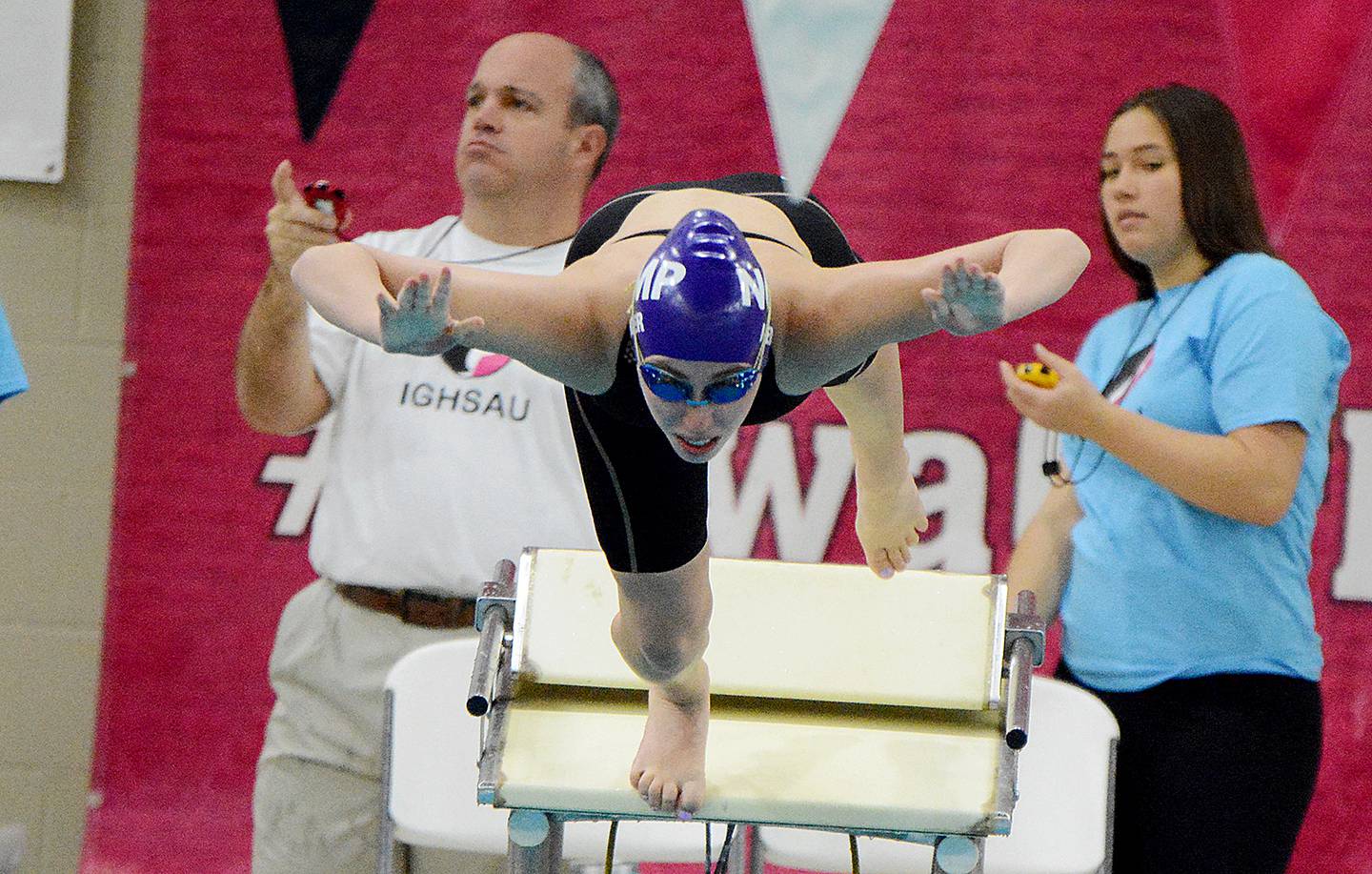 Nedder came in to the state meet with the third best qualifying time and swam to a third place finish on Friday in the 100 butterfly preliminaries. She wasn't quite as fast in the finals but still reached her goal of a podium finish and was just one spot down in the order.
Her fourth-place time was clocked in 57.45 seconds. Iowa City West's Scarlet Martin won the race in 53.44.
"The race didn't feel as good as yesterday, but it was still a great time and I was happy with where I placed. It was fun," Nedder said.
Patterson said Nedder's climb to a podium finish had a lot to do with a few changes the coaching staff made and Nedder was receptive to throughout the season.
"Her goal was to be on the podium and she did that," Patterson said. "She worked hard on the little things this year and that's what I'm most proud of. She wanted to get better, and it was the little things and attention to detail that helped. She is so coachable, too."
NCMP's day started with a bang. The foursome of Ruggles, Heiar, Nedder and Ray registered a school-record time of 1 minute, 49.95 seconds to place ninth in the 200 medley relay. The foursome came in with the 13th best qualifying time.
The Aquagirls were just .01 seconds back of West Des Moines Valley (1:49.94) for eighth, while Davenport Central (1:49.68) and Pleasant Valley (1:49.62) were closely in front, too.
Ames won the 200 medley relay in 1:44.14. Waukee was the runner-up in 1:44.17.
"It was super exciting. The first event of the day to set another record, that makes me so happy," Patterson said. "We hadn't broken a relay record in a while so to get two is exciting."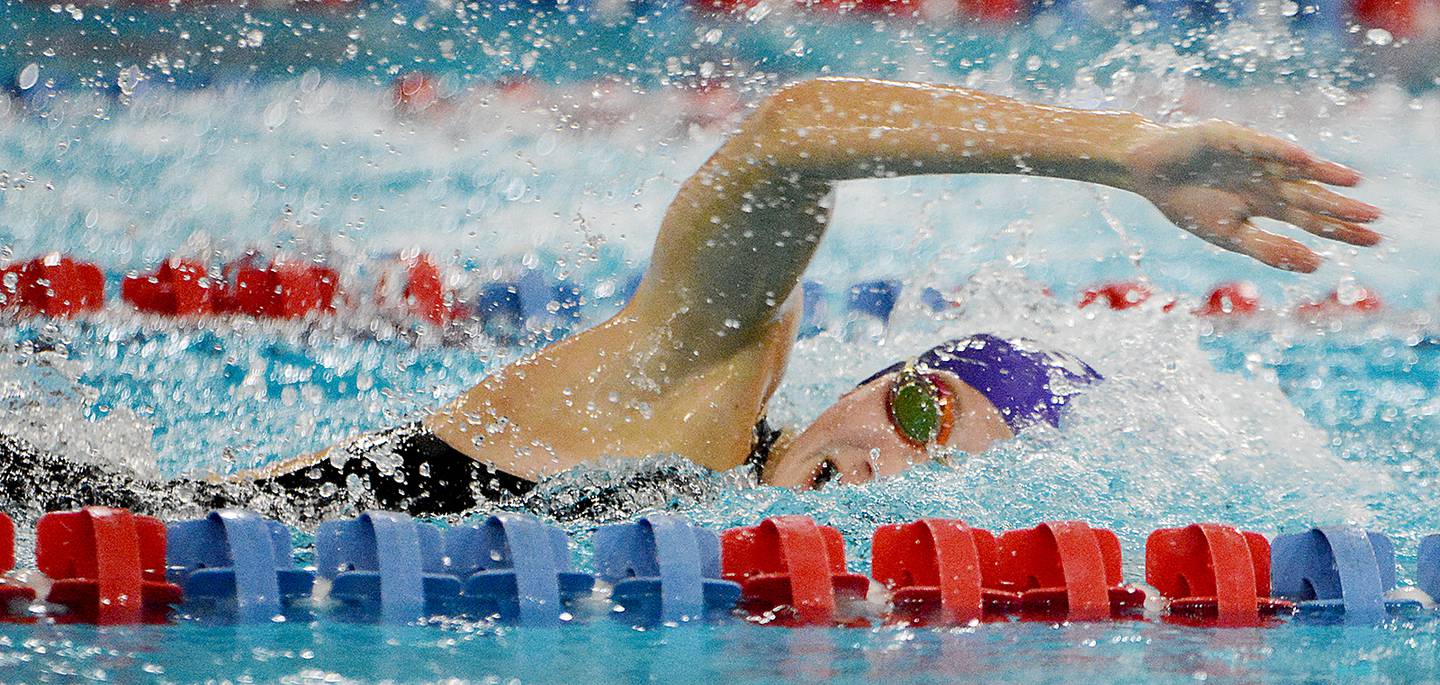 The 200 freestyle relay was made up of Heiar, senior Maggie Garrett, Ray and Nedder and they placed 10th in 1:40.03. Four schools were in the 1:40s and Ankeny was ninth in 1:39.86.
Ames won that relay, too, in 1:35.00 and Waukee was the runner-up in 1:35.37. NCMP came into the state meet with the 11th best qualifying time.
"I know I gave it my best effort one last time for my teammates, which was an amazing experience to have," Garrett said. "Our hard work is showing obviously in our times. I think we did our absolute best."
The 400 freestyle relay came in 10th and finished 10th. That relay featured Nedder, freshman Peyton Ray, Lillie Ray and Ruggles and they hit the wall in 3:39.68.
Waukee won the relay in 3:28.09 and Iowa City West was second in 3:28.28.
The 400 freestyle relay team set the school record at regionals and finished right where they started at the state meet. Three of those swimmers — Ruggles and the Ray sisters — will be back next season.
"I can't believe my freshman year I'd be on the record board and our relays would be so good," Peyton Ray said. "It's really cool to share it with (my sister), too, and we get to do it again next year."
NCMP was the smallest program in the top 15 of the team standings. The Aquagirls were 14th with 61 points.
Waukee won the team title with 357 points. The rest of the top five included Ames (260), Iowa City West (216), Dowling Catholic (215) and Ankeny (168).
Lillie Ray, Peyton Ray and Ruggles all are back next year. But the Aquagirls will have to replace a strong senior class that included state qualifiers Nedder, Heiar and Garrett and state alternates Grace Benson and Lauren Zaabel.
"The legacy the seniors left this team was amazing," Patterson said. "We preach it and we teach it, but it really gets passed down by the kids. The kids have to buy in. This group was fantastic and they certainly passed things down to the next senior class."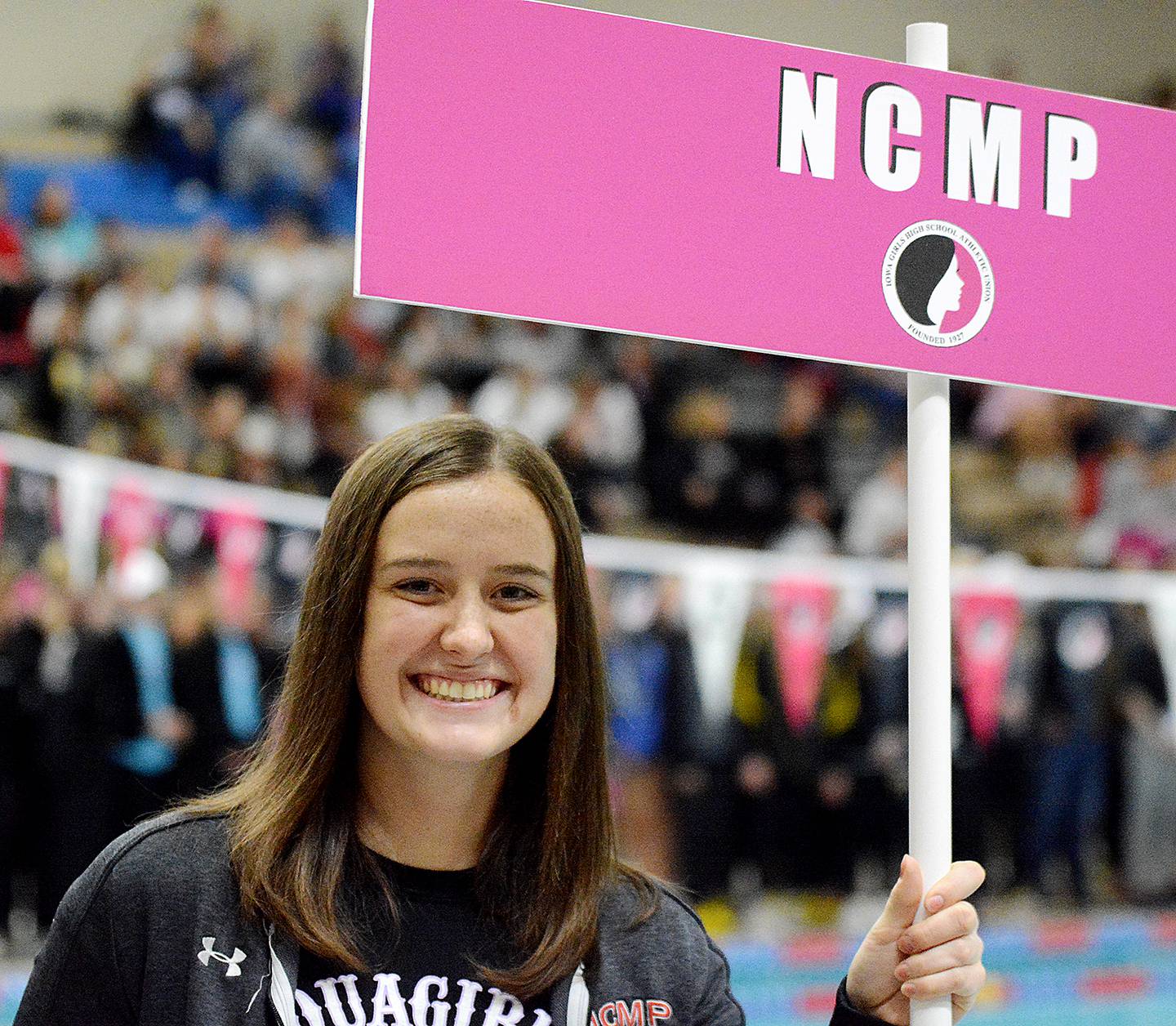 Garrett took a bit of time after her final swim in the 200 freestyle relay to take in her final prep performance.
"I really can't believe this is it," Garrett said. "I got out of the pool that last time and just looked around at the whole crowd. Wow. This is the last time I get to swim in this pool. It's crazy."
Notes: NCMP assistant coach Hannah Scotton was part of all three school-record relay teams coming into the season. She now is part of just one after swimmers she helps coach broke two of them. … NCMP had not broken a relay record in at least six seasons prior to this weekend, according to Patterson.