ANKENY — Hannah Nedder might still be questioning it.
Even though she was told by her coaches and teammates multiple times over, the Aquagirl senior still can't believe it.
The Newton-Colfax-Mingo-Pella girls swim team capped a banner day with an impressive performance in the 400-yard freestyle relay on Saturday. A performance that ended with a new school-record time and a performance Nedder still quite comprehend.
"That wasn't even on our radar. We weren't really close to that coming in," Nedder said. "I didn't believe it at first and still don't believe it really. But it was amazing."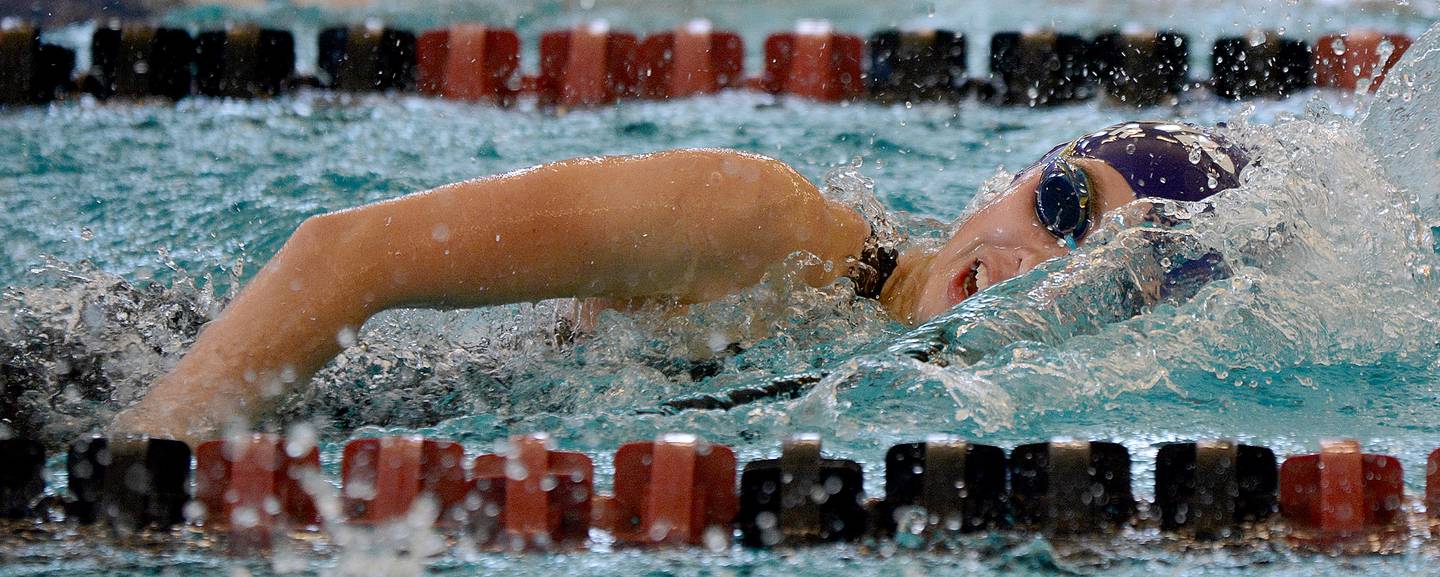 Nedder led the Aquagirls to a runner-up finish at the regional swim meet at the Trail Point Aquatics & Wellness Center on the campus of Des Moines Area Community College.
Nedder claimed the team's only regional championship, but the Aquagirls also advanced to next weekend's state meet in all three relays and three other individuals claimed at-large berths.
No. 16 NCMP scored 342.5 points in second place. Only third-ranked Ankeny with 541.5 was better. No. 24 Mason City (315), No. 26 Southeast Polk (277) and No. 30 Cedar Rapids Jefferson (202) rounded out the top five of the 10-team field.
NCMP finished second despite having zero entries in Thursday's regional diving meet.
"To finish second to a team like (Ankeny) and to be up in the 300s at a district meet was awesome," NCMP coach Sarah Patterson said. "I am so proud of them. They wanted second. It was important to them and they went after it."
All three NCMP relays enter the state meet with a top-15 qualifying time.
Nedder's regional title came in the 100 butterfly and she will be joined in the event at state by Maylei Ruggles. Alexa Heiar also clinched a spot at state in the 100 breaststroke and Lillie Ray secured her at-large ticket in the 50 freestyle.
The regional champions in each event were automatic qualifiers into next weekend's state meet at the Marshalltown YMCA. There are 26 at-large berths given out for each event, bringing the state total to 32 entries per event.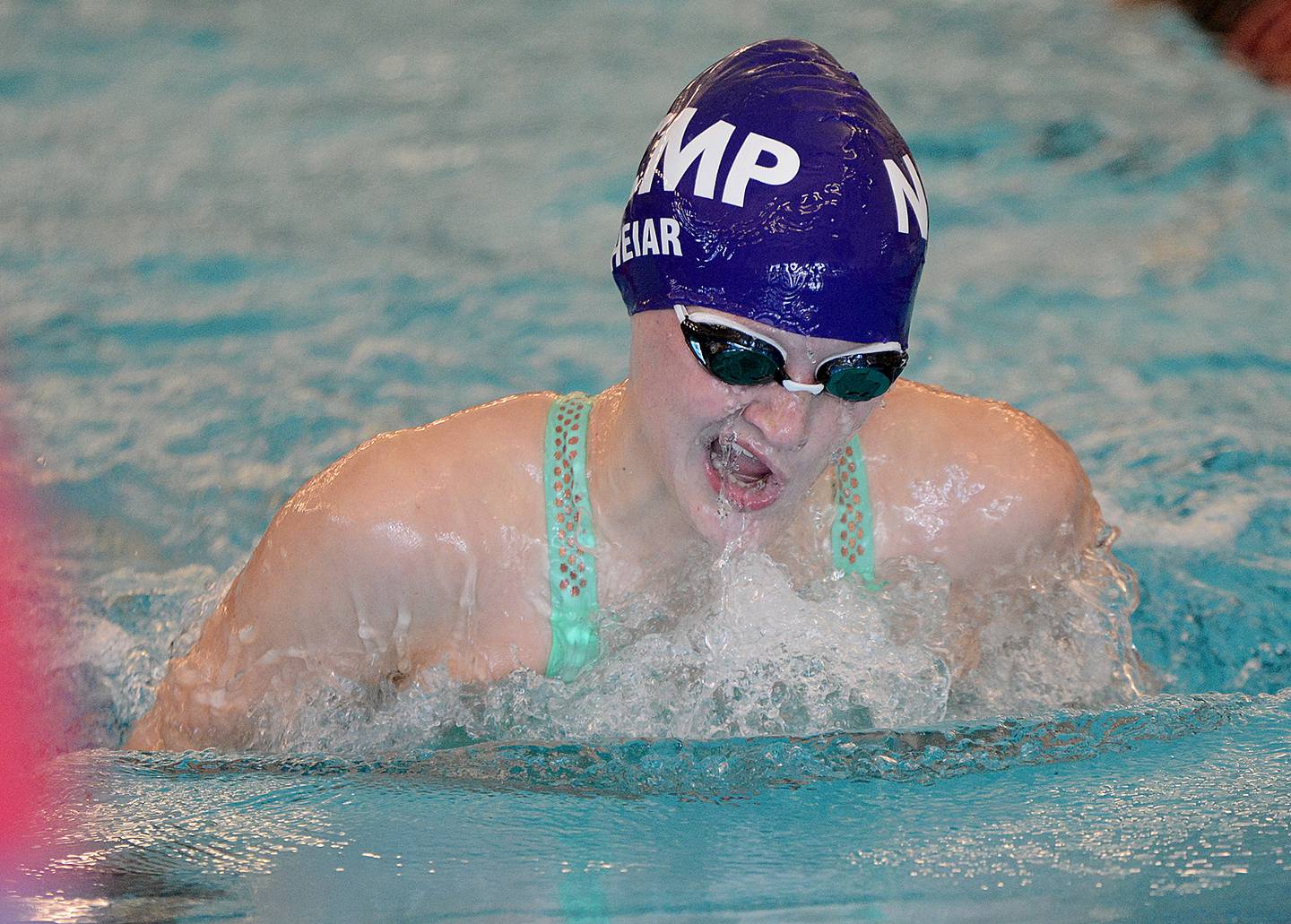 While NCMP locked up seven state entries, the Aquagirls recorded season- or personal-best times in all three relays and 23 individual races.
"Every single swimmer had either a season-best or a personal-best time," Patterson said. "And for the kids who are juniors or seniors to swim a personal-best is huge."
Nedder's personal-best time in the 100 butterfly was clocked in 57.69 seconds. That was a season-best time by around 1.5 seconds and good enough for the third best qualifying time in the state.
Ruggles secured her at-large berth in the 100 fly with a personal-best time of 1 minute, 1.79 seconds. She placed fourth in the event.
"It felt really good. We have really worked on underwater stuff this year, which we haven't focused on before," Nedder said. "I think it helped us get a little bit faster."
Heiar was the regional runner-up in the 100 breaststroke with a personal-best time of 1:08.11. She started the season at around a 1:15 and dropped two more seconds in the pool on Saturday.
"I saw the time and I was astounded because of how much work not only me but the team has put in this season," Heiar said. "It was amazing to see that time and to just know how much time I have dropped this season."
Heiar's 1:08.11 was good enough to hit the state's qualifying standard, too.
"I started the season at 1:15 or 1:16. I had no clue if was going to reach that 1:08," Heiar said. "Getting that time was one of the most amazing feelings looking back and seeing my team hyped for me, it was so amazing."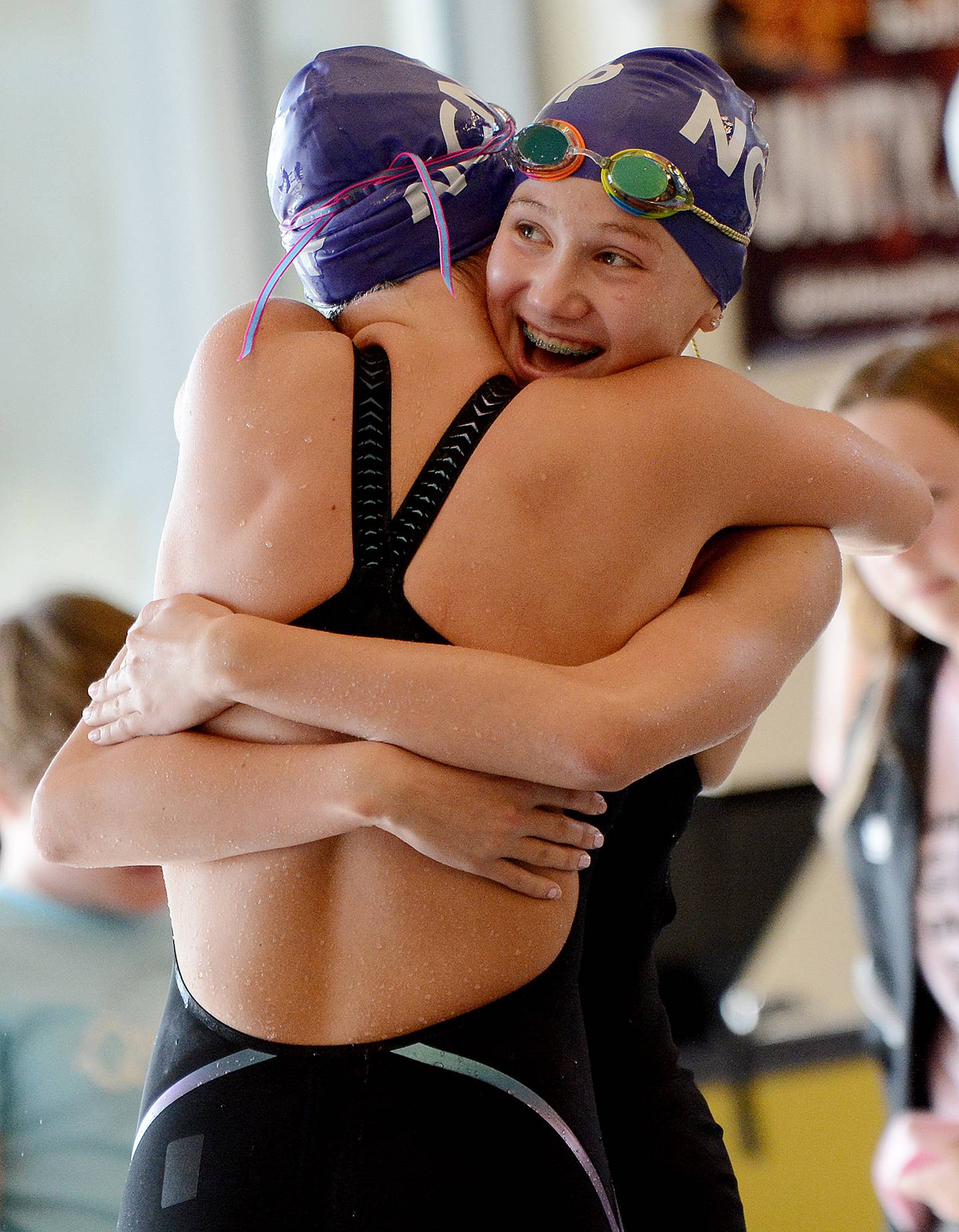 Lillie Ray scored the other individual at-large berth, placing fourth in the 50 freestyle with a time of 25.23 seconds. Heiar finished sixth in 25.43, which was 0.05 seconds off the final at-large berth.
Nedder, Ruggles, Ray and Heiar all were part of the relay teams, too.
The highlight of the night came in the 400 freestyle relay. Nedder, Peyton Ray, Lillie Ray and Ruggles set a new school record with a time of 3:38.26. The runner-up team recorded a near 6-second time drop.
"It was so exciting. We were actually thinking we might get the 200 freestyle relay record. That was the one we set our sights on," Lillie Ray said. "I can't even describe the feeling I had after I looked over at the coaches and they told us we just broke the record. I was shocked."
The record will be even more special to Lillie Ray because she gets to be put on the wall next to her younger sister.
"I remember my sister and I talking about how we'd have to drop too much time in the 400 relay to get that one. We thought there was no way," Lillie Ray said. "It's very special. It's super exciting and I am very proud of (Peyton) and very proud of all of us. We have been working very hard for that."
Nedder and Lillie Ray will be on all three state qualifying relay teams.
The 200 medley relay opened the day and the foursome of Ruggles, Heiar, Nedder and Lillie Ray placed second with a season-best time of 1:50.68. That was a time drop of more than 4 seconds.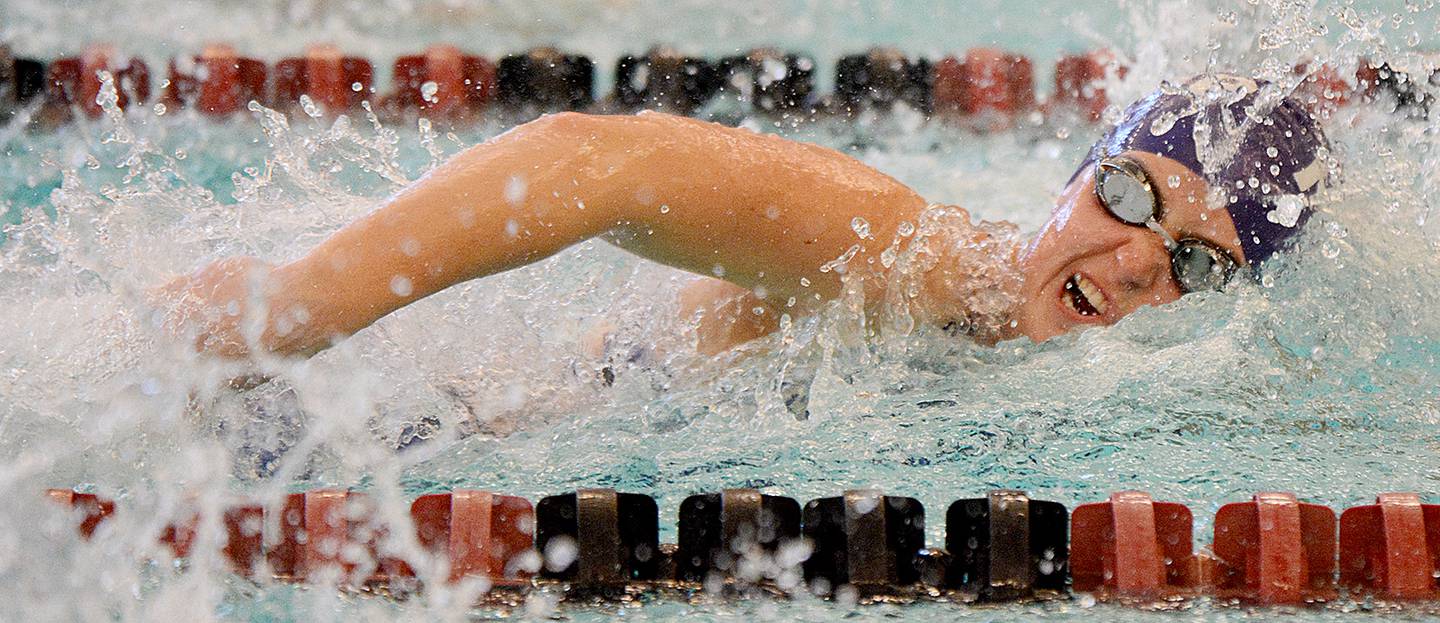 The 200 freestyle relay included Heiar, Maggie Garrett, Lillie Ray and Nedder and they finished second in 1:39.68. That was a time drop of 3 seconds.
"It's a little unscientific," Patterson said of the team's approach to the end-of-the-season training. "This is what is supposed to happen and it worked. They encourage each other and race in practice every day, too. That's critical to our success."
The top six finishers in each event at the regional meet earn a spot on the medal stand.
Peyton Ray grabbed the other medal with a fifth-place finish in the 100 freestyle. She was clocked in a career-best time of 56.61 seconds, which fell short of the final at-large berth by .52 seconds.
Peyton Ray also was seventh in the 200 freestyle with a career-best time of 2:06.72. Lauren Zaabel finished eighth in the event in a season-best time of 2:09.06.
Alex Riney placed seventh in the 200 individual medley in a career-best 2:26.05, Ruggles placed seventh in the 100 backstroke in a season-best 1:04.11 and Anna DeVries collected an eighth-place finish in the 500 freestyle with a career-best time of 5:57.03.