Heartbreaking doesn't begin to describe Newton's loss to Clear Creek-Amana on Friday night.
The Cardinals came all the way back from a three-touchdown hole to take a lead with less than 5 minutes to play only to have the Clippers score a game-winning touchdown with 1:53 to play in the game.
The 49-48 win by CCA in the Class 4A District 4 finale for both teams sent the Clippers into the postseason and ended the Cardinals' hope for a playoff berth.
"I'm so proud of our kids," Newton football coach Andy Swedenhjelm said. "We just talked at halftime about how we were trying to do too much. We just needed to relax and come out and fight as hard as we can. That's all we can do with our backs against the wall and they responded."
Newton trailed 21-7 after one quarter and fell behind 34-14 at halftime. But a big third period got the Cardinals (5-4 overall, 1-4 in district play) back into the game. Reese Hammons' second pick 6 of the season put Newton in front 48-42 in the fourth, but CCA rallied with one final drive in the closing minutes.
"It was a huge play. The kids finally saw the hard work pay off for them late in the game," Swedenhjelm said. "I just wish we could have hung on a little longer."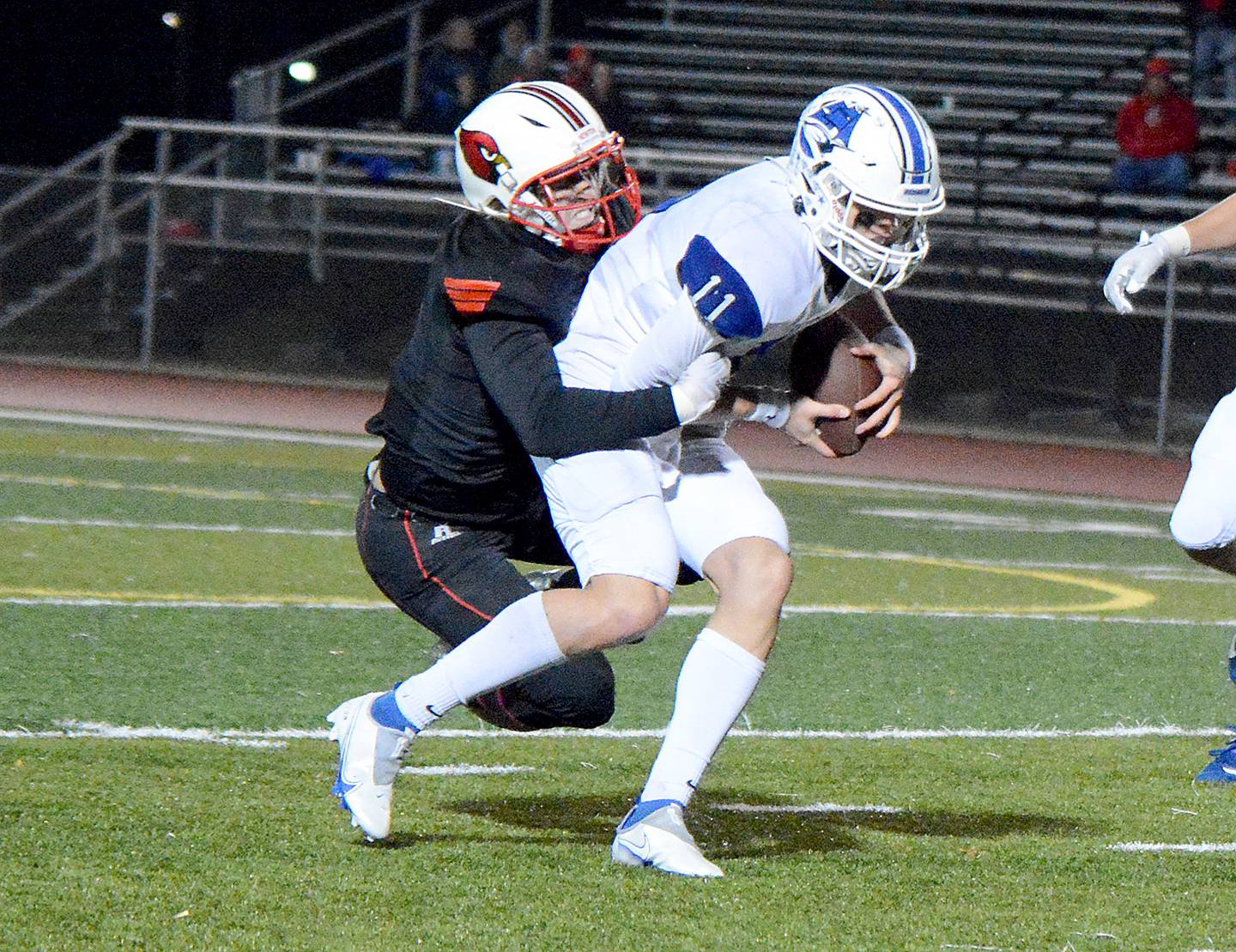 Newton held a 28-26 advantage in first downs and out-gained the Clippers 512-469 but was flagged for nine penalties for 53 yards.
Newton started its final drive at its own 18-yard line. On the first play from scrimmage, Zay Arguello hit a streaking Keith Moko down the middle of the field for a big gain, but the play was called back because of an illegal formation penalty.
The Cardinals were able to get a first down after Arguello completed passes to Brody Bauer and Moko. On third and 10 later on the drive, Newton got another first down when CCA (6-3, 3-2) was called for pass interference against Bauer. It was one of only two penalties called on the Clippers in the game.
The pass interference penalty put the ball on the CCA 46-yard line with 43 seconds to go. The next three plays included a CCA sack, an incomplete pass on a deep ball to Bauer and a dropped pass on third and 13 that would have resulted in a first down.
On fourth and 13, Arguello rolled away from pressure, extended the play with his feet and threw down field to Moko near the visiting sideline. It was an incomplete pass but Moko appeared to be hit before the ball arrived. The officials did not throw a flag though.
"On the penalty they called on Keith (before he made the big catch), they said he lined up on the line of scrimmage, but it was where he was lining up all night," Swedenhjelm said. "On our final play of the game, I know an official doesn't want to throw that flag, but it looked like he got to Keith early.
"We can't blame the officials though. We had too many other mistakes that put us in that position. We can't rely on the officials to win the game for us."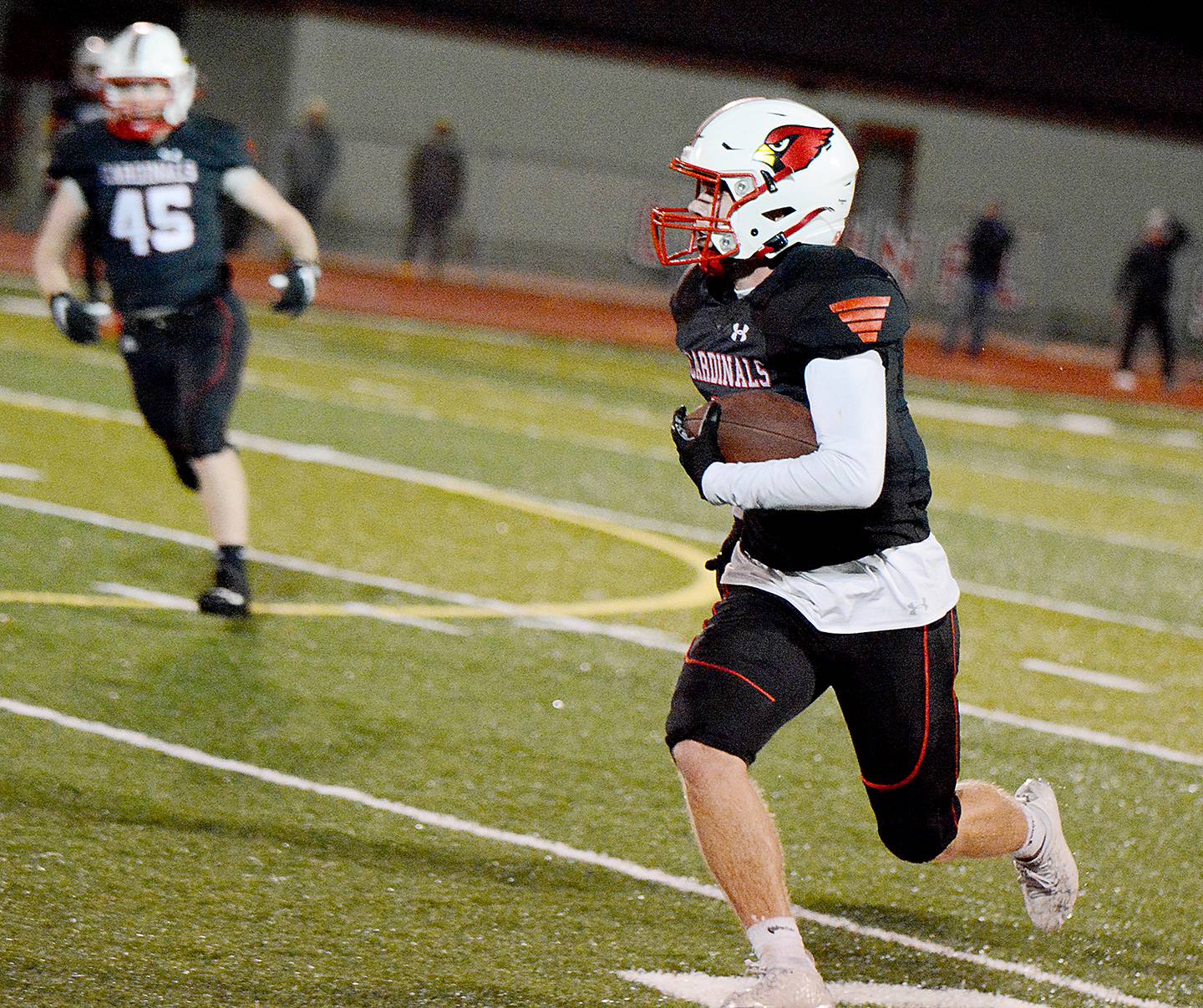 The Cardinals ran for a season-high 414 yards and averaged 7.8 yards per game. But it was better execution in the second half that led to a 34-15 scoring advantage in the final two quarters.
"We ran all over them in the first half, too, but we got pushed back because of a penalty or stalled because we dropped a ball," Swedenhjelm said. "We just executed better in the second half.
"We got into one of our heavier looks and decided to do what we do best and just ran power run plays a bunch of times."
Cody Klein had a career night, rushing for 232 yards and two touchdowns on 29 carries. He also had two catches for 33 yards and another score.
Arguello added 170 rushing yards and three scores on 21 carries and threw for 98 yards, one TD and one pick.
Klein's TD catch came on a perfectly executed "hook and lateral" that started with Arguello completing a pass to Bauer, who pitched it to Klein for the 22-yard TD.
That came in the fourth quarter before Hammons' 53-yard interception return for a TD.
Bauer had 27 yards on two catches, Turner Williams had one 25-yard catch and Moko's only catch went for 13 yards.
The Cardinals got within 21-14 in the second, but CCA ended the half with a pair of TD passes from Ben Swails. His third TD pass of the game and first of the quarter went to Harrison Rosenburg for 47 yards.
The Clippers then blocked a Newton punt and took advantage of a short field, scoring another TD a few plays later.
Football can be a game of inches and the blocked punt, dropped passes, missed extra point, fake punt that ended in an interception and a failed two-point conversion run all factored into the one-point loss.
It was the fourth one-point win of the season for CCA.
"They have a good quarterback. He gets rid of the ball really fast," Swedenhjelm said. "They had a long touchdown pass in the second where he threw a perfect ball that we were in good coverage for. He just threw a great pass. They have great players and did a good job moving the pocket on us."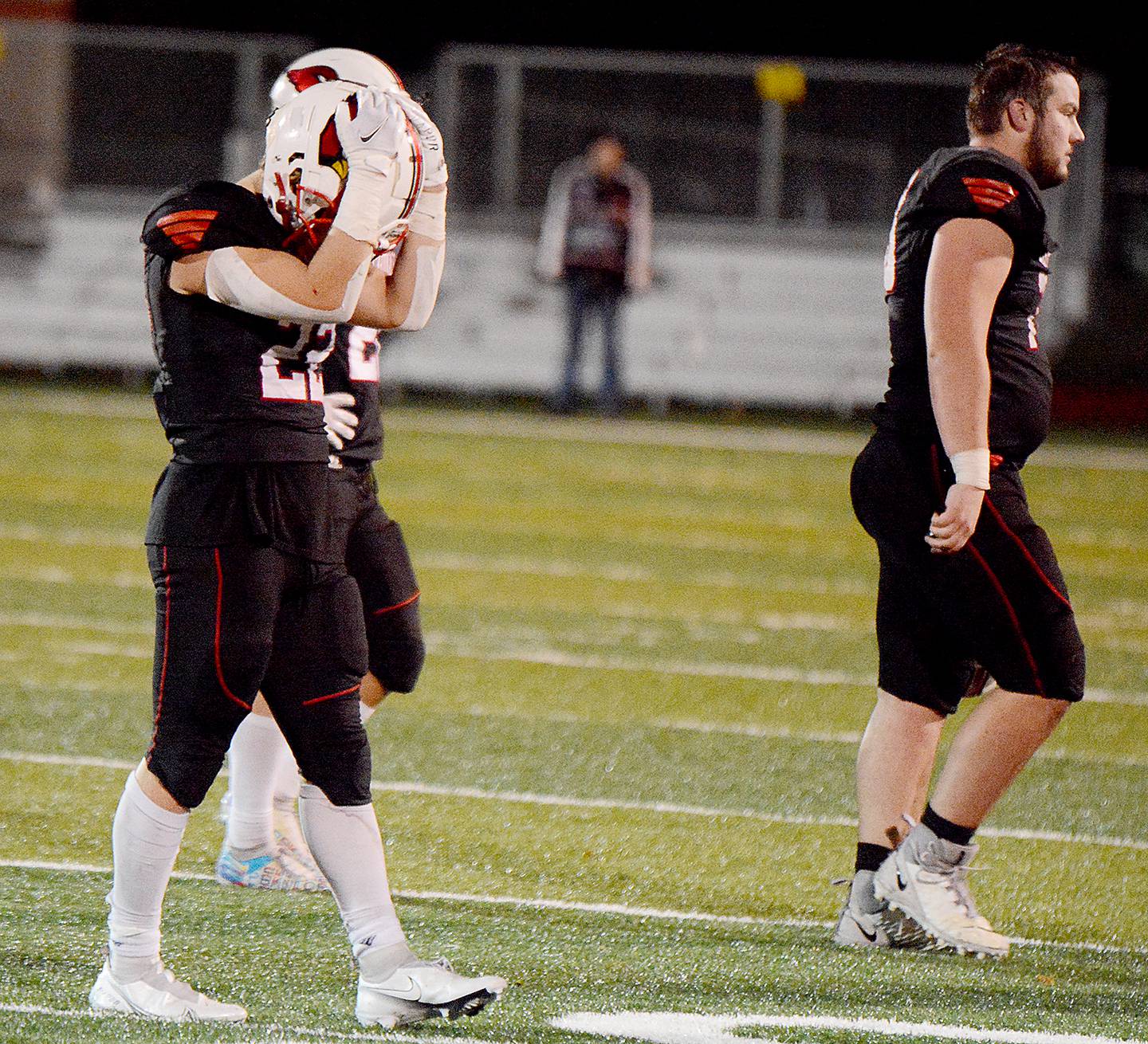 Swails passed for 250 yards and five TDs, Gage Freeman rushed for 161 yards and two scores on 27 carries and Rosenburg finished with 100 yards and two TDs on four catches.
The Clippers rushed for 219 yards and averaged 4.5 yards per carry.
Braydon Chance led the Newton defense with 12 1/2 tackles, two tackles for loss and one sack. Brendon West added 8 1/2 tackles and 1 1/2 tackles for loss.
Blake Schilling registered six tackles, Adam Mattes had four tackles and Evan Grimm added 3 1/2 tackles and one sack.
The win for CCA created a three-way tie for the district's runner-up spot with Pella and Cedar Rapids Washington and the 4A RPI was used to break the tie.
The Clippers earned the automatic playoff berth after being crowned as the district runner-up and C.R. Washington grabbed an at-large spot. Pella is not in the playoffs for the first time in 14 years after the Dutch lost to C.R. Washington in their season finale.
"They have to know that what we do in the offseason prepares us for these moments and hopefully all the guys who are returning get a little taste of what it was like to be in this position and want to do better next year," Swedenhjelm said. "The next expectation for us is to make the playoffs. We have a lot of key guys coming back and there's no reason for our guys to think they shouldn't be a playoff team next year."
Notes: Newton finished 19th in the final RPI standings. CCA earned the district runner-up nod after finishing 11th, while Cedar Rapids Washington (5-4) was 15th and Pella (4-5) was 17th. Class 4A District 4 champion Cedar Rapids Xavier was No. 2 in the final RPI standings. ... The Cardinals finished the season with 1,871 rushing yards and averaged 5.5 yards per carry. ... Newton's defense registered 12 sacks, 10 interceptions and nine fumble recoveries in 2021. Hammons led the team with three interceptions and scored three defensive touchdowns.