Senior Night experiences aren't the same for everyone.
Maggie Garrett was hit by the reality she won't be swimming in her pool anymore right when she got out of the pool for the final time on Tuesday night.
Lauren Zaabel said being a senior in her final season has yet to hit her. But knows that time is coming.
Garrett and Zaabel were two of the 13 senior Aquagirls recognized during a home meet against Boone at the Marv Zimmerman Pool inside the Newton YMCA and the Newton-Colfax-Mingo-Pella girls swim team cruised past Boone with ease.
The Aquagirls won eight events, went 1-2-3 in all three relays, were 1-2-3 in three other individual events and dunked the Toreadors 125-44. The NCMP JV team dominated Boone 117-17, too.
"Huge shout out to the whole team," NCMP head coach Sarah Patterson said. "They came together and decided to swim all out. There is a saying in swimming to 'leave it all in the pool' — and that is exactly what they did."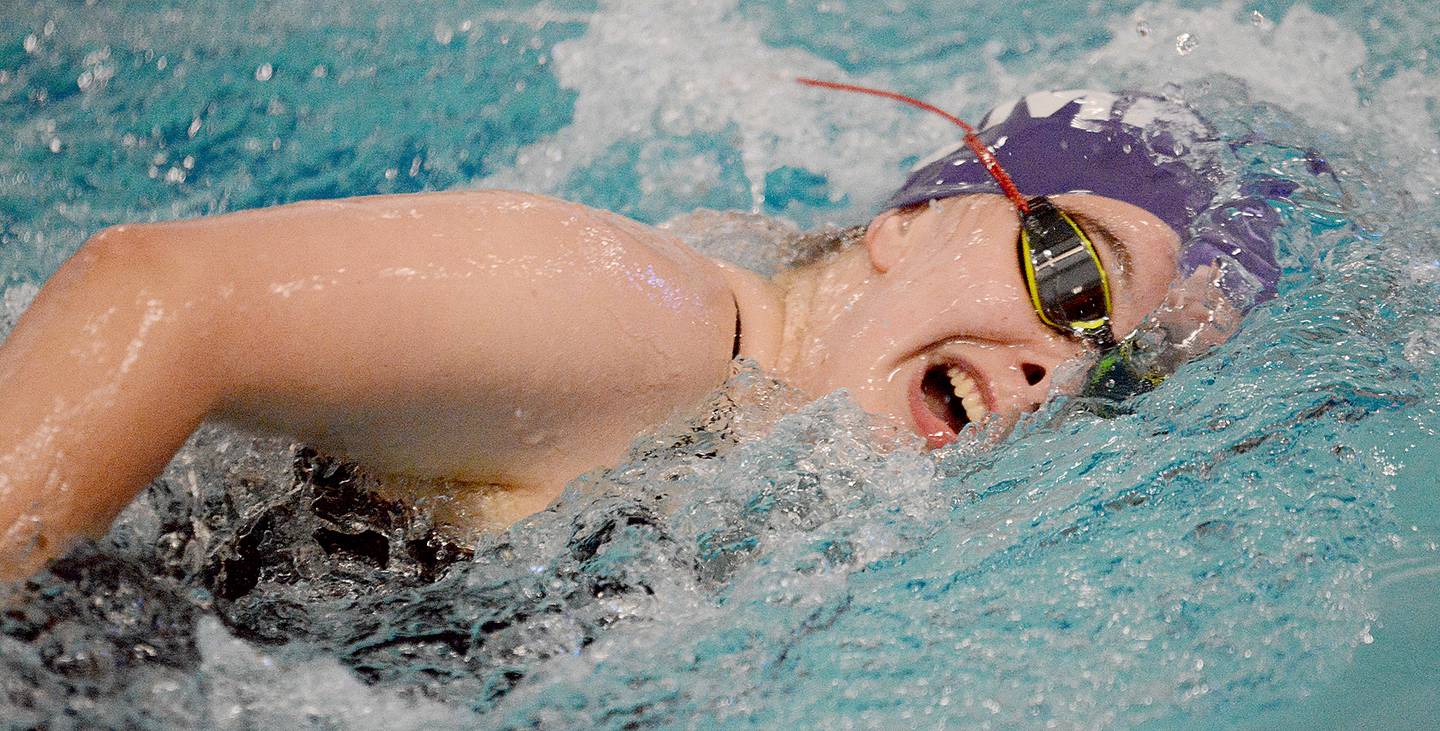 Garrett was part of all three winning relay teams also placed third in the 50-meter freestyle.
Garrett was busy after the meet as well as it was "race an Aquagirl" night. After that, she started thinking about it being her final competition in her home pool.
"I just realized right now that this is the last time I would get out of my home pool for a home meet," Garrett said. "That's surreal. I won't be swimming here next year."
Garrett opened the night as the anchor in the 200 medley relay. That winning foursome also included Maylei Ruggles, Alexa Heiar and Hannah Nedder and they finished in 2 minutes, 8.84 seconds.
The runner-up team included Alex Riney, Grace Benson, Paige Benson and Brooke Linahon and they finished in 2:16.22.
The third-place team was not eligible to score points but they finished in 2:21.85. The foursome was Addison Van Maanen, Kallie Van Kley, Avery Meyer and Hailey Dickerson.
Garrett and Zaabel teamed up with Heiar and Nedder to win the 200 freestyle relay in 1:56.75.
"I think honestly our relays are coming together, especially at this time of year when we just came out of a big training period," Garrett said. "I think we are ready for conference and districts and even think we have a shot at state."
Peyton Ray, Grace Benson, Paige Benson and Linahon finished second in 2:01.58 and the third-place team of Lauryn Garrett, Dickerson, Skyler Gooden and Izzy Lane finished third in 2:09.40.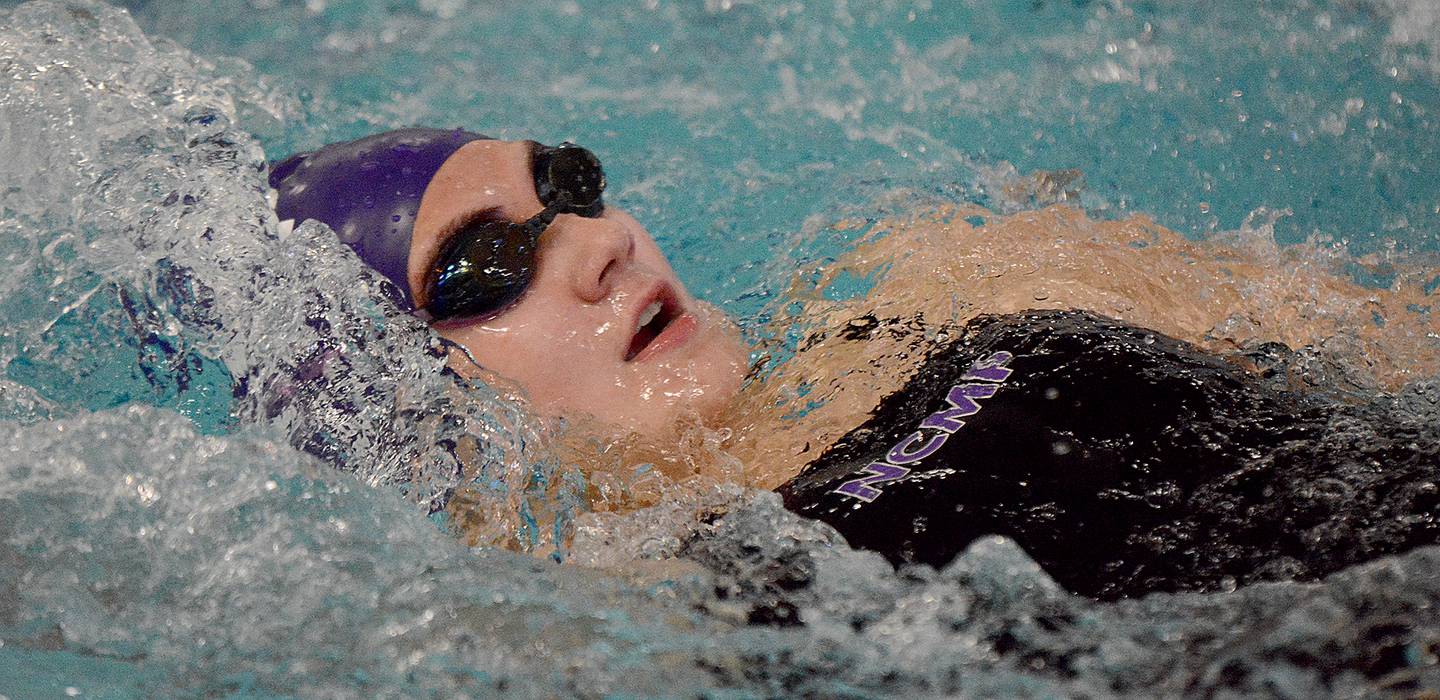 Zaabel and Maggie Garrett returned to the pool together in the 400 freestyle relay and teamed up with Ruggles and Nedder to win in 4:24.35.
The runner-up 400 freestyle relay team included Paige Benson, Ray, Riney and Linahon and they finished in 4:30.13. Anna DeVries, Dickerson, Van Maanen and Meyer were third in 4:49.58.
Heiar and Nedder were two other seniors recognized during the meet. And they both won individual events.
Heiar won the 50 freestyle in 29.07 seconds and led NCMP to a 1-2-3 finish in the 100 breaststroke. Maggie Garrett was third in the 50 freestyle in 29.77.
Nedder led the Aquagirls to a 1-2-3 finish in the 100 butterfly. She won the race in 1:07.4. Ruggles was the runner-up in 1:12.12 and Paige Benson finished third in 1:18.85.
"Hannah Nedder continues to dominate in the fly, and Maylei Ruggles was second in the event and looked fantastic," Patterson said. "May also won the 100 back with a personal-best time."
Heiar won the 100 breaststroke in 1:22.5. Grace Benson was second was in 1:25.65 and Van Kley took third in 1:27.83.
The other 1-2-3 finish came in the 100 backstroke. Ruggles won the race in 1:12.94, while Riney was second in 1:14.8 and Van Maanen finished third in 1:16.95.
"All three girls are at a converted (yards) 1:10 or faster," Patterson said. "I am not sure we have ever had that happen before, and there is a lot more season left to drop time."
Ray claimed the other individual win. She took first in the 200 freestyle in 2:25.55 and Zaabel finished second in 2:30.75.
"She is another competitor who is super fun to coach," Patterson said about Peyton Ray. "These girls train hard and love to race."
In the other three individual events, NCMP swimmers finished 2-3.
In the 200 individual medley, Riney was the runner-up in 2:43.47 and Van Maanen was third in 2:51.08. Riney was just out-touched at the wall as the Boone winner finished in 2:43.44.
"The race that had the fans screaming and on their feet was the 200 IM," Patterson said. "It was super exciting and Alex Riney gave everything she had. She just got touched out, but we were so proud of her. She is just a freshman, and it's so exciting to see her excel. She is such a competitor."
Ray was the runner-up in the 100 freestyle in 1:06.12. She edged Grace Benson, who was third in 1:06.28. In the 400 freestyle, DeVries finished second in 5:29.15 and Meyer took third in 5:31.51.
NCMP also scored individual fourth-place points in five events. Dani Dalasta was fourth in the 400 freestyle, Zaabel took fourth in the 100 freestyle, Linahon was fourth in the 50 freestyle, Meyer placed fourth in 200 IM and DeVries hit the wall in fourth in the 200 freestyle.
"From our amazing group of seniors all the way to our phenomenal freshmen class, the girls swam their hearts out," Patterson said. "The underclassmen wanted to make the night special — and they did. Thanks to the sophomores and juniors, and some of their parents, for helping."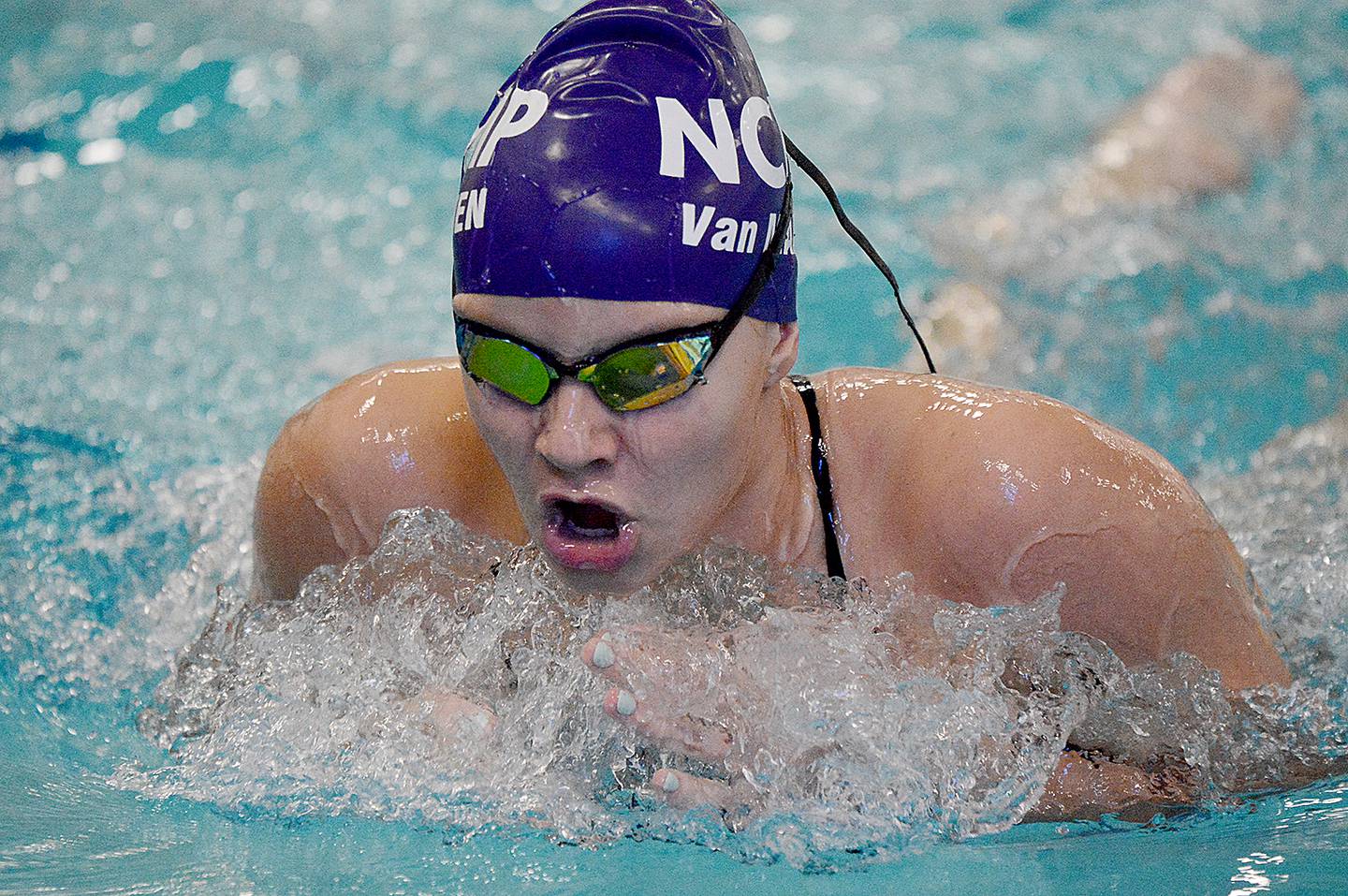 The 13 seniors recognized during the meet were Maggie Garrett, Grace Benson, Maggie Williams, Gracie Brown, Hannah Schwickerath, Emily Mills, Katie Schlosser, Emma Curry, Zaabel, Van Kley, Dalasta, Heiar and Nedder. "The seniors wanted to leave their mark last night and they did," Patterson said. "They will leave a legacy that's for sure."
Zaabel expects being a senior will hit her in her final race, whenever that is.
"I don't think it's really sunk in yet. It doesn't seem real yet," Zaabel said. "And I don't think it will until that last meet whether that's conference, districts or state."
The stands poolside were as full as they have ever been and there was a student section for the first time this season.
"It's been a while since we had such a great turn out for a meet. The coaches and the team want to say a huge thank you to all the fans that turned out — especially all the students," Patterson said. "We had a special student section and it was packed. The atmosphere was electric and there was literally standing room only. I know the crowd helped the girls swim fast."
It was so full inside the Marv Zimmerman Pool that a few NCMP swimmers added folding chairs during the meet. Some fans didn't have seats at all.
"It was great. We had a good turn out of students," Zaabel said. "We never have this many students at our meets, but it was advertised well on social media and we had friends bring friends."
The NCMP dynamic is unique in that the team has swimmers from multiple communities on it. Students from Colfax-Mingo and Pella also came to cheer on their classmates.
"That was really cool. Everyone came together from different towns to cheer on one team," Maggie Garrett said. "It's different people from different communities and different backgrounds sharing this experience together. It created a great atmosphere and great energy."
Notes: NCMP's varsity dominated Boone even without Lillie Ray, who is one of the Aquagirls' top swimmers who did not compete.