Sarah Patterson has coached sisters on the same team before during her three-decade long run as head coach of the Newton-Colfax-Mingo-Pella girls swim team.
Courtney Meyer followed in Caitlyn's footsteps. Hannah Scotton was an Aquagirl for a couple of years with her older sister Kora. And Carly Colville got the chance to be on the same team as her older sister Ellen.
But never in 30 years as the Aquagirls' head coach has Patterson had four sets of sisters on the same team. Until now.
"It's so cool. The realization didn't come to me until my Mom asked us to take a picture at one of our home meets," junior Lillie Ray said. "I just never thought about it before."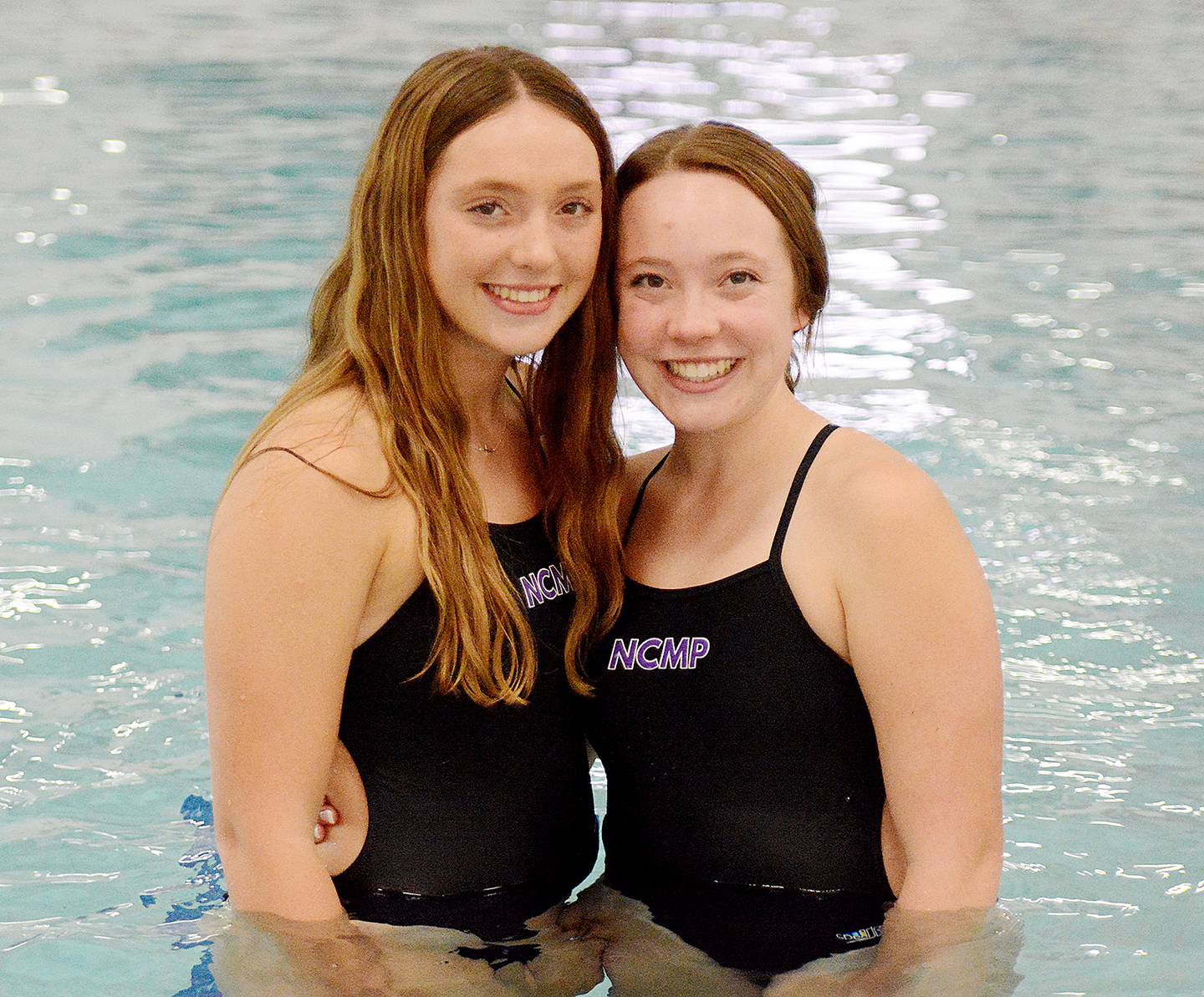 Ray isn't alone. It isn't something that stood out to the other girls either. Patterson operates her Aquagirls' program with a strong family culture.
To the girls in the pool, they are all family.
"I didn't realize it. We took a picture at a meet and I think that might have been when it stood out to me," Grace Benson said. "It doesn't feel like we have four sets because we all just blend in together. It's one big team so it hasn't been something I have noticed too much. It's really cool though."
The eight Aquagirls who also can call one of their teammates "sister" have a few things in common. But also are different.
The most interesting thing about all eight of them might be the fact that each set has one sister who is swimming at the high school level for the first time this fall.
Grace Benson and Maggie Garrett are the seniors. Lillie Ray is the junior. Lauryn Garrett is a sophomore and Peyton Ray and Paige Benson are just two of NCMP's talented freshmen class.
The fourth set of sisters are Brooke and Jacy Linahon, who are not only sisters but also twins.
"It is really neat. I have never had four sets of sisters," Patterson said. "It's cool because they all get along and support each other. Coach Jenny, Coach Hannah and I love being a part of their live stories."
Peyton Ray and Paige Benson took the traditional route of joining the high school team as freshmen.
Lauryn Garrett and Jacy Linahon are both out for the first time but did swim for several years prior to high school.
"It's a different connection that you have with your sister than anyone else so having her on the team has been a lot of fun," Maggie Garrett said. "Coming to practice with her by my side has been great. She's a built-in best friend so being able to have one year with her has been awesome."
For Lauryn, part of not swimming her freshmen year was due to a very busy schedule that has her competing for the Pacesetters at the same time.
But, having the chance to swim with her sister during Maggie's senior season was something she couldn't pass up.
"Maggie is the biggest reason I decided to come out this year," Lauryn Garrett said. "If I was ever going to join the team, I wanted to be around for her senior year. That was important to me."
While Brooke and Jacy Linahon are the same age, Brooke feels like the older sister in swimming because Jacy is out for the first time this season.
"I feel older because she didn't swim last year," Brooke Linahon said. "I have been able to show her the ropes and it's been more fun having her around."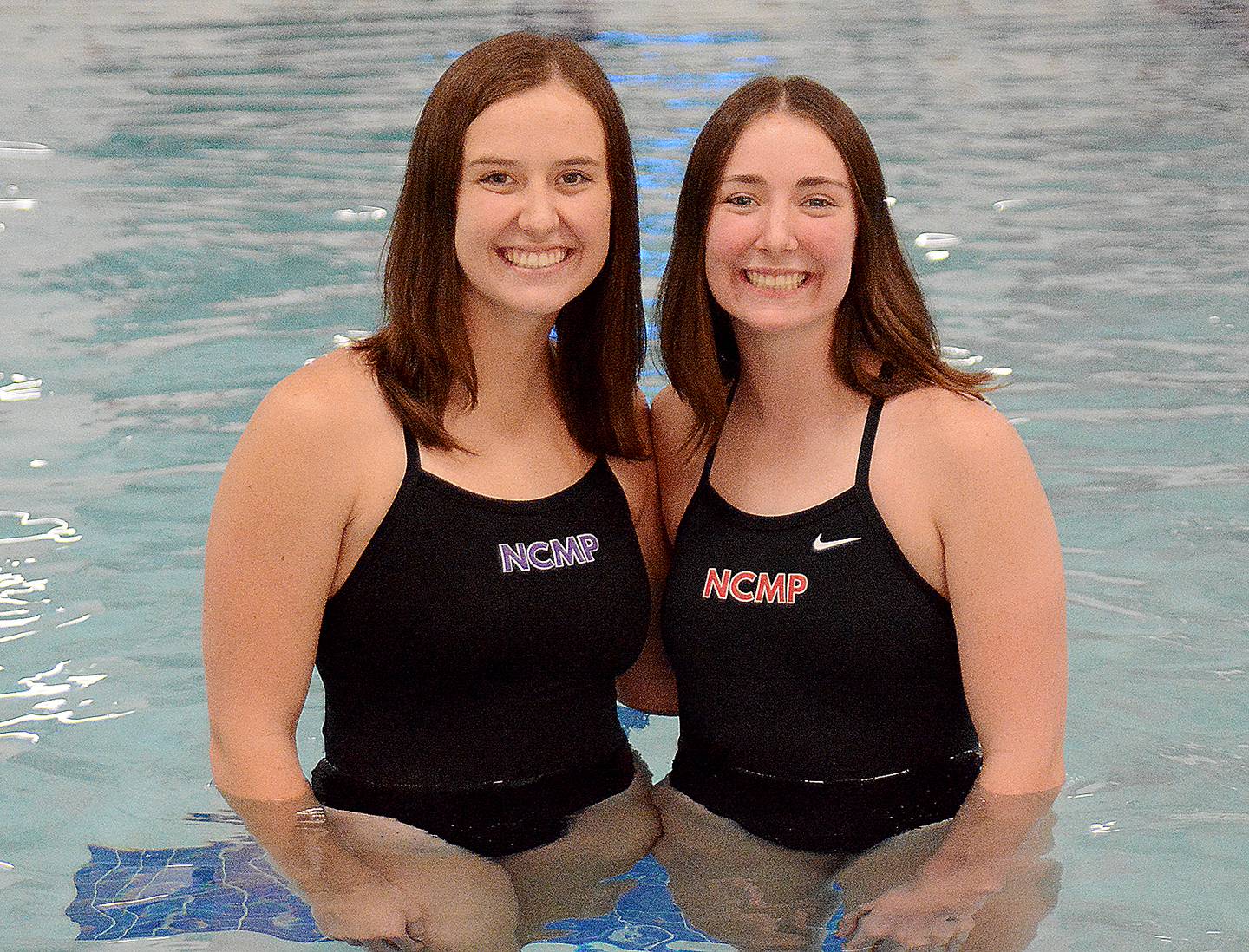 Jacy is involved in several other activities and said being out for swimming is fun but it also keeps her in shape.
"I think it's cool how in every set, one of us is in our first year of high school swimming," Jacy Linahon said. "It makes the team more fun and connected.
"I haven't been out for swimming in years, but a lot of my friends told me it was a good experience and it always seemed fun."
When it comes to swimming against each other, most of the sisters don't have to worry about that.
For the most part, they all specialize in different strokes.
The Ray sisters come the closest to being in the same events. They both do freestyle but Lillie focuses on sprints while Peyton tackles the longer distances.
"We've raced each other before in club swim. I have noticed that it's a different level of competition when I race her," Lillie Ray said. "I want to beat her more than anyone else in my entire life. I do not want to give her the satisfaction of beating her older sister."
While Lillie Ray doesn't want to lose to Peyton head-to-head, she knows her younger sister has been a massive addition to the NCMP roster this fall.
"We are completely different swimmers I think," Lillie Ray said. "I swim basically the same events every meet, but Coach Patterson puts Peyton in a lot of different events. So her biggest value to this team might be her flexibility and her ability to do a lot of different strokes and do them well."
For Peyton Ray, she welcomes the challenge of swimming against her sister when and if the opportunity comes. She knows it would be a positive for both sides.
"I don't care if I swim against her. I think that would make us both better," Peyton Ray said. "We could push each other through it. I didn't try to swim other events on purpose, but I know if I am swimming against her, it would push me and I could push her.
"There is some pressure no doubt. She's had two more years of it, but it still pushes me to want to beat her. I have beaten her in practice before."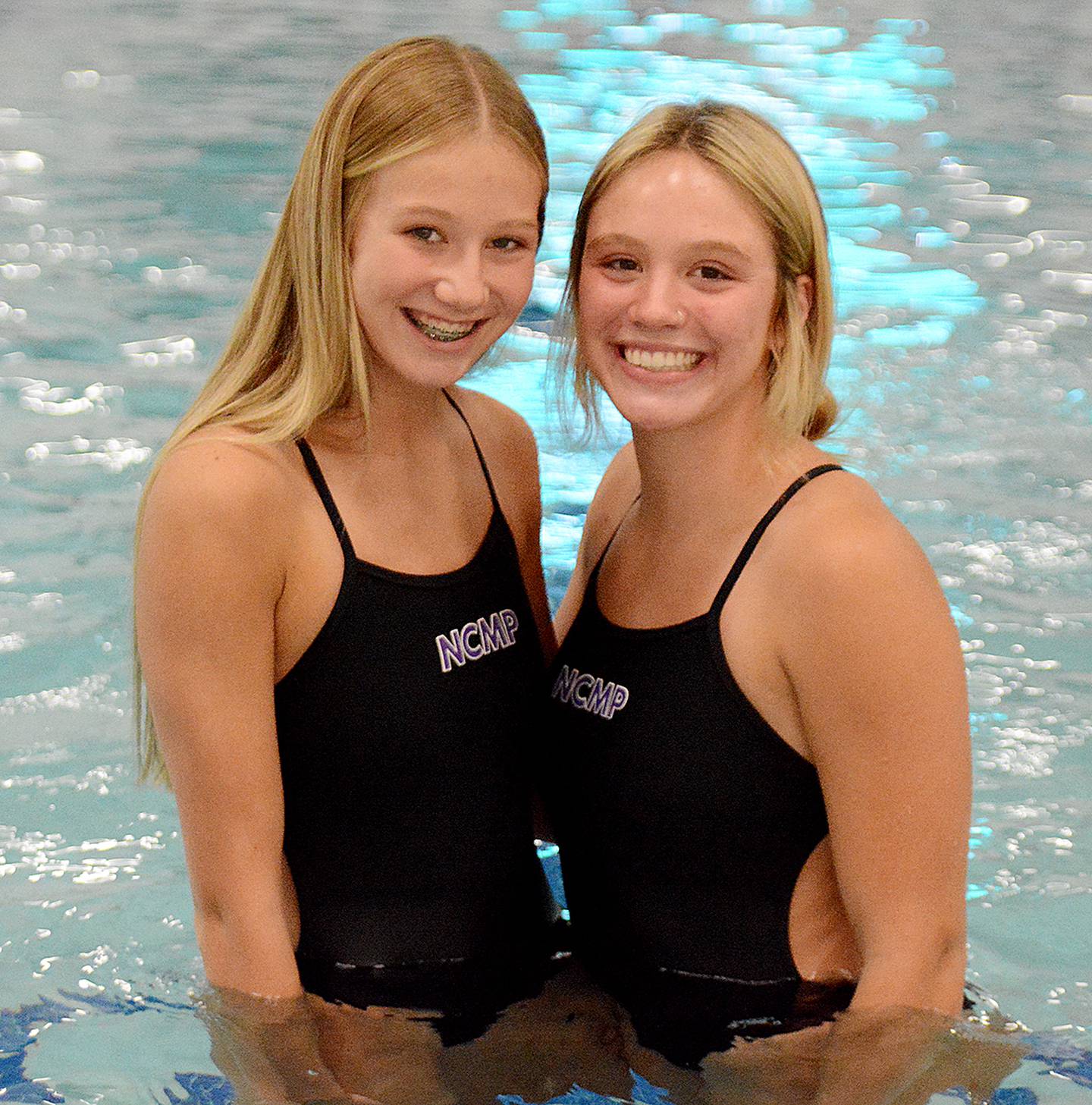 It's not uncommon to see Lillie and Peyton Ray and Grace and Paige Benson on the same relay teams.
For the Bensons, Grace competes in just about anything Coach Patterson needs her to do but focuses on freestyle, breaststroke and the IM, while Paige also does freestyle but prefers the butterfly.
"She would definitely beat me in the fly," Grace Benson said. "But we don't train for the same events. We are completely different strokes."
Paige Benson agrees with her older sister about how the race in the butterfly would go but knows her older sister would get her in other events.
"We are on quite a few of relays together, but we don't race against each other too much. It's not on purpose though," Paige Benson said. "I could beat her in the fly. She's got me in the breaststroke though."
Maggie Garrett said she doesn't have to worry about racing against Lauryn because there are simply events she won't do and Lauryn is better than her at.
"She swims the 100 fly, and I don't swim that at all," Maggie Garrett said. "I don't think it was intentional. She is just way better at some strokes than I am.
Lauryn said her and Maggie have actually never raced each other in anything. They do train in the same lane at practice though.
"I do the butterfly and Maggie won't ever do that," Lauryn Garrett said. "Our competition against each other comes in practice. We are in the same lane for workouts. Whenever we touch each other's feet, it pushes us to go faster."
Both Jacy and Brooke Linahon compete in freestyle events but Jacy specializes in the backstroke and Brooke competes in breaststroke and the IM.
"The only set of sisters who are twins — they both work so hard and know how to be team players," Patterson said. "They swam a little bit when they were younger and both came back to the sport when they got to high school. We are sure glad they did."
Maggie Garrett and Grace Benson will only get to swim with their sisters for one year.
But the senior duo knows how special this one season will be when they look back on their high school days years from now. And it's a little more special because of the friendships they've all made outside of swimming, too.
"I think it's really cool. This doesn't happen very often," Maggie Garrett said about having four sets of sisters on one team. "Just having that different connection we can all share together is pretty special."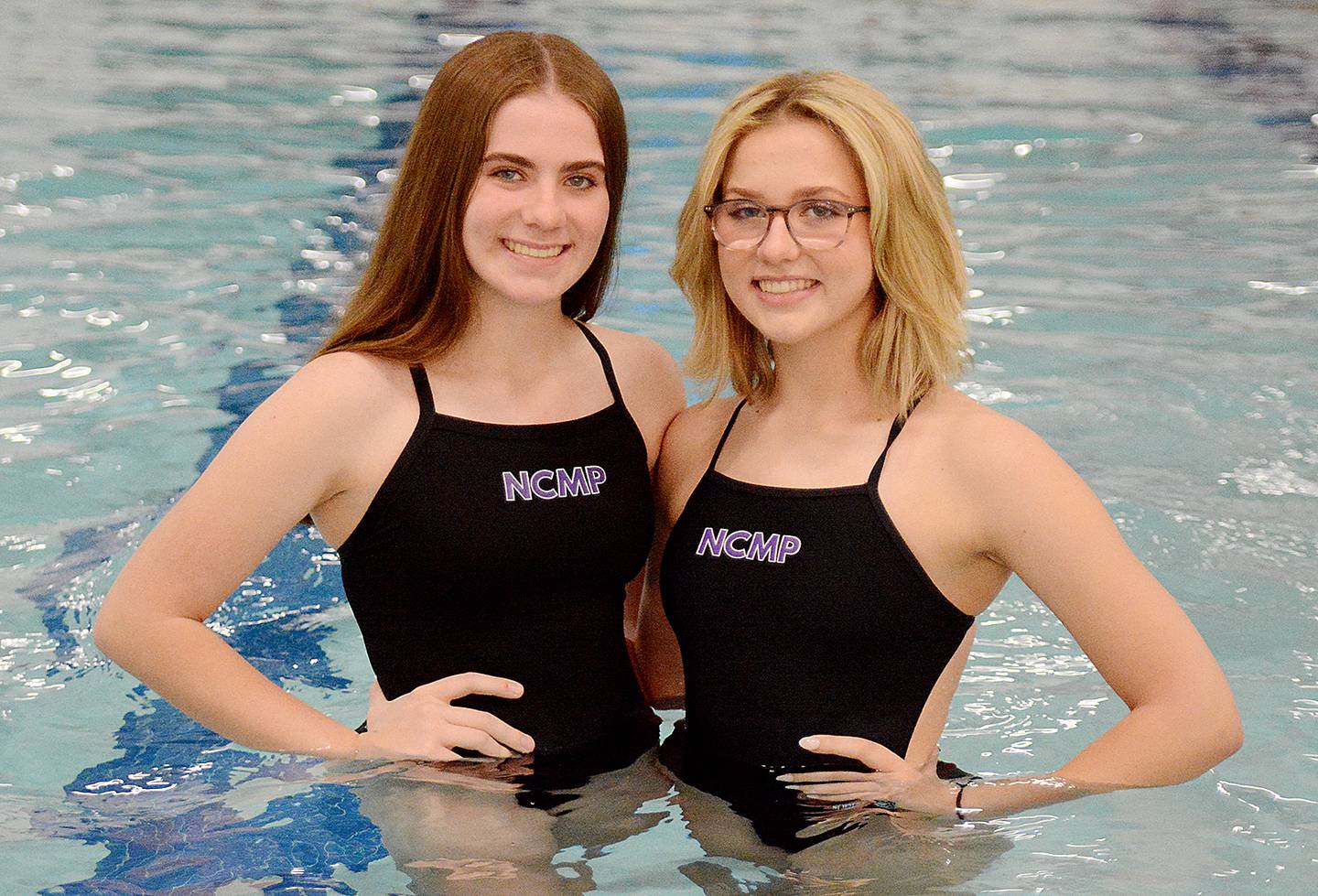 The ages of the swimmers line up so well that most of the sisters grew up as friends outside the pool. That's why many of them just didn't realize there were four sets on one squad.
"Sometimes I forget we have that many," Brooke Linahon said. "We are all friends and really we are all sisters, too."
Peyton and Lillie Ray notice the sister dynamic the most when the announcer at meets calls out the last names on relays.
"It's been fun seeing so many sisters on relays together," Peyton Ray said. "I think it's an experience we will never forget."
There is one negative to having Peyton around this season though.
"It's definitely a little weird. It finalizes that she's getting older, but it's been fun," Lillie Ray said. "This is completely different than club swim but watching her succeed and do so well has been really awesome."
According to Lauryn Garrett, being on the same team as Maggie this fall has another positive — they are built-in alarm clocks.
"The best thing with having each other around for swimming might be helping each other wake up for early practices," Lauryn Garrett said.
Like Maggie and Lauryn, Grace and Paige Benson share a lane together at practice. Grace is the only upperclassmen in a lane chalked full of freshmen.
"It's always been a great experience," Paige Benson said about being on the same team as her older sister. "She's always there for me and willing to help me. It's helped with the transition to high school. She's been really supportive."
Patterson wants the Aquagirls to think of each other as family even if they are not actually sisters. That's in part how she's built a successful program during her long tenure.
And every single member of the team buys into the message whether they are "real" sisters or not.
"It shows we are all sisters here and it's one big family," Brooke Linahon said. "The sister bonding has been welcomed by others and it certainly has made us all feel like one big group of sisters."