WAVERLY — Newton's boys cross country team is peaking at the right time.
The Cardinals set 17 personal-best times at the Steve Johnson Invitational at Wartburg College on Saturday and it was good enough to finish second as a team.
Only Class 1A No. 1 Earlham was better. The Earlham Cardinals scored 127 points to win the team title while the Newton Cardinals, who are ranked 16th in 3A, were second with 141 points.
There were 24 full teams in the boys' 5K "orange" race, some of which were from out of state.
"These boys all had a record day in the cool weather and flat course," Newton boys cross country coach Steve Weeks said. "I have never had a race where there were 17 records broken on a regulation course, heck I usually don't have 17 runners on a team. The joy and excitement I got to see on their faces made me insanely proud."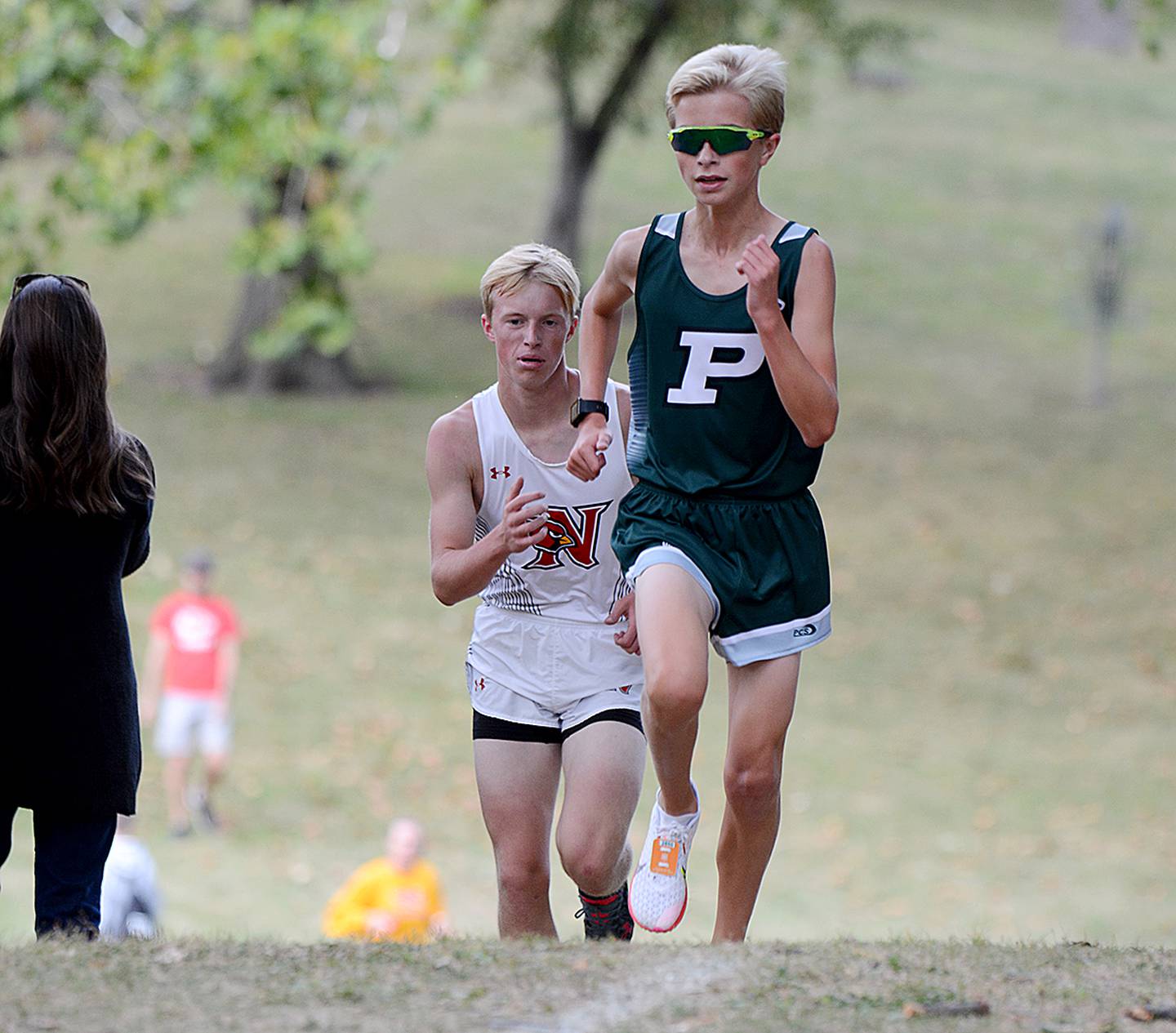 The biggest personal-best time of the day came from Class 3A No. 12 Jackson Mace-Maynard.
Mace-Maynard won the boys' 5K race and did so in record time. He finished in a personal-best and new school-record time of 15 minutes, 52.69 seconds.
He's the first Newton cross country runner to finish a 5K race in less than 16 minutes. The previous record of 16:01 was held by Colten McDermott
The race featured six ranked runners from Iowa, including 3A No. 19 Treycen Garton, who finished 13th in 17:10.6.
Garton was recovering from an illness and had not practiced since the team ran at Knoxville on Sept. 28, according to Weeks.
Landon Menninga finished 34th with a time of 17:59.96. The top 40 finishers for this race received medals.
Leo Friedman was 45th in a personal-best time of 18:13.38 and Derek Beiner came in 48th in a personal-best 18:14.84.
"I cannot describe how happy I was for my boys," Weeks said. "All of their hard work is paying off, they are believing in themselves more and more and they are believing in the process."
Jared Smith finished 76th in a personal-best time of 18:43.21, Collin Buchli was 96th in a personal-best 19:16.83 and Presley Arnold took 98th in a personal-best 19:19.64.
Other Cardinals who ran personal-best times include Christian Buchli (19:23.81), Ryan Nook (19:54.26), Breyton Schwenker (19:21), Jesus Murillo (19:47), Skylar Gilbert-Martinez (20:30), Asher Wood (20:32), Brenden Holschuh (20:42), Joel Lewis (21:13), Harry Oswalt (22:27), Jacob Smith (22:56) and Kenny Chartier (24:09).
Mace-Maynard spent the whole race pacing with 4A No. 12 Conner Smith of Marshalltown.
"Going into the race, he felt like today was a special day and that he could take down the competition," Weeks said. "Jackson decided to take off well before the finish and create a gap so large that no one could close in on him, and digging deep he kept the pace. Upon reaching the finish line he was all alone to win the race only to realize the time on the clock was something special."
Class 1A No. 2 Jayden Dickson of Earlham finished fourth in the race in 16:14.20 and 1A No. 7 Dominic Braet of Earlham was fifth in 16:17.22. Class 1A No. 5 Isaac Natvig of Valley Lutheran placed sixth with a time of 16:28.08.
The rest of the top five after Earlham and Newton were Waterloo United (166), 1A No. 7 Valley Lutheran (177) and Marshalltown (180).