MONROE — The Mustangs recovered just in time.
PCM's volleyball team had blown a 21-14 lead late in the first set against Saydel. The Eagles rallied, on the road, to tie the set at 23-all.
Three of the next four points went to PCM and it was enough to claim the first set. The Mustangs were mostly better than the Eagles the rest of the way during a 26-24, 25-16, 25-16 sweep during Heart of Iowa Conference play Thursday.
"We definitely would have been down in the dumps if we didn't pull out the first one," PCM volleyball coach Mike Vittetoe said. "We had a nice lead and blew it. We had way too many unforced errors."
The Mustangs had six serving errors and 11 hitting miscues in the first set.
Saydel jumped out to a 3-0 lead in the first. The Mustangs got back into the game following three straight aces by Claire Wilson.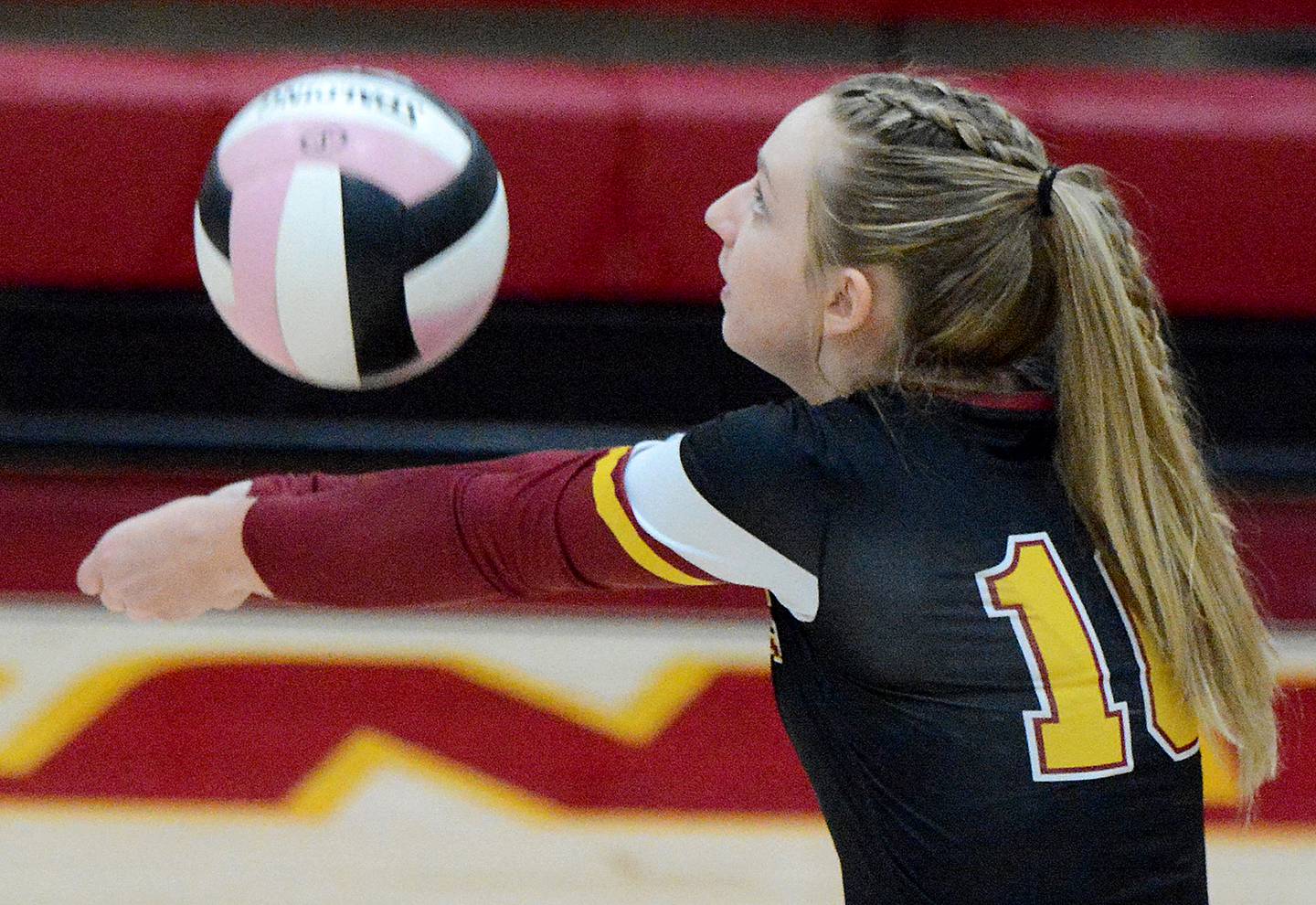 The two teams went back and forth until the Mustangs (6-11 overall, 1-3 in conference play) started to pull away. Riley Johannes made it 13-8 with a tip kill, Skylar Burns improved the lead to 16-8 with an ace and a Johannes kill pushed it to 18-11.
After a Chelsea Bird tip kill, Saydel (1-13, 1-2) used a 9-2 run to draw even at 23-all. Following a timeout by Vittetoe, Saydel missed consecutive serves to give PCM two set points. The Mustangs took advantage the second time to win the set 26-24.
"We gave them 17 free points in that set," Vittetoe said. "We just needed to step up. They weren't doing anything we were having problems with. We had to take care of ourselves. They weren't putting it away on us. We just had to take care of the unforced errors."
Johannes got the Mustangs into a lead in the second set with a pair of kills.
PCM turned an 8-all tie into a 14-8 lead. During that stretch, Reese Palm, Johannes and Wilson all had kills. The Mustangs maintained a six-point advantage on kills by Johannes and Bird. Emily Foster made it 20-12 with a kill and an ace by RaeAnn Duinink pushed the margin to 23-14. Wilson ended the set with a tip kill.
"Our passing was improved over last week," Vittetoe said. "We didn't give many ace serves and we were able to attack most free balls."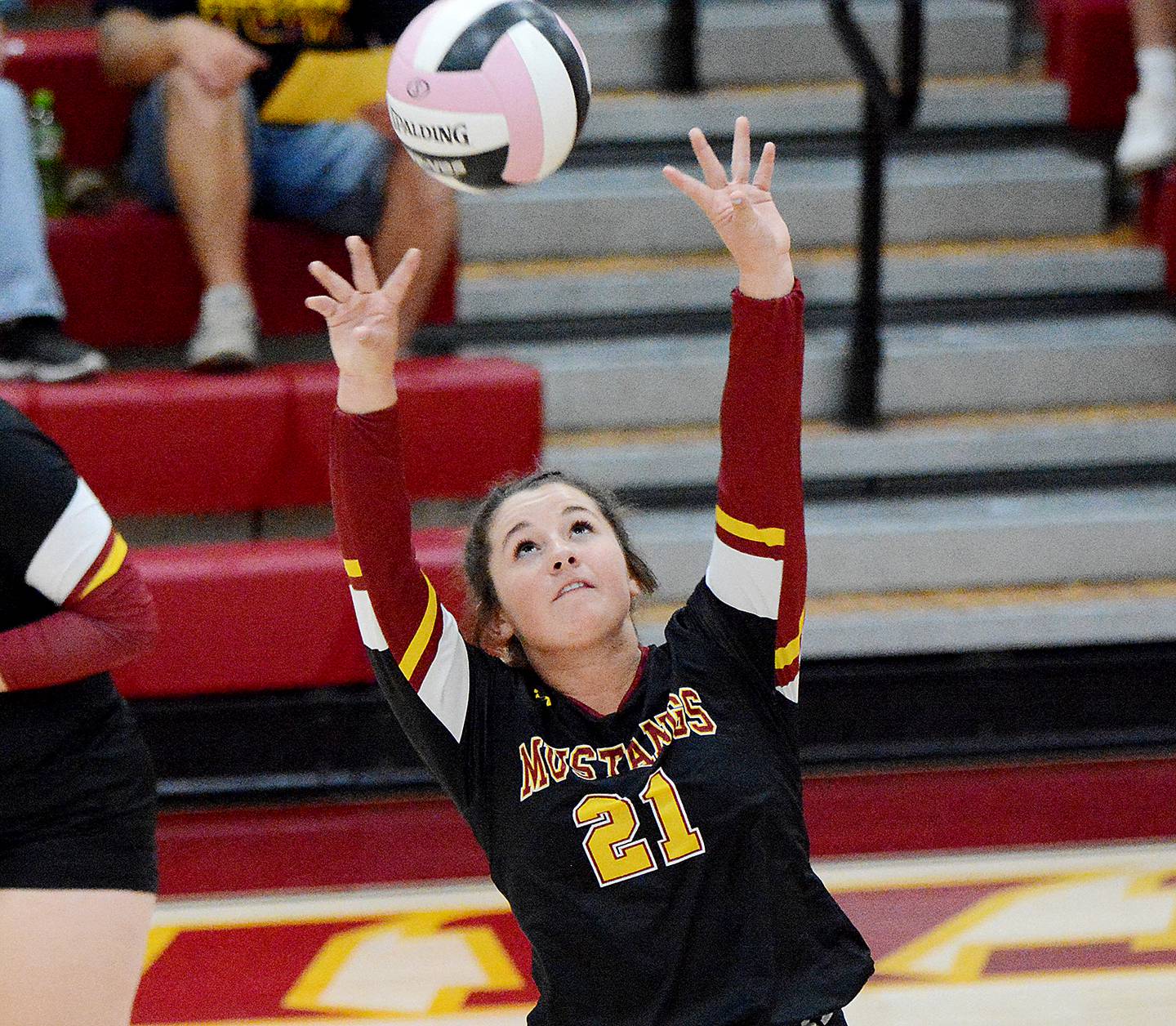 The Mustangs weren't challenged much in the third frame. They jumped out to a 5-1 lead and another Duinink ace made it 9-3. Back-to-back kills by Bird extended the lead to 12-3 and a block and a kill on back-to-back plays by Wilson and Johannes put the Mustangs in front 16-9.
Saydel never got closer than seven the rest of the way.
Bird finished with a career-high 11 kills and eight digs, Johannes added nine kills, eight digs and two assists and Sidney Shaver chipped in 26 assists, two kills and five digs.
Johannes' kill efficiency was .304. Wilson collected four kills, five digs and three aces, Duinink had eight digs and three aces, Burns finished with seven digs and Palm put down four kills.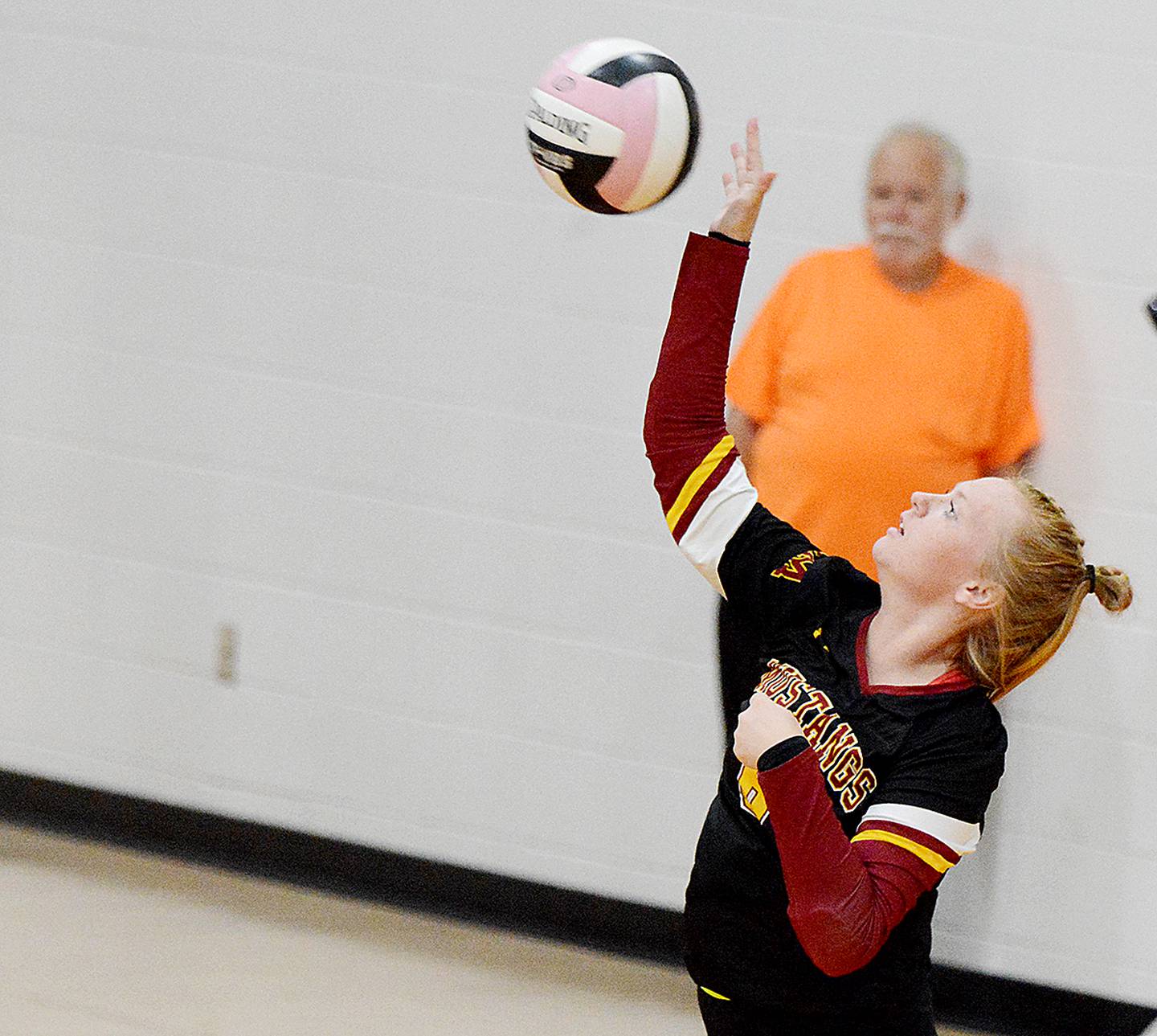 PCM was 62-of-70 in serves. Duinink served 13-of-14, Shaver hit on 12 of her 13 serves, Johannes was 9-of-10 and Wilson served 7-of-8.
"We had 25 hitting errors in the match. That's just not good enough. Our serves got better as we played though," Vittetoe said. "We needed to win. We were on a losing streak there so we needed to get into the win column. We needed to get some confidence heading into our weekend tournament."