The end result in the head-to-head matchup between the Aquagirls and Oskaloosa was decided before either team jumped into the pool on Tuesday night.
The Indians have just 10 swimmers on their roster, which gave Newton-Colfax-Mingo-Pella's girls swim team a significant advantage.
So NCMP had a little fun in the Newton YMCA pool. And did a lot of winning in the process.
"In a meet like this, I try to ask them if there's a different event they'd like to swim and then I also will throw in a different one and force the girls to challenge themselves more than they are willing to do sometimes," NCMP head coach Sarah Patterson said. "We want them to try something new once in a while."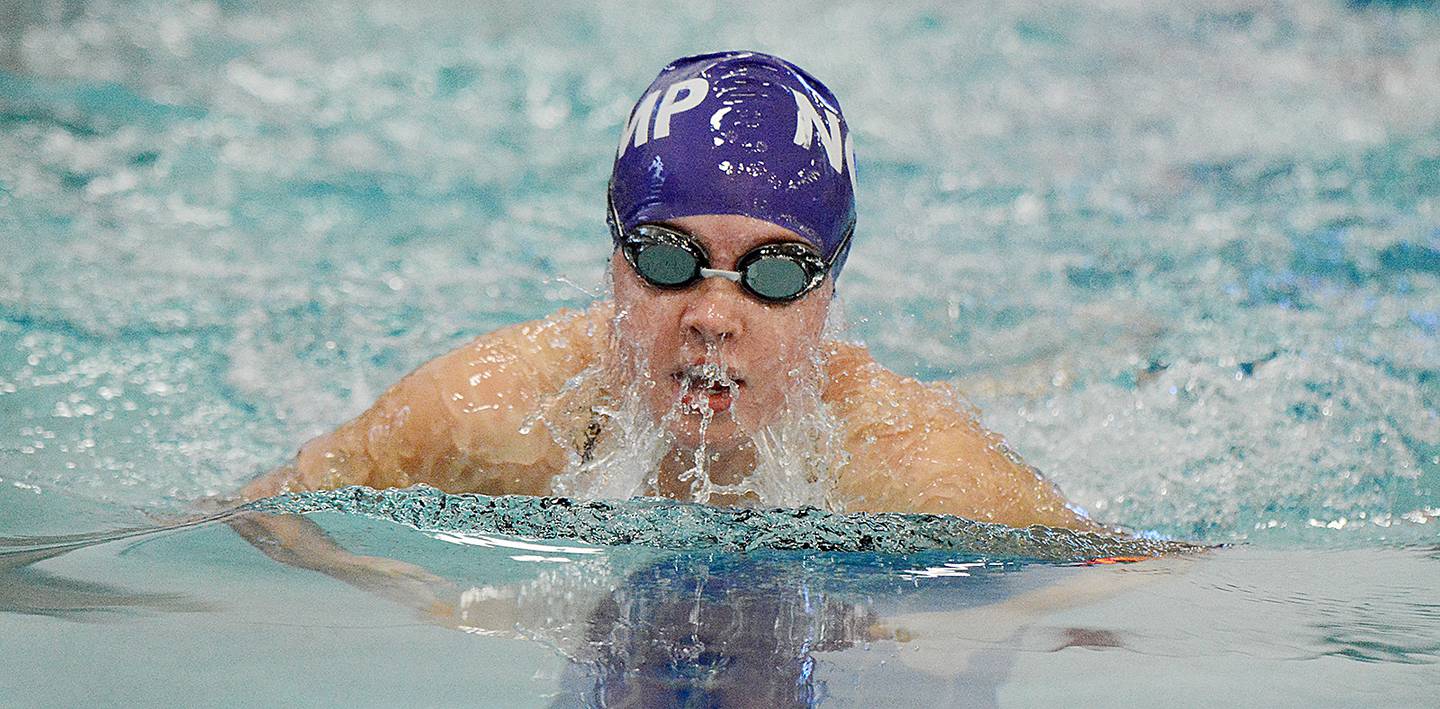 NCMP won all 11 events, finished 1-2-3 in seven of them and were 1-2 in three others during a 132-32 victory over Oskaloosa.
The eight individual races were won by seven different Aquagirls. Three of those swimmers are part of a very talented freshmen class. Freshman Peyton Ray was the only swimmer who won two individual events.
"We had a lot of freshmen step up tonight," Patterson said. "(Addison) Van Maanen won the 100 backstroke and she now has a top-three time on the team. I was able to find that out in a meet like this where I move kids around and figure out where else we can be successful."
Ray won the 200-meter individual medley and the 400 freestyle relay.
In the 200 IM, Ray hit the wall in a personal-best time of 2 minutes, 46.09 seconds. Van Maanen was the runner-up in 2:51.39 and Maggie Garrett finished third in 3:01.6.
Ray won the 400 freestyle in 5:14.31. Alexa Heiar was the runner-up in 5:24.61 and Alex Riney took the bronze in 5:30.66.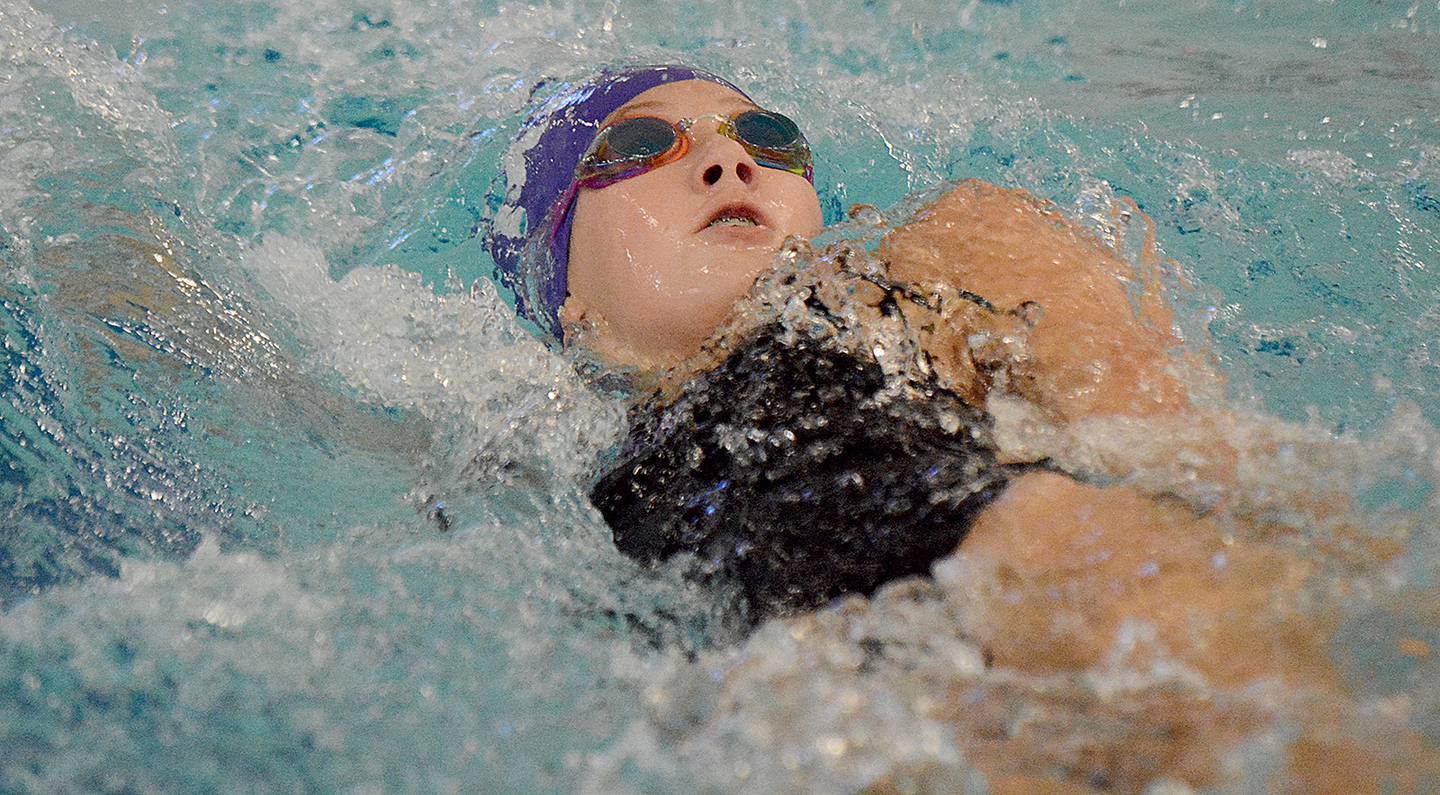 The first individual win of the night came from another freshman, Izzy Lane. She won the 200 freestyle in 2:43.53. Ellie Wogen finished second in 2:51.56.
Lillie Ray joined her younger sister as an individual winner. She won the 50 freestyle in 29.53 seconds and Paige Benson was the runner-up in 31.49.
Maylei Ruggles led a 1-2-3 finish in the 100 butterfly. She won the race in 1:13.46. Lauren Zaabel was the runner-up in 1:23.19 and Brooke Linahon finished third in 1:28.55.
Hannah Nedder took a night off from swimming her best event, the 100 fly, and took part in the 100 freestyle, winning that race in 1:02.31. Anna DeVries took second in 1:13.63 and Lane ended up third in 1:16.20.
The Aquagirls were 1-2-3 in the final two individual events.
In the 100 backstroke, Van Maanen claimed the win in 1:21.66. Avery Meyer hit the wall in second with a time of 1:24.82 and Hailey Dickerson finished third in 1:25.27.
Grace Benson won the 100 breaststroke in 1:27.72. She was just ahead of Zaabel, who hit the wall in 1:29.01. Lillie Ray finished third in 1:34.38.
"Grace has swam the breaststroke before, but it's not something she has focused on," Patterson said. "I was pleasantly surprised with her time tonight. I was not surprised she chose it or did well, but she was better than I thought. That's a really good time."
The Aquagirls won the 200 medley relay, but the other two varsity teams were disqualified. Nedder, Ruggles, Lillie Ray and Zaabel won the relay in 2:16.10.
NCMP was 1-2 in the 400 freestyle relay. Ruggles, Heiar, Peyton Ray and Nedder won the race in 4:23.67. The team of Riney, Linahon, Van Maanen and Garrett finished second in 4:44.48.
The winning 200 freestyle relay team included Nedder, Ruggles, Garrett and Lillie Ray. They finished in 1:57.62.
Coming in at 2:03.79 and finishing second was the foursome of Linahon, Grace Benson, Paige Benson and Zaabel. The team of DeVries, Skyler Gooden, Emily VanderMolen and Lane were third in 2:16.14.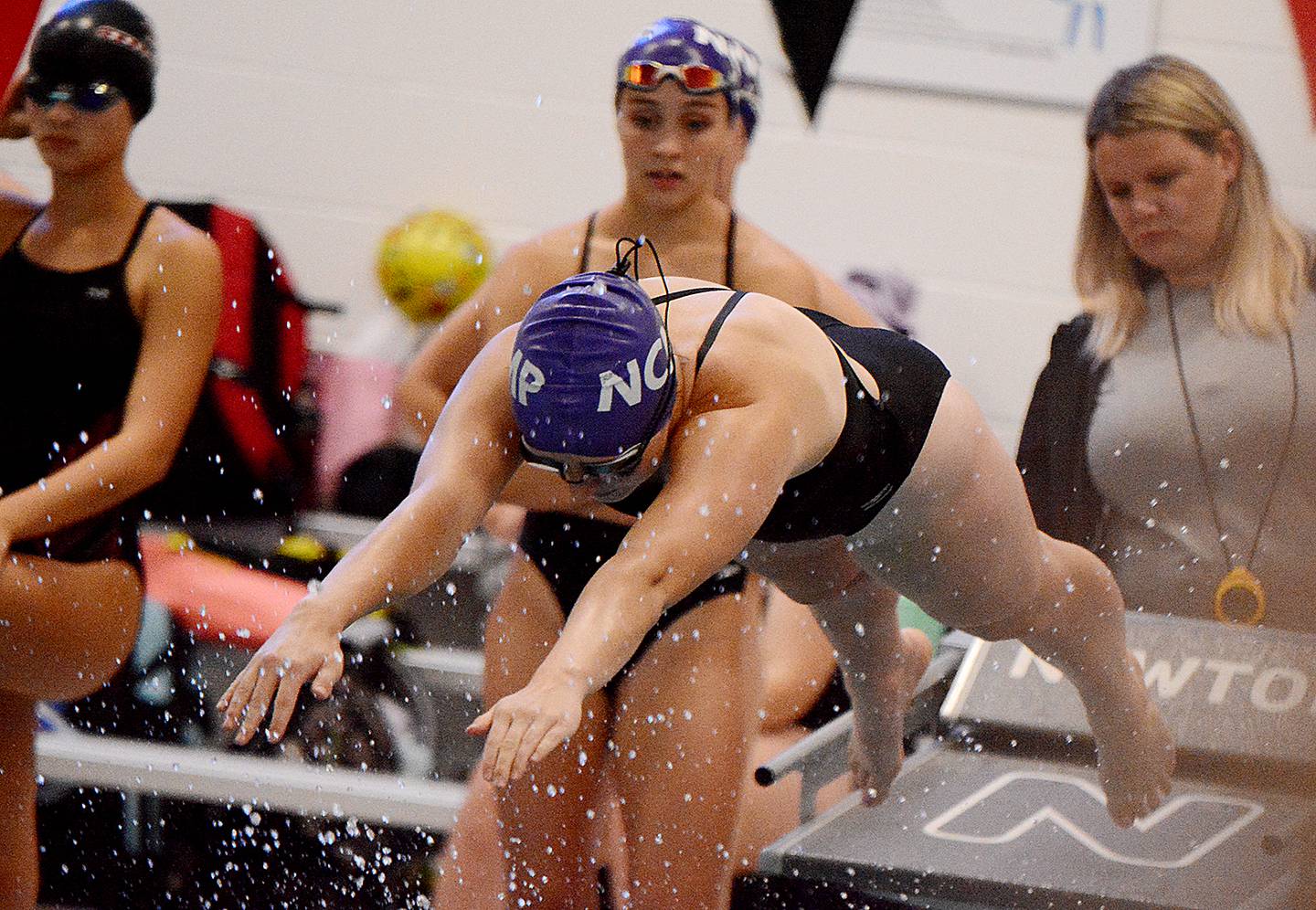 Patterson said the hardest part about setting up a fun meet was convincing some of her swimmers that it was OK to not compete in their main individual events for one night.
"Some of them wondered if they needed to be more serious, but I want them to do these kind of meets. We need to have fun, too. I want them to know what it's like to swim loose," Patterson said. "I think it's good to take a mental break away sometimes. It also may re-invigorate them to want to do it even more next time. They can't wait to swim it next time. It's usually a good thing even if they don't want to do it."
Notes: With just 10 swimmers, Oskaloosa did not have an entry in the JV races. NCMP's JV defeated the Indians 117-0 and Gooden, Riney, Meyer, DeVries, Estella Allen, Jadin Brooks and Gracie Brown all won individual events.