OSKALOOSA — Facing a trio of ranked teams, Newton's girls cross country team was right there.
In a field chalked half full of ranked squads, the Cardinal boys fared as well as they could have without three varsity runners in the lineup.
Newton's harriers made their presence felt at the Oskaloosa Invitational on Tuesday.
The girls finished third in the final team standings with 85 points. The Cardinals trailed 2A No. 15 Albia by four and were 18 in front of 2A No. 12 Davis County. Class 2A No. 7 Williamsburg won the meet with 60 points.
"I told the girls second place was anyone's race and we came very close," Newton girls cross country coach Rachelle Tipton said. "They went out and did what they needed to do — compete."
The Cardinal boys were without Jackson Mace-Maynard, Derek Beiner and Jared Smith. They finished eighth as a team with 161 points but likely finish top three with the missing runners.
"Although we were missing three regular varsity runners, we still had very impressive finishes," Newton boys cross country coach Steve Weeks said. "There are so many JV runners chomping at the bit to get their chance at the varsity level. They really rose to the occasion."
The girls' field featured 11 teams. Fairfield (126) completed the top five with Ottumwa (136), Oskaloosa (155), Grinnell (171), Danville-New London (231), Knoxville (266) and Eddyville-Blakesburg-Fremont (309) rounding out the field.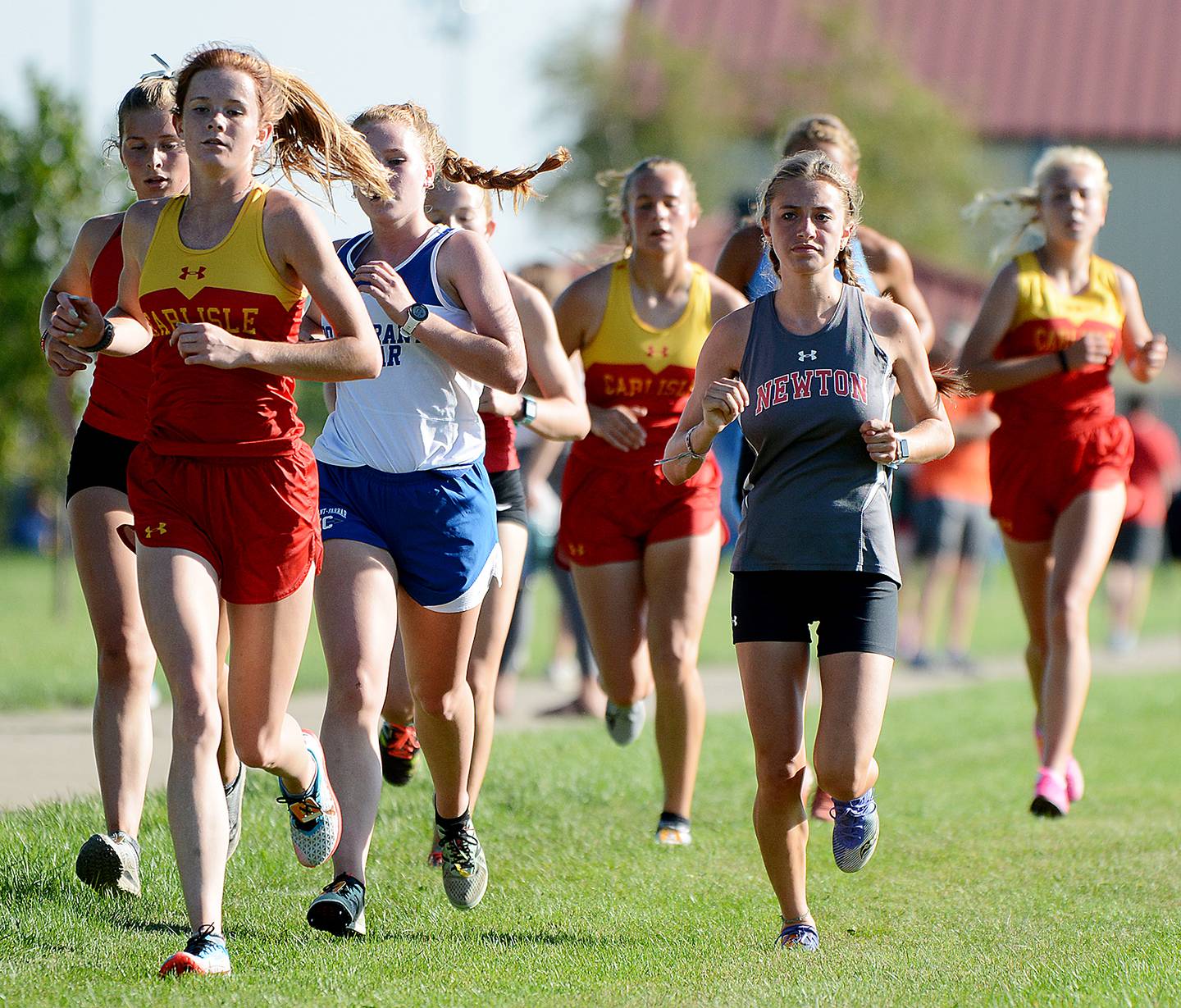 Two Newton runners came home with medals. Class 3A No. 19 Alyssa Shannon was fourth in 21 minutes, 7.8 seconds. Morgan Stalzer finished 19th and ran a season-best time of 22:09.9.
The final three scoring runners were Kelsey Church (season-best 22:28.2) in 24th, Kate Muckler (season-best 22:51.8) in 28th and Bella Winther (personal-best 23:02) in 29th. Hadley Kruse (personal-best 23:21.7) and Laura Sander (personal-best 23:53.1) were 40th and 46th, respectively.
"Alyssa had another solid race," Tipton said. "She's getting the hang of the distance. Morgan didn't settle and made the move to the top 20. She had an amazing race."
Class 1A No. 11 Rylee Dunkin of Twin Cedars won the girls' 5K race in 20:24. Joslyn Terpstra of Pella Christian was the runner-up in 20:59.6.
The medalists for the Newton boys were Treycen Garton and Landon Manninga. Garton finished fourth in the boys' 5K race in a season-best 17:08.6 and Menninga was 10th in a personal-best 17:43.1.
"Treycen is back to his form as a low-17s runner with revisiting the 16-minute range the second half of the season here," Weeks said. "The man of the night has to be our second finisher, Landon Menninga. He had an absolute breakthrough night by crushing his old personal-record."
The rest of the scoring runners included Leo Friedman (personal-best 18:58.1) in 30th, Collin Buchli (personal-best 19:46.1) in 54th and Cole Walter (20:17.9) in 63rd. Freidman improved his personal-best time by a full minute.
Breyton Schwenker (20:17.9) and Presley Arnold (20:26.4) moved up to the varsity and finished 64th and 67th, respectively.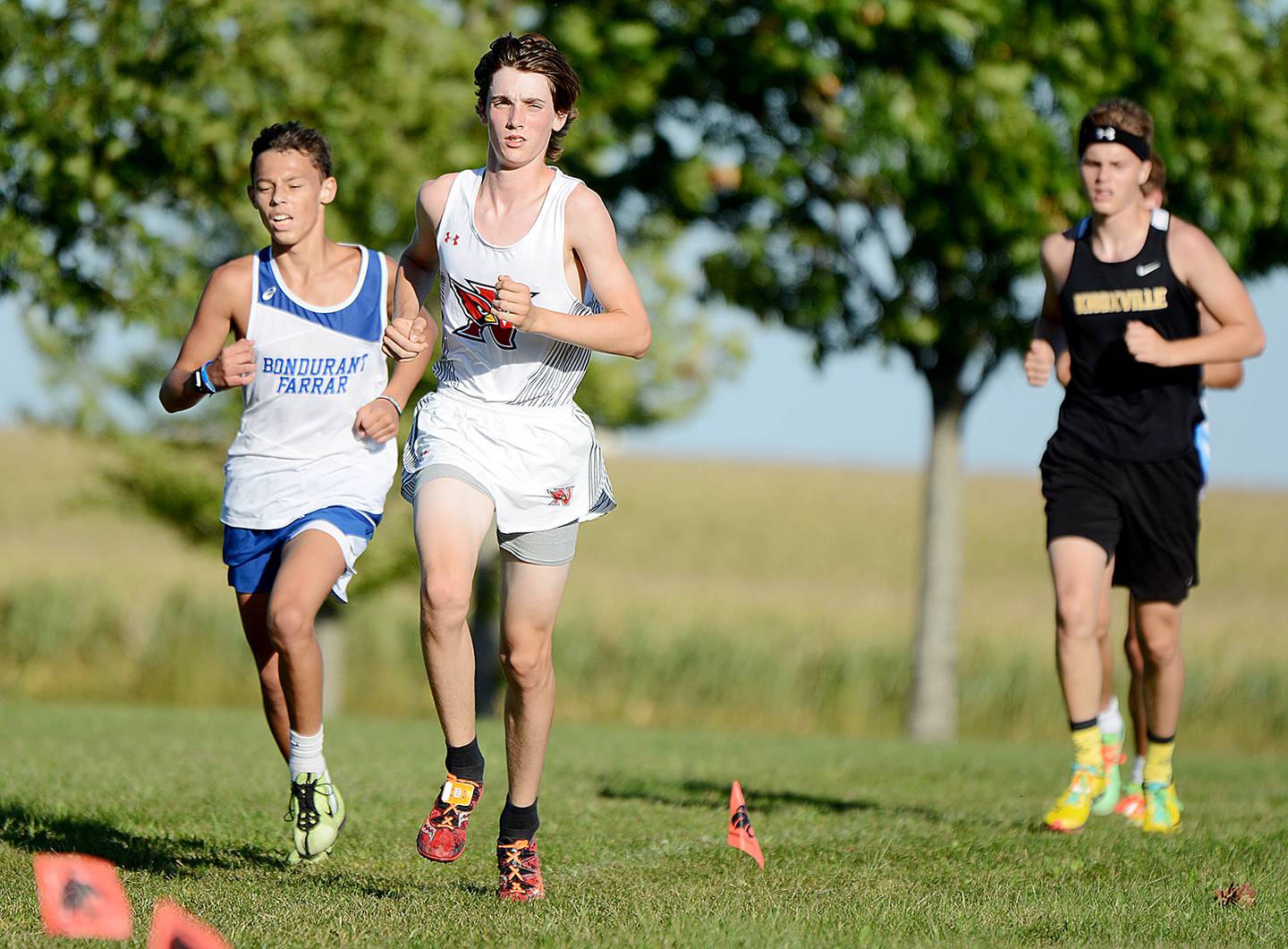 "We have had a huge gap between our No. 2 and 3 runners all season and Landon has now closed that gap," Weeks said. "All season I have talked about how we haven't reached our potential and our expectations are lofty, and this is the first night we can leave a meet with our heads up high knowing we went into the meet short-handed and still walked away with an outstanding result."
Class 2A No. 1 Ty Carr of Danville-New London won the race in 16:36.4. Class 3A No. 10 Patrick DeRonde of Oskaloosa was the runner-up in 16:45.4. Three runners ranked in the top 10 in 2A filled out the top five.
Class 2A No. 1 Danville-New London was the team champion with 43 points. Class 2A No. 4 Williamsburg was second with 71. Grinnell (139), Oskaloosa (145) and 1A No. 20 Pella Christian (148) completed the top five.
Class 2A No. 14 Davis County (152) was sixth, 2A No. 12 Albia (158) finished seventh and 3A No. 20 Newton (161) was eighth.
The rest of the 12-team field included Fairfield (194), Knoxville (196), Ottumwa (240) and EBF (331).