COLFAX — Newton's Alyssa Shannon burst onto the scene in a big way during the track and field season last spring.
She's making a similar impact in cross country this fall. Only this time, those who are closest to her aren't as surprised.
Shannon moved into the Class 3A rankings this week at No. 19 and was running against Baxter's Elie Tuhn on Thursday. Tuhn is ranked eighth in 1A after medaling at the state meet last year.
With one meet already in the books for the week and another set to happen two days later, Shannon decided to take it easy at the Colfax-Mingo Cross Country Invitational.
Tuhn ran her usual pace, got out fast again and set a season-best time in winning her third race of the season. She hit the finish line in the girls' 5K race in 20 minutes, 49 seconds.
Shannon, who is out for cross country for the first time and using the sport to prepare herself for another big track season, was the runner-up in 21:55.
"I knew she was good and she was ranked," Shannon said about Tuhn. "I hoped to get second and as long as I was in second, I didn't push too hard to get up to her. I definitely took this one easy. We want to run well on Saturday. That's a big one for us."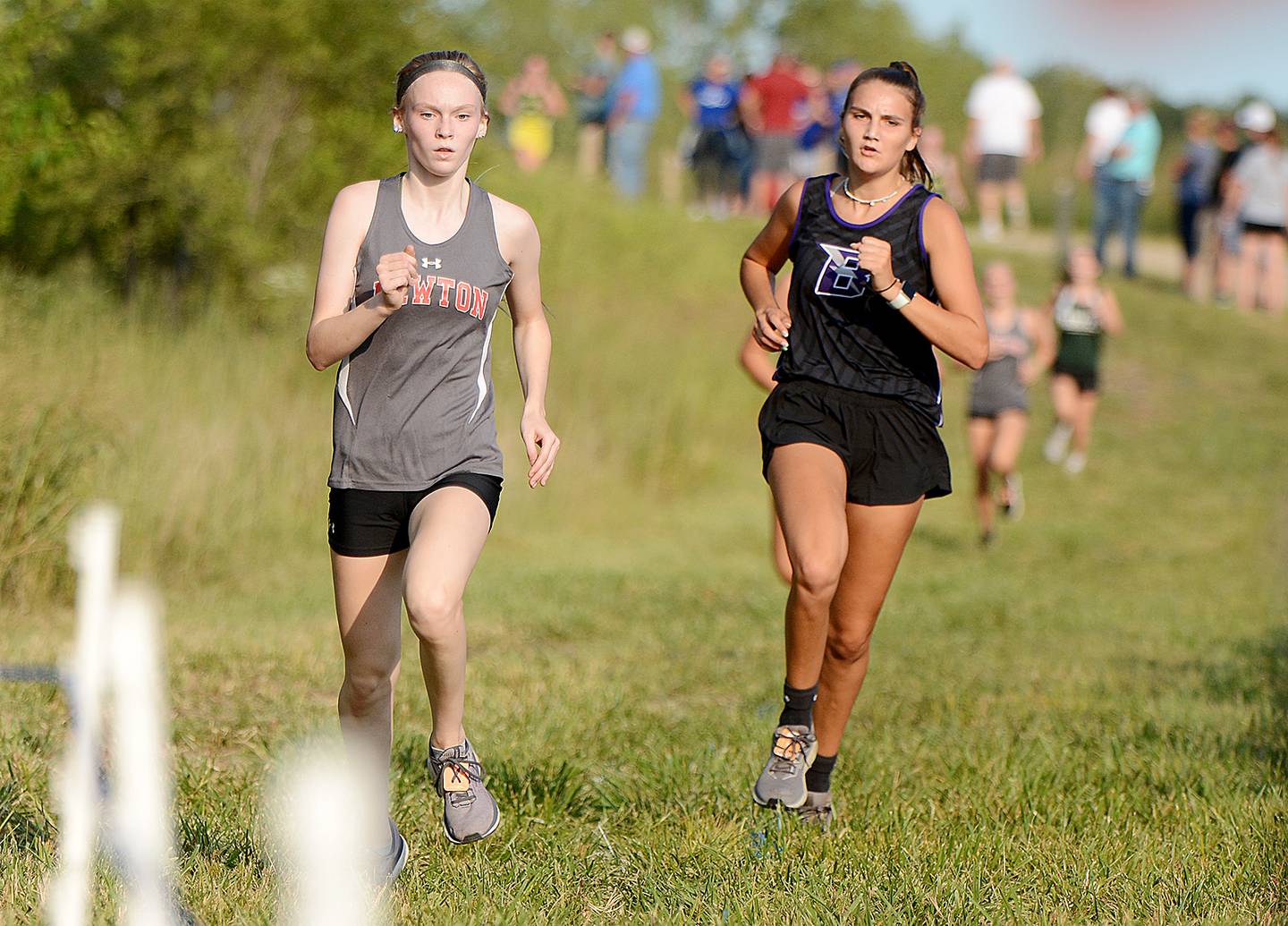 The top 25 finishers in each varsity race earn medals. Shannon was one of six Cardinals to bring home hardware as Newton was the runner-up in the team race.
The Cardinals scored 42 points and did not have No. 4 runner Morgan Stalzer because of a college visit. They trailed 1A No. 14 Collins-Maxwell by 10 points. Class 1A No. 18 Baxter was third with 67 points and host Colfax-Mingo finished eighth in the eight-team field.
There were five schools who did not have enough runners for a team score.
"With a busy week, tonight was less about times and more about getting another race experience for our new runners (after losing a meet)," Newton girls cross country coach Rachelle Tipton said. "They were to go out and hang with the competition, which they did."
Tuhn was expecting to see 1A No. 11 Rylee Dunkin from Twin Cedars for the second time this season but the school had a scheduling conflict and did not compete.
That meant Tuhn was out front all by herself for most of a 5K course that is great for scenery and shade but not for screaming fans.
"It's a tough course because you have to push yourself without fans around us for a lot of it," Tuhn said. "It's also nice to change it up a bit though.
"I still have a ways to go, but I feel good about the way the season has started."
Six Cardinals finished in the top 24. Kelsey Church gave Newton a 2-3 finish as she was third in 23:03. Kate Muckler had the next best area finish in 11th, and she finished in 23:35.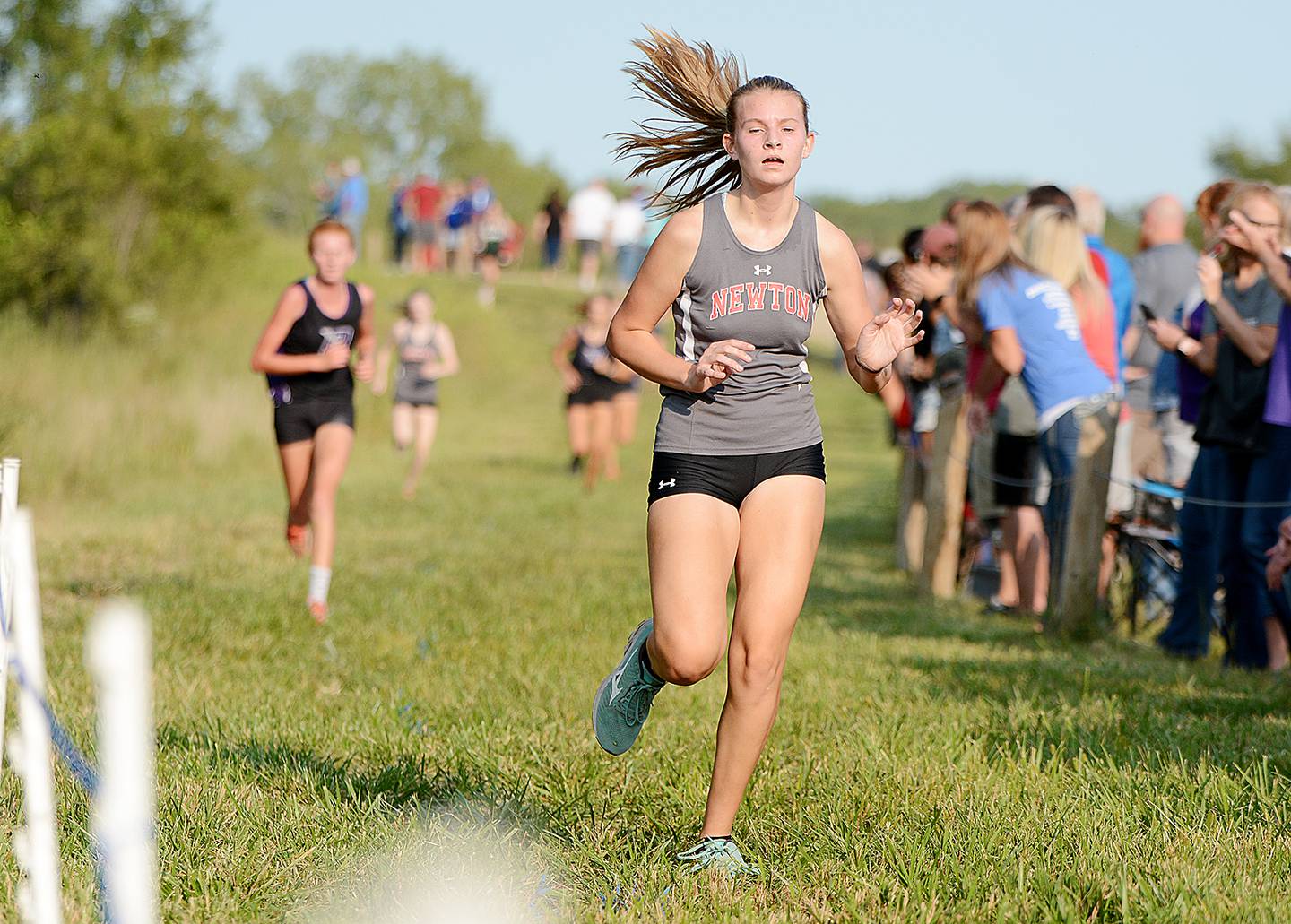 The other two scoring runners for Newton were Bella Winther (personal-best 23:44) in 13th and Hadley Kruse (personal-best 23:56) in 16th. It was Kruse's varsity debut.
Lauren Nook (25:06) also medaled in 24th and Heather Perry (29:55) was 57th. Aryssa Hinderberger (30:51) finished 60th, setting a new personal-best time by three minutes.
"Kelsey had a great kick at the end, passing a pack and earning a third-place medal," Tipton said. "Bella ran strong. You could see the determination in her eyes to stay as close to Kate as possible.
"A big highlight of the night was Aryssa Hinderberger's huge PR. She works hard and we've known the faster time was in there."
The Bolts were without No. 5 runner Morgan Hansen. Zoey Gliem (23:39), Lilie Vansice (23:45) and Emie Tuhn (23:49) all medaled for Baxter in 12th, 14th and 15th, respectively. Regan Russell (26:17) finished 33rd.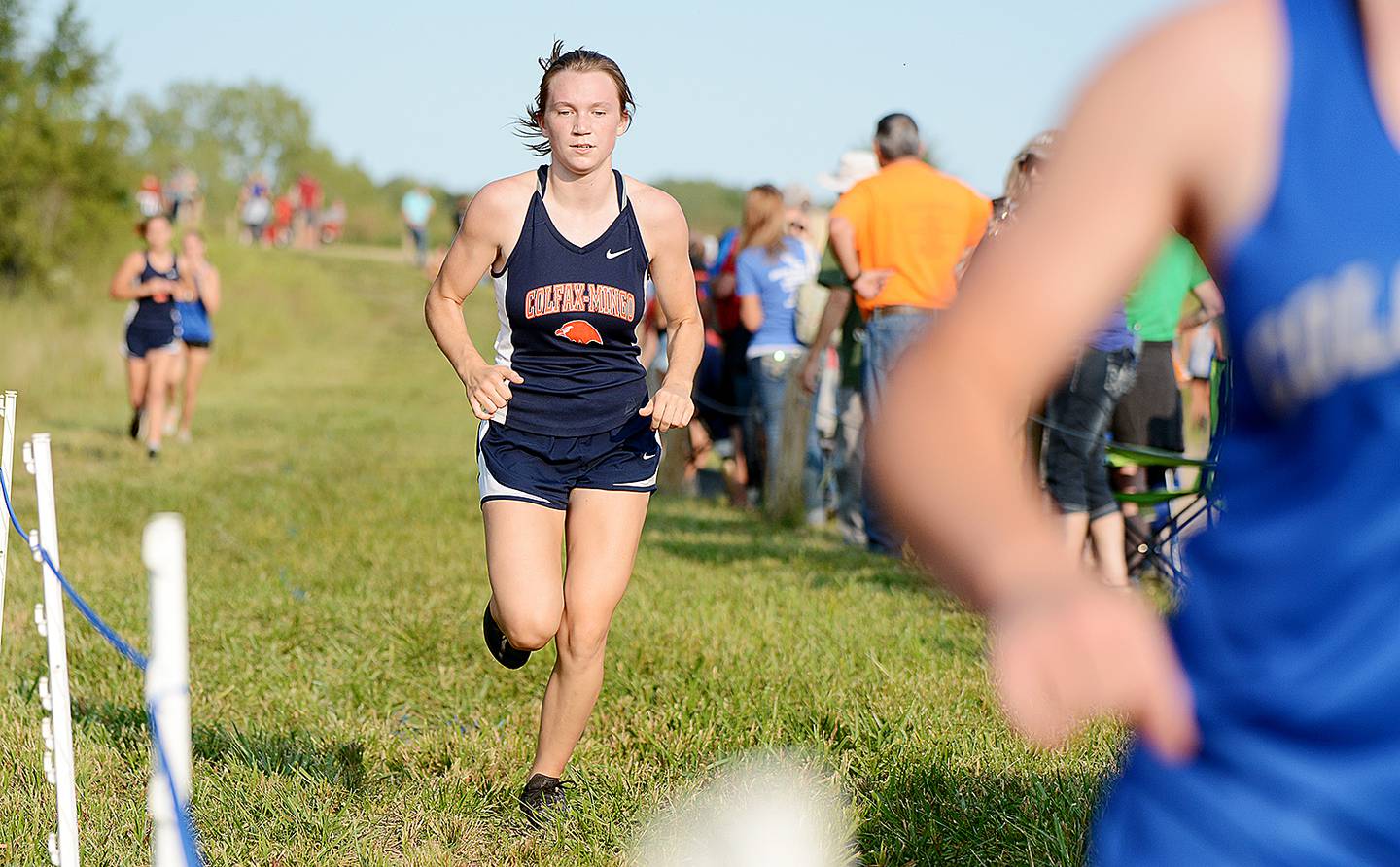 The Tigerhawks were not close to full strength. They did not have one of their top runners in Joslyn Chadwick and also were missing Maggie Schroeder, Joslyn Dawson and Devan Chadwick from potential varsity spots.
Shae Wilkins led the group in 39th with a time of 26:57. Danica Linn (28:28), Kirsten Frier (28:36), Kylie Doty (29:54) and Felicity Woods (30:01) were the other scoring runners in 50th, 51st, 55th and 58th, respectively. Hannah Moore (36:25) finished in 60th.
"We had several girls who ran personal-best times," Colfax-Mingo cross country coach Zach Tomas said. "I'm proud of them for that. Our times are dropping and that's all you can ask for. We are headed in the right direction."
Collins-Maxwell put five runners in the top 10 and won the meet because the gap between its first five was only 27 seconds.
Notes: The Colfax-Mingo Invitational has a Traveling Trophy attached to it. It's a trophy given to the school with the best combined score between the girls and boys teams. Newton was the traveling trophy winner on paper but because it added this meet after the season started and likely won't be returning with its varsity team next fall, the traveling trophy went to Collins-Maxwell.