DES MOINES — The first words out of PCM senior Colby Tool's mouth as he walked off the mat for the final time in his high school career were, "Did he win?"
Tool had just secured a fifth-place podium finish at the Iowa High School State Wrestling Championships with a pin over the No. 2 ranked wrestler in Class 2A at Wells Fargo Arena.
But he immediately turned his attention to his teammate and long-time friend Landon Fenton.
Fenton was on the mat at the same time as Tool, also wrestling for a fifth-place finish at 145 pounds. And Tool wanted to know how he fared in his final match.
"It's the thing that brought us together at a young age," said an emotional Tool. "He's a friend I can take anywhere and everywhere. He's a great practice partner, and we made each other better every day."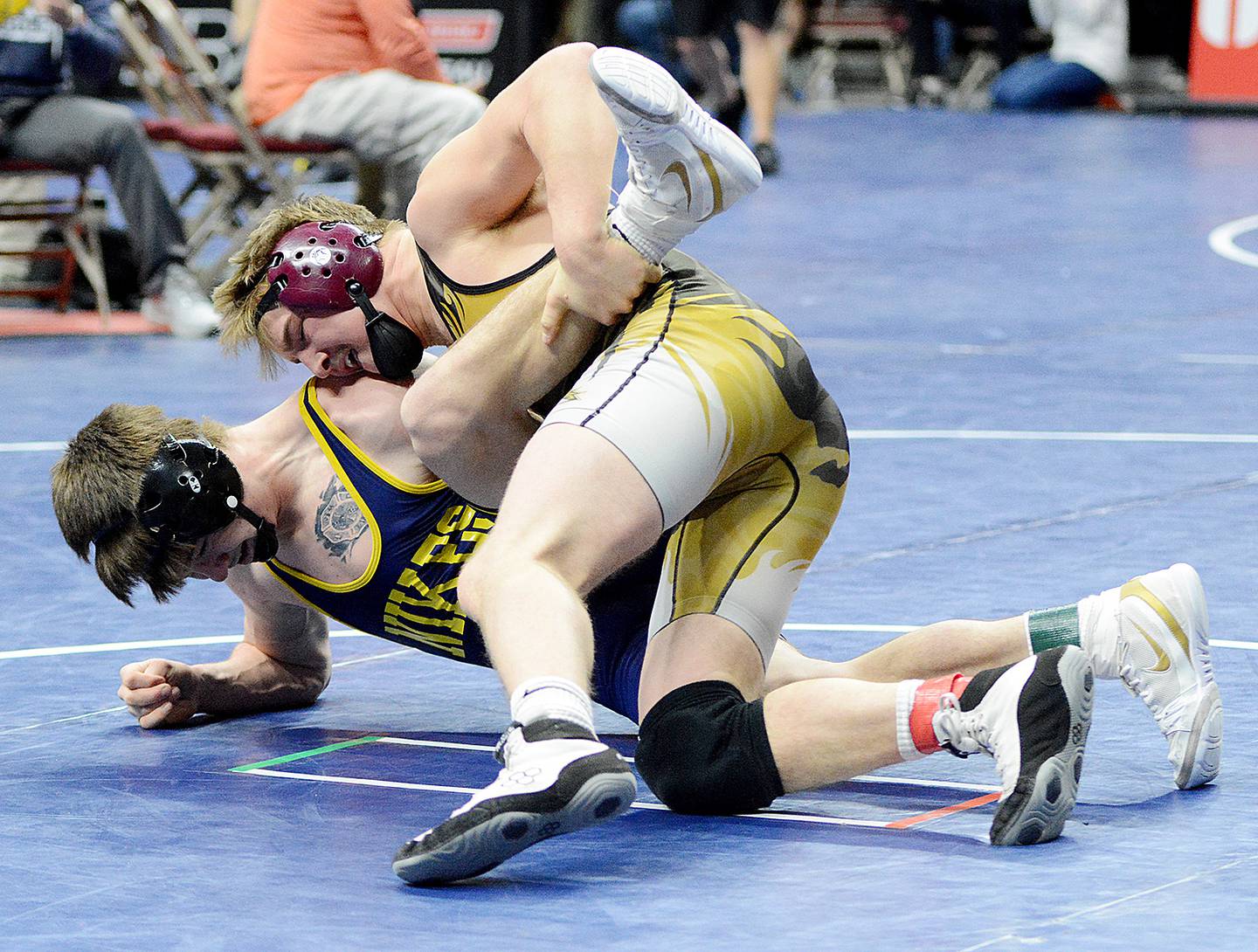 Both Tool and Fenton finished fifth in their final state wrestling tournaments. It was Tool's fourth podium finish. Fenton earned a medal for the first time in his career after coming up short three other times.
"We will miss both of those kids for sure," PCM wrestling coach Jeff Nicholson said. "(Landon's) been a good role model in the room with his work ethic and his attitude. (Colby's) got great leadership skills, motivates his teammates and is always worried about how they are doing."
Fourth-ranked Tool (45-4) reached the state semifinals for the second time in his career, while Fenton had to come all the way back after losing his first match.
Cooper Sloan (34-16) was a third Mustang grappler competing at the state tournament and he went 1-2 at 220 in his first state appearance.
Tool has had plenty of close losses at the state tournament in his career. In his four years at state, the four losses he's had on the championship side of the bracket have been either by one point or come in overtime.
It happened again on Friday night against No. 1 Jack Gaukel of Sergeant Bluff-Luton. Tool led 1-0 after two periods but gave up a takedown with 33 seconds to go and lost 3-2.
He gave a free release to Gaukel to start the third period. Tool's final point came on an escape with 4 seconds to go in the match.
"You have to score win. I just knew the match needed to be wrestled on our feet," Tool said of the decision to give up the escape point early in the third. "When you know you can't hold him down for two minutes, there's no point to waste energy. It didn't turn out the way we wanted, but it is what it is."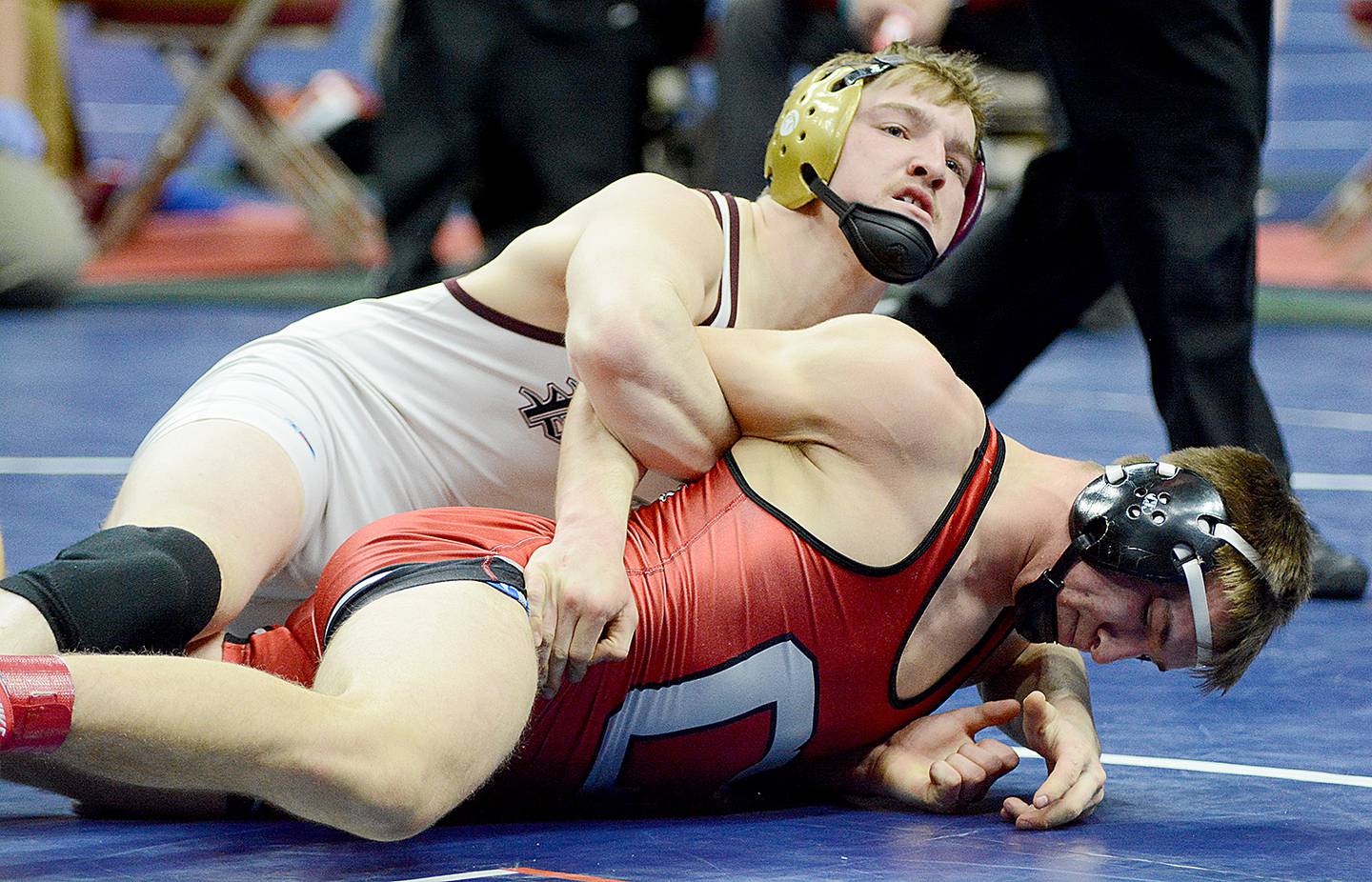 Gaukel (44-2) is a four-time finalist and went on to win the 152-pound title on Saturday night. Tool wrestled him better than anyone else as his other three wins came by technical fall, major decision and an 11-4 decision.
Tool opened the state tournament with an 18-1 technical fall win over Creston/Orient-Macksburg's Kaden Bolton (43-14).
In the quarterfinals, Tool downed fifth-ranked Jadyn Peyton (41-2) of West Delaware 8-3. But the match came down to the final seconds.
Tool led 2-0 after one period and 2-1 after two. Peyton tied the match with a takedown 27 seconds into the third but an escape by Tool made it 4-3.
In the closing seconds, Peyton got a good shot in on Tool but the Mustang grappler used a whizzer to hold off his opponent. The whizzer helped Tool score a takedown and get two near fall points in the final seconds.
"His attack is just to be super heavy on your head and wear you out. He wants to make you give up points at the end of the match," Tool said. "He did a good job at that. I was tired at the end.
"He had a good shot at the end. I had a whizzer really hard. I just got lucky enough to slip my foot under and kick his hips up above mine. He was forced to jump over the whizzer and that forces you to go to your back every time if you have to do that."
Tool was emotional after the win. He had won a match that came down to the final seconds and thought he left it all on the mat.
"There was little to nothing I could do in that match to change the outcome," Tool said. "In the past, I felt like there was something I maybe left on the mat. Today just wasn't one of those times. It felt like I did what I had to do and I gave it all I had."
After the loss to Gaukel, Tool moved to Saturday's morning placing round.
He opened his day with an 8-6 loss to No. 10 Zander Ernst (41-5) of Ridge View. It was 3-3 after one and Ernst got a pair of takedowns in the second to lead 7-6.
In the fifth-place match, Tool pinned second-ranked Grifen Molle (47-4) of West Burlington Notre Dame/Danville in the third period. He led 1-0 after two.
"I haven't always finished this tournament strong. The last two years, I lost focused after losing the first match," Tool said. "I just didn't want to leave anything on the mat or have any regrets."
Tool ended up wrestling four state medalists at Wells Fargo Arena. Gaukel finished first, Peyton recovered from the quarterfinal loss to take third and Ernst was fourth.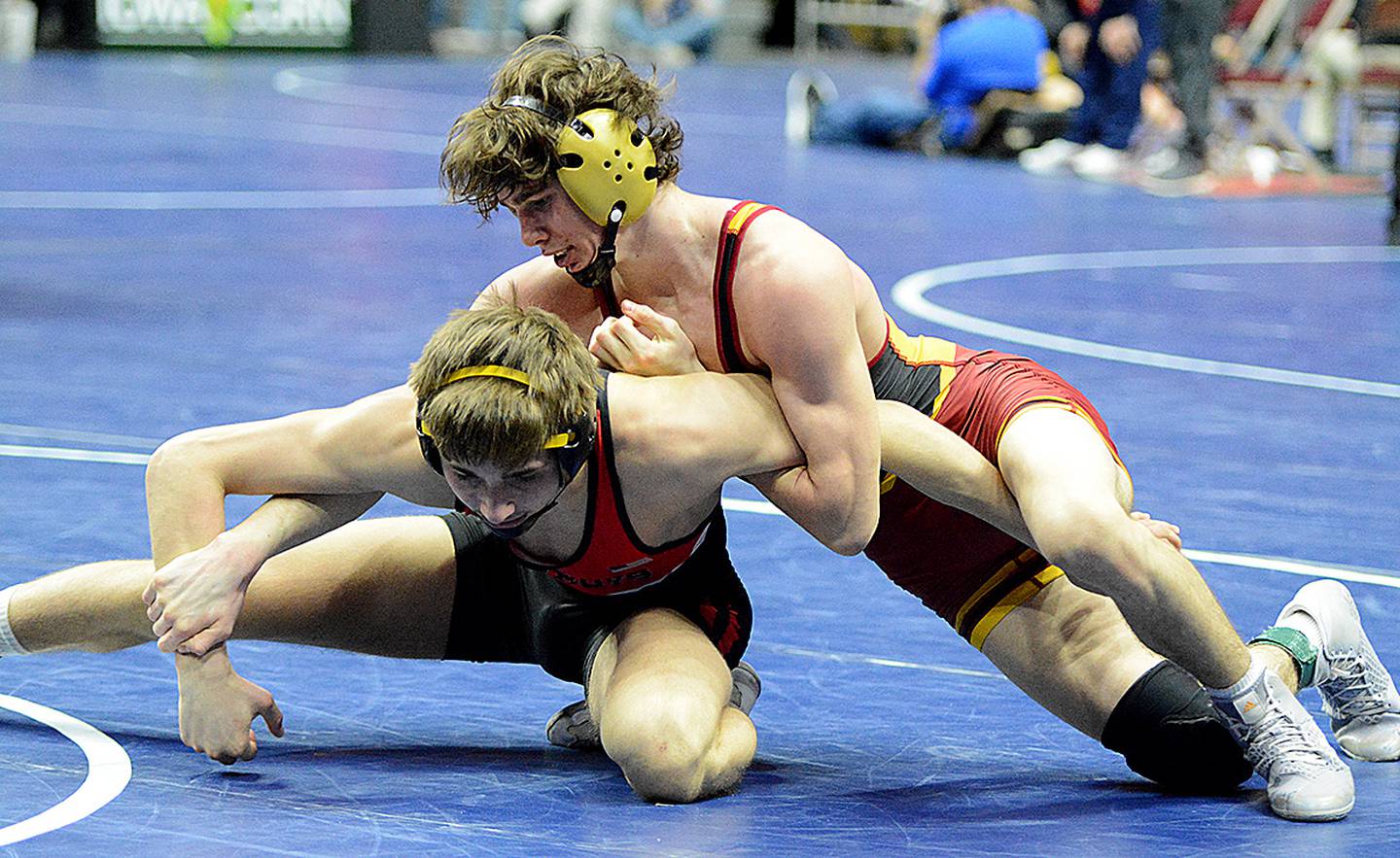 Fourth-ranked Fenton (39-4) opened his 2A 145 bracket with an 8-6 loss to sixth-ranked Remington Hanson of Clarion-Goldfield-Dows.
Fenton struggled with giving up reversals throughout the tournament. He trailed 4-1 after one. He got to within 4-3 but a reversal extended the deficit to 6-3. It was 6-5 early in the third but another reversal with 1:09 to go gave Hanson his final points.
"I let the nerves get to me a bit. I wasn't doing my stuff," Fenton said. "I knew coming off the mat that that wasn't a good match."
In his elimination wrestleback match, Fenton pinned Sam West (37-10) of West Burlington Notre Dame-Danville in the first period.
He had another elimination match on Friday and a pin over No. 10 Cason Johannes (38-6) of Sheldon-South O'Brien in the second period gave Fenton his first state medal. He led 5-0 after one and it was 7-0 at the time of the pin.
"It feels really good. It's something I have wanted to accomplish for a long time," Fenton said. "Even if it looks easy, it's not always easy. I was nervous. This entire building is filled with nerves. The energy in here is stressful, but I am glad I got that one."
His final match on Friday was against Heart of Iowa Conference foe and ninth-ranked Christian Eslick (36-5) of Roland-Story. Fenton pinned Eslick in the conference dual back in December and the rematch wasn't much different as Fenton won 14-4.
Fenton was taken down first but led 6-2 after one and 9-2 after two.
In his first match Saturday, Fenton lost 2-1 to fifth-ranked Jackson Rolfs (31-4) of Decorah. He led 1-0 after two but gave up a reversal with 16 seconds to go.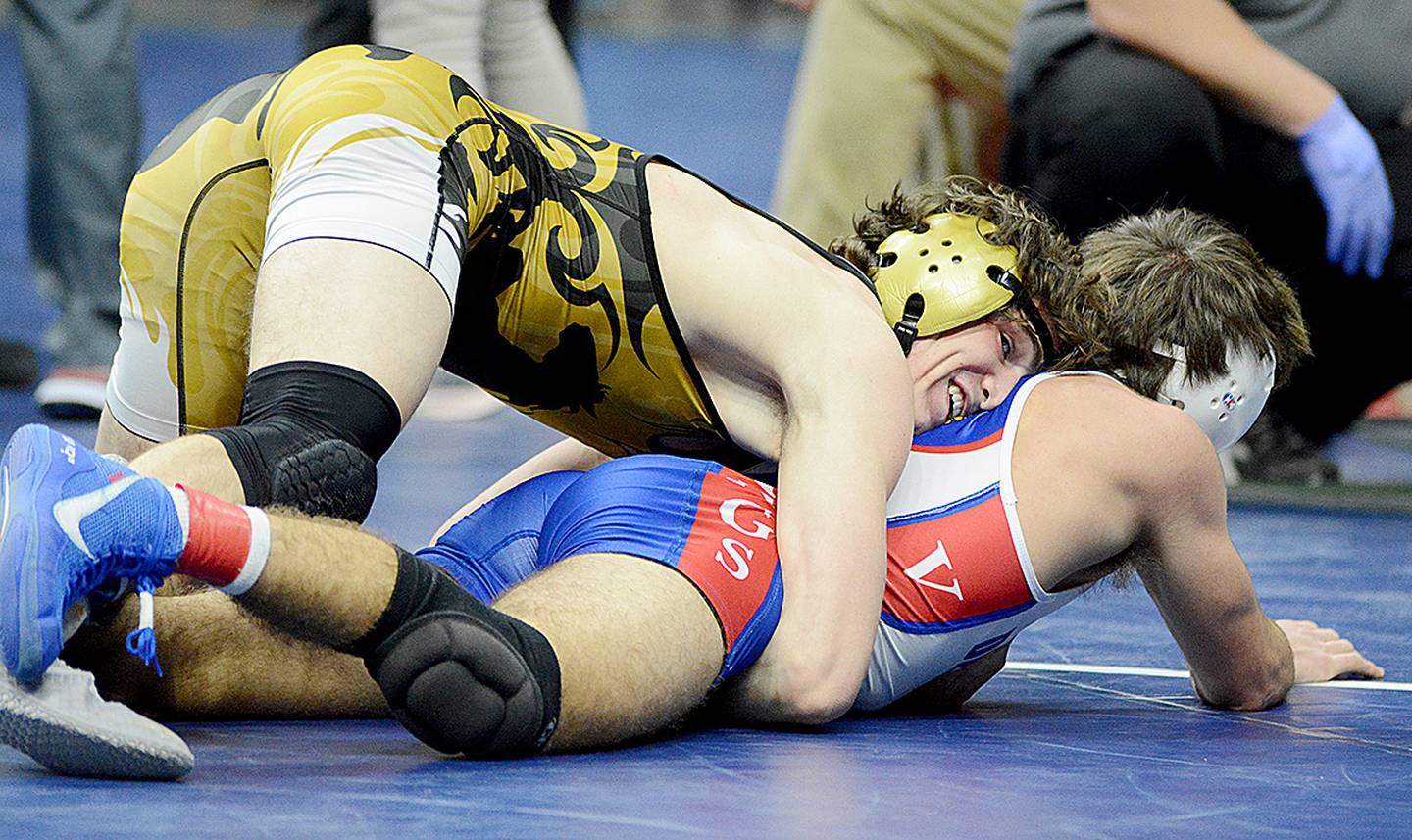 In the fifth-place match, Fenton downed Sioux City Bishop Heelan's Ethan DeLeon (42-11) 4-3.
It was 2-1 after two. A DeLeon takedown tied the match in the third, but a Fenton escape with 40 seconds to go put him in front for good.
"I definitely had higher goals, but I feel like I wrestled mostly to my ability," Fenton said. "There were a few things I would have changed, but I am proud of what I have accomplished."
Rolfs ended up fourth and Eslick finished eighth in the final 145 placings.
"Landon has been close in the past. This was his year to do it. He finished well," Nicholson said. "He came back from mono better than we thought. When you get to be a senior, you have that urgency if you haven't gotten that medal or haven't been here before. That urgency can drive you."
Sloan lost 1-0 to No. 9 Easton Fleshman of West Lyon in his opening-round match. Fleshman got his escape point in the second and then rode out Sloan for the entire third period.
"I just didn't hit any shots. I may have had some jitters," Sloan said. "He was really tough on top, too."
In the elimination wrestleback, Sloan and Albia's Paul Ballard (31-8) were scoreless after the first period.
Sloan needed just four seconds to get an escape point in the second period. Sloan's first takedown in the match came about 20 seconds later as he built a 3-0 lead.
In the third, Sloan got one more takedown to win his first match at the state level. He won 5-1.
"You have to have a lot of motivation in that match," Sloan said. "But that could have been the last match of my season. I didn't want that to happen."
Sloan faced Clarion-Goldfield-Dows' Kain Nelson (24-5) in another elimination match.
He led Nelson 7-0 in the second period but gave up a takedown and two near fall points in the final seconds to make it 7-4.
Sloan gave up a stalling point early in the third and a Nelson takedown with 29 seconds to go tied the match. Nelson turned the takedown into a pin as he ended the match with 26 seconds left.
"He's always been close," Nicholson said. "We were hoping he could get a medal, but this was good way to finish out his senior year."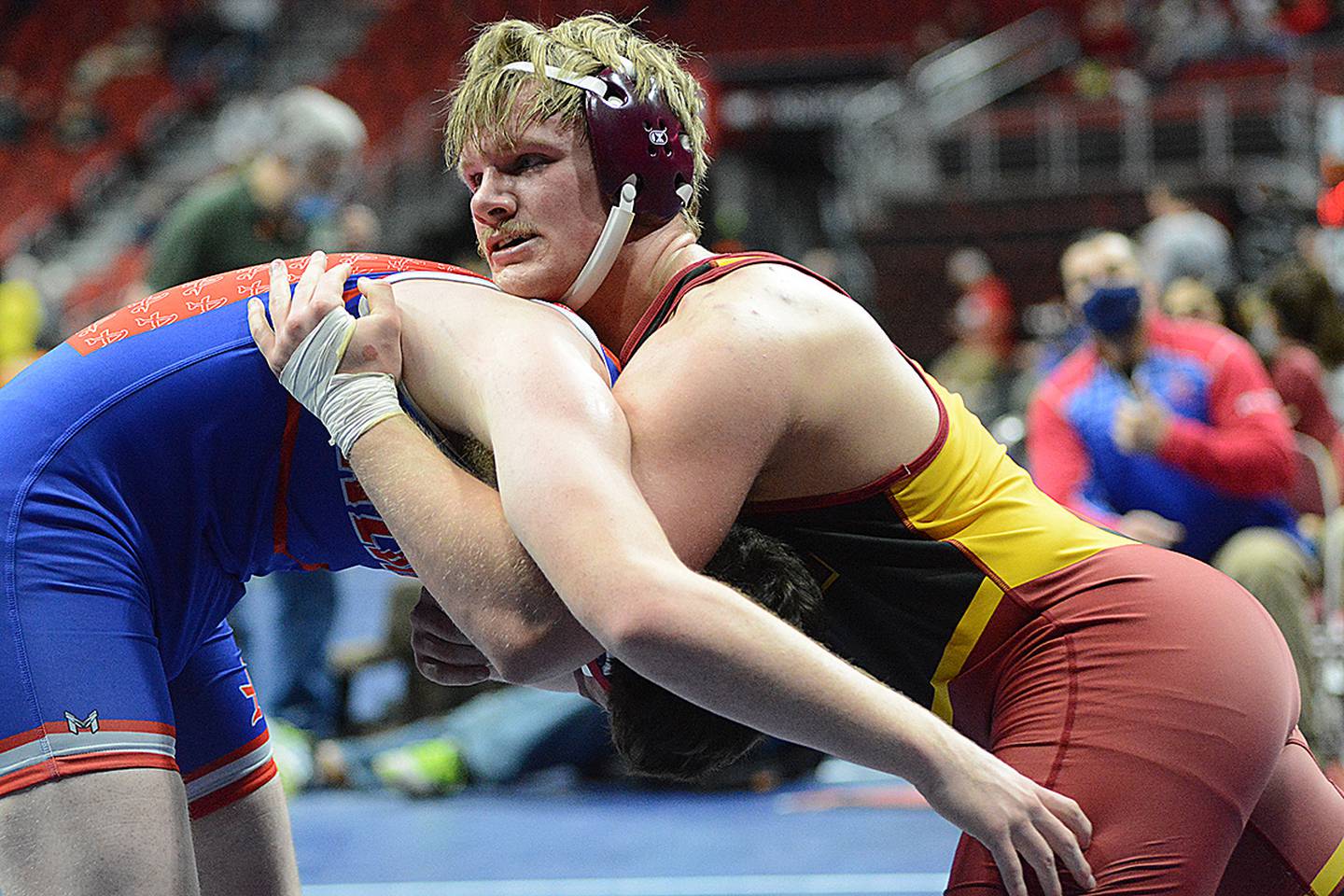 Tool capped his career with four state medals. He is just the second Mustang wrestler to do that, joining Lucas Roland.
"It's something that happens a long the way," Tool said. "Not many can say they made here four times let alone medal four times. If people want to look at me in a better way for it, that's there deal. There were other goals that didn't get accomplished, but that is one goal I had when I started. I think I will hang that one pretty high up."
Both Fenton and Tool were the victims of close losses at the state tournament. Nicholson doesn't think those losses should define either wrestler.
Tool finishes with 146 career victories, while Fenton won 142 matches.
"When you come down here, it is a razor's edge that separates the guy who finishes first and the guy who finishes eighth," Nicholson said.
Notes: Tool was fourth at 138 as a freshman, sixth at 145 as a sophomore and seventh as a junior at 152. … The 34 wins for Sloan are a career-high. … Tool went 45-4 as a sophomore and as a senior.