Jasper County gained an additional 40 acres of public hunting grounds at no cost to residents. The board of supervisors on Sept. 5 accepted a grant requiring a $28,500 match from the county to acquire the property, but that portion was paid for mostly by a number of local Pheasants Forever groups.
Keri Van Zante, director of Jasper County Conservation, commended county supervisor Brandon Talsma — who is a member of Pheasants Forever, a group that is dedicated to conserving pheasants, quail and other wildlife through habitat improvements — for petitioning other surrounding groups to donate funds.
Talsma said, "Quite a few chapters were in support of it and didn't have an issue with it. I think there was a total of five or six counties that all contributed funds to this, including the Jasper County chapter. We're happy we were able to help conservation secure that piece that abuts right up to land we already own."
The wetlands, known in conservation as the Versteegh Property, is located south of Reasnor in the South Skunk River along the southern border of the existing Carpenter Wildlife Area. Van Zante said the property is well-maintained and that apart from a controlled burn in fall or spring, not much maintenance is required.
"This is a beautiful bottom piece with restored wetland areas," Van Zante said in a followup with Newton News. "It stands out because it is full of native trees and prairie and not overrun with invasive trees or plants. This property will add an additional 40 acres of public hunting for Jasper County."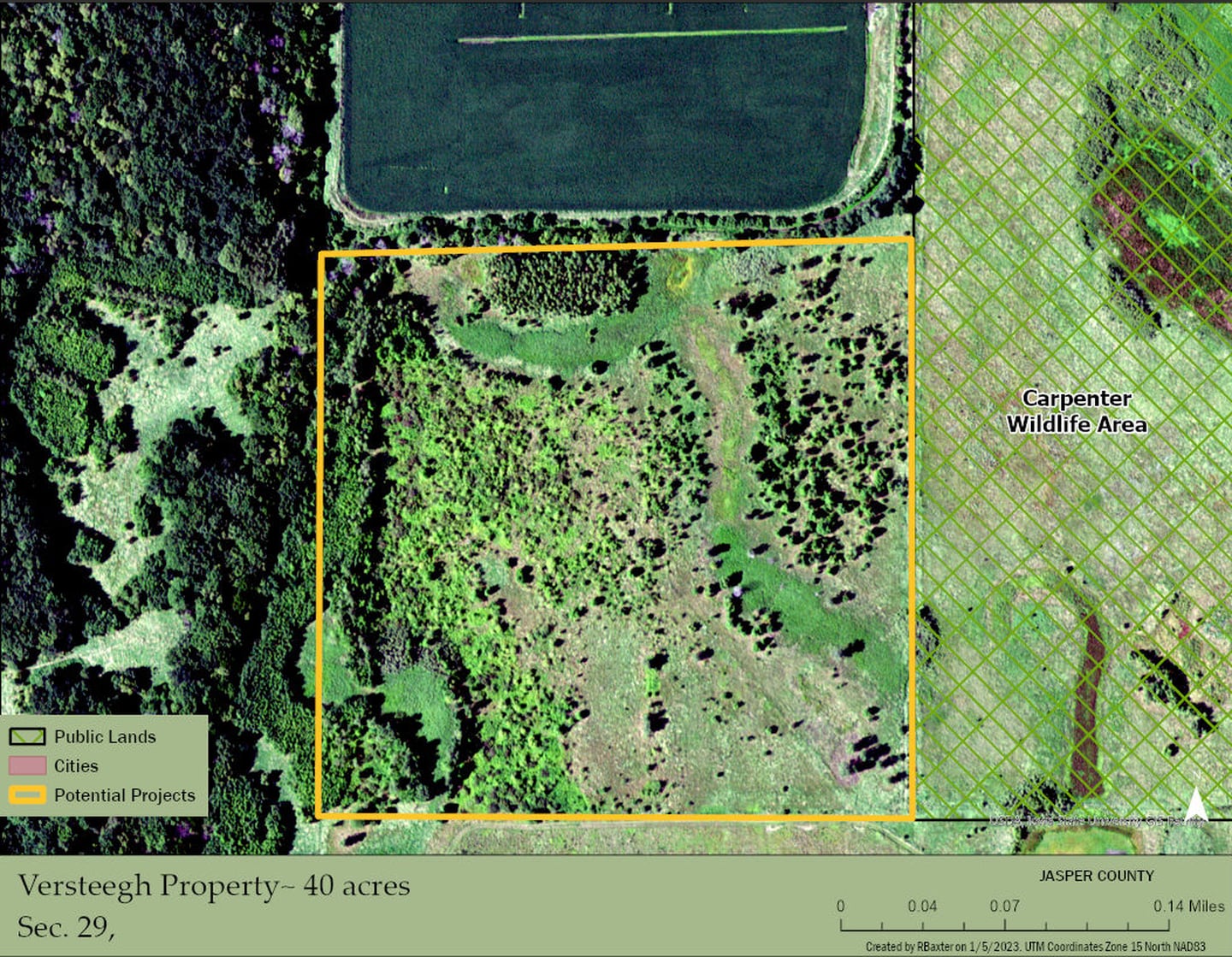 Supervisors unanimously approved the North American Wetlands Conservation Act (NAWCA) Grant for the South Skunk River Wetland Initiative, which provided $40,000 for the acquisition. Van Zante said the grant was the "finale" of the acquisition. Although called the Versteegh Property, she is unsure if the name could change.
"Or if it will just be a continuation of our Carpenter property," Van Zante said. "…It (the Versteegh Property) will be connected to an area that is already public hunting. So it will be additional public hunting, but it's also a nice restored wetland area. There's lots of really good habitat in it, too."
Especially for upland game birds, water fowl and deer. There are already a number of public hunting areas in Jasper County, including many areas south of Reasnor and near Ashton Wildwood Park. For more information on these areas, call 641-792-9780 or contact the Jasper County Conservation Board.
"It's exciting to be able to add a piece of property for not any cost to the county —which is the first good thing about it — and expanding on an area that we already have," Van Zante said. "Since these are connected, it's nice to have an additional property that just makes existing property larger."