To show their appreciation for Newton teachers and all the things they do to better their communities, employees of the local Walmart and other small businesses teamed up on May 19 to deliver gift baskets to students' favorite teachers from each building in the school district.
John Hoyt, store manager of the Walmart in Newton, said the supercenter always tries to expand its outreach efforts into the schools, but staff wanted to honor teachers differently this year. A lot of times the store donates school supplies. While that is always needed, Hoyt wanted teachers to have gifts for themselves.
"We want them to know we appreciate them as a person and we wanted to make this more of a personalized gift," Hoyt said.
So Hoyt partnered with Kelly Sorenson, who handles communications and outreach at the Newton Community School District. Soresen sent out a survey to teachers to find out their favorite hobbies and places in town. From there, Hoyt contacted local businesses to see who would contribute to the gifts.
Advantage Credit Union, Culver's, Fine Things Reclaimed, Gregg Young, Hot Rod's, Perkins Restaurant & Bakery, Subway, Wallace Family Funeral and 1st Ave Nutrition were some of the businesses who provided the goodies included in the gift baskets. They were delivered by business owners and Walmart staff.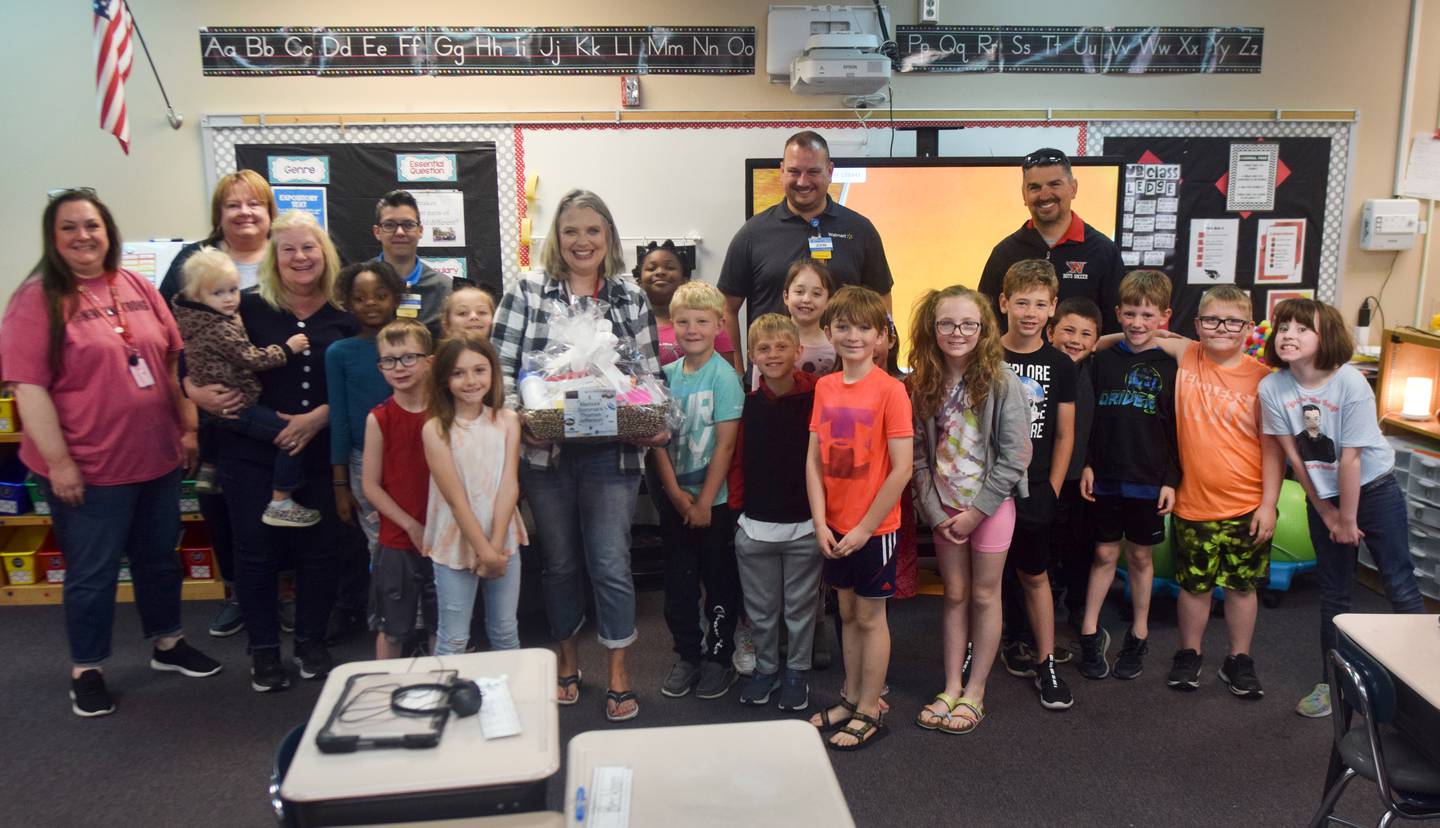 Students also voted for their favorite teachers who'd receive the baskets, which Hoyt said were catered differently for each teacher. When it finally came time to give the baskets to the teachers, Hoyt said teachers reacted with complete surprise. Of course they were all excited to see what was in the baskets, too.
"I don't think they realized what was going to be in there and they started looking and were like, 'Oh my gosh! I love this place and that place!' They were genuinely surprised, which was nice," Hoyt said, adding that the partnerships with local businesses made the event more exciting for him and his staff.
"The point of this was to focus on them as people," Hoyt added. "Being a teacher is hard and they are under-appreciated. They are valuable assets to our kids and our schools and our community. Why not make something personal for them to enjoy?"
Julia Prendergast, owner of Fine Things Reclaimed, said teachers do not get enough reward for the job they do, and she wished they could give baskets to all the teachers. They all deserve it, she said. Seeing the reactions of teachers and students — some were in disbelief, others teared up — made it all worth it.
"They were just so humble and so sweet about it," she said. "It was amazing! It really was! Those kids were also so pleased that their teachers are the ones that got picked. They're dear to their hearts. (I appreciate) the amount of time and care they put in teaching these kids and caring for them. They love those kids!"