Darian Morrison, of Newton, always envisioned herself pursuing a career that allowed her to help people on a daily basis. She was working towards that goal by studying radiology at Mercy College of Health Sciences when another opportunity fell into her lap: owning a business in her hometown.
The 19-year-old officially claimed ownership of 1st Ave Nutrition, 109 First Ave. W., at the start of January 2023. Shortly after the New Year, Morrison made the announcement on a Facebook post that garnered more than 300 interactions. The community was ready to welcome and support her new journey.
Morrison had been almost exclusively working alone in the health food shop since August 2022. She was hired as an employee in September 2021, about a month after the shop opened its doors. At that time she had no idea she would one day own the business, located just south of the Newton town square.
"This opened in my hometown and I kind of popped in to see what it was, and he (the previous owner) offered me a job," Morrison said. "I was just going to work here while I did college. Then he talked me into doing the nutritional coaching part, and I fell in love with the passion of helping people."
Which is why she was going to school to be a nurse or radiology technician. But Morrison found she liked the idea of being a nutritional coach. She has since stopped going to school at Mercy. In return she still gets to help people, but it in a completely different environment.
"I love the support from my customers and the constant support from the community, too," she said. "I just want to grow the business and expand it to more people. There are probably people who don't know who we are. My goal is to get out in the community and spread the word and just grow it from there."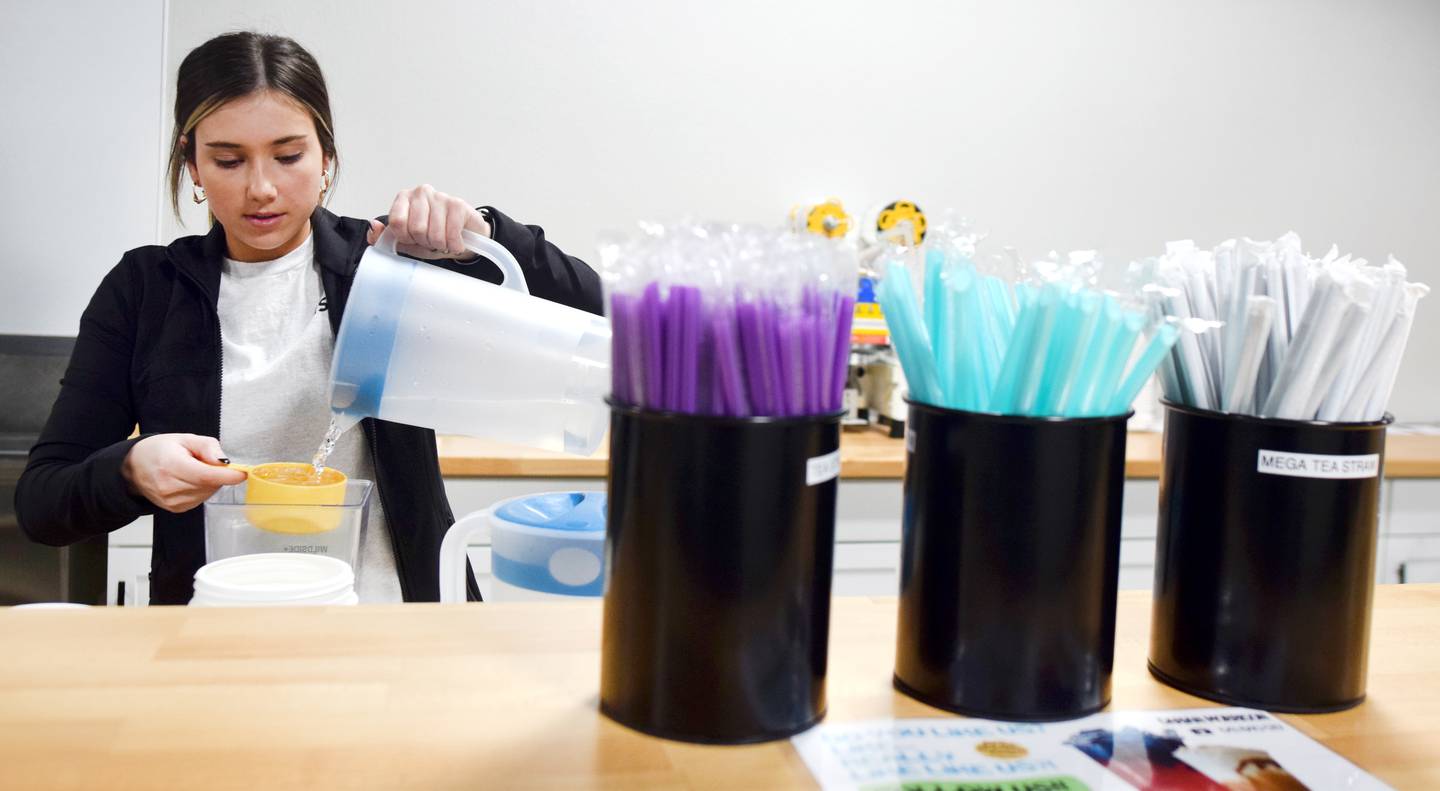 TEAS AND SHAKES GALORE!
Compared to other food options in Newton, 1st Ave provides a unique offering of meal replacement shakes and healthy energizing teas. Customers sign in and fill out an order sheet that tells the cashier what kind of shake and/or tea they want. Of course, these teas are different than the Earl Grey you steep at home.
Ultimate Bombs and Tea Bombs clearly state on the menu they do not taste like tea. In fact many taste as sweet and as sour as candy. Some provide added boosts to hydration while others offer fat reducers, heart health and more focus. Basic teas — which, yes, do taste like tea — are also available.
Shakes provide between 24 to 29 grams of protein and 200 to 250 calories and are advertised as full meal replacements. There are more than 40 flavors of shakes to choose from. Some are distinguished by their fruity or chocolatey flavors, while others are considered more fat reduction or post workout.
Morrison likes to think of it as a different kind of "fast food."
"There's not many fast food places that are healthy around here, and this is new to Newton," Morrison said. "Newton has never had something like this. So I just loved getting the opportunity to introduce a new business to every single person because we've never had anything like it."
GROWING TREND OF NUTRITION CLUBS REACHES JASPER COUNTY
Nutrition clubs are sprouting up all across America with their vibrantly colored, health and wellness beverages. In addition to their caffeine boosts, drinks at 1st Ave can be tailored to quench the thirst of customers and meet wellness needs. It is a different way to consume nutrition, Morrison said.
Which may be why nutrition clubs are becoming so popular. Featured flavors that rotate through the club every month also intrigue customers and keep them lining up for more. The set menu still offers plenty of options, but the monthly flavors keep visitors eager to try the next new flavor.
As a nutrition coach, Morrison provides customers with one-on-one coaching and accountability for both wellness and weight loss.
"If they come to us directly or we come to them — if we feel like they would need help or just want to learn more about nutrition — that's what we're here for," Morrison said. "This replaces both of your meals but you still have to maintain a health diet, too. So we help them with meal ideas, snack ideas, better nutrition."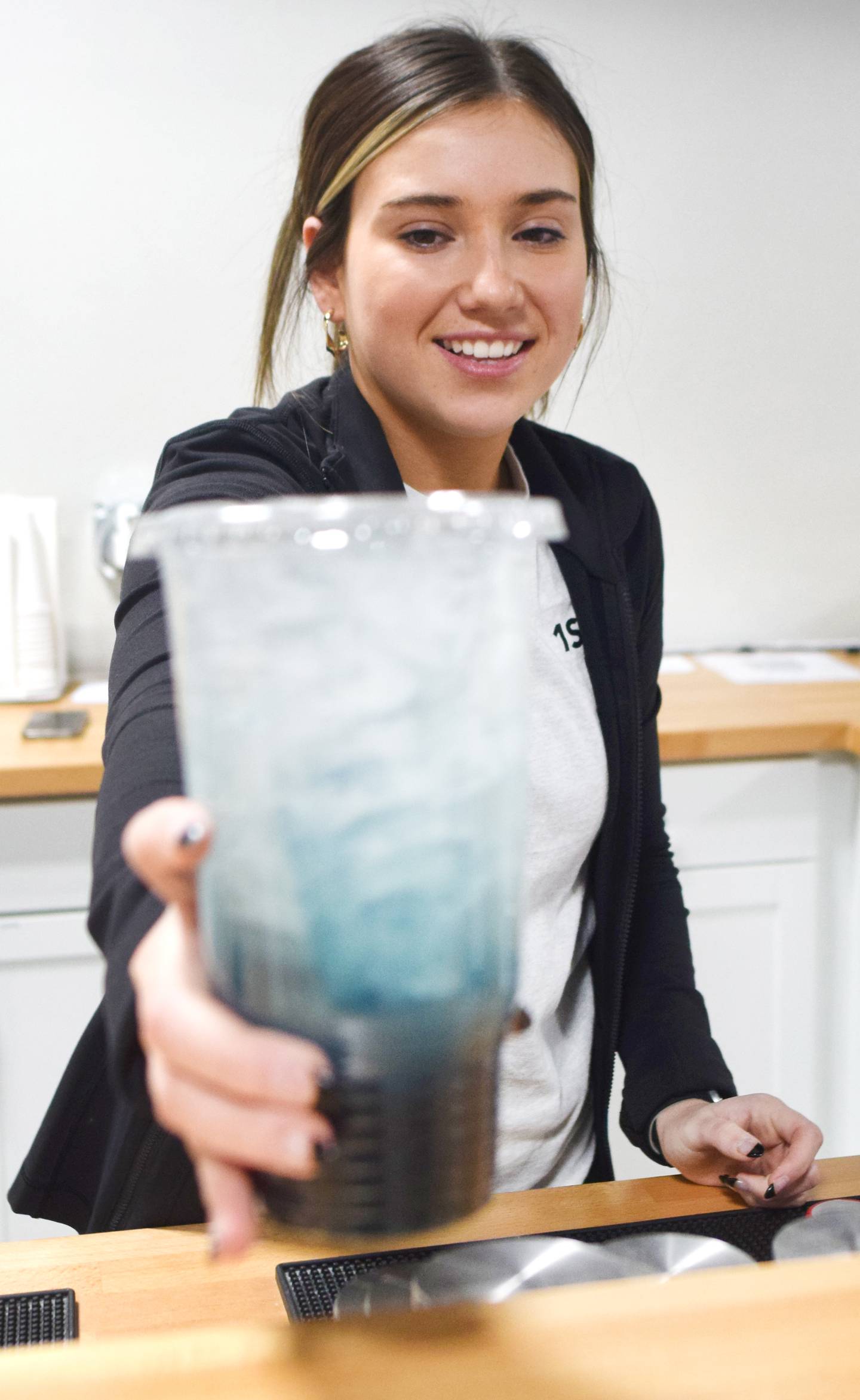 IS MORRISON THE YOUNGEST BUSINESS OWNER IN NEWTON?
Entrepreneurship was not on Morrison's mind when she finished her senior year of high school almost two years ago.
Tanya Michener, associate director of Newton Development Corporation, said Morrison is the youngest brick-and-mortar business owner in Newton. The Newton High School Class of 2021 graduate could even be an inspiration to other young entrepreneurs and small business owners, Michener added.
"We are excited for Darian in her new adventure as a business owner of 1st Ave Nutrition," Michener said. "We appreciate the mentorship she received! She does business marketing very well! Entrepreneurship and innovation go hand in hand, the more we have the stronger our entrepreneurial ecosystem is."
With the business now solely in Morrison's hands, she is not taking it for granted. She sees it as a way for her to grow as an individual. By helping herself, Morrison said she can better help others.
"I never knew this is where I'd be at 19," she said. "I thought I'd still be in college. It changed my whole mindset on life, too. It's like a dream come true. When I was little I told my mom, 'I want to help people when I'm older.' I always said that. I wanted to find a career where I could help people."
1st Ave Nutrition is open 6:30 a.m. to 1 p.m. Monday through Friday and 8 a.m. to 1 p.m. Saturday. The club will occasionally hold pop-ups, too.