Cardinal Lanes reopened last week after making a number of improvements to the facility, which owners Christie and Rob Hughes hope will continue business growth, offer an enhanced experience to casual and seasoned players and give young bowlers a supportive environment where they can develop their skills.
For the past two years, the Hughes family have made investments to the bowling alley, 1300 S. Fifth Ave. E., that incorporate youth and high school bowling. New masking units above the lanes — depicting a Cardinal landing strikes — highlight not only the business itself, but the Newton bowling team's logo.
Other additions like 43-inch monitors and a new scoring software system make the experience better for all bowlers. Lanes come equipped with tablets that offer different games and themes for customers. Christie's daughter, Bethannie Phillips, even painted a Cardinals mural on the wall overlooking the lanes.
In addition to the games and selfie opportunities for casual bowlers, the tablets also track stats for those who want to improve their skills.
"This has been a great addition," Christie said. "We're still kind of getting used to it, but it's great … And I think the experience is going to be better. Technology changes every year. This is leaps and bounds from what we had before. This gives the speed of the ball and other stats. It's going to help the high school, too."
As coach of the Newton bowling teams, Christie knows what it takes for her athletes to be successful. Having an inviting place where Newton bowlers can train, meet and compete gives the team a place to call home and be a part of the growing bowling community that prospers at Cardinal Lanes.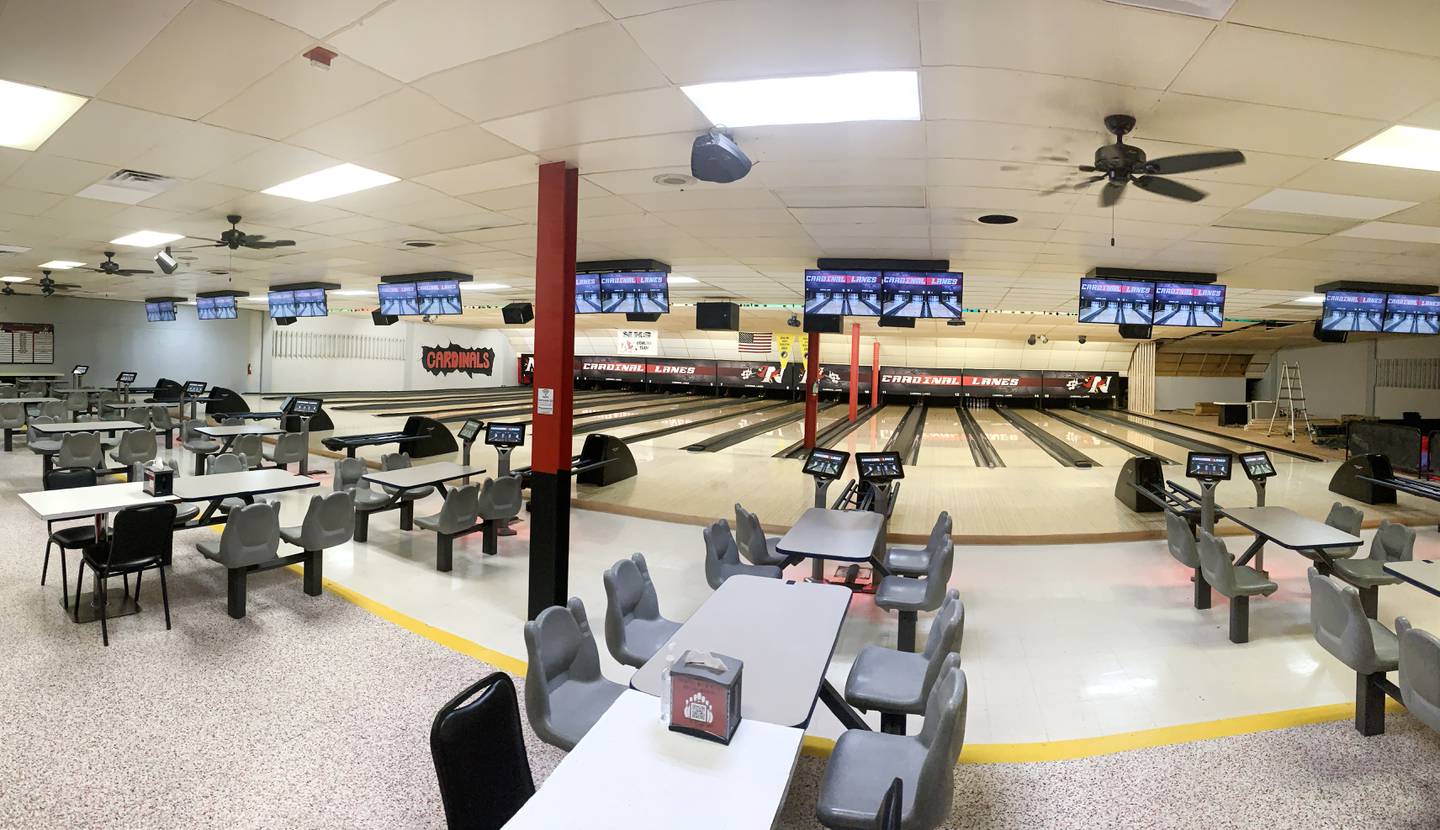 Elevating the support for local bowling teams even further is a record board, which shows off high schoolers' accomplishments. Bowling does not get as much esteemed recognition as some other sports, Christie said. Which is why Cardinal Lanes makes sure the hard work of high school bowlers does not go unnoticed.
"We wanted our high schoolers to know that this is a place where their achievements are important," Christie said.
Of course the upgrades don't stop there. Tucked away in a corner next to lane 16 is a work-in-progress for the Hughes family, an undecided perk for the bowling alley. Rob said the idea of what to do with it changes every day, but he and Christie guarantee it will be yet another fun addition.
"We do everything ourselves, and by 'ourselves' I mean my husband Rob and our son Joe," Christie said, noting that staff members and family members have assisted with the upgrades. "Our employees that are here have helped with some of the building. Every one of the employees here just pitches in with whatever."
For Rob and Christie, the bowling alley is practically their second home. Like any home there is a great deal of upkeep needed to maintain an inviting aesthetic. When they acquired the bowling alley, the family developed a five-year plan to get the place up-to-date and up to their standards.
As a result, they say about 95 percent of their plan has been completed in just two years. It has been all hands on deck for the Hughes family. Rob, Christie and Joe are usually handling operations. But other family members, like daughter Kate, has handled social media. Christie's sister even works in the kitchen.
"It's come a long ways," Christie said. "Obviously there's more we want to do like finish that room. We want to get new seating out here and new flooring and I'd love to be able to open up a window that used to be behind the lockers. And we want to keep adding things that customers want."
Pool leagues still persist at Cardinal Lanes, which draw a number of people to the bowling alley. The establishment also partners with Delivery.com to provide its food to at-home customers. Drinking age individuals can now also enjoy a few Gezelling Brewing Co. beers available on tap.
"I was happy to be able to offer that to customers, too," Christie said. "If they try to suggest something to us we try to reach out and find some way to do that with them. If it's not going to put us in a weird position or overextend us, then it's great. That's what we try to do. This is us."
With the success of high school and the continued growth of leagues for both adults and youth, the Hughes family sees upgrades as a no-brainer. The community has responded well to their ownership, too. So much so that the Hughes family recommends customers call ahead of time to schedule games.
"It just makes sense to invest in their future," Christie said. "Our youth group leagues are growing like crazy. We have tons of kids that are going out for the youth leagues. People who bowled when they were little are now starting to bring their kids back to bowl. It's just so exciting."

Contact Christopher Braunschweig at 641-792-3121 ext 560 or at cbraunschweig@newtondailynews.com