By the start of the 2022-2023 school year, the Newton Community School District will have filled all but a small handful of teaching positions after hiring 43 new educators. Each one was recognized at the Greater Newton Area Chamber of Commerce's New Teacher Luncheon on Aug. 10 at DMACC Newton Campus.
Newton Superintendent Tom Messinger told Newton News the district has two teaching positions open at the high school and two teaching positions open at the middle school. It could be worse, he said. When he spoke to other superintendents the week before, he found out Newton is in better shape than other districts.
"I'm super excited we have another group of people that get to experience Newton and be a part of what we have going on over here," Messinger said. "It's always fun. Two of the best days of the year is when teachers come back and when you see students come back. Love that excitement."
During the luncheon, Newton Mayor Mike Hansen emphasized the important roles teachers have in a community, which must have "an excellent school system" in order for a town or city to sustain itself and attract others. Hansen appreciates the teachers' decision to join Newton as educators.
"You are so influential to our children, and I think most of you know that," Hansen said. "Most of our children really look up to their teachers and look for them for inspiration, as well as a great education. I, again, just want to thank you for your commitment to our children in Newton."
Amanda Price, executive director of the Greater Newton Area Chamber of Commerce, ended the luncheon by saying education is being tested in the state. Teachers have a tough road ahead, but Price said the community and the Chamber is here to support them. She left the new teachers with a quote.
Price recalled a line from the movie "Dead Poets Society," in which the main character — English teacher John Keating, played by Robin Williams — quotes American poet Walt Whitman:
"The spotted hawk swoops by and accuses me, he complains of my gab and my loitering. I too am not a bit tamed, I too am untranslatable, I sound my barbaric yawp over the roofs of the world."
To those new Newton teachers, Price encouraged them to "yawp," which means literally to shout. For Price, it means to speak up when others are trying to squash their voices. Always encourage your students to do the same, she said, to speak up, to sound their barbaric yawps.
"I think it teaches confidence and you're letting the students know they all have a voice and their voice matters," Price said.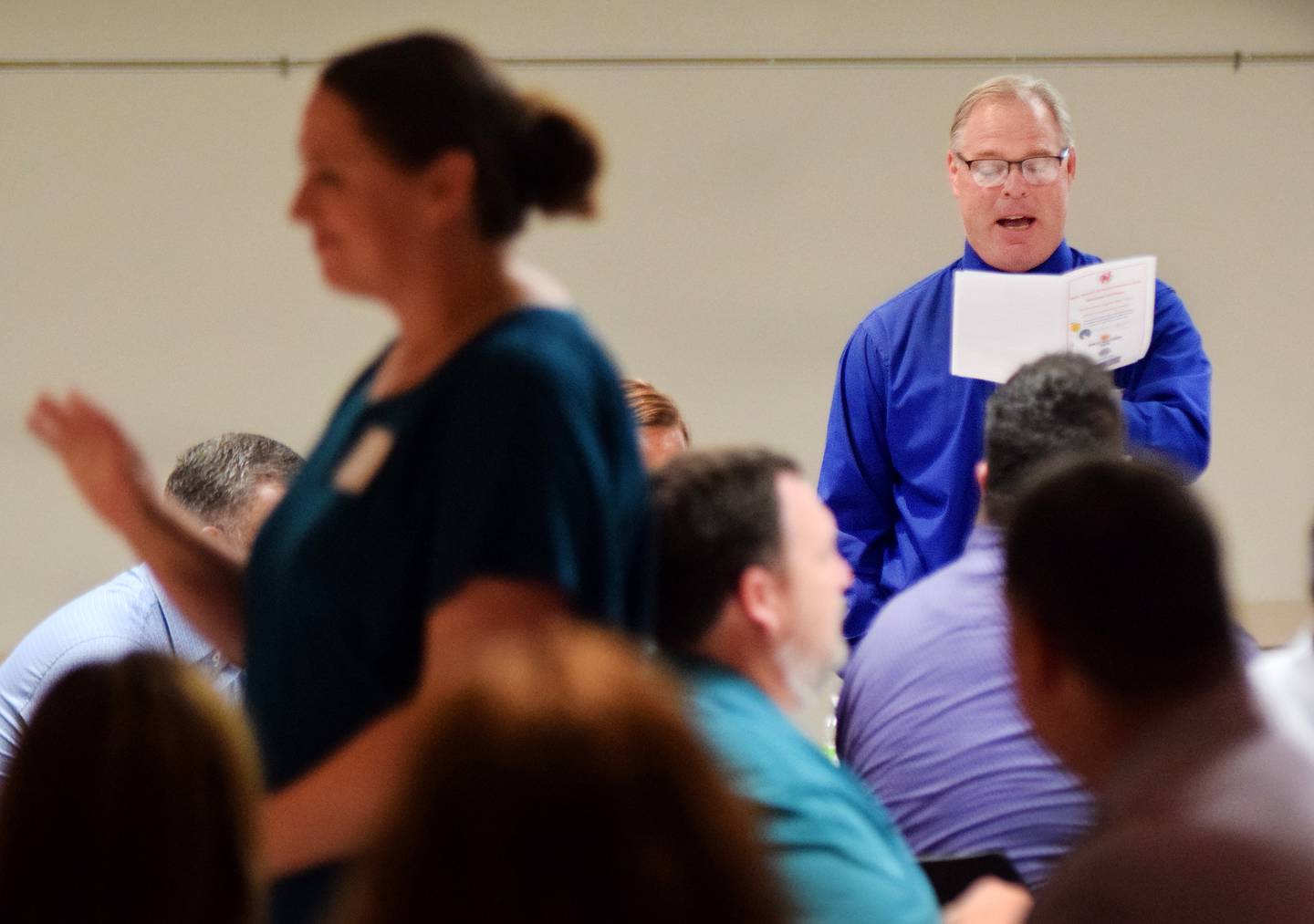 ADDRESSING TEACHER SHORTAGES
While talks of teacher shortages are nothing new, the candidate pools for several professions across the state and country are much smaller. Messinger said there are a number reasons for the shortage when it comes to teachers. College plays a part. Cost of tuition has increased faster than the salary of teachers.
"How much money are you going to invest into a college education going out into a line of work where the pay off is much slower than it would be in a lot of other occupations?" Messinger said. "I think that definitely has taken its toll. The pandemic really brought that shortage out into the spotlight."
However, a new program from the State of Iowa does address this issue. The Teacher and Paraeducator Registered Apprenticeship (TPRA) Grant Program was launched in January. In June, it was announced Newton, Baxter, Colfax-Mingo, Lynnville-Sully and Prairie City-Monroe were awarded the grant.
The more than $1.1 million grant — which allows high schoolers to earn a paraeducator certificate and associate degree in education — is expected to grow Iowa's educator talent pipeline and support expansion of registered apprenticeships, the Newton school district stated in a June 9 press release.
"That's going to help … but the problem is that's four years down the road before they get their degree and a certification to teach," Messinger said. "But I've described it as one of the best programs that has come along to help get more people into teaching than anything I've seen in my 30 years of education.
Contact Christopher Braunschweig at 641-792-3121 ext 560 or cbraunschweig@newtondailynews.com